Last Updated on March 8, 2022
Having spent over a year dealing with Covid-19, it is safe to say that certain home office supplies are now more important than ever before. One such home office supply is the air purifier. Why?
Well because adding an air purifier to a home office can improve air quality, reduce mold in the room, prevent a build-up of dust and even help to eliminate odors. Labor studies even found that higher levels of pollution leads to decreases in worker productivity and concentration, an air purifier looks to help clean up the air that you breathe and filter it so that it is fresh, helping your concentration improve as a result.

Furthermore, if you have respiratory conditions, asthma, or dust allergies, then an air purifier will greatly improve your wellbeing and may well be a great investment for the entire house, not just in the home office, wherever that may be. What this article looks to do is break down what an air purifier is, what it does and how they differ from air filters, it will answer whether or not they can prevent Covid-19 and will give a practical list of 5 great air purifiers that anybody can utilize in their home office to make it a cleaner and more tolerable space.
How does an air purifier work? Can it Prevent Covid-19?
The main aim of the air purifier is to remove any pollution from an indoor space. A variety of factors can contribute to indoor air pollution such as cooking, smoking, dust, or fire, and each of them can trigger negative reactions when trying to breathe. The Environmental Protection Agency has suggested that we take 90,000 breaths a day and spend about 80-90% of our time indoors, so while we may think that the air outside is polluted, it is the air inside of our houses or offices that are far more of a threat.
An air purifier looks to filter the air that it blows out, allowing for cleaner and more fresh air to circulate around the room. To answer whether or not air purifiers can help prevent Covid-19, research seems to suggest that they cannot help because the coronavirus particles are too small for the HEPA filters used by most purifiers and as a result, they escape filtration.
What are the Benefits of an air filter then?
Although an air filter can not prevent Covid-19 from spreading (I mean we are nearly over it now anyway), there are a host of other benefits that an air purifier can help to provide. Here are 3 that I believe are particularly important.
Greatly reduces chance of allergic reaction
When you are working at home, the last thing you want to have to deal with is sneezing or coughing or your eyes swelling up. The main benefit of an air purifier is that with its HEPA filter, it reduces the microbes related to allergens like pollen, smoke, or dust with up to 99.9% effectiveness.
Removes Pet Dander and bad odours
People can also be allergic to certain animals like cats or dogs, usually, the odor from a pet is enough to trigger a reaction. An air purifier helps to prevent the odor from spreading and greatly reduces the chance of a reaction. Similarly, if any bad odor is circulating in the room, an air purifier will help to filter the smell and prevent it from spreading.
Ideal for damp rooms or environments
Mold growth is an unfortunate by-product of being in a wet or damp area, and while often we can prevent this from occurring, sometimes it is out of our control. An air purifier helps to kill mold spores before they get a chance to spread or cause an allergic reaction.
How they differ from air cleaners or filters
An air filter simply traps the dirt or dust in its filter. They look to reduce the level of pollution in your home, an air cleaner uses a fan and draws in the air and filters it accordingly, they are usually more robust than air filters. The air purifier, however, looks not to simply filter airborne toxins or allergens, but deactivate them entirely.
Different purifiers have differing methods of filtering the air, some are known to use ultraviolet light to sterilize the toxins, others are known to use electrostatic filters and metal plates. Regardless, the air purifier is known to be the most effective of the three.
The ideal air purifier?
Ideally, an air purifier will be three things, firstly, it should be compact. That is because when you are working in your home office or in your own makeshift office space, you want any accessories to be non-invasive and work in the background. If an air purifier is too big then it can become a distraction. Secondly, it should be quiet.
This ties into being able to concentrate as well. If you buy an air purifier that is too loud, it will only be a distraction from your work. Finally, you will want the purifier to be inexpensive. This all depends on your budget, but you should not have to break the bank, then again, each of the five on the list are modestly prices and will not leave your wallet empty.
With a built-in 3 stage filtration system and HEPA activated carbon fibers, the 132 is the flagship air purifier from Levoit and promises to reduce 99.97% of dust, pollen, smoke, pet dander and odors. It does not use UV light because of the possible secondary pollution that it could bring about. It runs at a fantastic 25db which is very quiet, allowing you to work in silence if needed and its touch control panels and settings make using it easy.
The filters last for up to 8 months with continuous use and replacing them will cost about $40, which when compared to filter prices from other brands is respectable. The filter itself costs about $90-110 depending on where you shop, but regardless, it is a small price to pay for the reassurance the 132 gives you.

With nearly 40,000 reviews on Amazon, the 4825 from Germ Guardian has maintained a 4.5-star rating which is hugely impressive. It is celebrated for being a 4-in-1 air purifier that uses UV light to kill germs and bacteria that circulate around the home.
The HEPA filter itself has a pre-filter that traps dust, pet hair and other particles that serve only to prolong the life of the main HEPA filter, allowing it to circulate and provide cleaner air for longer. I
n a one-hour period, the air filter can cover a 743 square foot room, and with its added carbon filter, it helps to eliminate odors quickly and efficiently. For only $85, you get three separate air filters in one and an efficient UV light that helps to fight pollution quickly and efficiently.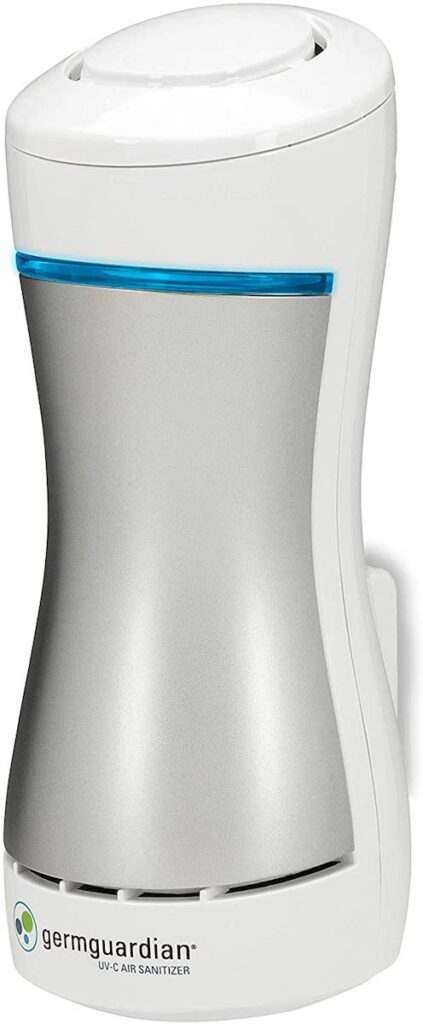 If you are looking for an air purifier on a budget, then this $35 option is exactly what you need. There is a lot to like about this cheap and cheerful option. For starters, it is well priced and buying from Amazon gives you n extra 15% off right now, secondly, it has over 10,000 great reviews, third, it is small, compact, and lightweight, at just 7-inches and weighing less than a pound, it is ideal for any small space or room.
It uses UV-C light and titanium dioxide to eliminate airborne particles and reduce volatile compounds in the air and its filter bulb only needs replacing once a year. There is a one-year warranty attached which is a show of competence and you can even buy multipacks of 2 or 6 purifiers if you wish to use them in different rooms. For $70 you get two pluggable air purifiers which is still less than one of any of the other purifiers on the list, a true bargain.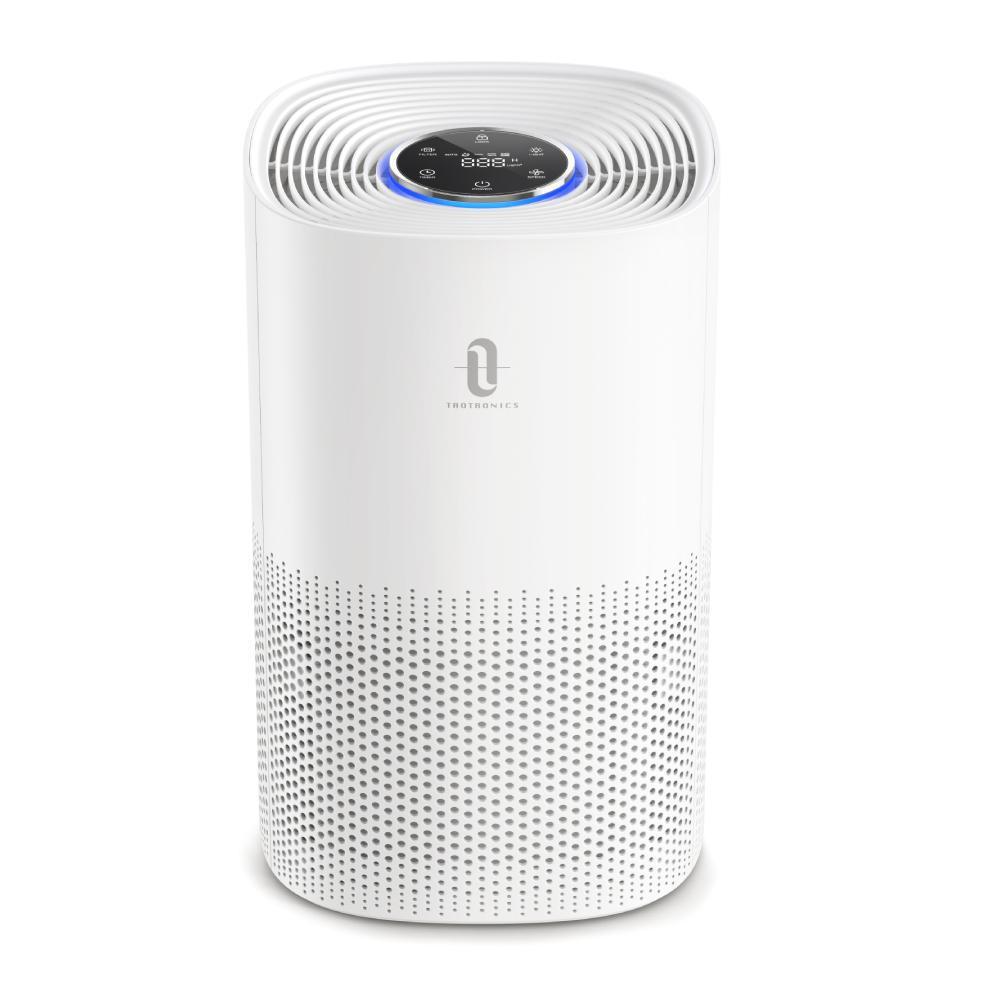 Another industry leading air purifier comes from TaoTronics, who I think do a great job with their HEPA air purifier. It comes in at $80 but international shipping costs an extra $50 so beware! However it has a lot of positives to its name. I find that it is very similar to the Levoit air purifier above, but there are a few subtle differences that make this unique. There are 4 adjustable fan speeds, from low to turbo, which help you adjust the level of purification that you need. It is child and pet friendly, has a night light feature if needed in a kids room and also has 'rapid purification' which purifies the air quickly and efficiently.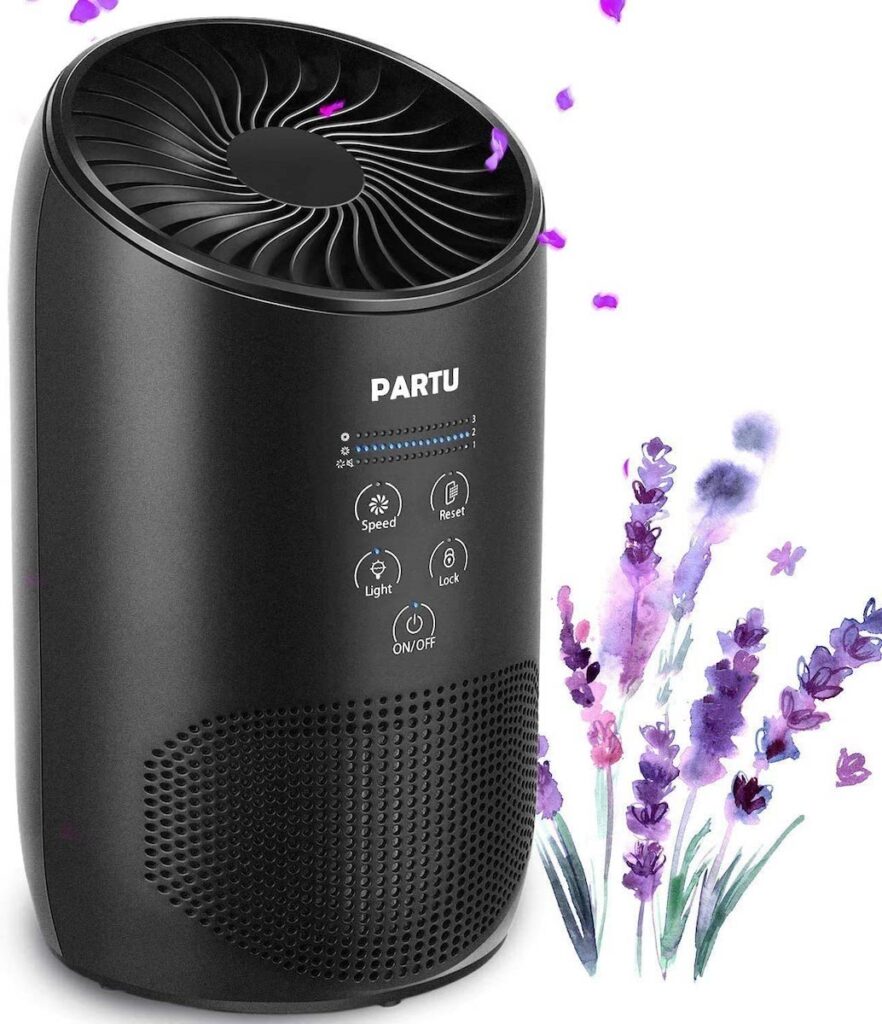 For only $50, the PARTU is one of the best air purifiers on the market as far as I am concerned. It just brings so much value to the table. For one, it has the same three-stage filtration systems as the more expensive TaoTronics and Levoit purifiers, but also has a small sponge below the air outlet that allows you to add a flavored essential oil and add some fragrance to your room. I absolutely love this feature and think that it makes it stand out.
Furthermore, it has a child lock setting that lets you press the lock button for three seconds and after that regardless of what buttons your child presses, they will not interfere with the purification. It does have a very nice design and is compact, it is available in black and white also.
The only downside is the filter life when compared to other purifiers. You will need to change the filter every 3-6 months, but in its defense, a filter will set you back no more than $20, so it is well priced.