Skin devotees strive for flawlessly glowing and smooth skin but getting your dream skin is often not that smooth (thanks to puberty acne-breakouts). You may be in constant battle with skin texture issues regardless of the environmental conditions.
Your skin is capable of undergoing unpredictable conditions, beginning from hormonal acne to hyperpigmentation. You can preferably adopt skincare methods to give your skin a fresh break with an even texture.
You can fight with flaky or oily skin as soon as they arise by being armed with skincare weapons and facial treatments to maintain the smooth texture of your flawless skin. In reality, we agree that perfection is rare. No one wakes up with refreshing, immaculate skin every day.
There is no perfect skin texture, as each one of us has unique textured skin. You can opt for bringing countless ways to your skincare regimen to improve the texture of your skin. For example, trying out the most popular collagen whey protein powder to achieve glowing and brighter skin.
With a few lifestyle changes and some products, you may be able to get closer to your smoother and radiant skin. Stay tuned to find out more!
1. An exfoliating cleanser for smooth skin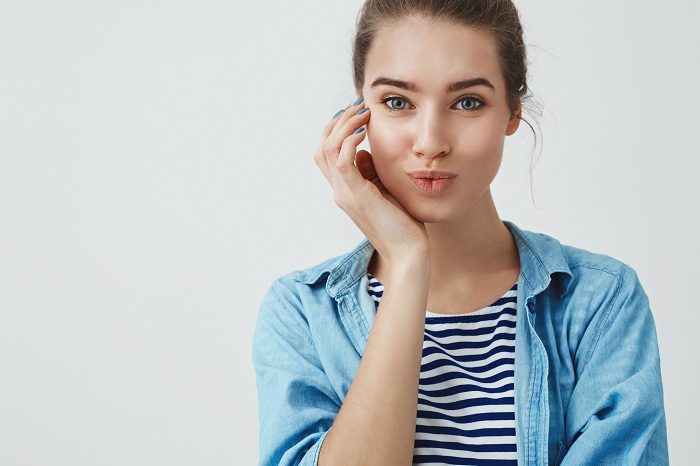 Brighten your complexion and improve the uneven texture of your skin by using a chemical or physical exfoliator. Exfoliation assists in rejuvenating skin by getting rid of dead skin cells from the skin's surface to reveal refreshing skin cells.
Chemical exfoliation is quite popular as it does not create much inflammation and redness. It is a natural process that, when practiced once or twice a week, depending on your skin type, can yield effective results. You should consider targeting the areas that feel uneven for amazing results.
2. Always wear SPF
Excessive sun exposure can lead to severe skin damage, including uneven tone, dullness, textural changes, skin cancer, etc. We can repeat a million times SPF is the most crucial product amongst the skincare components.
Sunscreen is quite helpful in reducing fine lines, wrinkles, and dark spots. It can maintain your supple skin for longer as it reduces inflammation and redness. Incorporating sunscreen into your daily routine can bring a tremendous change in the long run.
3. Incorporate Vitamin C
Vitamin C is a magical antioxidant that protects your skin cells from damaging free radicals caused by harmful sun rays. It lightens pigmentation by inhibiting melanin production, thereby resulting in an even skin tone.
Vitamin C is super useful in improving the texture of your skin by defending and repairing your skin from age spots, tissue scars, environmental damage, etc. Keep your skin young, fresh, youthful by introducing Vitamin C in your skincare regimen.
4. Introduce Oils
You can prefer to incorporate these natural face oils into your night skincare regimen to restore moisture and hydration. Lightweight oils can blend in easily in your skin and are known for their anti-inflammatory properties. Wake up with refreshed, baby-soft skin.
5. Experiment with a Chemical Peel
These peels are cosmetic treatments to exfoliate your skin with acid-based peels gently. Chemical peels are surprisingly great for an amazing at-home treatment to repair rough and uneven textured skin. Sun-damaged skin can be readily healed via chemical peel. It also stimulates collagen production and regrowth of skin cells and evening out the texture and pigment of the skin.
6. Start Using Retinol
Retinol is a derivative of vitamin A and is perhaps the best-known ingredient to visibly reduce the appearance of wrinkles and fine lines. Applying a retinol-based serum in your nighttime skincare routine can assist in boosting skin cell turnover and collagen production while sleeping.
Instantly boost elasticity and hydrate your skin to maintain its youthful look. Check out this Olay Regenerist micro-sculpting cream review to get acquainted with one such product that can help retain your youthful look.
You can opt for a retinol cream if you have sensitive skin. It is just as powerful and efficient as the serum. Retinol works like magic to treat acne breakouts and scars.
7. Don't overlook a moisturizer
Your skincare routine should preferably involve the regular application of moisturizer to keep your skin supple and hydrated at all times of the day. Our skin sheds dead cells very frequently, thereby requiring moisture for constant care and repair.
Stimulation of new skin cell production and blood circulation is enhanced due to the massage of the moisturizer onto the skin. You can prefer adding moisturizers with calming ingredients like niacinamide to even the skin tone and texture. Extreme oiliness and dryness can be kept at bay by moisturizing and hydrating your skin daily.
8. Time to Hydrate: Drink more Water
Staying hydrated is vital for your health as a whole, not just for your skin. You might come across this universal advice of keeping yourself hydrated all over social media. Many people tend to find this advice frustrating as they cannot see the benefits and impact of what just sipping sufficient fluids can do.
Your skin may suffer from roughness or uneven texture due to dehydration. We agree that drinking more water will not instantly resolve all of your skincare issues, and they would require other treatments as well. However, it may assist in maintaining the level of hydration both inside and outside.
Drinking sufficient water can help your skin boost its elasticity and improve its texture, not forgetting that it's an incredible way to tighten your skin. It is also beneficial to lower the roughness and dryness of your skin.
Healthy Skin is Always in!
Everyone has uniquely textured skin, and it's nothing to be ashamed of. All skin devotees strive for flawless perfect skin like that of a newborn baby. Of course, that is unattainable and non-realistic. You have a huge variety of effective options if you want to improve the texture of your skin.
A little texture is fine as long as the person believes they are confident, comfortable, and happy in their skin. Sometimes the best way to achieve all of that is skincare and self-love. You'll be on your way to softer, smoother, and flawless skin by following a proper skincare regimen.