What Is An Ad Blocker?
Picture this!

You're browsing the internet for the best animation movie and then boom – an ad pops up trying to entice you to buy the latest beach shorts. Never mind the fact that you've never expressed any interest in beach shorts. In fact, when it comes to traveling, you're more into game drives than beach hopping.

So, you want the ad to go away. Or if it must keep pestering you, it should at least promote products that you're somewhat interested in. But the ad keeps popping up, thereby preventing you from focusing on your search for the best anime.

Now, online ads can be such a nuisance. The ads ad clutter to websites, thereby affecting your overall experience on a platform. Besides being painfully annoying, these ads can also compromise your online privacy. That's especially true for spyware-infected ads.

Thankfully, there's a way to remove online ads for good. All you need is to invest in powerful software known as ad blockers. And the best part is that you don't need to pay a dime to access some of the best ad blockers out there.

In this post, we shall highlight the top ten free tools you can use to stop pesky and potentially malicious ads.
AdBlock is a powerful ad blocker that comes with extensions for major web browsers, including Mozilla Firefox, Chrome, Safari, and Microsoft Edge. It's one of the most frequently-downloaded ad blockers and enjoys the approval of millions of users around the world.

The tool implements numerous filter lists that automatically blocks ads coming from popular ad providers. You can stick with the preset block lists that are available on the software's free version or subscribe to AdBlock's paid plans for additional block lists.

The app even lets you create your own block list, as well as whitelist your favorite websites.
AdBlock Plus isn't a premium plan of AdBlock. Instead, it's a separate ad blocker that boasts easy setup and tons of ad-blocking features.

Just like AdBlock, AdBlock Plus comes with default filter lists that let you block ads from some of the popular ad servers out there. You can also access an additional block list and set custom filters. The ability to filter malware and social media buttons offer you more control as far as ad blocking is concerned.

AdBlock Plus also offers extensions for popular browsers like Firefox, Edge, Chrome, Opera, and Safari, as well as mobile-based operating systems like Android and iOS.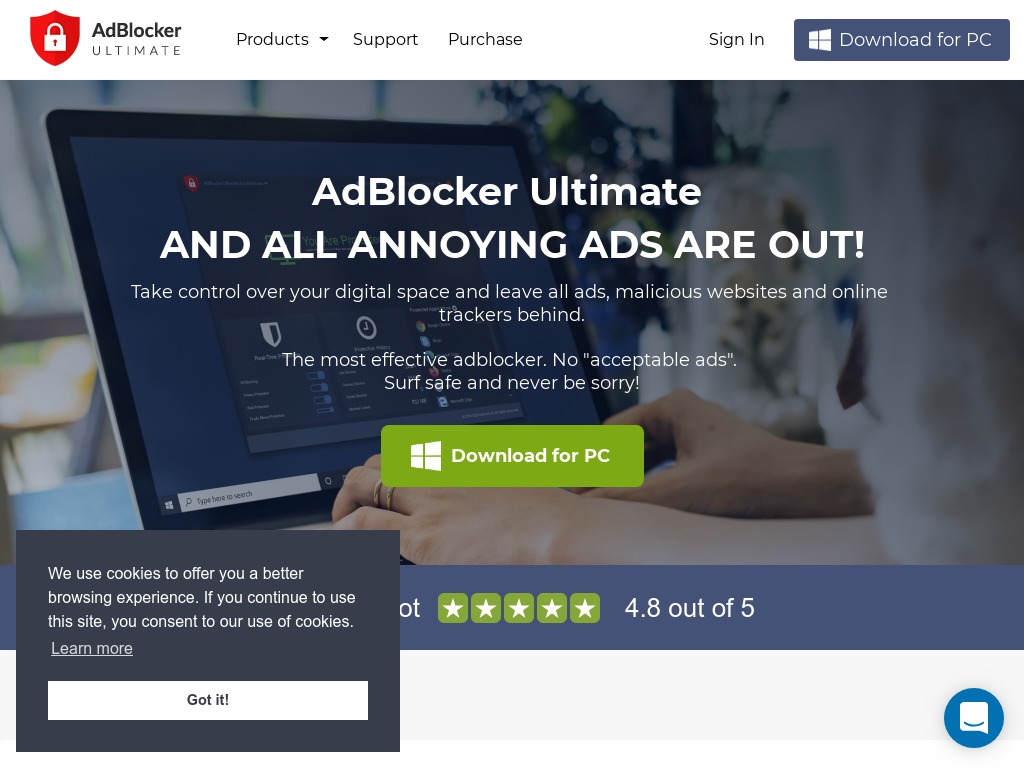 AdBlocker Ultimate is another recommended tool that you can use to keep all those pesky ads off your online browsing sessions. The program comes with both free and paid plans.

The free version includes an open-source browser extension that supports various web browsers, including Firefox, Chrome, Edge, Safari, and Opera. Android users can access a free browser known as AdBlocker Ultimate Browser, whereas iOS users get a mobile app for the Safari browser.

The only notable drawback with AdBlocker Ultimate is that it currently doesn't offer any applications for Mac. Also, you'd need to upgrade to any of the paid plans if you'd like to enjoy AdBlocker Ultimate services on your Windows device.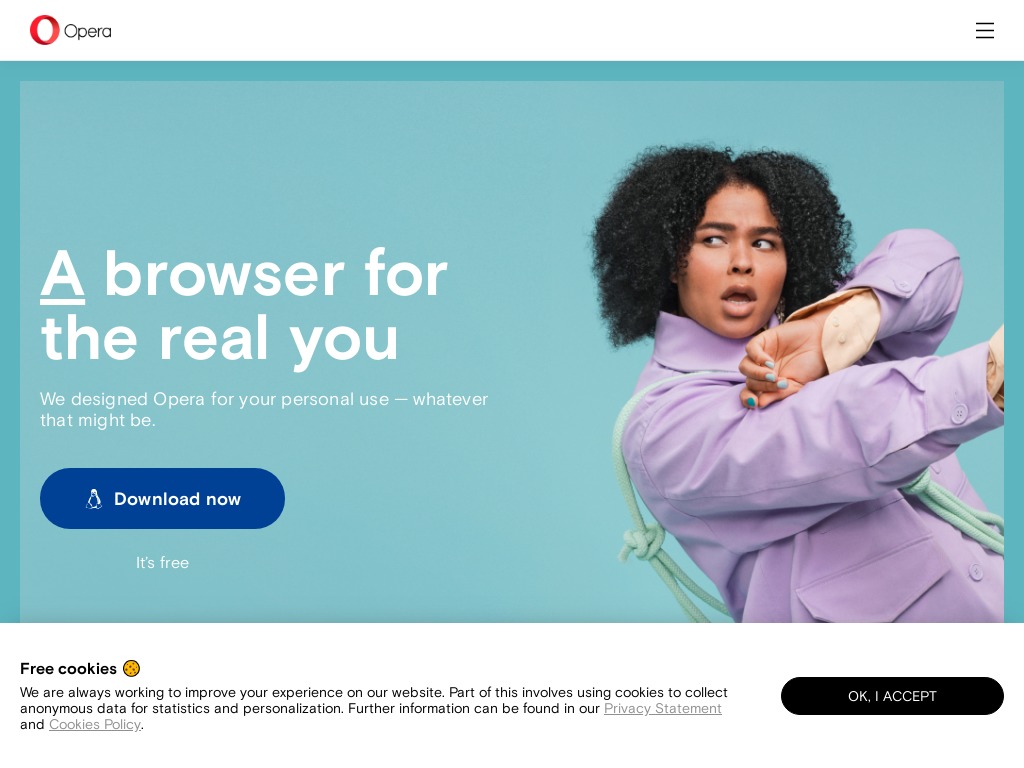 When seeking to block ads on most browsers, you'll need to install additional extensions, which can be quite a hassle. However, the Opera Browser allows you to block numerous ads without requiring any extra extensions. The browser comes with a built-in VPN for unlimited browsing as well as ad-blocking add-ons that are ready to use.

Another thing to love about Opera Browser as an ad-blocking tool is that it supports both desktop and mobile devices.

The browser comes with additional security features besides ad blocking. For instance, it can warn you of malware as well as suspicious pages and links. And all these services come free of charge.
Don't let the name of this ad blocker scare you away, as there's nothing spooky about Ghostery. Instead, Ghostery is a free, effective ad blocking tool that not only lets you block annoying ads. It also blocks more than 350 analytics tools and web trackers that try to harvest critical information about your online browsing sessions.

By reporting some of the prying analytics tools and web trackers out there, Ghostery offers you insightful information on the sites that you can block. The program is also available in 18 of the most popular languages.

However, note that Ghostery doesn't block certain video ads and it only offers its mobile version to Cliqz browser. There's also a steep learning curve to contend with before you can get the hang of this ad blocking service.
Poper Blocker may not be as old as many ad blocking tools on this list, but it's already proving to be a force to be reckoned with. First off, Poper Blocker is available for both Firefox and Chrome browsers. With a supported browser, you can use the service to block pop-up ads as well as overly common website overlays.

Poper Blocker is also incredibly easy to use. For instance, ad blocking happens automatically, whereas deleting website overlays is as easy as right-clicking on the site.

Poper Blocker also comes with the ability to block preset ad lists as well as customize the lists further and even whitelist certain websites. What's more, you can always report if you're having problems blocking a pop-up ad.
Right off the bat, it's important to emphasize that CleanWeb is not exactly a free ad blocker. However, you can enjoy the service for free if you're already subscribed to Surfshark. And for your peace of mind, Surfshark offers a 30-day money-back guarantee which allows you to try out CleanWeb for free before purchasing the product.

As an ad blocker, CleanWeb blocks ads as well as trackers, malware, and phishing. The tool also blocks access to suspicious websites and works on various platforms, such as Windows, macOS, Android, and iOS.

Other things you'll love about CleanWeb include the ability to use it on multiple devices simultaneously and a highly responsive 24/7 live chat support to address your queries whenever you raise them.
When designing e-commerce websites, most website owners implement ad blocker detection technology in a bid to prevent commercial content from getting blocked by certain sites. Fortunately, AdLock developers understand this all too well, which is why they created an app that can by-pass ad blocker detection.

Besides, AdLock can block all manner of ads, ranging from common pop-ups to malware, phishing, trackers, and malicious websites. You can even use the tool to block ads on YouTube as well as from numerous apps and games.

Needless to mention, AdLock works on various devices. There's also a browser extension for Chrome and Safari.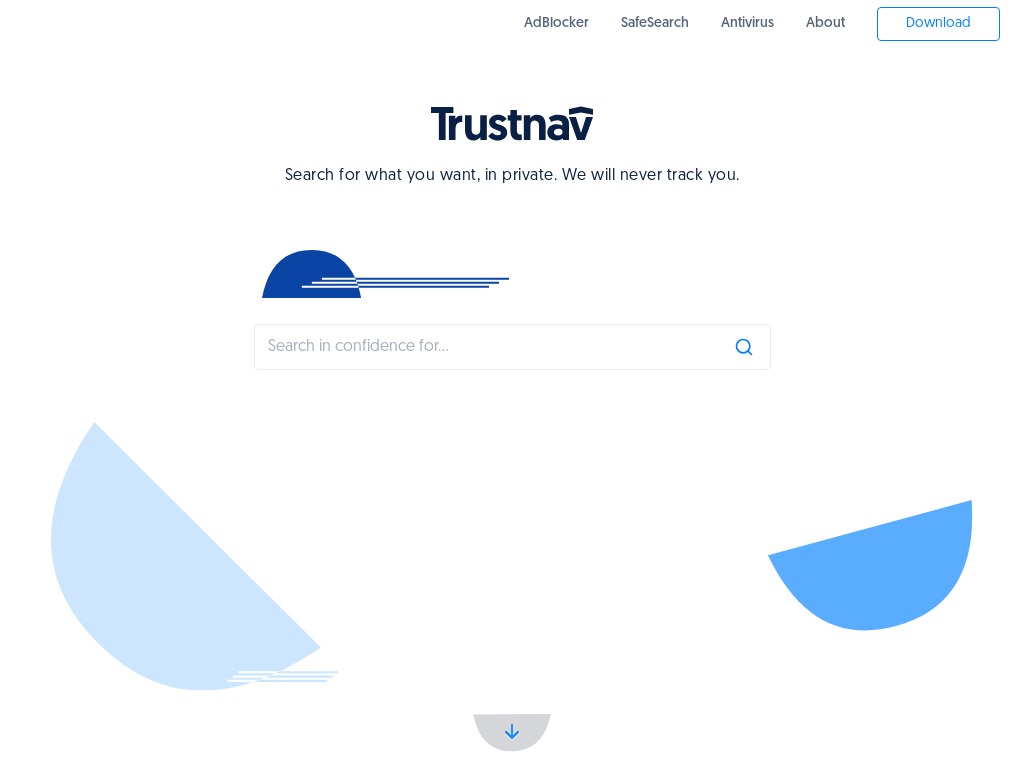 Trustnav is primarily an antivirus company based in Andorra, which mostly offers antivirus services to Google Chrome. Its antivirus package also includes free ad blocking services.

As an ad blocker, Trustnav is mostly lauded for its ease of use and an intuitive interface. Users can get insightful information on whether Trustnav is on or off and whether it's blocking all ads or just specific ones. There's also the option for getting alerts on the number of ads blocked on the site that you're currently visiting. The program blocks all manner of pop-ups too, except for some auto-play video ads.

Unfortunately, Trustnav Adblocker only works with Chrome. And unlike many ad blockers we've reviewed, Trustnav doesn't come with the provisions for customizing your ad block lists or whitelisting.
CyberSec by NordVPN takes the whole business of ad blocking to a whole new level. The tool scans each website that you visit and compares the platform against an extensive list of blacklisted sites. If it finds a match, it flags down the website immediately and stops any further connection to it.

Therefore, CyberSec offers you the first line of defense against spyware- or malware-infected websites and files. Even if your device is already malware-infected, this tool will still protect it from participating in DDoS attacks. Another thing you'll love about CyberSec is its ease of download and activation. The tool is also compatible with numerous browsers and operating systems, including Windows, Android, iOS, Linux, Firefox, and Chrome.

However, you'll need to subscribe to NordVPN before you can use CyberSec. Once you have the subscription, the tool comes at no additional cost.
Wrap Up
From the list above it's evident that a suitable ad blocker shouldn't just block pesky ads. It should also come with a slew of other features that help you secure your online privacy. And if you can find a tool that also requires no sign-up and is free to use or reasonably affordable, the better for you.