Last Updated on March 8, 2022
Whether you are looking for a way to block out the prying eyes of your neighbors or perhaps just want a secluded outdoor space of your own, there are a number of interesting ways that you can add privacy to your backyard. No matter the size of your yard or outdoor area there are plenty of creative options available to you, whether it's the addition of a plant wall or outdoor privacy blinds.

Transforming your space into your own private sanctuary is just a few ideas away! Here are some of our tips for adding privacy to your backyard.
Add Outdoor Blinds to Your Yard
If you are looking for a simple and reliable method to add privacy to your backyard then Ziptrak outdoor blinds could be the solution for you. With Ziptrak blinds you can create a versatile outdoor area that can be easily opened or closed as your leisure. The addition of outdoor blinds will not only provide shelter from the elements, but it will also provide privacy for the whole family which makes them a worthwhile purchase that genuinely maximizes the outdoor space you can utilize.
Create A Beautiful View-blocking Garden
A garden is a perfect way to naturally add privacy to your backyard. Plants and trees can act as both a visual and sound barrier, allowing you to create a private yet visually pleasing outdoor space that you and your family can enjoy.
Some tips for using plants to create privacy in your backyard:
Use layers. If you have a decent amount of space in your backyard, try layering your garden with a range of tall, medium, and small plants. Use the tall plants and trees to block views and then layer a variety of plants to create tucked away spaces where you can "get away" without even going anywhere.
Hedges are the ultimate way to block prying eyes and create a natural barrier between your home and the outside world. Make sure you do your research into which plant will make the best hedge for your yard. Opting for evergreen species will provide you with coverage all year-round.
Use a lattice to create a stunning wall of greenery. A lattice filled with gorgeous climbing plant species is a great way to showcase your green thumb, whilst being a cost-effective alternative to erecting a fence.
Hanging plants that drape down from their pots is also a wonderful idea to add some extra layers of privacy to your outdoor area, patio, or balcony.
Add A Fence or Screen
Similar to the idea of using a lattice, a fence or screen can provide you with plenty of privacy. You don't necessarily need to erect a whole fence around your backyard as this can become costly very quickly – just a single panel or two where needed can be sufficient in blocking out curious eyes. Only adding a fence or screen panel where you need it can provide you with the privacy you seek, without turning your backyard into an enclosure.
Fence panels and screens are available in a range of styles and materials, ranging from metal wall screens to wooden paneling or even brush fencing. You could even get creative with it and use items like wooden pallets or large stones to create a barrier. The choices are endless!
For Temporary Privacy Add Curtains
For a temporary privacy solution try installing an outdoor curtain. The addition of a curtain that you can open and close as you please, will allow you to choose your level of privacy at any given time. Sheer, mesh curtain materials can give you the sense of being in a faraway tropical retreat or luxury hotel as they flow in the wind.
For a cost-effective DIY curtain solution, use bedsheets to create your temporary privacy screen.
Mask Sounds & Add Serenity with A Water Feature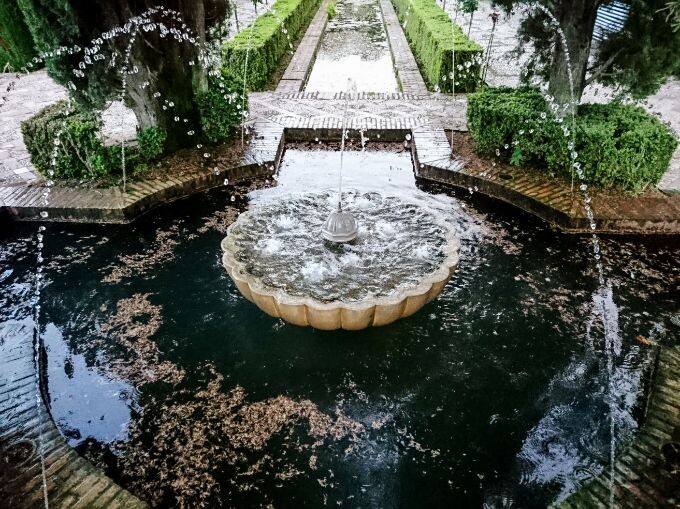 Boosting the privacy of your backyard can go beyond what you can simply see. Adding a water feature to your yard can mask sounds, reduce noise pollution, and add a sense of serenity. The soothing sights and sounds that come from the trickling water will promote relaxation and can drown out the noise pollution that may be coming from the outside world.
Research has also found a connection between the negative ions produced by a continuous flow of water and stress reduction. So, you can sit back and relax in your outdoor sanctuary knowing that it is providing you with therapeutic effects as well as added privacy.
Are you feeling inspired? Whether it's installing Ziptrak blinds or creating a beautiful lattice wall, transforming your backyard into a private space for you and your family can be a rewarding experience. Try our ideas above or let us know in the comments below some other great ideas for adding privacy to your backyard.