There's nothing like a good photo or video to bring stories to life. Whether it's a blog post, a simple quote, or a social media shout out, they are made more special with visual content. It's no wonder people keep sharing cute cat videos online.
But what if you're new to graphic design? Does this mean you can't create stunning photos or presentations? Do you need to invest in professional classes, or buy expensive equipment?
Not if you can have Adobe Spark. This all-in-one FREE online and mobile graphic design app will be your new go-to resource when creating magical visual content. Here's why it rocks.
Why Everything's Better with Adobe Spark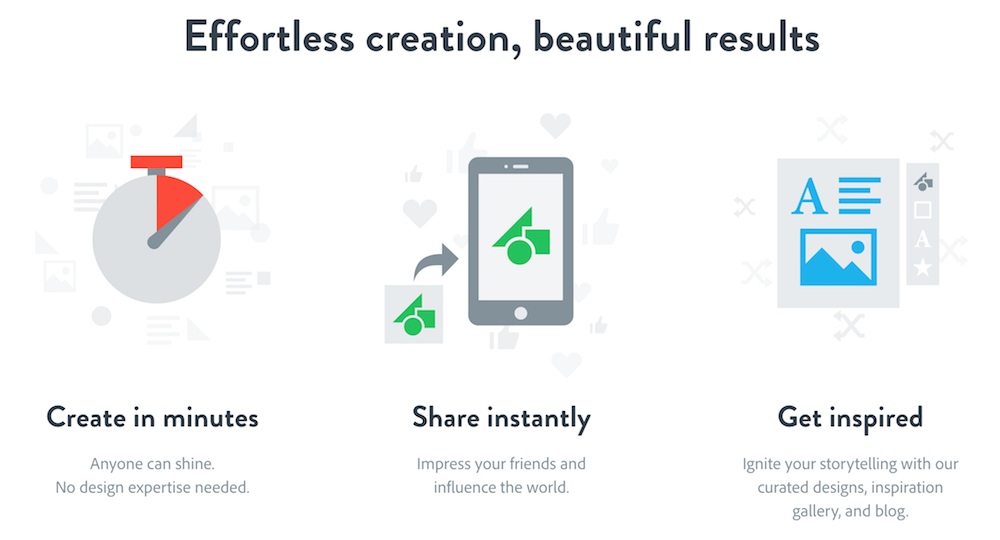 There's no shortage of photo-editing apps or content creation tools. But they're not perfect. The free ones may lack several features, while the best tools often require pricey subscriptions. But not with Spark.
It seems that their team has been very hard at work observing what most people would want from a graphic design tool. For starters, there's a Spark for every need:
Spark Post – helps you create social graphics (like quotes, ads, etc.) in seconds.
Spark Video – a video editor that lets you add themes and soundtracks for that wow-factor.
Spark Page – lets you create stunning stories online with no coding knowledge necessary.
Simply pick your task and choose the appropriate tool for the job. No need to bookmark dozens of apps for a single project. Just open Spark and get creating.
Spark utilizes one of Adobe's most famed features: its amazing understanding of colors. All three services boast of professional themes that look amazing on any device – whether you're making a portfolio or a travel journal.
On Spark Post for example, you have the option of either building from scratch, or simply customizing an existing template. Choose from a wide array of themes already pre-built with amazing photos and snazzy fonts. Create almost anything: from Instagram posts, Facebook Ads, to YouTube thumbnails.
Feel free to edit to your heart's content. This app lets you have free reign without making you feel overwhelmed with unfamiliar tools, or the nightmare of having to pick the right color scheme.
No design experience? Intimidated by the color wheel? Spark will do most of the heavy-lifting so you can concentrate on what's important for you. Just take advantage of their "Suggested Colors" feature to keep your design consistent. Feeling a little adventurous? Use the "Palette" option to discover possible hue combinations that work great together.
Another nifty feature is the ability to change layouts with just ONE click. Play with the "Layout" option to magically change layouts without having to move a single element from your project. Yes – Spark will do all the work for you. It will automatically adjust images and text to conform to the new look.
What if you suddenly changed your mind and wanted a totally different design? Don't panic: just let Spark do it! Go to the "Design" option in your dashboard and pick from among the suggested design filters. Click and watch everything fall into place.
You'll probably need to make a few tweaks to get it just right. But for the most part, this tool is a real time-saver.
Once you're done, you can download your work, post it immediately on your social media accounts – or even share it with the Adobe Spark community. See if you can inspire someone with your unique creativity today.
Make Easy Branded Stories Using Adobe Spark
As part of their PREMIUM service, businesses, freelancers, and marketers can now opt to create branded stories in minutes.
If you decide to take advantage of this feature, you'll also get matching themes on Spark Page and Spark Video (based on your brand template). This should help you make consistent branding efforts – no matter what content you use.
In just three easy steps, you can set up your brand to keep or manage for later.
First, upload your logo. Don't have one? Adobe Spark will make one for you. Simply enter your business or brand name, and the tool will generate a simple logo (which you can always change later). Second, pick your brand colors. If you already have a logo, Spark will automatically pick up hues from it. Last, add your font.
Voila – your brand is ready for projects and promotion on the Web. Busy bodies can download companion apps (on smartphone or tablet) so they can always edit on the go.
Ready to ignite your passion for design?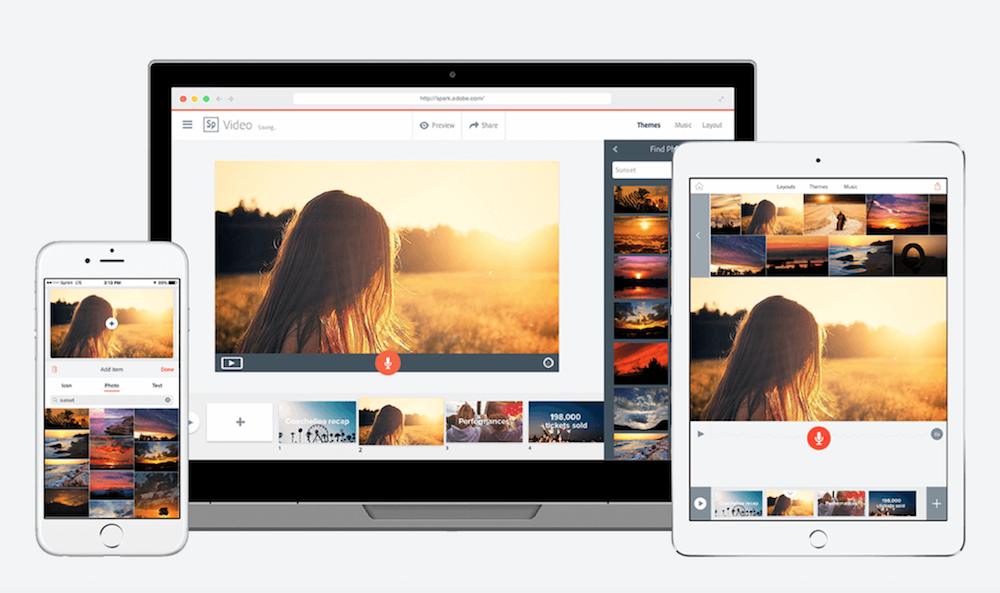 Adobe Spark challenges you to unleash your inner creativity. Now is the time to update your bland blog into something beautiful. Turn your social media posts into social media stories. Wow potential clients with a portfolio that looks as good as it sounds.
With user-friendly features and practical services, you don't have an excuse not to level up your graphic content.
All you need is a few minutes to make some magic happen.