Algorithmic music dates as far back as the 1960s. The path of AI evolution and reception rather resembles a rollercoaster than a smooth way upwards. With AI winter and other ins and outs behind, the use of artificial intelligence is without a doubt at one of its highest points at the moment.
Novice musicians and music industry professionals now have a ton of AI tools to choose from in order to create and enhance their pieces. Let's go over some of the most interesting and effective artificial intelligence-powered music services available in 2023.
1. AIVA
AIVA is a music composing service that uses deep-learning algorithms to create original music and produce variations of existing songs. It was 'classically trained', having listened to large amounts of musical works written by Mozart, Bach, Beethoven, etc. to learn to capture the music theory concepts and create models and compositions of its own.
AIVA is not just a service, but an artist in its own right. It's a published composer with two albums under its belt, as well as the world's first virtual composer recognized by a music society (SACEM).
Initially, AIVA specialized in classical and symphonic music, producing extended cinematic scores, commonly used in soundtracks for movies, video games, trailers, and commercials. The development of Music Engine expanded the possibilities of AIVA and made it capable of generating short compositions in a variety of genres, including rock, pop, jazz, ambient, world music (tango, Chinese, Middle Eastern, etc.), and several cinematic styles.
The service is generally used to create music that complements visual content, from corporate and social media videos to feature-length films, and to do so without the music licensing headache. Musicians treat AIVA as a composer it is — they collaborate with it to build new musical ideas, accelerate their songwriting process, and overcome writer's block. Check out the examples of songs created with AIVA in different styles here.
2. LALAL.AI
LALAL.AI is a source separation tool that uses machine-learning algorithms to target and divide individual audio channels from a mixture of sounds in recorded music. Breaking a mixed song into its constituent contributions is such a highly complex task, engineers and research scientists of the world have been studying it and trying to come up with effective solutions for over 50 years. Though an ideal way to separate music sources is yet to be found, LALAL.AI's technique is definitely up there, achieving state-of-the-art results.
Its overriding goal is to provide precise and blazingly-fast stems isolation combined with the ease of use. Machine-learning-based methods were used for source separation prior to LALAL.AI's release, however, the service became the first to recognize the importance of usability and set new standards for other members of the AI-wave. LALAL.AI outperforms the acclaimed Spleeter by Deezer in terms of separation quality, as well as convenience-wise.
Unlike Spleeter, it doesn't require user's knowledge of command-line input within a proper Python environment just to initiate stem splitting.
The operation process is straightforward and easy — upload an audio file and get separate vocal and instrumental tracks extracted in a matter of seconds, play them back and download. LALAL.AI supports all audio formats. Users get stem files in the same audio format as the original song, without the need to use additional software for conversion. The service also allows users to control the audio processing intensity to their taste and unique perception. Stems isolated with LALAL.AI can be used for karaoke, mixing, vocal and dance practice, etc.
3. Humtap
Humtap is a music-generating and sharing platform powered by artificial intelligence. It enables users to create full-fledged music compositions and music videos in real-time just by hamming a melody and tapping a beat on an iPhone screen.
The application transforms creative inputs into enhanced and produced songs that can be played in different genres and in the styles of renowned artists like Depeche Mode, Drake, and Metallica. Singing and rapping recordings can be improved with a selection of vocal effects. Humtap allows creating music as a solo user and by collaboration with other community members.
The idea behind the platform is to bring original royalty-free music into social media feeds. "We are providing a new type of content; our goal is to do for music-making what Instagram has done for photography," explained Tamer Rashad, founder, and CEO of Humtap.
He believes that visual user-generated content is overpowering social media, whereas music is not made and shared as much because of the copyright infringement issues. Humtap was also made to aim to encourage people without musical training to express their creativity in a simple way, as well as give professional musicians an outlet to quickly build whole compositions from a small idea.
Humtap became the first mobile application that allows users to generate their own, completely original music through artificial intelligence, without using samples or libraries. It functions as a social media platform on its own and has integration with the typical social networks that Humtap users can share their musical content creations with the world.
4. Cyanite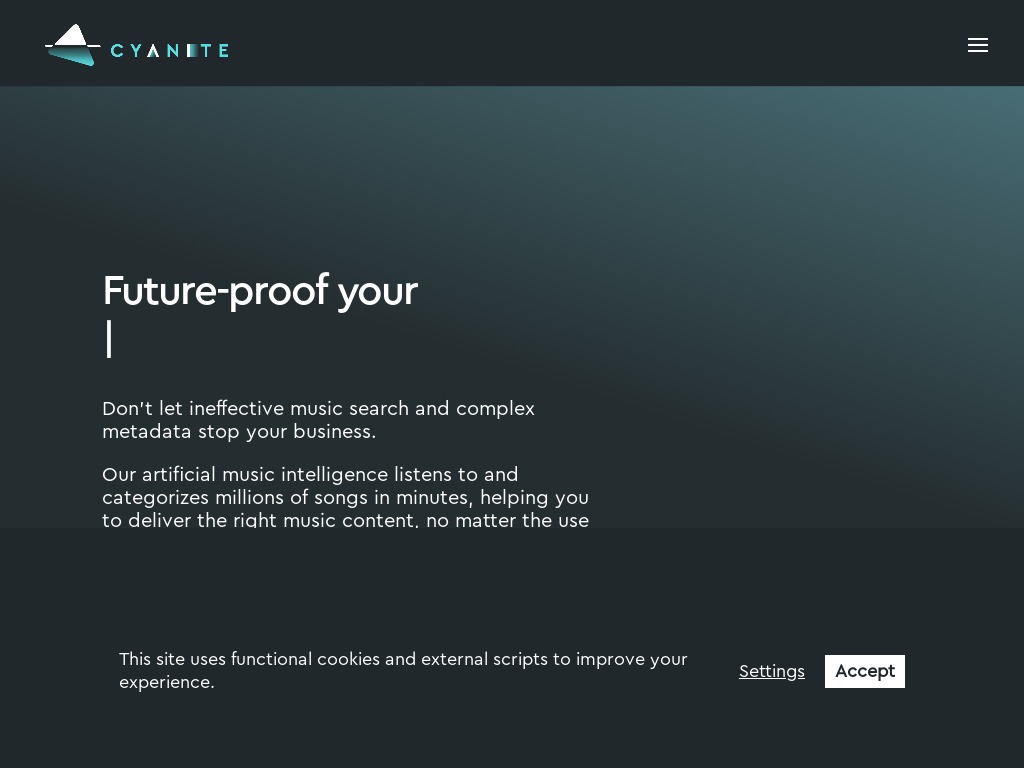 Cyanite is an AI system that performs music analysis, recommendation, and organization based on sonic and emotional similarities of songs and playlists. Deep learning is used for music information retrieval. Cyanite digs into the essence of songs and analyzes what makes them unique. The system swiftly visualizes the mood spectrum and builds an emotional profile for each audio track. Then it draws the dynamics and emotional effect comparison that allows for choosing the most impactful track out of a bunch. It also determines songs with a similar vibe and sound to any track selected by the user. Music is uploaded into the web service from a hard drive or Spotify.
Additionally, Cyanite is capable of organizing massive music catalogs, asserting classifiers, and metatags to their entirety in accordance with custom user-picked settings and requirements. Large music libraries are processed and organized through the Cyanite API integration, ensuring quick results and accurate tagging. Common tags added to songs include such categories as genre, mood, BPM, and key. A similarity search by a reference track is also available for catalogs.
Professionals from music and creative industries, as well as avid music lovers, can benefit from the features Cyanite offers. Navigating huge music libraries with ease, pinpointing songs with specific qualities, automating the time-consuming process of manual tagging — all of these can be of great help for musicians, producers, publishers, artist managers, playlists curators, and more.
5. LANDR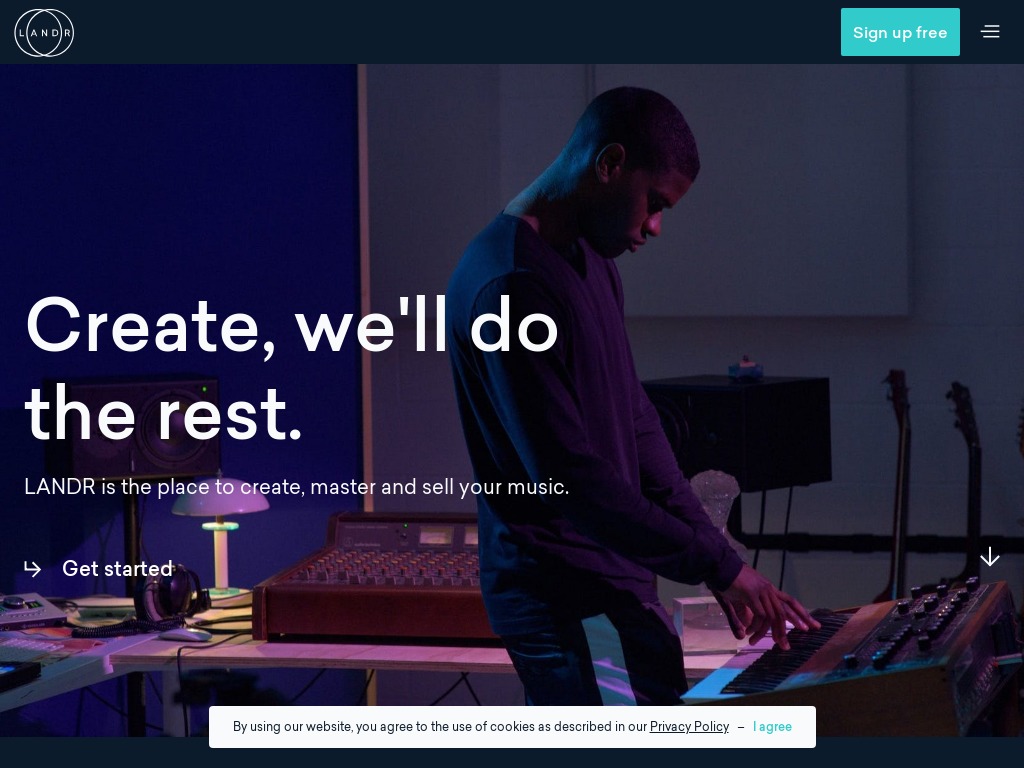 LANDR is an AI-powered audio mastering and digital distribution service. With its help, users can automate the final mix preparation process of their tracks and release them on all of the major streaming platforms, including Apple Music, Spotify, Tidal, TikTok, Deezer, and the like.
LANDR uses machine learning to replicate the processes performed by mastering engineers. Final masters get ready almost instantaneously, surpassing the time frames within which any human engineer could do the same. The possibility to upload audio files and entire albums in bulk saves time of musicians working with the service even more.
LANDR has three mastering styles and three mastering intensity levels that give users room for customization and control of their unique sound. Musicians can input up to three reference tracks to inform the AI of their sound inspirations and get the same balance. Volume matching across the tracks, free sample collections utilization, mastering preferences memorization, and automatic cloud backup, make for more personalized results and convenient work with the service.
Independent music artists looking for a way to minimize post-production expenses are the primary user base of the service. Though LANDR lacks the human touch and it may become obvious in certain aspects, its advantages prevail. There is no other service that offers such expeditious results and quality mastering, while also granting a level of control over the mixing preferences and sound influences. SoundCloud is old school but surprisingly still popular, too. It's difficult to become famous on the platform unless you get Soundcloud plays from a third party service.