Last Updated on March 31, 2023
Technology is moving ahead rapidly. It is creating ease and comfort for the people in every possible way. Let it be the consumer electronics or the entire eCommerce industry. Artificial intelligence and machine learning are behind most of the innovation these days. These technologies are equipping conventional appliances with human-made intelligence. It plays the same part in WordPress too.
Managing a website is itself a time-consuming job, especially when you have to allot time for the routine tasks like cluttering the spam in comments, recommending useful resources to users, and keeping the users engaged in live chats. It all requires dedicated staff with technical expertise.
Whereas, AI-empowered plug-ins can automate all such activities to improve the website, speed up sales and support, and minimize human error. Let me share some of the useful WordPress plug-ins that are purpose-built to avail AI for the betterment of your website.
1. Live Chat
Allowing your customers to interact with your sales and support easily, or technical team removes their hesitation towards shopping. There are various ways to encourage users to contact you, but live chat is a more reliable and effective one. Users are more likely to ask a question in live chat as they get instant replies of their queries without exposing their identities.
In email or call, they may need to share their contact details. The AI-powered live chat plugin simplifies communication with your potential client by acquiring and processing their questions and replying to them with a suitable answer. It relieves the support activities by staying active around the clock and providing tireless customer support without any break.
The live chat feature is fruitful in engaging users as well as promoting new arrivals, and deals and discounts. You can use the plugin for running marketing campaigns in friendly conversations with the target users.
2. Watson finds
Doing business online or running a blog blindly is difficult. You need to know what your audiences think about your products or posts. The Watsonfinds plugin can help you achieve deep insights. The tool evaluates different elements of a web page and asks the users if the elements were appeasing or dreadful. It enables you to craft content that is suitable for most of the users.
3. Akismet
Akismet is one of the useful plugins that are pre-installed in WordPress. You get it as soon as you set up a website or blog. The plugins prevent spam attacks on your website, which is a significant threat to any fresher.
The tool is powered by artificial intelligence that stops comments with inappropriate links or text from appearing on the website. The plugin may impact the performance of the site, but compromising a bit on it in pursuit of preserving your website safe from spam is worthy.
4. Google Language Translator
For any multi-regional webpage, it is necessary to follow eCommerce web design best practices as it increases customers' ease in using the site. Their design must include the creation of multiple language variants of product pages so that speakers of varying languages can understand the product. For example, you may need to hire a professional web design company in Dubai to set Arabic as a base language and English as a medium of communication for expatriates.
Any business that plans to expand on the internet tends to provide multiple versions of pages that vary in language. For example, a blog may manage to address common issues in English to the speakers of the English language. Whereas, when it aims to spread its opinion across Europe, it has to create pages in French, Dutch, German, Irish, etc.
Google language translator plugin provides a quick solution in this regard. This AI-enabled tool adds the functionality of translating a web page to any language a user or reader is interested in. No need to spend time and energy in creating multiple page variants.
5. After the Deadline
The tool 'After the Deadline' is available for both the WordPress and non-WordPress users. Install the plugin or visit the website and use it. It evaluates your content for the proper use of words, phrases, and sentence structure.
Artificial Intelligence technology backs the tool for assessing content for readability. If you want your blog or product descriptions to be readable by a vast majority, get the content checked through this app and pursue the understandability for an elementary school student.
6. AImojo
If you are new to improving website search and usability, then this plugin is for you. Aimojo is a proven tool for generating enhanced search results, menus, and contextual links.
Implementing various conversion optimization techniques is difficult, whereas this plugin finds user intent with their presence on the website so that the most matching results are projected to the users. The plugin is expected to release some of the advanced features, too, in the next edition.
7. WordLift
SEO is the godfather of any website or blog that aims to target a large chunk of users from the search engine. WordLift plugin is a savior for all the SEO beginners as it gives various tips and suggestions to enrich content.
The knowledge graph of the tool evaluates the content to recommend the addition of facts, statistics, images, and videos, which allows you to link high authority resources naturally. Build organic links without searching for hours. Let the AI of the tool match and suggest rich-quality resources for you to embed in the content and lead the way in search engine.
8. Kindred Posts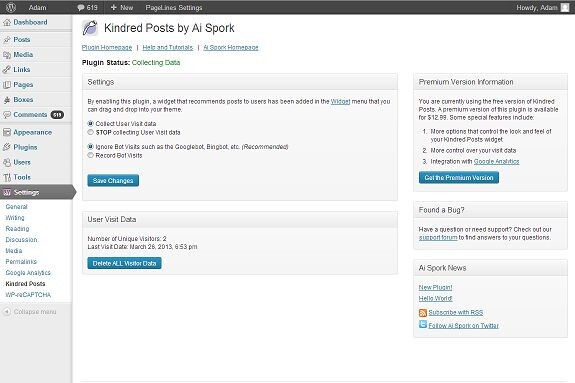 The Kindred Posts is a fantastic plugin that provides the users of your website with relevant data suggestions. The users who may be reading your blog or product may need to know facts and figures about a claim or problem that you address.
The intelligent mechanism of the plugin learns about the customers' intent so that only the relevant data is recommended. What happens if you show additional data to users? They interact with the website and start trusting on the content that you share. They get to know that any fact that you report is back by research and experience.
9. Recomendo
Recommended is another mesmerizing tool that projects data to users according to their needs and expectations. You may not know the exact details a user may need about a product in a review article. This plugin can solve the problem by prophesizing data variation.
Webmasters can personalize the data that have to be projected to the users of their websites. It is simple to install and configure.
Final words
Artificial technology is simplifying the life of many with its fantastic usage. WordPress is a reliable platform for business people, bloggers, and anyone who wishes to have an impressive website. Whereas managing a website is a tiring job.
The contribution of AI in the shape of plugins can help you streamline your WordPress website. Try any of the tools I have discussed above in this post. You can share some of the tools from the AI category you are already using.