Last Updated on March 31, 2023
Regarding what wireless earbuds are currently leading the industry, the answer will often depend on who the person has their allegiance to. Those with an Android will maybe talk about Galaxy Buds or a new Sony earbud. Those with an Apple phone will likely say that the Air pods are the best.
Objectively, the Air pods are probably the market leaders at the moment because their branding and design are excellent. However, their price…. is not so excellent. With regular pods costing $180, Pro's costing $250-280 and the newer Air Pod Max costing $550, getting yourself a pair may be complicated if you are operating on a budget.
Similarly, if having an Apple product is not a priority of yours for whatever reason, then you may want to look at alternatives. This article looks to give you a no-nonsense list of 10 Air Pod alternatives that you can use as a reference when buying a new pair of earbuds. It will provide cheaper options for those purchasing on a budget, and more expensive options, for those who want the best. Firstly, we need to look at what makes a set of earbuds worth the money in the first place?
What to look for in a pair of earbuds?
Security
This is key when buying a pair of new earbuds because the last thing you need when exercising or walking is to feel like your earbuds are going to fall out of your ears. Secure earbuds give you more peace of mind, each of the buds on this list is designed to stay in your ears regardless of the situation.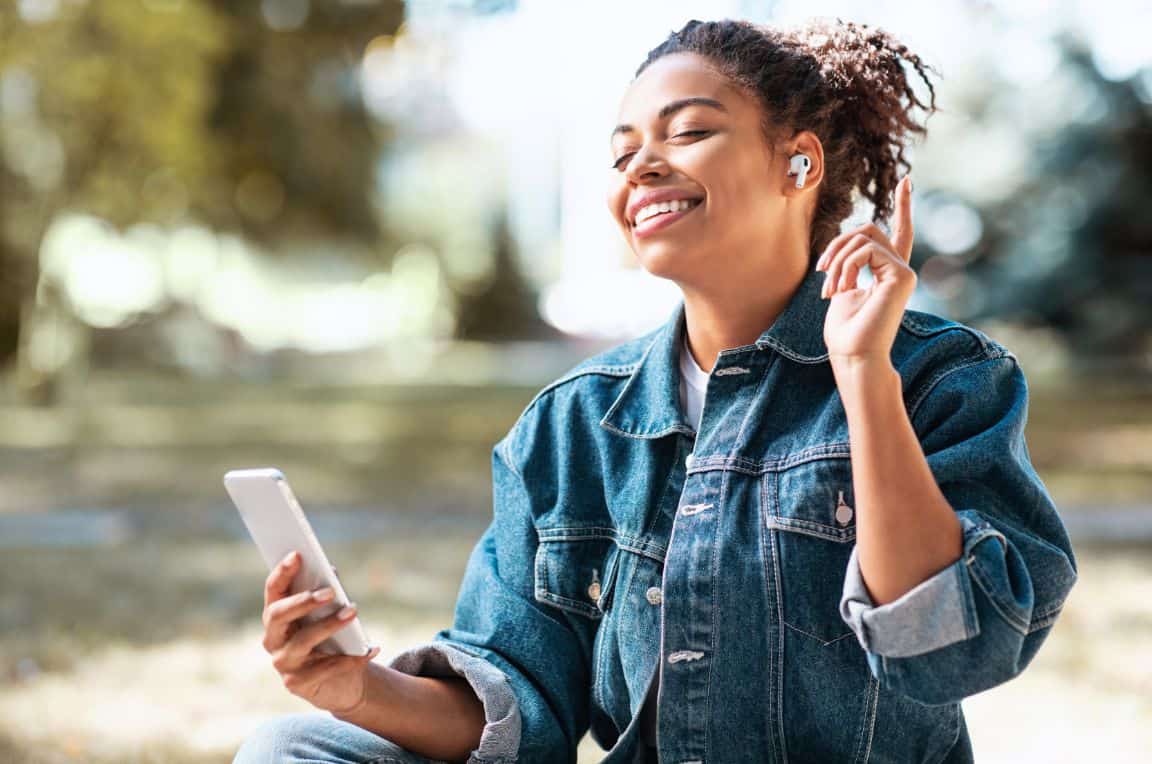 Value
As with any purchase you make, you want to be sure that you are getting value for money. Regarding earbuds, value can come in a variety of factors. Still, personally, battery life, app compatibility, design and versatility are what make a pair of earbuds more valuable than others.
Sound Quality
Now for the holy grail of reasons why anybody would want to buy earbuds in the first place. Sound quality falls into a host of smaller subcategories. For one, it should have a good EQ balance that is not too heavy on bass or treble, giving a sharp and focussed sound. Secondly, it should either offer noise-canceling capabilities or noise reduction when outside factors are loud and unpredictable. The last thing you want is to be training in the gym and hear gym music and your own music.
Best Apple AirPods Alternatives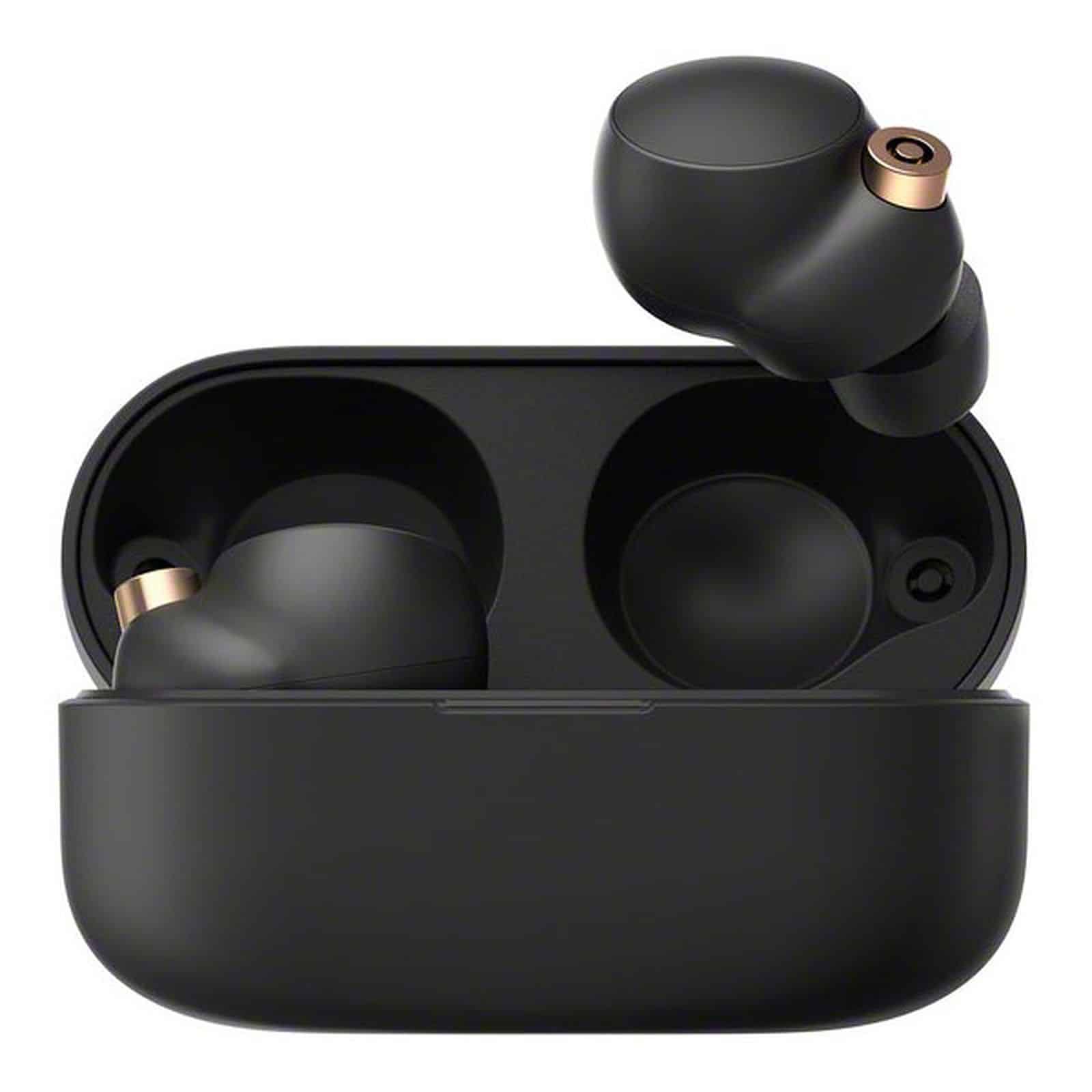 If you want to talk about a real contender to dethrone the Air Pods, then look no further than Sony's newest and most advanced earbuds yet. The 1000xm4's contain industry-leading technology that provides an incredible sound that you would expect from Sony, but at $340, they do not come cheap.
The earbuds are designed with a new V1 processor, made for active noise canceling. If you combine that with their specially designed noise isolation earbud tips made with polyurethane foam, then you have industry-leading noise cancellation. Each earbud contains highly sensitive dual noise sensor microphones that pick up ambient sounds that other earbuds would not be able to pick up.
On top of that, the earbuds have wind noise reduction and a "speak to chat" feature. This feature pauses the music you are listening to if someone stops you on the street to chat, and the ambient noise sensors will allow you to hear them even clearer. Perhaps the coolest feature is the Adaptive Sound Control features, which adjust automatically to the situations you find yourself in.
So if you regularly visit places like the supermarket or the gym, you can create specific sound controls adapted for that environment. With Alexa and Google Assistant built-in, and fast pairing to your mobile and computer available, Sony has thought of everything with these new buds. An amazing and, dare I say, a better alternative to the Apple Air Pods.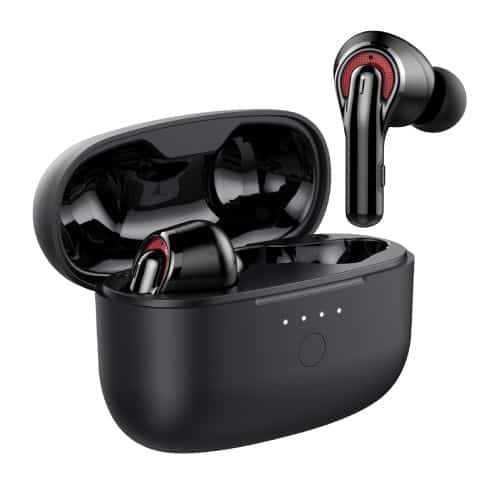 From the top of the range prices to a more affordable option, the Tribit Flybuds are a third of the cost of Air Pods yet pack just as much bass and noise reduction capability. Armed with two microphones in each bud and a sidetone that makes your own voice pickup clearer, you can make calls with them as well as listen to music.
The Flybuds have a modern and sleek black and red design, and their charging case is light and, just like the earbuds themselves, is IPX4 waterproof. The battery lasts 8-12 hours, and the range is about 30 meters. Similarly, the Qualcomm QCC3040 chip ensures that you can stream audio from even the newest phones.
Panasonic is known for its audio quality, and its RZ-S500W earbuds are no exception. Coming in at $150, or $120 if you use a coupon code on Amazon. The S500W earbuds have a host of great features that make it a viable Air Pod alternative. They contain dual hybrid noise canceling, as well as an optimized touch sensor that ensures an interruption-free music connection wherever you go.
The charging case has a handy LED indicator that tells you how charged up the earbuds are, and just 15-minutes of charging gives you over an hour of playback. In addition, the earbuds have a unique touch sensor antenna, and the Panasonic app allows you to customize the earbuds to suit your own listening preferences. 
Armed with some of the best active noise cancellation, sleek design and the most superior charging case on the list, the Momentum 2's are up there among the best on the market. Winning Cnet's editors' choice award for earbuds in early 2020, the Momentum 2 earbuds have a lot to love about them.
With 28-hour battery life, active noise cancellation and transparency mode, and a customizable touch control capability, Sennheiser has taken earbud technology to another level. The stereo sound is controlled through a companion app that allows you to fine-tune your sound settings, EQ, and volume control.
The touch capability settings are also customizable through the app. By simply touching the earbud, you can activate Siri, Alexa, or Apple Assistant, control your volume, or manage your calls. Look to pay $300 for them, but with that price tag comes unparalleled quality.
The first of two Bose earbuds on the list, the QC earbuds are one of the most popular alternatives to Apple's Air Pods, and for a good reason. Over 900 5-star reviews on amazon underpin the outstanding design and sound quality that people have come to expect from Bose. But what does $330 get you?
Acoustic noise cancellation technology for one, which allows for crisp and clear audio at all times. The winged design is made to fit seamlessly in your ear and ensures protection and comfort for extended use. The ear nozzle is umbrella-shaped to contour your ears and allow as little outside noise to enter as possible.
The Bose companion app allows you complete creative control over the earbuds. As well as that, by simply touching the left earbud, you can toggle between three separate noise cancellation settings. Bluetooth 5.1 allows for a strong connection, and while the range is mediocre at just 10 meters, the quality of the earbuds more than makes up for it.
Regularly on sale on Amazon (currently half price at $60), the Echo Buds are known for their immersive sound and active noise cancellation capabilities. Think of them as a regular echo dot, but in your ears. The level of voice control is unparalleled, and a 15-minute charge allows for 2 hours of playback.
Use the Alexa app to train the earbuds to do new things like playing your favorite radio station, tell you a joke, or give you the latest news headlines. The hands-free capabilities are endless, and with its Bose noise-canceling technology, you are getting many innovative features for your money. The earbuds are also sweatproof, and don't worry; if you are concerned about privacy, you can turn off the microphones within the Alexa app.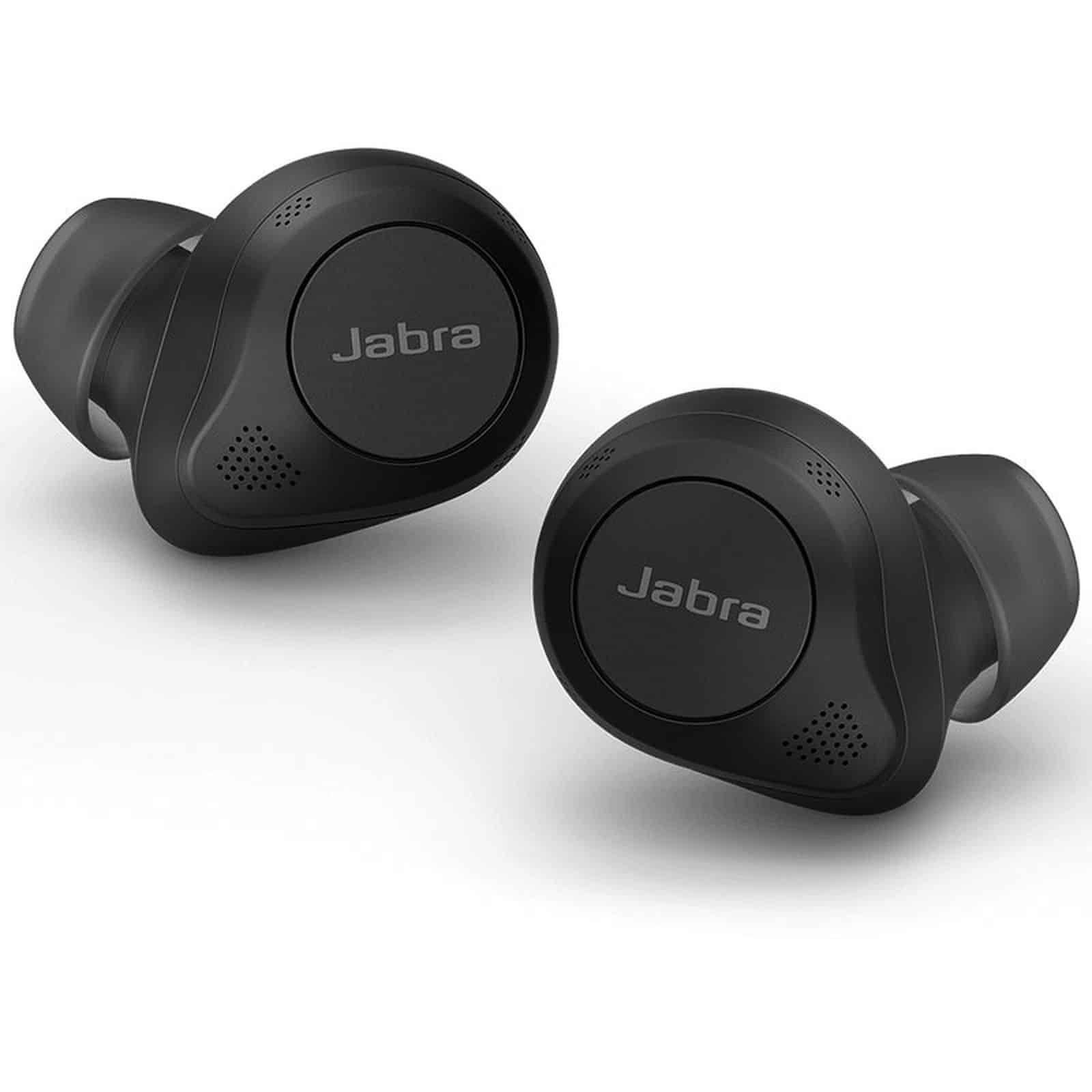 Over the last few years, Jabra has become a powerhouse in earphone and earbud creation. Looking at their flagship 85t range, that is no surprise. Up to 25 hours of listening time if used with the charging case and 12mm speakers in each earbud are among its standout features.
However, the $180 you pay for the 85t does not just offer basic capabilities like battery life and large speaker drivers. In addition, the 85t has wind protection for when on calls, 6 microphones to ensure precise pickup, a compact and comfortable design, and adjustable button controls.
The charging case is magnetic and compact, making storage easy, and a 15-minute charge allows for an hour of playtime. Tailor your listening experience as well with the Jabra Elite app, which is compatible with their entire Elite range.
9.
Enacfire A9
Another bargain earbud option is the Enacfire A9. Coming in at $60, it is a fraction of the price of other earbuds on the list but still has a host of exciting features. It has active noise cancellation capability and transparency mode that allows for ambient outside noise to filter through if an announcement is being made.
These features mirror the Sony 1000xm4, which is extremely impressive given its price point. The design is sleek and offers both comfort and security. The earbuds themselves are IPX7 water-resistant, offering the most water protection of any earbud on the list. The earbuds 4-mic system combined with its ENC noise cancellation minimizes background noise. In addition, it enhances speaking volume so that calling is easier than ever before.
Combined with a fully charged charging case, you get up to 32-hours of battery life. With Bluetooth 5.0, the connection between earbud and device is faster than ever. 
Buy on Amazon
The SoundSport range is Bose's first attempt at truly wireless earbuds, and they are worth every cent of their $160 cost. Engineered to deliver unmistakable and powerful sound, you get everything you expect from a Bose product. StayHear+ sport tips provide an in-ear grip when working out, and IPX4 water resistance ensures that sweat will never affect performance.
On top of that, custom signal processing gives a clear sound that eliminates background noise. On top of its excellent sound and security capabilities, there are two features that I love about these sports-optimized earbuds. Firstly, the "Find My Buds" feature in the Bose Connect App allows you to track your earbuds if one or both of them have gotten lost or been stolen.
Secondly, the charging case is one of the best on the market. It has magnets inside that keep the charging earbuds in place. It provides an additional two entire charges to the earbuds themselves when fully charged, meaning you need to charge them less often.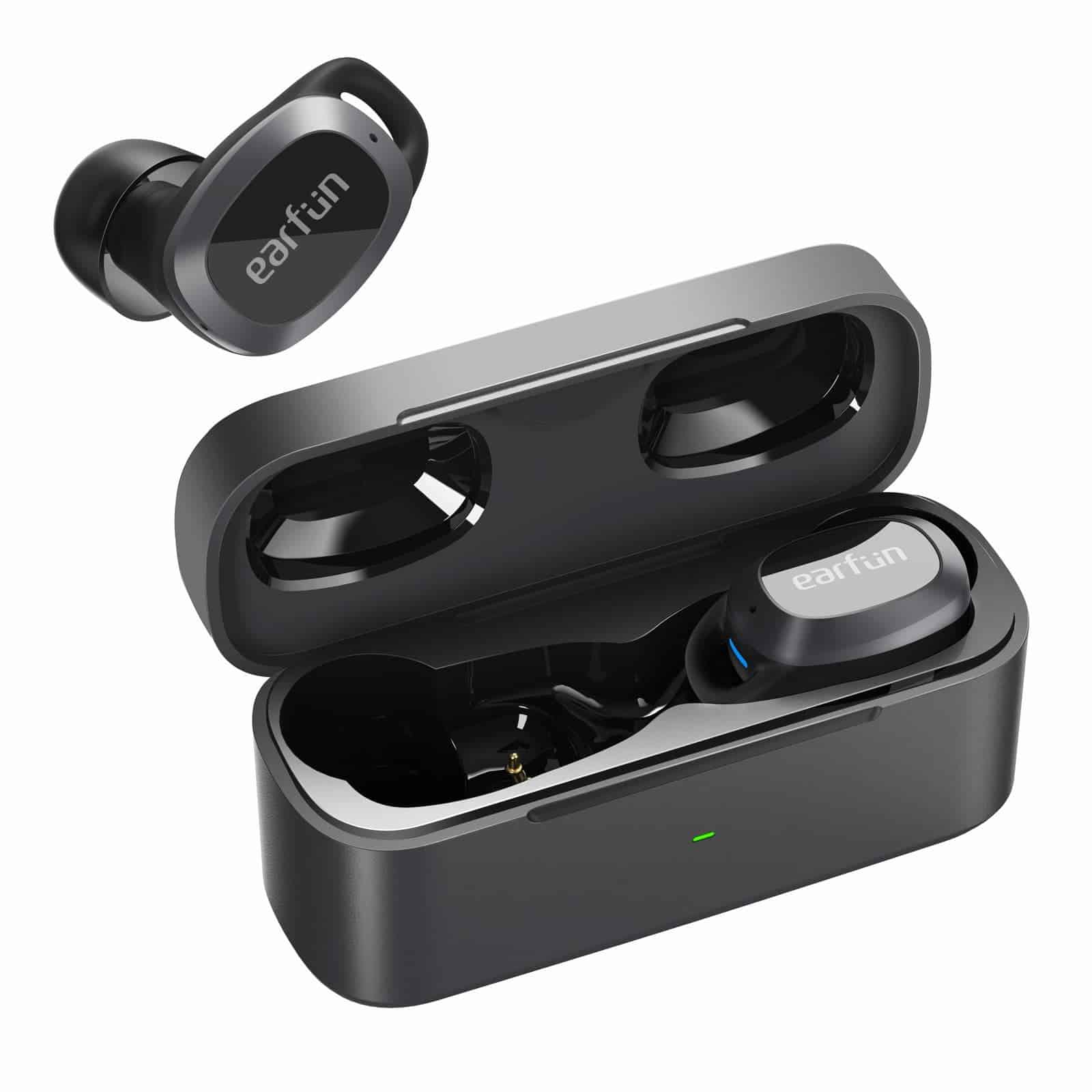 Coming in at $50, the Earfun Pros are the cheapest buds on the list and pack quite a punch. For one, they offer noise-canceling capabilities with six-hour battery life. They are IPX5 water-resistant and are designed to be optimized for sports use, so they are perfect for exercising or being active.
They are designed with small fins so that they are balanced and secure. They are lightweight, too, making them an attractive option for someone looking for comfortable and safe earbuds. Their dynamic dual-drivers provide extra bass and treble, allowing for a punchier sound. Its low latency mode keeps the battery lasting longer when gaming or watching videos.