Amazon dominated the internet as being one of the world's most successful eCommerce marketplace, and you could soon be visiting them on your highstreet to do your weekly grocery shop. There are plans to open 260 Amazon Fresh stores in the UK by 2025, changing how many of us do our food shopping.  
As always, Amazon has carefully calculated the best time to enter the market as available retail space has steadily climbed since the start of the COVID-19 pandemic. However, this does not mean Amazon will be able to snap up all the best retail spots. The more experienced food store competitors, such as Tesco, Co-op, Lidl and Aldi, are also looking to grow or refresh their property portfolios.
Competition is fierce in the supermarket world, so what is Amazon Fresh planning to do to stand out from the established food stores. The article explores the new world of checkout-less shopping and whether the UK public will welcome Amazon Fresh to their neighborhoods.
What is Amazon Fresh?
Amazon Fresh store is a contactless grocery shop available to anyone with an Amazon account. It was initially launched in the UK in 2016 as an online-only grocer, exclusive to Amazon Prime members who live within certain postcodes.
The eCommerce giant has opened a few contactless convenience shops across the US, which all trade under the name Amazon Go. However, the first Amazon Fresh store opened in August 2021 in Los Angeles as a full-sized brick-and-mortar grocery store. The new Amazon Fresh is much larger compared to the Amazon Go stores.
The first Amazon Fresh store to be opened outside of the US was in March 2021 in Ealing, west London. A second store then popped up in Wembley Park only two weeks later. Both of the London stores are smaller than a regular UK supermarket, but they are still larger than a corner shop at 2,500 square feet.
Amazon Fresh sells fruit, vegetables, dairy products, alcohol, some medicines and other things like batteries and birthday cards. They also offer the ever-popular lunchtime meal deal, similar to Tesco, Boots and Co-op. The meal deal section has a variety of meals, snacks and drinks. The meal costs a standard price, and then you can add a drink and snack for an additional £1.
How Does Checkout-Less Fresh Stores Work?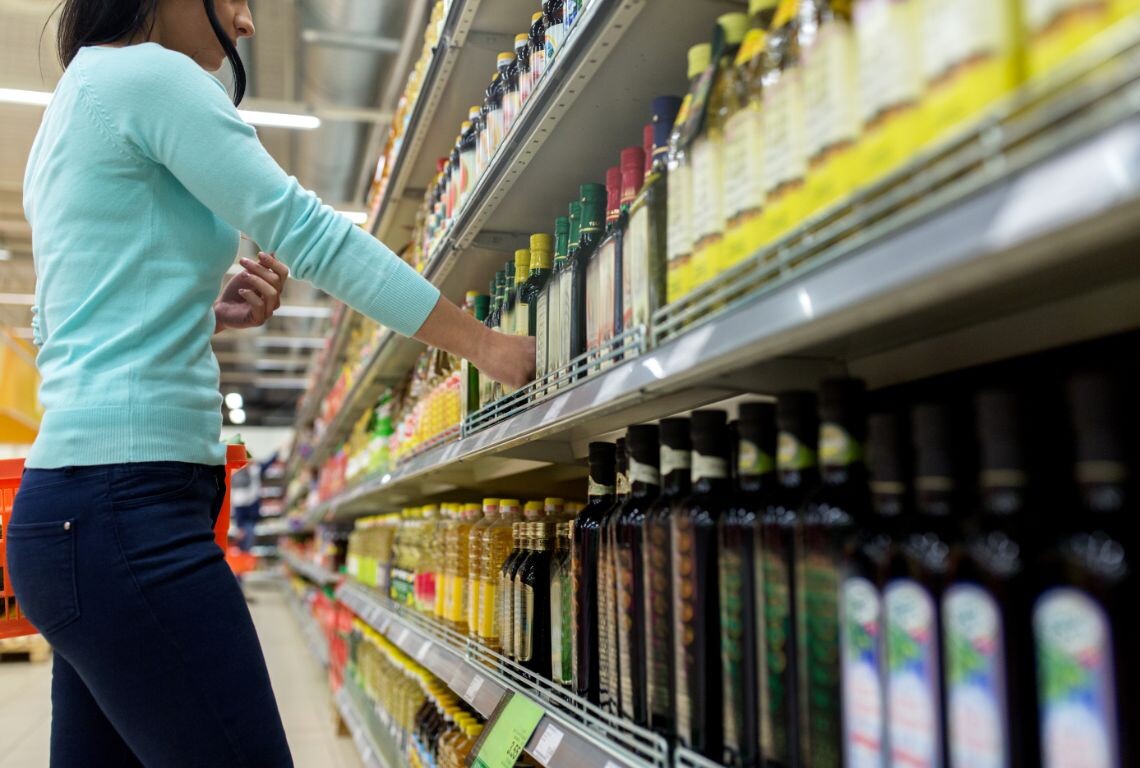 Amazon Fresh is for the modern-day shopper with a smartphone and the Amazon app installed on their phone. Unfortunately, you must scan a code from your phone to even enter the store, so it may not be the place for a technophobe.
Once you are in the store, you can choose between a free paper bag or buy a reusable one. It is then possible to pick up items without scanning them or even visiting a till. There are sensors on the various shelves that detect when an item has been removed. The in-store cameras (along with AI technology) monitor the customer's movements around the shop and the items chosen for purchase. After that, the bill is automatically charged to the buyer's Amazon account upon exiting the store.
In case you change your mind about an item, you simply put it back on the shelf, and it is automatically removed from your virtual cart. It is also possible to pick up and return items you have bought online from the Amazon marketplace using the in-store Amazon Hub.
Does the UK like Amazon?
Many people in the UK may be doing a big eye roll at learning Amazon is appearing on local high streets. Although Amazon is incredibly convenient when you want to order a book, a new phone case, or a new dog lead, some feel uncomfortable adding to Amazon's retail dominance.
There are concerns about the potential low taxes Amazon may pay, the treatment of Amazon staff, and its impact on independent retailers. However, Amazon is taking significant steps to improve its social and environmental practices.
Amazon now supports small businesses, artists, and skilled craftspeople in specially created hubs on the eCommerce shopping platform to sell their products. With the help of an Amazon agency https://nuoptima.com, these independent sellers can save their businesses from the impact of national lockdowns and low footfall.
There may also be concerns that checkout-less stores will mean no new jobs created for those local to an Amazon Fresh. Amazon Fresh aims to create a hassle-free shopping experience but still provide employment opportunities. Although customers do not need to interact with a member of staff, each Amazon Fresh store will have around 30 employees. There are about five workers on-site at any one time to assist customer queries, restock shelves and prepare fresh food.
Closing Thoughts
These new stores will give customers a unique shopping experience that many introverts crave. For example, customers in an Amazon Fresh store will have a solo shopping experience. The only time you may need to interact with one of the employees is to purchase alcohol or medicine, which will require an ID for age verification.
There is a slight worry for those shoppers that are a little spontaneous when let loose in a store – Amazon Fresh could lead to overspending. Shoppers are billed after leaving the store, and they can be completely unaware of how much they have actually spent. It can also take around two hours for the receipt to come through. However, as the stores are only around 2,500 square feet, you can only do so much damage to your bank account.
If you do not enjoy the thought of every movement being closely watched by the hundreds of in-store cameras and sensors, Amazon Fresh may not be the shopping experience for you. Fortunately or unfortunately, there is no getting away from it, the Amazon Fresh stores have a slight dystopian feel to them. Only time will tell whether these high-tech stores will be just a fad or whether consumers will prefer this new shopping experience.