Animation has come a long way. According to archaeological findings, the history of animation goes back more than 35,000 years ago, as is evidenced by cave paintings of animals in ancient Indonesia.

Of course, the history of animated films is a bit more recent. The first official animated movie was created by Émile Cohl in 1908. Thereafter, films like Vintage Mickey (1928), The Adventures of Prince Achmed (1926), Snow White and the Seven Dwarfs (1937), and Fantasia (1940) went on to revolutionize the film industry by further popularizing the concept of animation.

Over the years, interest in animation has grown beyond the big screen. Today, numerous e-commerce brands consider animated videos instrumental for their video marketing campaigns.

But creating animated videos is usually a time- and money-consuming affair. Well, not anymore. With scores of free animation software, there's no limit to how many high-quality animations you can create free of charge.

We've rounded up the ten best free animation tools to help you kick-start your journey towards becoming a skilled animator.
Creatoon is a free animation software which comes with a simple and intuitive interface that any beginner animator can get a hang of. The tool allows you to create cut-out style 2D animations. You can then apply a raft of nifty special effects to your creations.

Using Creatoon, you can also combine bitmaps with vector graphics for more visual appeal. And for higher control over your creations, the software allows you to edit and preview your project in real-time. Other things to love about Creatoon is its provision for segregating your animation elements, as well as the ability to manipulate the progression of brush elements and fine-tune the sketch tool to precision.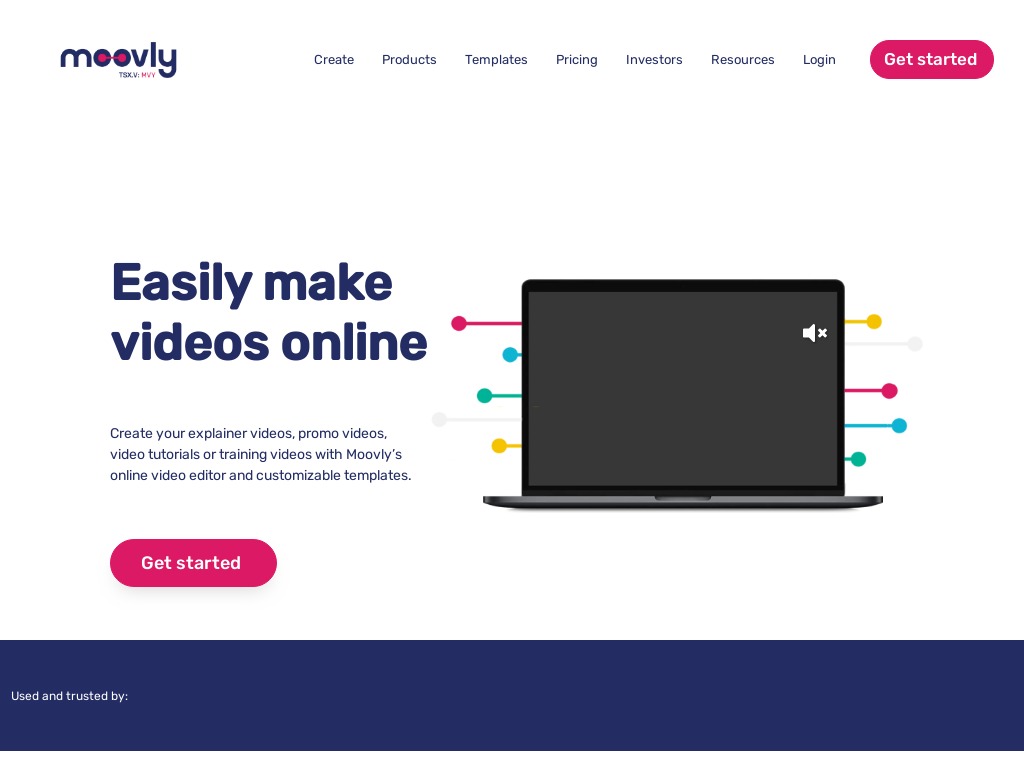 Moovly is an online-based animation software, which means that you can use it readily on a supported browser without incurring any download costs or going through the rigor of installation. But the one standout feature about Moovly is that you can use it to make various types of animated videos, ranging from social media videos to explainer, whiteboard, presentational, and advertising videos. As such, the software ideal for just about any animator, from small social media users to e-commerce giants.

Moovly also hosts a vast library of templates to make your animation creation process a breeze. A drag-and-drop interface makes the tool all the more user-friendly.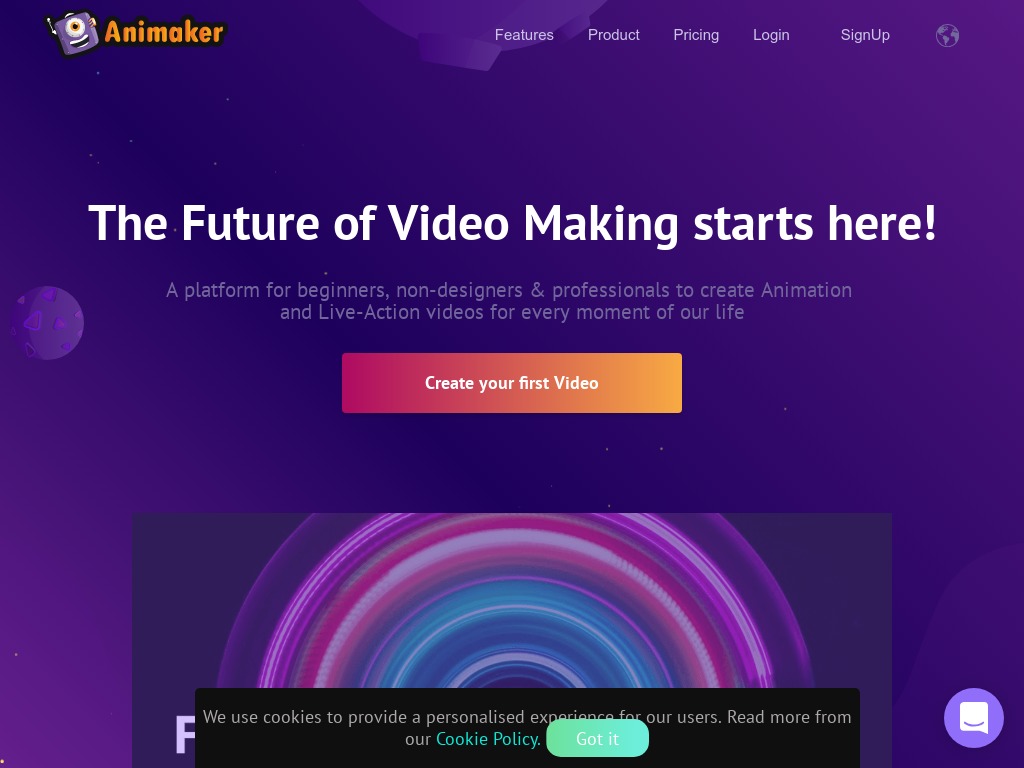 While searching for the best free animation software for beginners, Animaker is one of the tools you'll often bump into. Its easy drag-and-drop functionality coupled with an intuitive interface makes it the go-to software for budding animators.

Animaker also lets you create up to six different types of videos, including 2D, 2.5D, infographics, typography, whiteboard, and handicraft. To spice up your animations even further, Animaker offers full HD support, pre-prepared graphic templates, as well as horizontal and vertical video layouts. Using the software, you can also add your favorite background music or sound effects to your videos.
PowToon is ideal for short videos. The tool mostly supports videos up to three minutes long. But on the upside, PowToon comes with a massive list of templates that will kick-start your animation creation process in style. After selecting your templates, PowToon still lets you customize them further by adding moving characters to them.

And if you're averse to using PowToon's templates, you can also upload your content directly onto the platform. Either way, the software guarantees relatively high video resolution as well as a range of aspect ratios and sizes to choose from. Once you're done creating your animations, you can export them directly to various social networking sites like Facebook, YouTube, and Vimeo.
If you're looking for free animation software that offers you complete control over the animation creation process, your search ends with Synfig Studio. This tool is based on vectors, which makes it incredibly easy to edit all vector artwork in an animation.

In addition to its full-control vector editing capabilities, Synfig Studio also comes with tons of effects that you can apply to your animation characters, including the option of creating character puppets. Another thing you'll love about Synfig is that it supports numerous operating systems, including Windows, Linux, and Mac. Plus, the tool is open-source, which means you can also access the source code.
Right off the bat, it's important to highlight that DigiCel FlipBook comes with both freemium and premium packages. Unfortunately, the animations that you create using the freemium plan come with watermarks. But that's by no means a deal-breaker. If you're looking for software that makes short work of 2D animations, you should really consider DigiCel FlipBook.

First, DigiCel FlipBook is remarkably easy to use, as you can either draw your animations directly onto the software's platform or scan your paper drawings. The ability to make stop motion animations and work on multiple frames simultaneously, as well as the provision for lip-sync support are other special features of DigiCel.
While DigiCel FlipBook is generally recommended for 2D animations, KeyShot lets you create high-quality animations in both 2D and 3D. The tool also prides itself on its incredible speeds, allowing you to convert your simple models into spectacular masterpieces in a matter of minutes.

KeyShot implements HDRI lighting that lets you light and fine-tune each scene as required. The designers also included focused caustics for higher lighting capabilities. Intuitive camera controls makes it easy to simulate real-world camera activity, while dynamic texture mapping lets you simulate real-world layout of landscapes. What's more – KeyShot users can now create their animations in Virtual Reality (VR).
Blender may not be the go-to video animation software for beginners. But if you're an expert video editor looking for a free yet powerful video animation tool, you should certainly look in the direction of Blender. For starters, Blender is an open-source, public project, which means that creatives from all over the world contribute to the platform regularly.

But what truly makes Blender stand out from other animation creation software is its long list of advanced features. The tool comes with modeling features like sculpting, curves, and retopology, which are highly useful in editing models. Other notable features by Blender include simulation, compositing and motion tracking, rendering, rigging, to mention but a few.
As the name implies, K-3D is a video animation software that lets you create your animations in 3D. It's another free animation software on this list that's recommended for professional artists. The tool is designed around polygonal modeling, which is a digital graphics concept that uses polygons to represent object surfaces.

Another thing you'll love about K-3D is its compatibility with numerous productivity tools. Even better, it combines plugins with visualization pipeline architecture, which allows it to adapt seamlessly to the tools that you integrate it with. Also, K-3D uses a procedural and parametric workflow approach, which lets users make changes to their video animations on the go.
One of the striking features of OpenToonz is that you can use this free animation software to create videos for both personal and commercial use. But that's not its only standout feature. The software is also packed with digital drawing tools, including bitmap and vector, as well as indexed color palettes like color changing and quick paint.

There are over 100 special effects to choose from, including blurs, keys, warps, masks, lighting, to mention but a few. You can even deploy particle systems for dust, rain, and suchlike effects. With OpenToonz, you can also motion-tween your objects (use motion paths to perform complex movements) or motion-track your objects (combine animations with video footage).
Final Word
Finding free animation software isn't a walk in the park. But it's also not as difficult as many artists would imagine. Some of the considerations when choosing a free animation tool include user-friendliness, compatibility with numerous platforms, and the provision for advanced editing features. Feel free to bookmark this post and you'll always have a head-start when looking for powerful, effective, yet free video animation software.