Appointment scheduling software is a tool that lets your clients see the time you will be free so they can book a meeting with you. You can as well use it to send automatic reminders, accept deposits online and alter appointments (emergency scheduling and rescheduling) as needed.
In times where the effects of the pandemic still loom, lack of appointment software can quickly turn your day into a nightmare. Think about working with your remote teams and struggling with your own work from home challenges; the chances of confusion erupting are pretty high.
Thankfully, appointment & scheduling software reduces stressful & repetitive online booking. And the best part is, some are absolutely free. However, we can all agree that paid one offers a lot more features that can streamline your day-to-day business transactions. 
Before we dive so far into the meaty details of the best appointment scheduling and booking software, let's ponder a bit about what exactly makes one "the best".
The ideal features to look for in Appointment and Scheduling software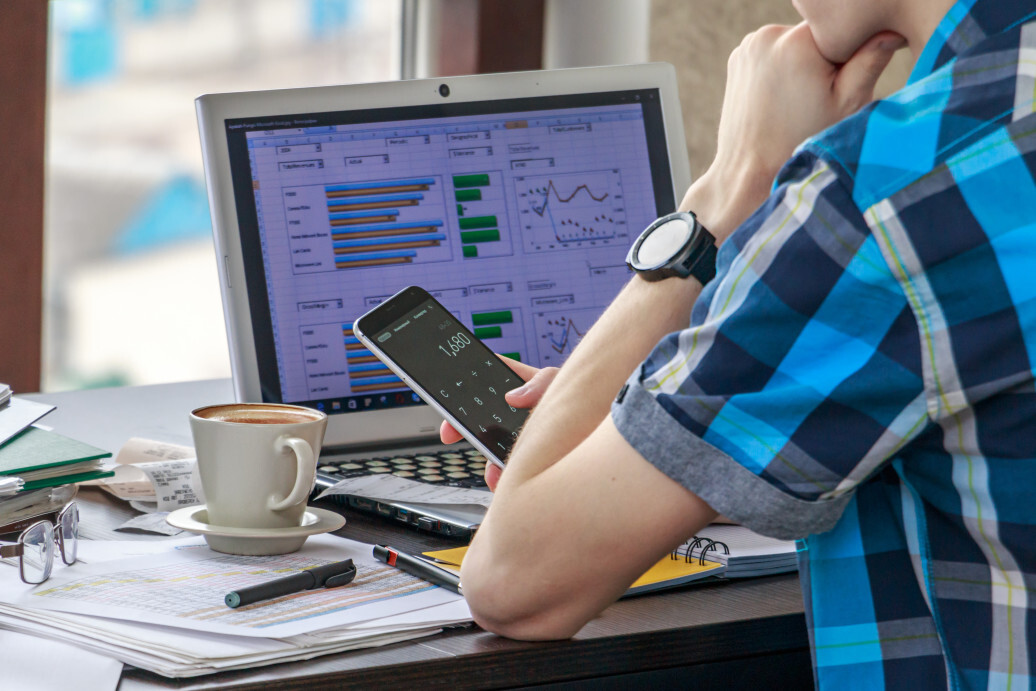 Massively customizable
Your business is unique. For instance, if you are a virtual assistant, your menu items cannot even remotely look the same as that of a gym instructor. As such, you need to prioritize booking tools that let you deeply customize them to fit the look or feel of your business.
Understand that providing a unique niche feel is not something a general tool can do. In such a case, you might want to switch to niche-specific providers like Vagaro for salon, fitness and spa businesses.
Payment processing
Advance payments are common for independent contractors, freelancers, and other business persons. This guarantees that a client won't change their mind while you are in the middle of the work. Therefore, many appointment programs will allow you to collect some partial or full payment upfront.
Automated reminders
Here's something we can both agree on; No-shows suck. And guess what, sometimes it's not because a client changed their mind-no. Sometimes it's because they did not get any alerts and due to their busy schedules, they forgot.
Automated reminders is one of the most advanced features an appointment scheduling software should not lack. This way, you can send out occasional email alerts to keep clients aware of their meeting with you.
Simple rescheduling
No matter how good you are at your job or how thorough you send email reminders, no-shows will still happen. If you do not follow up with them, Christmas will come early for your competitor.
But if you go for a software with a simple rescheduling feature, you can get back to your customers with one or two clicks. They will be brought back right at the juncture they left-no need for them or you to key in details once again. That's a great feature, don't you agree?
Simplicity
Just like a bad website interface, a complicated appointment and scheduling tool can annoy your potential client. When filing in the details, the prompts should be few and straightforward.
Reviewing the best appointment scheduling software
Here are a few best apps that let others book your services:
1. Calendly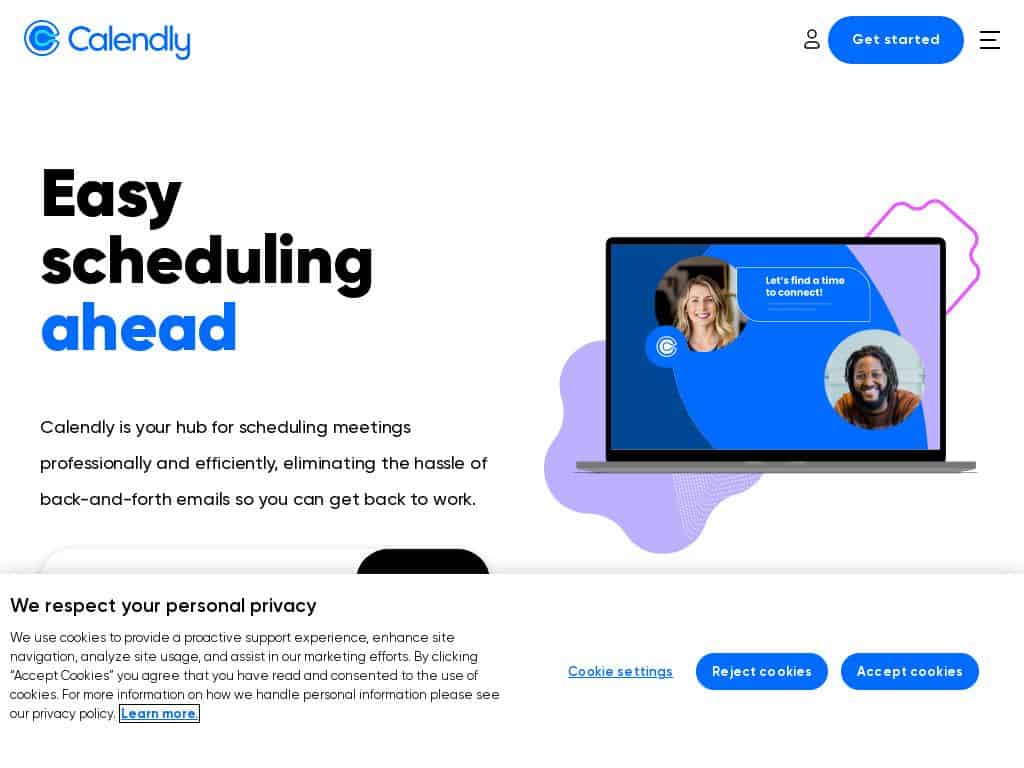 If you don't want to spend money on admin personnel, Calendly should sit at the top of your list. Its design is simple and in a few details, a client can book you up. Email alerts are sent automatically up to the time they will hop on a call with you.
Calendly offers the best performance when it comes to meetings. You can hold one-on-one meetings, group meetings, collective and round-robin. For each, you can access the meeting metrics, team pages, and reporting.
This appointment scheduling software integrates with over 700 apps. These include Zoom, MailChimp, Stripe, Google Calendar, Outlook, and more. You can accept payments that will automatically be invoiced and recorded.
Pricing: the basic plan is free and the lowest package starts at $8 per user/month
Pros
Ideal for multiple business models

Simple design

You share a link with prospects

Unlimited scheduling

Integrates with many apps
Cons
The free version is extremely limited
2. Picktime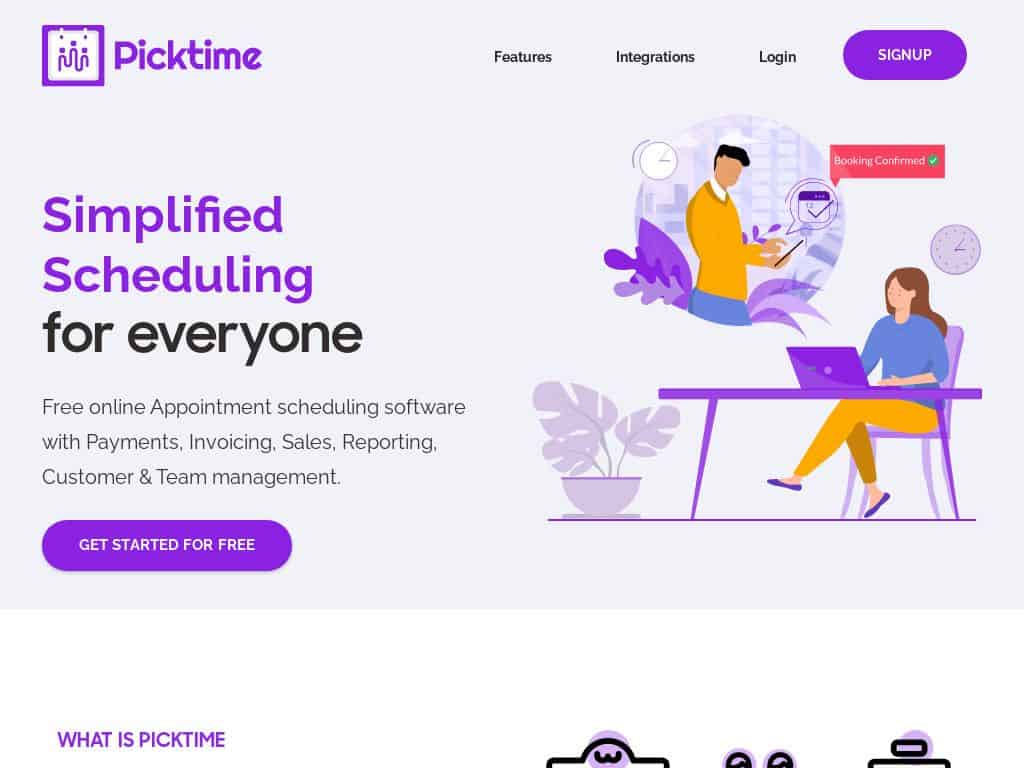 Picktime is one of the best free appointment scheduling tools. Unlike Calendly, this tool's free plan comes with unlimited appointments, a max team of three, two locations, and a few native integrations.
The user interface is intuitive and when you toggle the sidebar you can locate the calendar and a list of all your bookings. It's possible to customize your booking page, edit booking rules and questions.
Both paid and free versions of Picktime link with PayPal, Stripe, and Google Calendar. Those on the paid plan get more integrations and additional teams, locations, and payment processors.
Pricing: starts at $9.99 per month
Pros
Professional looking booking page

Your client can book you from several platforms like Facebook, website or Google maps.

A generous free plan

Multiple possible integrations
Cons
Lacks many customization features compared to Calendly

No phone call reminders

Doesn't support Outlook calendars
3. Appointlet
Appointlet is one of the cheapest and most streamlined booking tools for business individuals. Like others, it lets you schedule and reschedule appointments and create professional-looking booking pages. These pages can be integrated into your website, emails, and landing pages.
Here's a sweet rhythm to your ears; Appointlet's free plan remains free forever. Isn't that great? To sweeten the deal, the plan has a fair number of features compared to free plans of other appointment schedulers. For instance, clients can book you in several languages including English, Spanish, Italian, Dutch, etc.
The app lets you gather lead information as well as receive upfront advance payments. Bookings can take place on either mobile or desktop devices.
Pricing: free plan; paid starts at $8/month
Pros
Clients can book you in the languages you speak

You can personalize scheduling pages

Sends out automatic email reminders

Ample team scheduling features

Affordable premium plan

Integrates with video chat tools like Join.me and Zoom
Cons
Not as many integrations as you would hope for
4. Fresha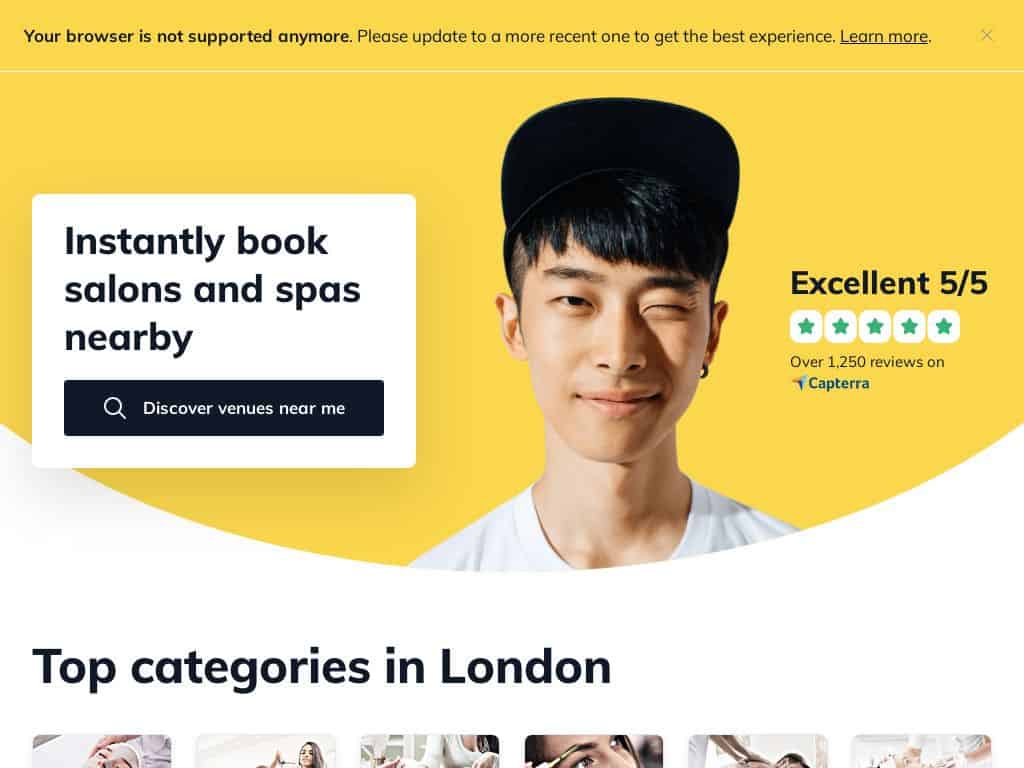 Fresha is a big deal in the health and beauty industry-mostly spas, salons, and individual stylists. It allows salespersons to set up unlimited appointments for you and your staff and in many locations. The tool then does follow-up by sending unlimited email notifications.
The existence of an inventory system and POS features are the two biggest reasons why Fresha gets much attention. Because it's a marketplace, it's very easy for beginners and accomplished artists to get clients. Understand that for every client you close through a booking, the app takes a 20% commission.
The paid plan expands your reach by allowing you to market on Yahoo, Facebook, and other online markets for robust self-promotion. While Fresha doesn't integrate with other calendars, its own system comes with one that gets the job done right.
Pricing: the app is free but there is a premium plan that is commission-based
Pros
Let's you market on Fresha, yahoo, and other marketplaces

Can process payment and print receipts

The dashboard lets you view everything from a single point

Usable on both mobile and desktops

Can send unlimited email reminders

Supports multiple locations
Cons
No group booking capability

Lacks video chat integrations

Does not integrate with other calendars
5. 10to8
For those with entailing business-possibly with several employees and departments, 10to8 could be a great asset for them. It's one of the feature-rich tools that bring to the table customizable questionnaires, multiple staff calendars, online payment acceptance, group booking, and video chat integration.
When it comes to engagement, 10to8 shines brighter than others. For instance, not only will you be able to send automatic emails and SMS reminders but your clients can reply back as well to either accept, decline, or reschedule the booking. 
The channels of communication are ample. You can send an email, SMS, or commune through Facebook and Slack. This can be really convenient for some clients.
10to8 is an awesome growth tool that lets you receive upfront payments or request a member of your team to attend your appointments. Furthermore, it's got reports that highlight how your business is progressing. This app has four plans so as to give you the freedom to choose one that fits your business size and needs.
Pricing: the small business package is free, basic goes for $9.60/month and the last, enterprise is $40/month.
Pros
Integrates with many apps and marketplaces

You can customize the questionnaires

Tracks and alerts about no-shows so you can follow up

A two-way chat system for communication

Supports many types of businesses 
Cons
6. Setmore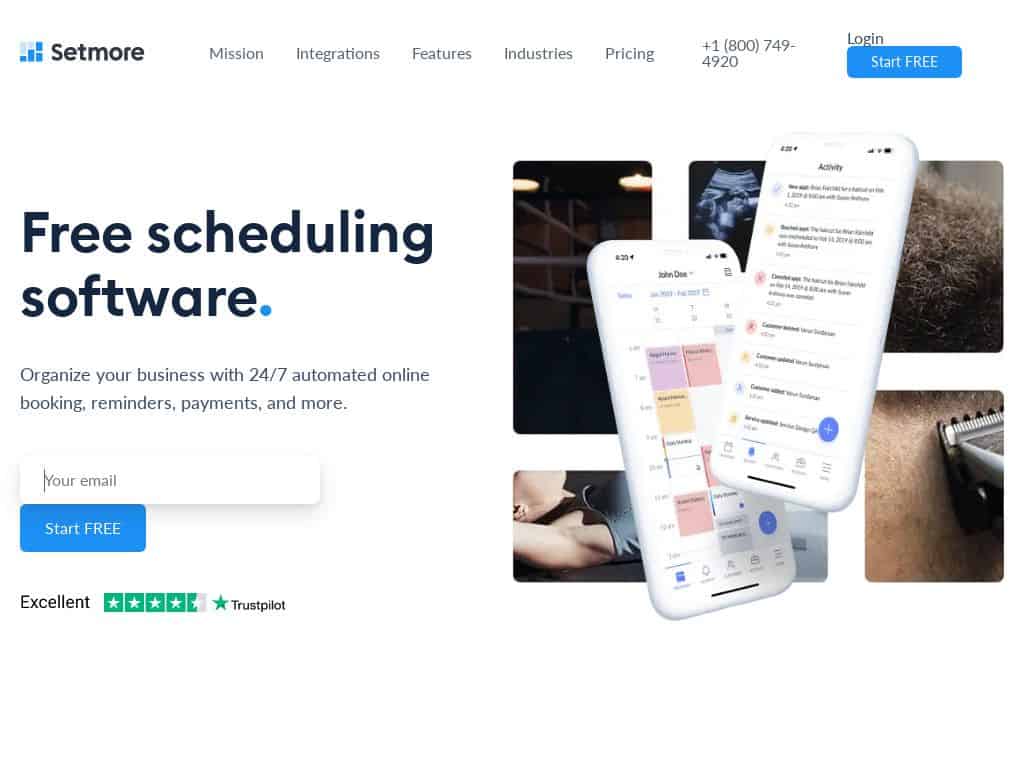 Setmore is for those who work as teams. The free plan has slots for up to four employees. That means, you as the business owner don't have to address all the bookings. Plus, the tools show clients which employee is free so they can book them up.
This scheduling software has all the powerful features of running a business. For instance, besides assigning and reassigning appointments, it allows you to accept payments through Square and keeps the record of all customers.
To help you send email reminders, Setmore integrates with CRM, sales engines, and mailing apps. The software is super easy to use and is reasonably priced.
Pricing: free plan; paid starts at $25/month
Pros
You can create public-facing booking pages

Superior team management features

Sends automatic email reminders

You can accept payment online

Syncs with Office 365, Outlook, and Google calendars
Cons
Charges for features that other apps provide for free
7. Acuity
Acuity scheduling is one of the best public-facing appointment tools and is HIPAA compliant. When customizing your booking pages, the software lets you refine them with as many details as possible. For instance, a client can fill the form, cancel an appointment, choose recurring appointments and even pay upfront.
By default, there's a 15-minute window before the next appointment. If you need more time to rest, Acuity lets you do that. Furthermore, you can set conditions and times for short notice appointments.
"Make me look busy" is one of the unique features of Acuity scheduling. This feature hides some of your availability times so your business looks a busy one (and that you are not desperate for clients.
Once you have refined your booking page with all the details, you can embed it on your website or share it as a link. Thanks to the existence of mobile apps, you can edit your availability right from your smartphone. The software integrates with multiple other tools to enable your business to run smoothly.
Pricing: free trial: paid plans start at $14/month for one user.
Pros
Massively customizable

Syncs with calendars to automatically update appointments

Integrates with many apps

HIPAA compliant scheduling tool thus safe for healthcare providers 
Cons
The free option is limited to one person

Limited locations
8. Square Appointments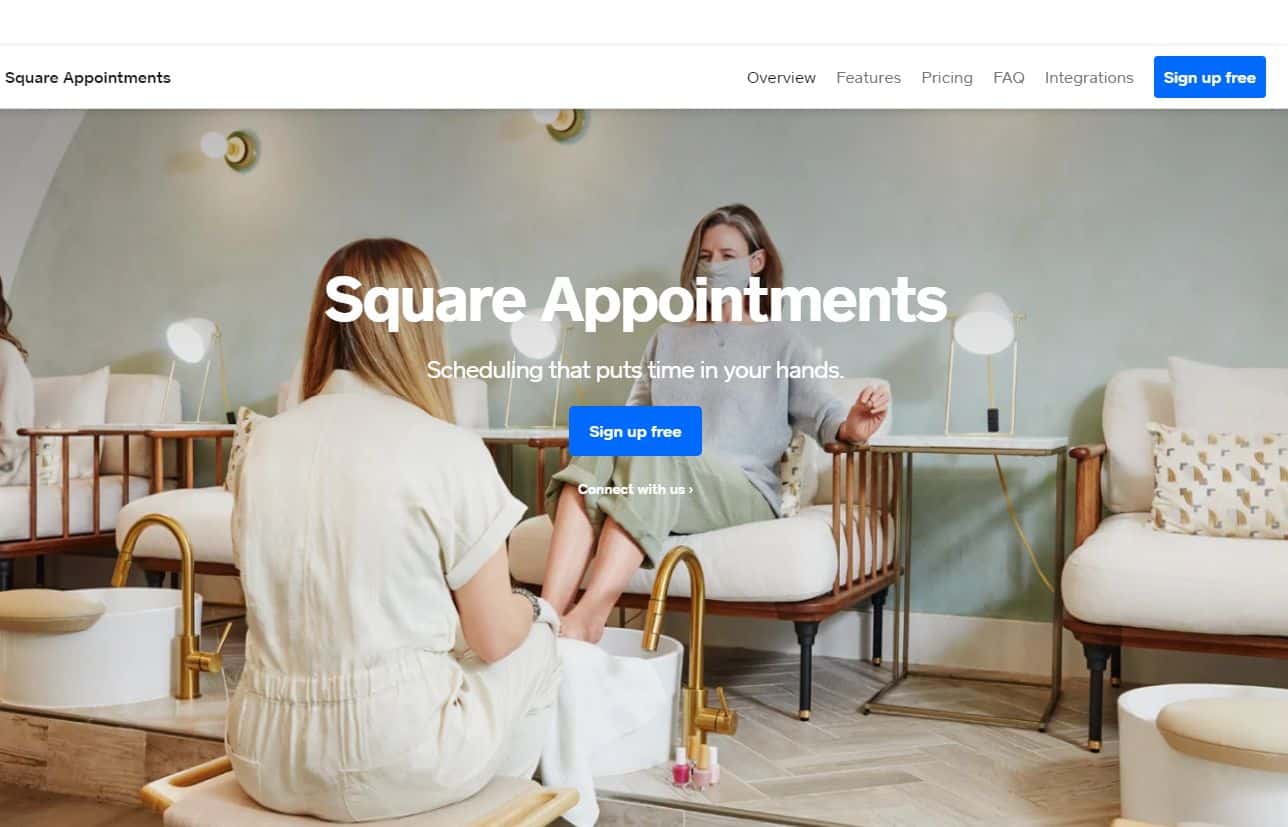 Square Appointments scheduling tool comes with robust features without costing an arm and a leg or showing bothersome ads. It lets you set up a page of your free time slots that you can embed on your website to get booked.
The tool sends SMS and email alerts for every booked meeting so there are few to no no-shows. It syncs with Google Calendar to avoid booking conflicts.
Like Fresha at the top, Square Appointments too comes with a POS system for inventory management. Furthermore, it integrates with video chat tools, email systems, payment processors, and multiple other software programs.
Pricing: the free version is commission-based; priced plans begin at $50/month for up to 5 users.
Pros
An inventory management POS

Multiple integrations

Automatic email and SMS reminders

Glowing reviews from a huge following
Cons
Can get expensive for big teams
9. Hubspot Meetings Tool
Hubspot Meetings Tool is one of the easiest and affordable ways to let clients book you. Set up takes a few minutes and the link can be shared or embedded on your website. Once someone books you, that spot is blocked out to avoid double booking.
The tool syncs with Office 365 and Google calendar to show clients your availability. Thanks to its integration with Hubspot CRM, the Hubspot scheduler automatically saves customer information for future interactions.
Pros
Automatically backs up contacts

Allows for team booking

Easy to use no coding is required

Connects to other apps seamlessly

Totally free as its part of the Hubspot CRM
Cons
10. Timely
Are you looking for a tool that lets you do more than just get booked? You should try Timely. It lets you create a "mini" website to sell products, set up a reward system, and customize each booking page.
You can share links to your booking page anywhere from Facebook, Instagram, and other social platforms. With an analytics dashboard added, you can track sales and appointments which helps you keep your finger on how your business is performing.
Since Timely integrates with Zappier, there's possibly no limit to the number of features and apps you can adopt.
Pricing: starts at $15/month for one user
Pros
Can connect to many apps

Has rich analytics to track business performance

The "mini" website feature allows one to sell more products and services

You can run promotions and reward programs
Cons
Could be expensive for teams
Wrap up
Spend more time doing things that move the needle by using the best appointment and scheduling software. Going about this manually is not only unexciting but can thwart your productivity.
We have listed for you both paid and free tools you can try out. Some are paid but offer an impressive trial period with access to all the features. You should take those for a spin before settling for those that are completely free.
Also remember, while you may want as many features as possible, an appointment booking tool should be simple and easy to use. You don't want your clients to get tired halfway while entering details because the process is lengthy. Now go back to the list of the best appointment booking tools and single out your favorite one. Ciao.