Creating outstanding social media content requires plenty of effort. Creating unique social media content requires good tools in the form of good apps and websites which also, sometimes make the entire process of designing content easy. In the current time, there are plenty of apps and websites which allow everyone, from newbie to professional to create beautiful social media content easily. Here is a list of ten such incredible apps and websites which you can use for creating content that stands out in the crowd. 
1. Canva
Canva supports thousands of professional templates that can be accessed by users for free. It supports separate templates for creating posts for Instagram, Facebook, Instagram story, WhatsApp Status, Facebook cover, Instagram Reels video, TikTok video, YouTube thumbnail, YouTube introduction, Pinterest pin, LinkedIn banner and many such platforms and varieties. The user can add elements, images and even videos while creating the posts. 
2. Pixelied
It is an online graphic editor that also comes with ready-to-use templates. It is the perfect platform to create header images, thumbnails, posts and story graphics. Pixelied supports millions of stock photos that can support a wide variety of purposes. One does not need to be a graphic designer to use Pixelied, even a newbie can use the platform to create professional social media posts.
3. VistaCreate 
It is a free graphic designing tool that allows users to create content for social media posts within minutes. VistaCreate can be used for creating Facebook posts and ads, Instagram posts, stories and ads, YouTube thumbnails, intro and banners. In addition to that, it can also be used for making logos and creating animations. 
4. Sketchbook 
Sketchbook can prove to be an excellent tool for any creative person. The app provides the users with an experience that is similar to drawing on paper. From complicated drawings like Mehndi Design to creating simple social media posts, imagination is only the limit for the user to create beautiful graphics and paintings on Sketchbook. 
5. Desygner
It is a graphic design tool that has been specially created for non-designers. Used by more than 60 thousand businesses, Desygner is one of the most popular graphic designing tools for creating social media posts and ads, in addition to presentations, flyers and business cards. The drag and drop elements of the platform make it extremely easy for the users to create designs. It also consists of many professionally designed templates which can be used by the users for creating pro-social media content. 
6. Pixlr
Pixlr can be treated as a combination of Canva and Adobe Photoshop. Right from creating graphics to editing photos, Pixlr is your one-stop destination. Pixlr X is designed for the newbies whereas Pixlr E which is an advanced editor is mostly used by professional designers. Pixlr can be used for designing templates, creating animations, removing the background and making collages. 
7. Adobe Spark 
Adobe Spark supports plenty of trending templates that can be used for creating social stories, graphics and even logos. Designing is almost effortless using Adobe Spark. The Starter Plan of Adobe Spark can be used for free. Even the free versions support thousands of images and templates for creating unique designs for social media platforms. 
8. Stencil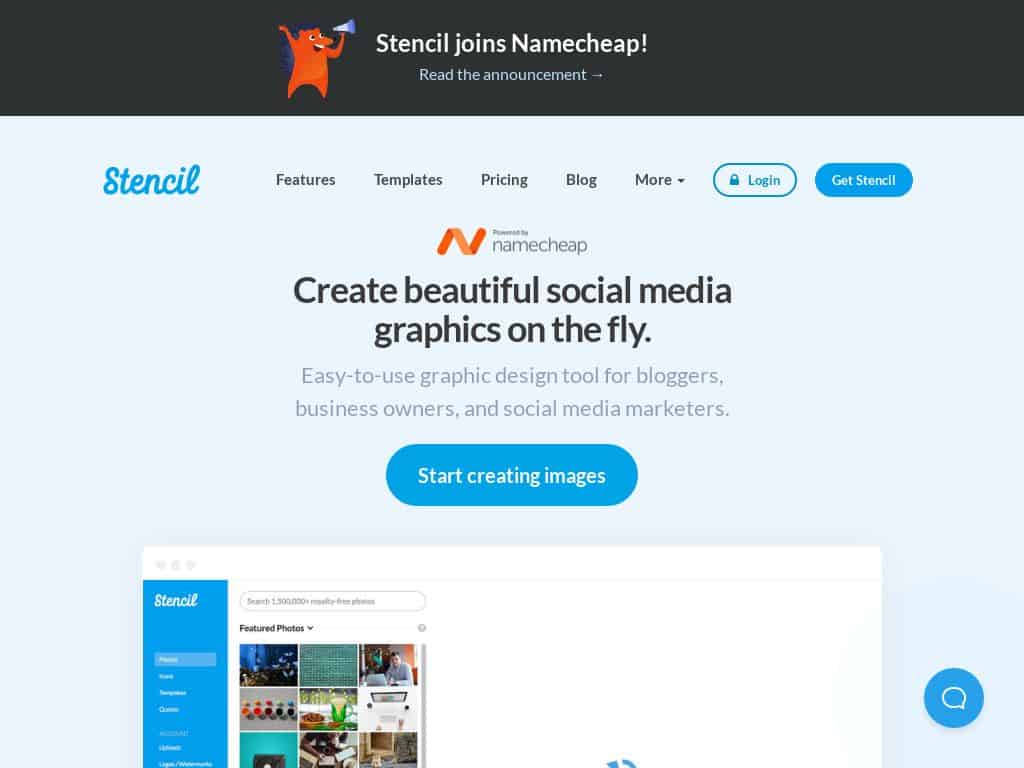 Stencil is most commonly used by social media marketers, business owners and bloggers. Social media posts can be created in a few minutes on this platform too without compromising the quality of the posts. The platform supports more than a thousand templates, 5,000,000 stock photos, 4700 Google web fonts and tons of icons and graphics. It also has browser extensions for Chrome, Safari and Firefox. 
9. PicMonkey 
This platform is mostly used for creating content for Instagram and YouTube. Currently, PicMonkey supports thousands of templates, stock photos and videos and in addition to that, it also supports plenty of templates and graphics and textures. The templates, photo-editor features, touch-up tools and graphics of the PicMonkey can be used for creating unique social media content. 
10. Snappa
With Snappa, online graphics can be created in a snap. Firstly, for creating a design on Snappa, the user has to choose the perfect dimension, and then pre-made templates can be chosen to get a headstart. Once the template is chosen, the user can customize the text, graphics and effects to align with the brand design. Snappa also allows the users to schedule their graphics too.