Last Updated on April 4, 2023
It's challenging finding a straightforward answer to this question. Anyone searching for the best psychic reading apps has a plethora of options to choose from.
There are also several factors to consider. These factors include cost, confidentiality, security, accuracy, and types of readings available. Fortunately, you can save valuable time and energy by reading our review of the top 5 psychic reading apps.
Mystica – Overall Best Psychic Reading App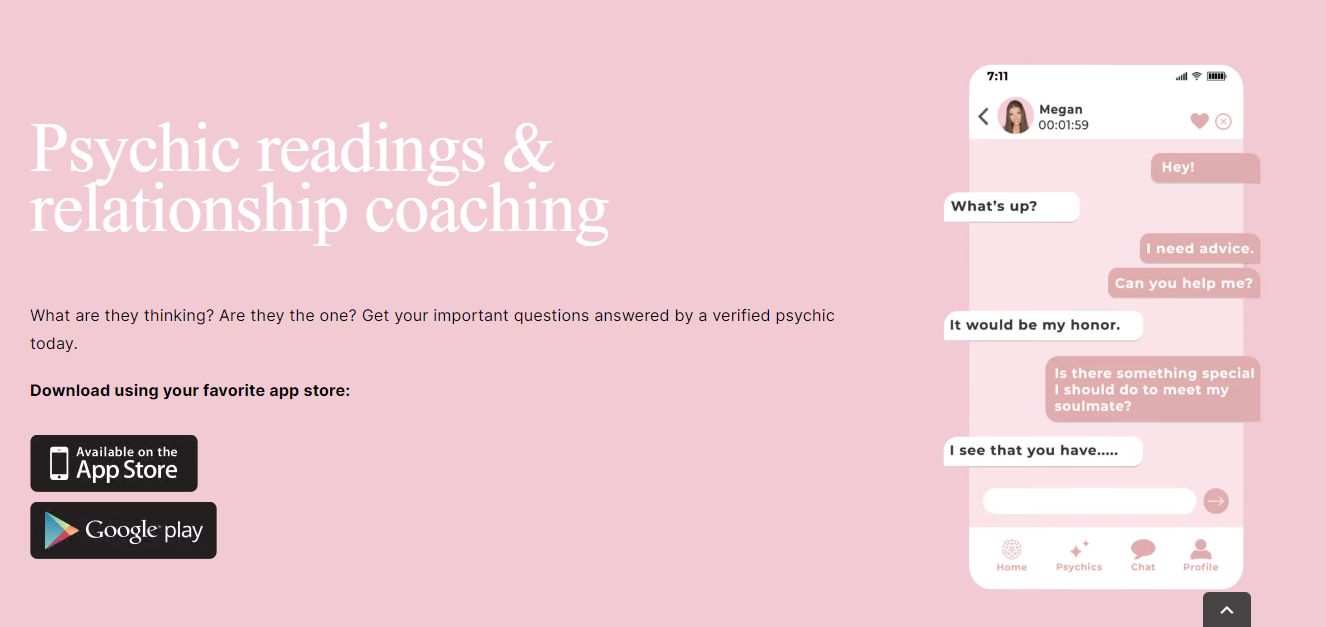 Do you want a modern app with all the features to deliver seamless online psychic readings? If so, Mystica Psychic Readings is what you need.
The Relationship Psychics released Mystica to connect people around the world with the best psychics virtually. The app aims to help people solve their relationship issues and find their soulmates via tarot readings, astrology, magic, numerology, and more.
But that's not all. You can ask Mystica's psychics questions regarding other aspects of your life. These include your career, finances, spirituality, family life, etc.
After registering on the app, you will get a free $5 credit, with which you can get a free psychic reading. You will also find the app's interface easy to navigate. It clearly shows each reader's rating, fee, picture, and bio. You can also use the filter to narrow down your preferred type of reader.
Additionally, the app's online reviews are mostly positive. The reviews show that Mystica's users have been satisfied with their experience. Mystica is compatible with Android and iOS devices.
Pros
It offers a wide range of psychic readings

It is easy to use

It guarantees 100% confidentiality and privacy

It offers free psychic readings

It features only the most experienced and qualified psychics

Psychic readings on Mystica are affordable
Cons
Keen – Best for Love and Relationship Readings
Keen is a popular psychic reading site that specializes in providing love and relationship readings. The app has an extensive network of online psychic readers who have years of experience in their field. Users can easily connect with their chosen advisor through the app's chat or call feature, making it a convenient way to receive a reading.
We like how Keen's user-friendly interface makes it easy for users to navigate and find the right psychic advisor for their needs. Keen also offers affordable rates, making it accessible to users on a budget.
However, the app does have some cons to consider. For example, some users have reported that the quality of the readings can vary greatly depending on the advisor they choose. Some advisors may not be as experienced or accurate as others, which can lead to a less-than-satisfactory experience.
Additionally, some users have reported issues with the app's customer service. If there are any problems with the reading or the advisor, it can be difficult to get a response from the customer service team.
Overall, Keen is a solid choice for users looking for love and relationship readings. However, you should carefully choose your advisor and be aware of the potential issues with the app's customer service.
Pros
It has a user-friendly interface

It has a call feature

It is affordable
Cons
Customer service can be better

The quality of readings vary
Kasamba – Best for Career and Finance Readings
Kasamba is a psychic reading app that is best known for its career and finance readings. The app has a wide selection of experienced psychics who can provide insights into career advancement, job changes, and financial matters.
One of the best things about Kasamba is its free trial for new users. This allows users to test the app and its psychic advisors before committing to a paid reading. Additionally, the app offers competitive pricing for its psychic readings, with rates starting as low as $1.99 per minute.
However, the best readers tend to charge high fees. This can be an issue if you are on a budget. Online reviews also show that the app's psychics don't always provide accurate readings.
In summary, Kasamba is a great app for those seeking career and finance readings. However, be aware of potential issues with pricing and accuracy.
Pros
It's a good choice for career and financial readings

It has a wide array of readers

It offers free psychic chat
Cons
The top readers aren't affordable

The readings aren't always accurate
Psychic Source – Best for Video Readings
Psychic Source is a psychic reading app that stands out for its video readings. With this app, users can communicate with psychics via a video call, enhancing their connection.
We found the app user-friendly. You should find browsing through and selecting your preferred psychic reader easy. Psychic Source also offers a satisfaction guarantee, which means you can request a refund when you aren't satisfied with your reading.
Firstly, the app can be quite expensive, with some psychic advisors charging up to $15 per minute. This can quickly add up, especially for longer readings. Secondly, some users have reported technical issues with the app, such as poor video quality or difficulty connecting to the psychic advisor.
Finally, the video readings may unsuitable for users who want to stay completely anonymous.
Pros
It offers video readings

It is user friendly

It offers a satisfaction guarantee
Cons
It isn't budget friendly

The video quality can be better
California Psychics – Most Trusted Psychic Network
California Psychics is one of the oldest and most trusted psychic reading networks in the industry. Founded in 1995, California Psychics has provided spiritual readings for over 25 years. It has earned a reputation for providing accurate psychic readings to its customers.
The app offers a wide range of psychic services, including tarot card readings, astrology readings, love and relationship readings, and more. One of the standout features of California Psychics is its rigorous screening process for its gifted psychics and psychic mediums. The psychic readers go through a detailed application process, including a background check, a psychic reading test, and an interview.
However, some customers have reported that some psychics on the app provide vague and generic readings. This can be disappointing for those seeking specific and personalized guidance.
Pros
It has a solid reputation

It has a rigorous screening process

It offers a wide array of readings
Cons
The readings can be generic
Conclusion
You will have lots of options when choosing the best online psychic reading app. Each app has its unique features, such as affordability, accuracy, and diversity, which cater to different needs. Do some research before selecting an app to ensure that it meets your specific requirements.