Last Updated on September 27, 2021
If you have spent hundreds of dollars on an Apple Watch 25 (or whatever number they are up to now), you will want to be sure that you are getting the best possible value from it. In this case, value comes in the form of applications, and with over 20,000 third-party apps on the market, you are spoiled for choice.
This article aims to provide you with ten must-have applications on your apple watch. It will address why these apps are so important and what makes them stand out from the rest. Many of the apps listed below are not savvy business options or the most expensive and luxury apps on the market, but they are the most practical must-haves for any user.
Using an app on your Apple Watch
To use an app on your apple watch, you will need to install it on your phone first, so make sure you have an Apple phone before buying an Apple Watch! Open the 'Watch' app on your phone to see what applications you have installed. Simply scroll down as necessary and click 'install' on the necessary apps to install an app. It's that easy!
When it comes to productivity, having a translator app is essential. It is one of those apps that you don't think you need up until you need it! With it, you can translate your spoken word into one of many supported languages with the touch of a button. Simply press the microphone icon and say the words that you want translated; it is as easy as that! You can also pin words or phrases that you want to save for later too.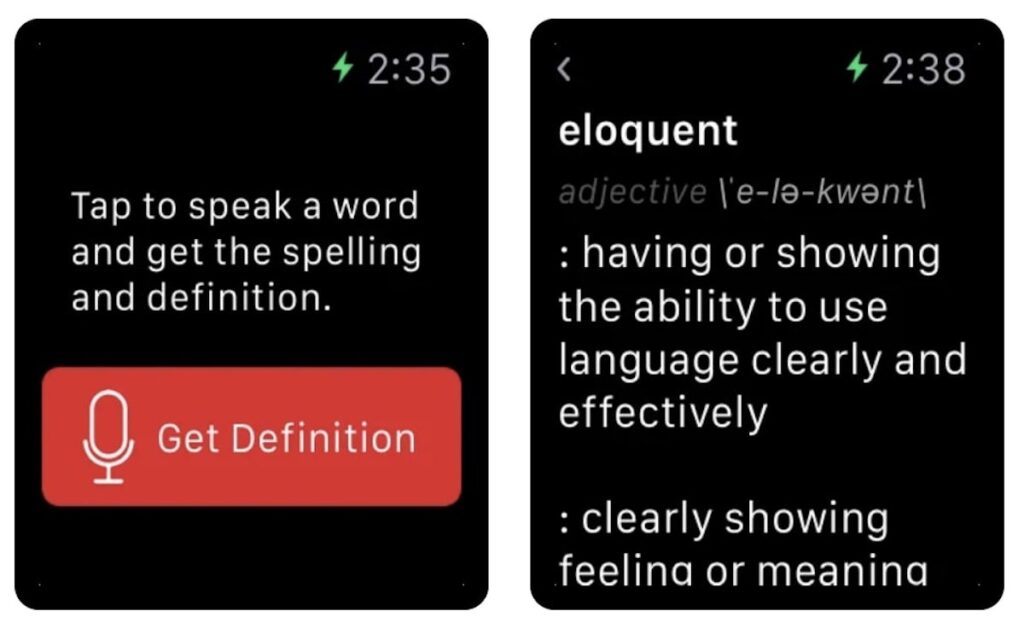 I love this app because it showcases how simple it is to use the Apple Watch effectively. If you need a definition, press the 'get definition' button on the screen and talk to your Watch. Swiping down on the screen gives you a more detailed description which is a nice touch also. Having the mobile app will provide you with more detail and is just as easy to use, but the watch variation of the app works perfectly well.
Considering that you pay only $2.99 for this app, the benefits you get from it are insane. All you need to do is wear your Apple Watch to bed and record your sleep quality. It gives you a total sleep score based on a host of factors, including how long you were restless, your time spent in each sleep cycle and your heart rate. All of the data syncs onto your phone as well, so you can check your phone app for more in-depth details if needed. Considering its price, for me, this is one of the leading productivity apps on the Apple Watch.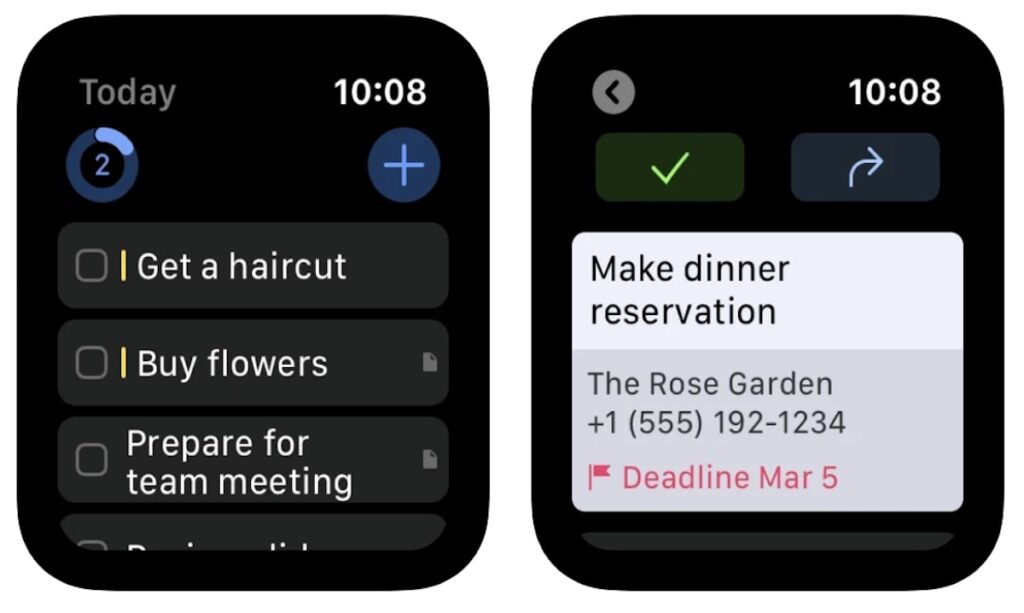 You can't have a list of the best productivity apps without a good task manager. Things is so easy to use and has one of the most straightforward interfaces of any app that I have seen. (It did win an Apple Design Award). On it, you can write down tasks that you need to accomplish, check off duties as you complete them, or save them for later.
It does support the Siri watch face also, which is a big plus. However, keep in mind that the app costs $9.99 which is expensive for a task manager, but when you think of the value you are getting, it is worth the money.
Most people associate MyFitnessPal with being a mobile application. However, it is also available on the Apple Watch. You will have to enter your metrics on the mobile app, but once you have done that, you can display how much protein, fat, or carbs you have eaten along with your calories. Swiping lets you add your water intake, and swiping again lets you tally up the number of calories in each meal.
You can also track your step count as well which makes this app perfect for keeping you accountable. The only downside is the cost, at $10 per month, or $50, it is on the expensive side when it comes to Apple Watch apps.
There are hundreds of weather apps available on the Apple Watch, so it was tough to narrow it down to just one, but Carrot Weather is objectively the best weather app that you can get. You can check the weather (duh), earn achievements, and customize your screen as necessary through it.
Supported by WatchOS 7 and iOS 14, Carrot weather is easy to use, allows for massive amounts of customization, and looks great to boot! One thing to note is that it costs $5 to install, and then the premium is $0.99 per month. This allows notifications and background updates. (it is worth the money).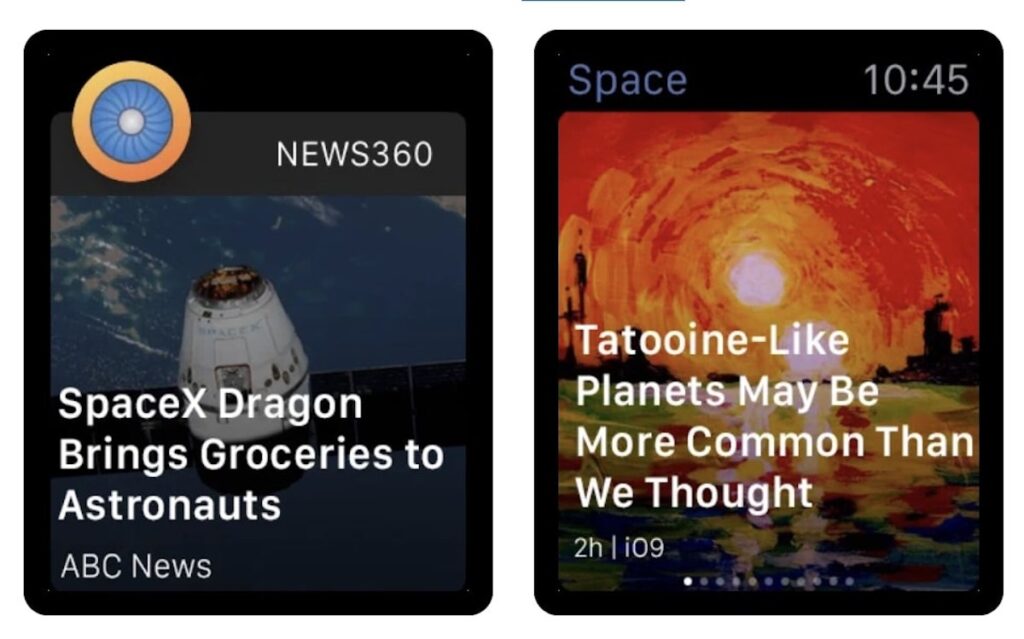 In my opinion, this is one of the best apps to boost your productivity because it brings you news stories based on your interests. When you sign up, you can select your interests, and from there, the app will handpick you specific stories based on your interests. While you can not read the full report on the Watch itself, you still get the main headlines and the first few paragraphs to play with. A great app and a perfect way to keep yourself informed.
8.
Breathe
Life can be hectic sometimes, so it is always important to remember to breathe. The Breathe app encourages you to do just that; through daily reminders, your Watch will alert you at a specific tie that you need to breathe and relax. Its focused meditation sessions last for between 1 to 5 minutes, depending on how you have the app set up. The app also lets you check your heart rate during your sessions to ensure that the meditation is working.
There is nothing more frustrating than trying to remember your passwords and not being able to. Through 1Password, Apples Keychain, and iCloud technologies come into play and, through them, save each of your passwords for you to access at a future date if needed. Through the Watch, you can access any necessary passwords, credit or debit card details or notes. 1Password uses SSL encryption security to ensure that all of your details are kept secure.
Citymapper is the perfect app to use if you do a lot of travelling via public transport. With it, you can check bus and subway times and plan trips as needed. On the Apple Watch, it is particularly useful, allowing you to see when the next bus or train is, meaning you will never be late or forced to chase a bus again! It has a nice design on the Watch itself, but its benefits only reach a few specific cities in the US because it relies on public transport data. In saying that, if you can utilize it, you absolutely should.