Article writing is one of the most popular ways to make money online. It also comes with the benefit of flexibility, considering the wide range of categories available. While some writers major in copywriting, others prefer SEO writing.

Other popular categories in article writing include 'shopping and product reviews,' 'health and fitness,' 'religion and spirituality,' 'politics and leadership,' 'arts and entertainment, 'celebrity gossip,' 'home improvement,' 'cryptocurrency,' 'how-to guides,' etc.

As an online income-generating opportunity, article writing is also renowned for being incredibly easy to start. All you need is a computer, a stable internet connection, and a great command of the language you intend to write the articles in.

Of course, you also need a reliable employer or platform where you can source the writing gigs. In this post, we shall review the top eight websites to kick-start (and grow) your article writing career.
Formerly known as Odesk, Upwork is one of the biggest and most reliable article writing websites in the world. The company offers a slew of features that article writers can take advantage of.

First, there are advanced search filters that help you to hone in on the article writing gigs depending on various parameters, such as the category, client's location, date posted, etc. Upwork also offers valuable information on its clients, including their budget, past work history, and feedback from some of their previous writers.

The company accepts writers from all over the world. A highly-efficient messaging system allows writers to communicate with their clients or the Upwork support team freely, regardless of the time of day.

Other notable features include a desktop time tracker which is highly useful for hourly jobs, a mobile app that lets you access your account on the go, and secure payment methods (including PayPal and credit card).
Freelancer.com comes only second to Upwork in terms of popularity. Like Upwork, Freelancer implements powerful search functionalities that allow writers to find writing gigs that match their interests. Plus, the website opens its doors to writers from all over the globe.

There are various types of article writing gigs available on Freelancer.com, including 'fixed-price projects', 'contests,' and 'services.' Each of these gigs comes with its own payment rates and commissions.

After successfully bidding on a gig, writers can take advantage of Freelancer's time tracking feature, which is most applicable for hourly projects. The time tracker includes a 'play' and 'pause' button, allowing you to pause and resume writing without losing track of the total amount of time spent on a project. And once a client approves your project, they release payments through Freelancer.com's escrow system. The company then remits your earnings through PayPal.

Freelancer.com is also available in an app that's compatible with numerous devices and operating systems, including Windows, Linux, and macOS. There's also a mobile app that works just as effectively as the desktop version.
Hubstaff is a database that seeks to link up freelancers with agencies. The platform offers thousands of jobs drawn from various industries, including article writing jobs.

One of Hubstaff's standout features is its ease of registration. While other article writing websites will subject you to a rigorous sign-up process, getting started on Hubstaff Talent is as easy as opening an account and verifying your email address.

The website is also 100% free. Since its primary aim is to connect talented writers with clients, Hubstaff doesn't impose any markups or fees. So, after completing your gigs, you're entitled to the full amount that the client pays.
To make your profile more discoverable by clients, Hubstaff displays your skills and experience, as well as resume, bio, languages you're most proficient in, hourly rate, and availability. Writers can also filter for jobs based on keywords or phrases.

Other exquisite features to love about Hubstaff Talent include a time-tracking tool, Agile project management tool, and seamless integration with secure payment companies, including PayPal, TransferWise, and Payoneer.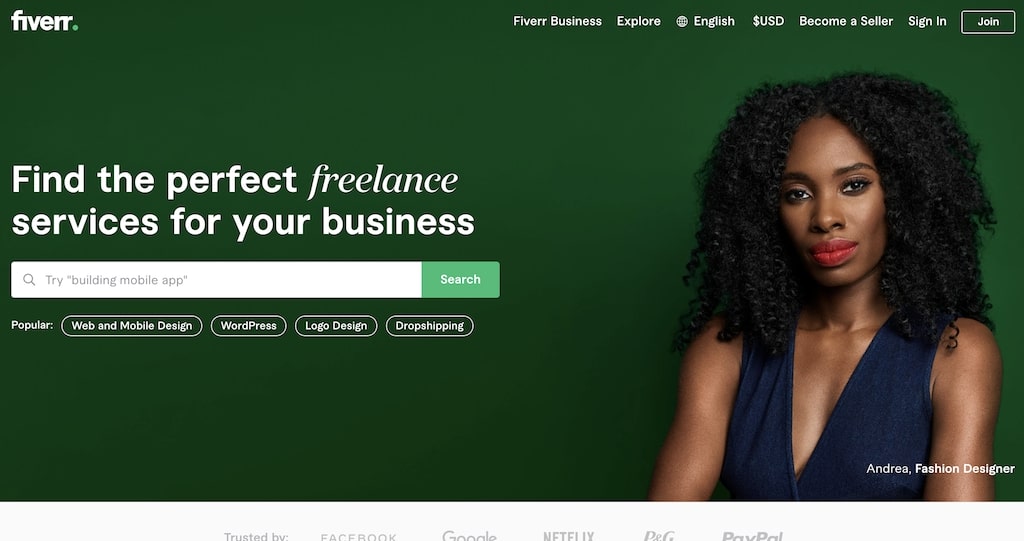 The original intention of Fiverr was to offer freelance gigs that pay at least $5, which explains the name.

When you sign up for an account, Fiverr immediately assigns you a relevant seller level. That level appears near your username and helps to clue in your potential clients on your skills and experience. It typically shows the days you've been on the platform and the number of gigs you've completed so far.

There are four seller levels on Fiverr, including New Seller, Level-One Seller, Level-Two Seller, and Top-Rated Seller. The higher you rise through the ranks, the more likely you are to land high-paying article writing jobs on the platform.

Fiverr also prides itself on its user-friendly app, which is available for both Android and iPhone devices. Fiverr's desktop-based version is easy to use too, thanks to the incorporation of customized search filters.

24/7 customer support and a reliable help center make Fiverr all the more worth considering as an article writing website.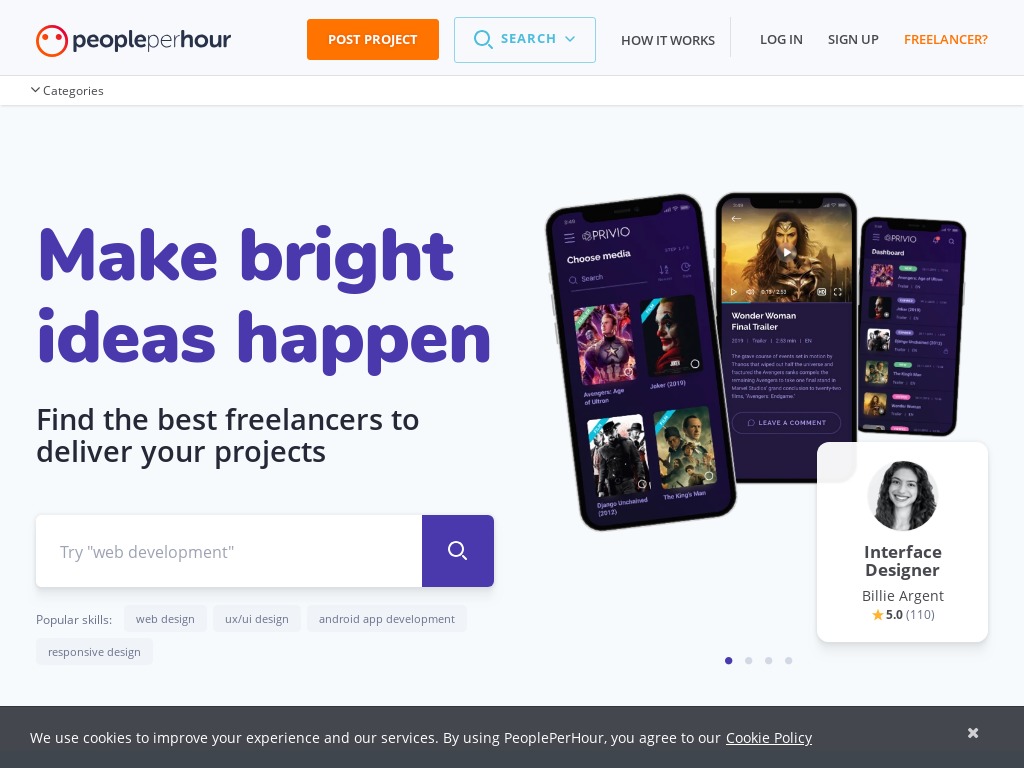 PeoplePerHour may be relatively new compared to many article writing websites. But it's also one of the most recommended companies for both aspiring and professional writers.

PeoplePerHour distinguishes itself from many freelance writing websites in its use of location-based targeting feature. Using this feature, you can find a client based in specific locations. Another admirable thing about PPH is that a single account can serve you both as a writer and client. You only need to switch it from Seller to Buyer whenever necessary.

The website has an escrow system in place, as well as the PeoplePerHour Wallet system, which ensures you never lose your hard-earned cash. Social media integration features further reduces the risks of scams on the platform.

However, PeoplePerHour often closes its doors to writers from certain regions from time to time. So, always ensure that the company accepts new writers from your location before signing up for an account.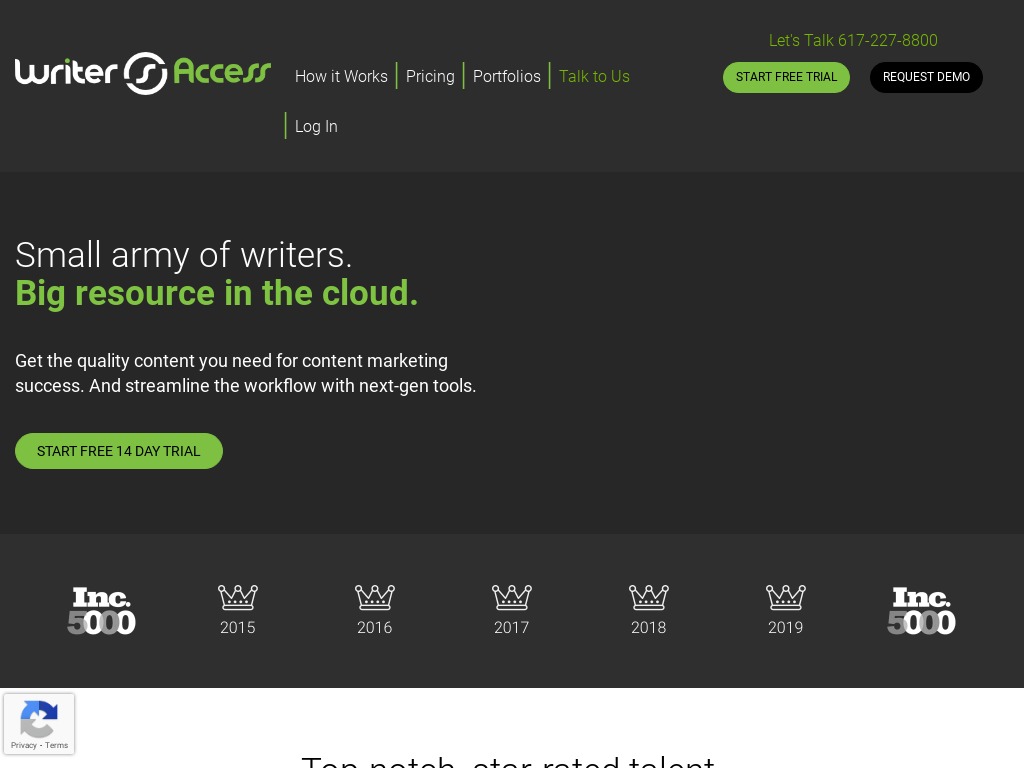 Judging from the name, it would appear as though Writer Access is accessible to freelance writers all over the world. Sadly, the company mostly accepts writers from the United States, United Kingdom, Canada, Australia, New Zealand, the Republic of Ireland, and South Africa.

But if you're based in any of the above native English-speaking countries and are looking for an article writing website with an endless stream of jobs, you should definitely consider Writer Access.

Like any high-end writing service, Writer Access implements an advanced AI-driven search function that allows you to find and bid on gigs that match your interests and skillset. The company also boasts a clean and intuitive dashboard which makes it easier to manage your projects.

Writer Access uses a star-rating system to classify writers. So, once you get accepted, it's important to work on increasing your ratings to gain access to higher-paying gigs.
Disclaimer: iWriter has received bad press over the past few years for incessant reports of fraudulent activities. Many of these activities involved writers subcontracting iWriter jobs and not paying the real authors, resulting in hundreds of DCMA takedowns. Payments can also be deplorably low, particularly for new writers.

However, the company has recently embarked on a raft of measures to hacker-proof its system and redeem its dwindling reputation.

As an article writer, the first thing that should draw you to iWriter is its incredibly easy sign-up process. All you need to have a writer account is your email address and a valid PayPal address.

Writers fall within four levels, depending on the number of completed orders. You'll naturally start off as a Standard writer, then work your way up to become a Premium writer, Elite writer, and Elite Plus writer. The higher your writer level, the higher your earnings.

It warrants mentioning that unlike most writing services on this list, iWriter is more of a content mill. Which means that jobs are readily available for writing. You don't have to bid and wait for the client's approval. However, remember to go for jobs with higher approval ratings. Most importantly, try to be quick on the trigger, as there could be thousands of writers trying to bid on the same project at the same time.

Lastly, like PeoplePerHour, iWriter occasionally closes its application for writers from certain regions.
Formerly known as BlogMutt, Verblio is another great article writing service worthy of recommendation. The website is similar to iWriter in that they're both content mills. You don't need to wait for days for a client to accept your bids. Once you're logged onto the website, you can sample the orders, pick one that meets your interests, and begin writing immediately.

However, Verblio scores higher than iWriter in various aspects, including payment rates. New writers can earn up to $10 for a 300-word article, about 10 times what iWriter pays for an article of a similar length.

Another reason to consider Verblio as your go-to writing website is that the company offers articles drawn from different categories, including web content, newsletters, press releases, and even eBooks.

One glaring drawback to Verblio, however, is that the service is only accessible to US citizens with a social security number. Also, there's usually more than one writer working on the same project. In the end, a client picks only one out of all the possible submissions, which increases your rejection rates on the platform.
Remember…
When looking for article writing services, the convention is to opt for websites with low-entry levels. The harder it is to get accepted on a platform, the more likely you are to find decent gigs. Also, remember that almost all websites will require you to take a test before they can process your application. The test can be in the form of a quiz, sample, or short bio. You must give a good account of yourself by ensuring the sample is 100% original, meets the requirements, and written in near-perfect grammar.