One of the most nagging concerns among avid readers is finding the time to actually settle down and crack open their favorite books. Going by our fast-paced lifestyles, it may take months to complete reading a hardcover book that would ordinarily require two days to dispense with.

These challenges were some of the reasons behind the invention of audiobooks. Audiobooks allow you to listen to your favorite books as you seamlessly attend to your other chores.

But unlike physical books that are available in every library or book store across the street, you can only access most audiobooks upon subscribing to an audiobook platform. This article lists some of the best subscription services to source quality audiobooks in 2021.
Pricing: Paid plans start from $14.95 /month, a 30-day free trial available

Audible is arguably the largest audiobook subscription platform in 2021. The service boasts over 200,000 fantastic book titles drawn from different categories.

Audible is a subsidiary of Amazon, which speaks volumes about the quality of audiobooks available on the platform. The service lets you purchase, rent, stream, or download your favorite book titles with the touch of a button.

New users can test-drive the website by taking advantage of the free month-long trial, which comes with at least 1 audiobook and 1 Audible Original. And once you become a paid member, you automatically qualify for Audible's 30% discount on all audiobooks.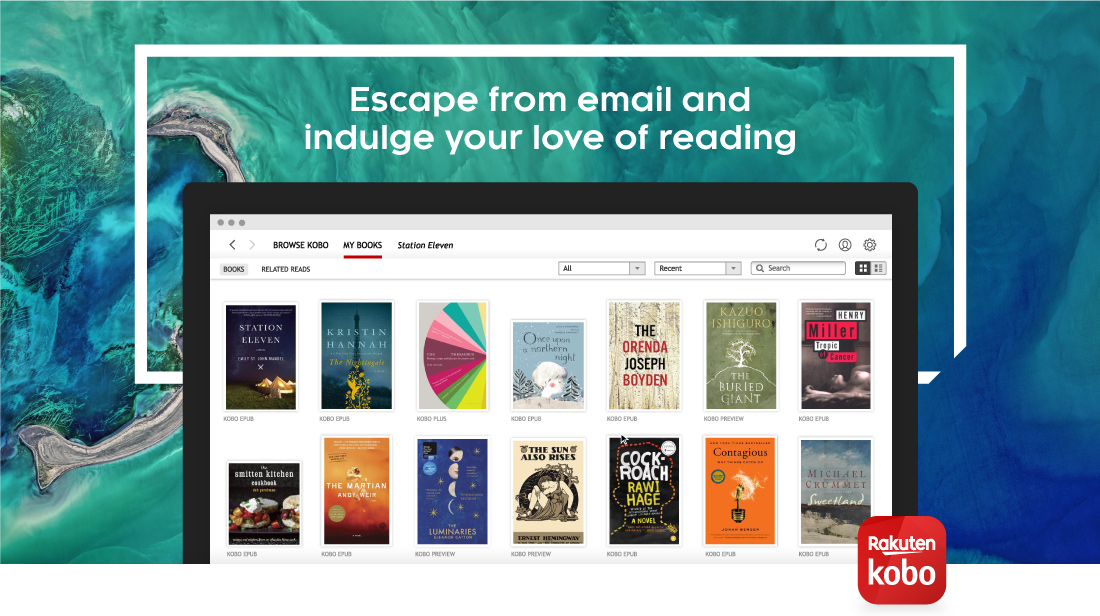 Pricing: Paid plans start from $9.99/month, a 30-day free trial available

Kobo Audiobooks is a Toronto-based audiobook subscription company that provides a range of audiobooks from some of the most acclaimed authors. Just like Amazon's Audible, Kobo Audiobooks offers a free month-long trial period during which you can determine the platform's suitability for your needs before committing fully to it.

Once you subscribe to any of the paid plans, you automatically qualify for a free audiobook. There's also a monthly credit that you can use to purchase your preferred audiobook, regardless of its prevailing price. You only need to ensure that the book is currently available on the Kobo platform.

Last but not least, Kobo comes with an app that you can install and use to access your audiobooks on the go. Integration with Pocket allows you to read longer audiobooks that you might have saved in your Kobo account while you were using your computer.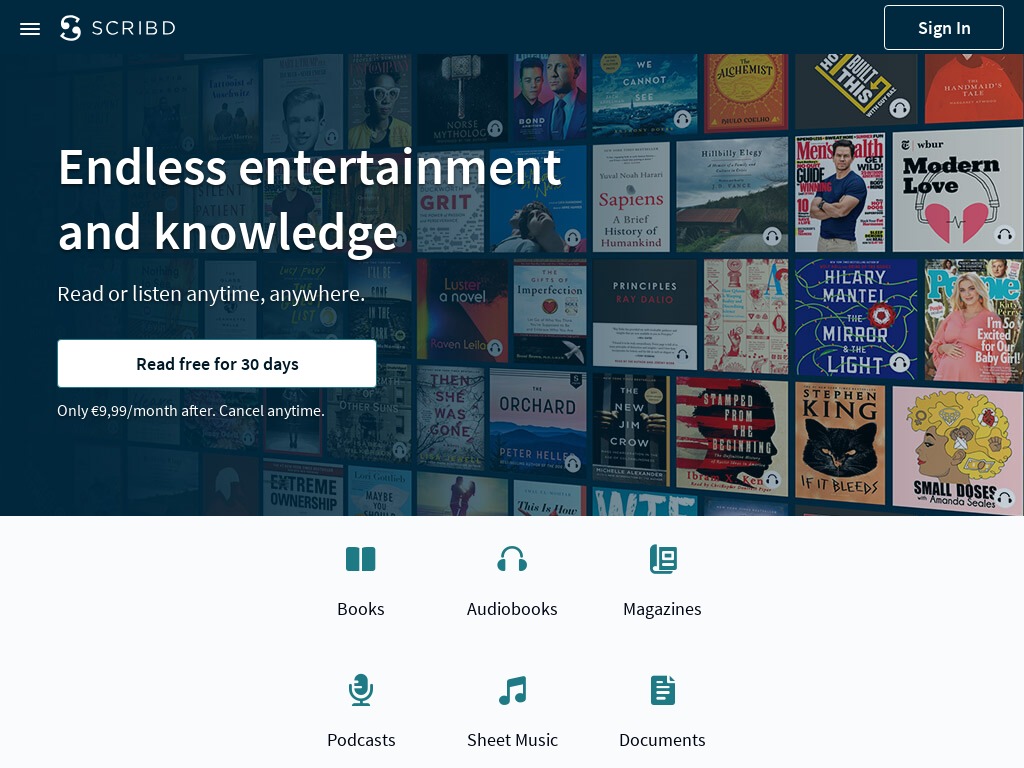 Pricing: Paid plans start from $8.99/month, a 30-day free trial available

Scribd was launched with the primary intention of offering e-books. Over time, however, the platform has gone on to incorporate other services, including audiobooks, magazines, documents, sheet music, to mention but a few.

Scribd is available for both desktop and mobile devices. The mobile app is just as intuitively designed as its desktop counterpart, making the experience similar regardless of the device you're accessing the platform from. A 'sleep timer' lets you set a time when your audiobooks should start playing, making your experience on the platform even more hassle-free.

With Scribd's free 30-day trial, you can access the platform's vast library of premium audiobooks, e-books, and other services. However, note that there might be limitations on what you can and can't stream or download.
Pricing: Free for public domain audiobooks

If you're looking for a truly affordable platform to stream or download unlimited audiobooks, you should probably consider LibriVox. That's because the LibriVox's library primarily contains public domain books that were written decades ago and whose copyright protection might have expired.

But that's not the only thing to love about this audiobook subscription service. Some of the books on LibriVox are recorded by volunteers who contribute to the platform regularly from different parts of the world. Which makes it the go-to audiobooks subscription website in terms of content diversity. What's more, LibriVox is also available in both desktop and mobile versions.

The only drawback to LibriVox is that it's almost impossible to find modern titles on the platform.
Pricing: Paid plans start from $14.95/month, a 30-day free trial available

Audiobooks.com may not be the most affordable audiobook subscription website on this list. But for $14.95/month, you can enjoy unlimited access to the platform's premium services, which include access to a podcast section that features thousands of podcasts. Another thing to love about this company is that you can preview all its audiobooks for up to three minutes before purchasing them.

Even if you don't end up subscribing to Audiobooks.com's paid plans, you'll still have enjoyed a slew of features under the free trial program. Examples include the ability to download one audiobook free of charge, as well as the provision for picking one audiobook from the company's VIP book collection.

And like any top audiobook subscription service, Audiobooks.com is compatible with numerous devices and operating systems.
Pricing: Paid plans start from $12.90/month, a 2-week free trial available

BookBeat is a one-stop-shop for thousands of audiobooks and e-books by some of the world's major publishers. The platform is actually a division of renowned publishing company, Bonnier Books. Therefore, it's a lot easier to bump into Sunday Times and New York Times bestsellers.

But what truly sets BookBeat apart from many audiobooks subscription services is that it doesn't offer a credit system. Instead, membership guarantees you truly unlimited access to all of the site's content.

Also, the platform is regularly updated, ensuring that members have access to newer book titles every month. Still on access, it would interest you to know that BookBeat has designed a free and user-friendly app for both Android and iOS users.
Pricing: Paid plans start from $14.99/month, a 7-day free trial available

Like many people, your primary reason for turning to audiobooks was probably because you couldn't find enough time to read through hardcover books. But what if your schedule still doesn't allow you to listen through audiobooks? In that case, you'd do well with summarized audiobooks. And that's what Blinkist offers.

Unlike other audiobook subscription websites that mostly offer full audiobooks, Blinkist deals with book summaries. These summaries are prepared by a team of experts and contain the fundamental ideas of what each book is all about.

Blinkist audiobooks are typically summarized to include between 8 and 12 crucial insights. The read time is anywhere around 15 minutes. Even better, the titles come with audio and text versions.
Pricing: Paid plans start from $12.99/month

Downpour is a project by Blackstone Audio, one of the largest independent audiobooks publishers in the United States. The platform maintains thousands of audiobooks in its catalog drawn from over 100 different categories, including recent releases. With a single credit, you can access more than 97% of Downpour's audiobooks.

It's also worth mentioning that Downpour's audiobooks are DRM-free. So, as a member, you can download and export your audiobooks to any device in any location without necessarily needing to copyright the content.

The only glaring drawback to Downpour is that there's a limit to the range of functions you can perform with its mobile version. For instance, while you may stream audiobooks using the mobile app, purchases can only be made via Downpour's desktop browser.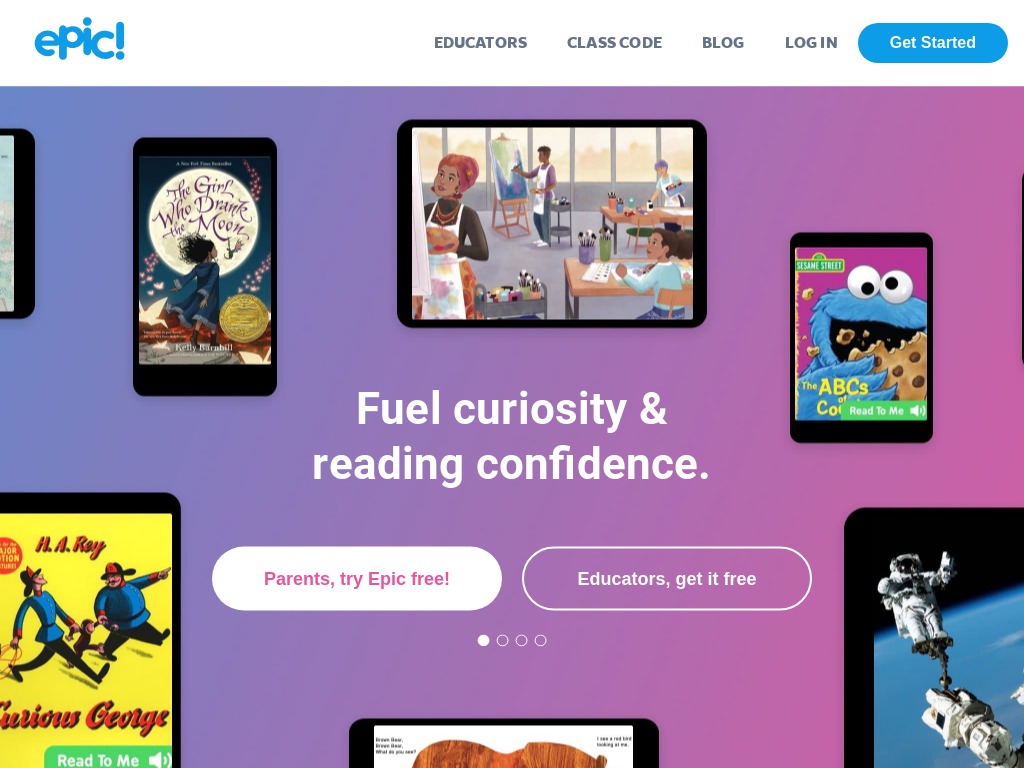 Pricing: Paid plans start from $9.99/month, a 30-day free trial available

Epic markets itself as 'the Netflix of digital books for children,' and it's clear to see why. For starters, the platform boasts thousands of digital books for children, including fiction and nonfiction audiobooks and e-books drawn from diverse topics. There are also read-along books available under the 'Read to Me' tab.

Most audiobooks on the Epic platform are ideal for kids aged 12 years or under. The website also implements a personalized search feature that helps you to hone in on a suitable book for your little one. Even better, you can take advantage of the age- and level-appropriate audiobooks recommendations by the company's experts.

Other noteworthy features by Epic include easy access, in-class integration, and assignment tracking.
Pricing: Free

Hoopla is not exactly an audiobook subscription service. Instead, it's a streaming app that seamlessly connects you to your local library account. Using Hoopla, you can borrow a certain number of audiobooks per month and keep them for a specified period, depending on the terms of your local library.

Unlike most apps that let you place holds and wait for weeks to access your audiobooks, Hoopla allows you to borrow your favorite audiobooks instantly. The platform supports other digital content too, including e-books and comics, as well as music albums, movies, and television shows.

Hoopla integrates with both desktop and mobile devices. And regardless of the platform of your choice, you'll find the app remarkably organized and easy to use.
Time to Dive In!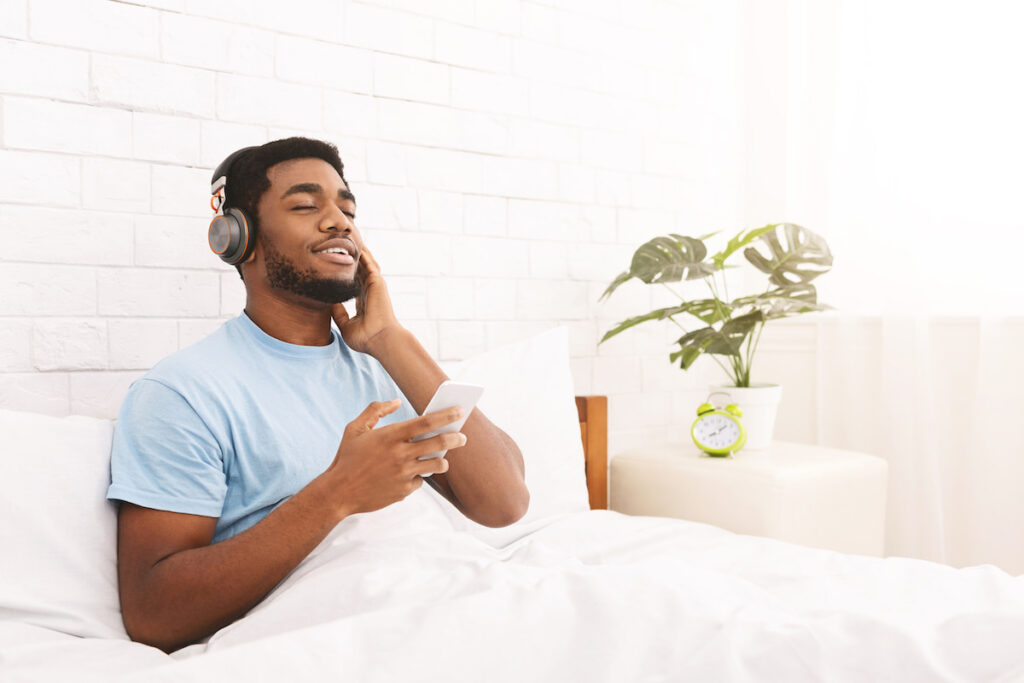 With hundreds of audiobook subscription services to choose from, there's no justification for giving up on your reading culture. All you need to do is find a platform that lets you access thousands of book titles at fairly affordable costs. The above-reviewed services are a great place to begin your search for the best audiobook subscription websites in 2021.