Last Updated on August 16, 2022
Let's start this off with a simple question: how much free time do you get in a day? If you can excitedly answer this question, be thankful. Really. According to Study Finds, many average American adults barely get a total of 5 hours of free time in a week. 

If you would ask us, that's pretty scary.
Gone are the precious days when you could find all the time in the world to read books. There are double shifts of work to handle besides running errands, preparing taxes, going shopping, picking kids from school, and let's not forget logging into social media platforms. Even with the best of planning, life is already a big struggle for many.
But hey; that doesn't mean you should stop your habit of reading books. You've probably heard of audiobooks, right? With media playing devices in our pockets, office, and cars, it's possible to listen to audiobooks when traveling, working, or relaxing. 
If you are hunting for the best audiobook services, then you've come to the right place. In this article, we've collated a list of the top choices that offer either free or paid packages. Ready for the ride? Cool.
Top Audiobook subscription services
Here are the key choices you need to focus on:
One of the best audiobook subscription services is Audible Audiobooks. Some of its strongest points include a huge library spanning over 200k titles, a big list of fresh releases, and you get to keep the books you buy for life. Simply amazing.
The platform is also known for having Audible Original titles that are not accessible on many other services. For as little as $14.95, you can purchase a single book (plus a free Audible Original copy). The system works with credits where $14.95 gives you a single unit per month. Other subscription plans exist as well.
Compared to Scribd, Audible is relatively expensive. But that is because you actually buy the books-not rent them. If you purchase a boring title, the platform will allow you to exchange it for free. Furthermore, they run frequent promotions which is a great thing for those looking for cheaper deals.
Pros
You can own any book you want

Massie library with over 200k titles

Alexa compatible

Kindle-friendly

Accessible on all devices 
Cons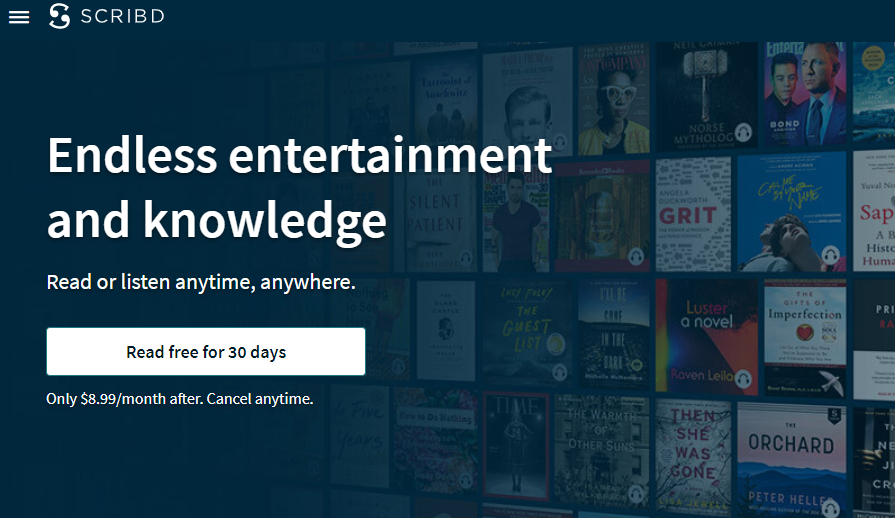 Regarded more as the Netflix for audiobook services, Scribd is a place to listen to a wide variety of genres. To ice the cake, the platform's subscription fee is lower than that of Amazon's Audible. Once subscribed, you'll have access to 45,000+ audiobooks.
Note that with Scribd, you cannot own or purchase any book. The subscription fee only gives you access to any library. Secondly, their library rotates with time. This means, there will come a day when you don't have access to a certain title you were interested in until a couple of weeks later.
If you are chasing new releases, then Audible definitely outshines Scribd. The latter takes time to add a new release to their library and they drop at a slow pace.
Pros
Unlimited titles

Playback speed control

Sleep timer

Bookmarking

Note-taking
Cons
Limited titles (especially contemporary bestsellers) 

You can't own books

Rotating libraries that restricts some titles
If you want access to many books without necessarily signing up or parting with monthly subscription costs, Google Audiobooks is the place to go. Consider it a huge online bookstore where you go to peruse books.
So how does it work? It's simple. Browse for the book you like, pay the required fee and press the download button. The book is now yours for good. As for the library, it is quite extensive to make Amazon's Audible envious. You won't have a problem accessing the latest titles as well.
Google Audiobooks is accessible on practically all devices.
Pros
A wide selection of books

Reasonable pricing

Accessible on all devices 
Cons
Might turn out expensive in the long run for heavy consumers
When it comes to non-fiction titles, there is no platform that comes close to Blinkist. Its content focuses mostly on learning and self-development. They have condensed their books into small bits to cover only the most important stuff. So expect most of the books to wrap up in as little as 20 minutes which is great for those with busy schedules.
Some of the topics to expect from Blinkist include health and fitness, mental wellness, parenting, economics, and many more. Basically, this is where you should be if you are looking to unlock a smarter version of yourself.
Regular users of the platform enjoy incredible subscription fees that are lower than both Scribd and Audible. In fact, you get a 50% discount on annual plans. Lastly, there is a 7-day trial window that lets you enjoy a test ride.
Pros
Plenty of non-fiction books to listen to

Condensed to a few minutes

Favorable pricing
Con
If you are looking for a vast collection of audiobooks, textbooks, podcasts, and magazines, you really should check out Audiobooks.com. It's probably the second-best choice after Audible for heavy readers with an appetite for both fiction and non-fiction titles.
The platform works exactly as Audible with a fairly steep subscription fee (almost twice as Audible's). However, when you sign up, you get three audiobooks for free (one from premium and two from the VIP section).
Perhaps the biggest advantage of Audiobooks.com is their freebie offer. Every subscriber has access to a whopping 8k+ free audiobooks. Truth be told, the majority of them come from niche-specific titles. But with a little digging, you might get surprised.
Pros
Built-in sleep timer

8k+ free audiobooks

Hosts over 150k titles

Crazy sign up offers

Easy to use
Cons
The library is not as extensive as Amazon's Audible
Some days all you want to do is buy a book and keep it for your kids to read in the future. Other days, you are short on cash and you would rather subscribe and rent titles cheaply. Guess what; all those choices are available on Downpour.
The kind of flexibility you get on this platform is amazing. For instance, subscriptions last for up to a year. Meaning, if your schedule gets crazy, you can always come back a few months later without needing to subscribe again.
Downpour's expansive library consists of over 22 genres and many more subcategories for ease of finding what you want. The platform can be accessed both on mobile and browsers. Lastly, their customer support responds quickly to queries.
Pros
As cheap as $1.99 per audiobook

Over 20 genres to choose from

Subscription expires after a year

Accessible on all devices 
Cons
A smaller library

You cannot return a book you don't like
For an occasional (and possibly busy) listener, monthly subscriptions can be a waste of resources if some months pass by without logging into a platform. For this reason, subscription-free services like Apple Books may come in handy.
This service exists as part of Apple's ecosystem but is not mentioned among their services. Nevertheless, with many people owning iPhones and Mac devices, its popularity is growing by the day. Similar to Audible, when you purchase a book on this service, you own it for life. The average cost per book is roughly $9.99.
Since this is a growing site, there are not many books to sift through. But the good thing is, they are actively collaborating with publishers. So expect an explosion of top-quality books in the near future. 
Pros
No subscription needed

You own purchased books forever

Reasonable pricing 

Great listening experience on iTunes
Cons
Limited titles

Only available to Apple product users
If you don't have enough savings to spend on subscription audiobook services, then you have arrived at the sweet spot of this article. Librivox is an open-source community that packs quite a good number of audiobooks-all for free.
You are probably wondering; how is that even possible? Well, the platform only lists only novels and other non-fiction works whose copy-right claims have expired. So as you can expect, this site will most of the time lack recent and current publications. But if you are into the classics or appreciate freebies, Librivox is worth looking into.
Pros
Free audiobooks

No signup or subscription needed

You can stream or download in mp3 format
Cons
Limited books (especially recent and current editions)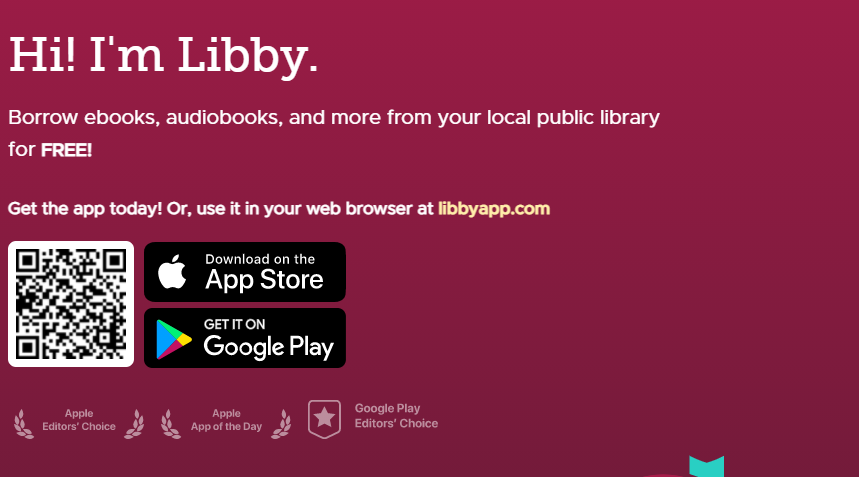 Here is another choice for those who would like to get their hands on some of the best-selling audiobooks-for free. Of course, you would have to wait a little bit for the book to become available before you can borrow it.
Both Libby and OverDrive are available in mobile stores. However, only Libby is available for desktop users. While these services are free, you need a library card before you can borrow as many books as you would like.
All you need to do is pull up any of your favorite local libraries, key in your library code and you are all set. Remember this; it will take a while before accessing the most popular titles.
Pros
All audiobooks are for free

Available on mobile and desktop devices

You can access as many books as possible

Quite a good number of books from many genres
Cons
You'll have to wait a while before popular titles are available

You need a library card 
Like Libby and OverDrive, Hoopla Digital too needs users to connect library cards. But it's even better because, besides audiobooks, you'll also have access to TV shows, music, ebooks, and comics-for free.
As for the audiobooks, there are quite a lot of them. Hoopla has active contracts with top-grade publishers and this makes it one of the best audiobook services for the latest content. So what's the catch? It's available in the US and Canada only.
Pros
Free audiobooks

Multiple genres

Their arrangement with top publishers means they stock the best materials
Cons
You need a library card

Available in the US and Canada only
Wrap up
There you go-a whole list of the best audiobook services worth considering. From our research, it became quite clear that Amazon's Audible is the most preferred audiobook platform. The reasons are apparent; an expansive list of books, new releases, and you can download any book from a wide list of genres.
That's not to say others don't cut it. We all have different tastes. For instance, if you would rather rent a book cheaply, Scribd, Downpour, and Audiobooks.com will work great for you. If you would rather access your audiobooks, movies, and music, from one place, then check out Overdrive. The ball is now in your court. Ciao.