Did you know that a high-quality video always goes through three stages of production? These include: pre-production, production, and post-production. While the first and second stages help create the content, it is the third stage that makes it worthy of presentation.  
Video editing, or post-production, is what enhances the visuals and audio to create a flawless product. It manipulates, blends, and arranges the shots for more visually-pleasing content. Without it, you will have nothing but a mess.  
According to recent research, production companies spend around $1000 to $5000 per finished minute on a quality video. They hire skilled experts to execute this important stage in video and filmmaking. But, this doesn't necessarily mean you should have a degree or a high budget to edit videos too.  
Today, it's possible to edit videos like a pro using automatic video editing software. These programs simplify editing so that anyone can refine their visual content effortlessly. So, without further ado, let's have a look at the 4 best automatic video editors for non-professionals!  
Clipify
Clipify is an advanced free automatic video editor for PC that lets you create immersive short videos using images and clips. It is an all-in-one solution for seamless video editing and creation. You do not need in-depth or even basic knowledge about enhancement tools.  
The intuitive program allows you to make stunning edits with a single click. Just browse through the diversity of themed templates available, and apply the one you like. Once done, you can trim the uploaded video clips and insert text in between the slides using the easy-to-use tool. 
Another highlight of Clipify is the innovative Chroma key tool. It enables you to move your video subject into another background. For example, if a video features a dull background, you can move your subject into a beautiful office, beach, and even a forest! 
There is also a collection of 150+ unique effects to improve the visuals further. You can add a sepia or black-and-white effect for a retro vibe or something else to convey your message effectively to the audience. Also, use the built-in music library of more than 200 royalty-free soundtracks to make your video dramatic. It's even possible to add voice over to video tutorials and guides. 
Clipchamp 
Clipchamp makes automatic video editing so much fun and exciting. It is an online free video editor with pro-level features and an amazing interface. You can sign up for free and start editing videos to perfection in no time!  
The tool offers access to a plethora of much-needed video editing options. Using it, you can trim clips to eliminate unwanted parts and reduce the length of the video. You can also flip, mirror, rotate, and crop to make the video aesthetically good.  
What's more, Clipchamp has a huge variety of filters, transitions, fonts, and sound effects. You can even add multiple music tracks to a single video or mute and completely replace the included one! 
InShot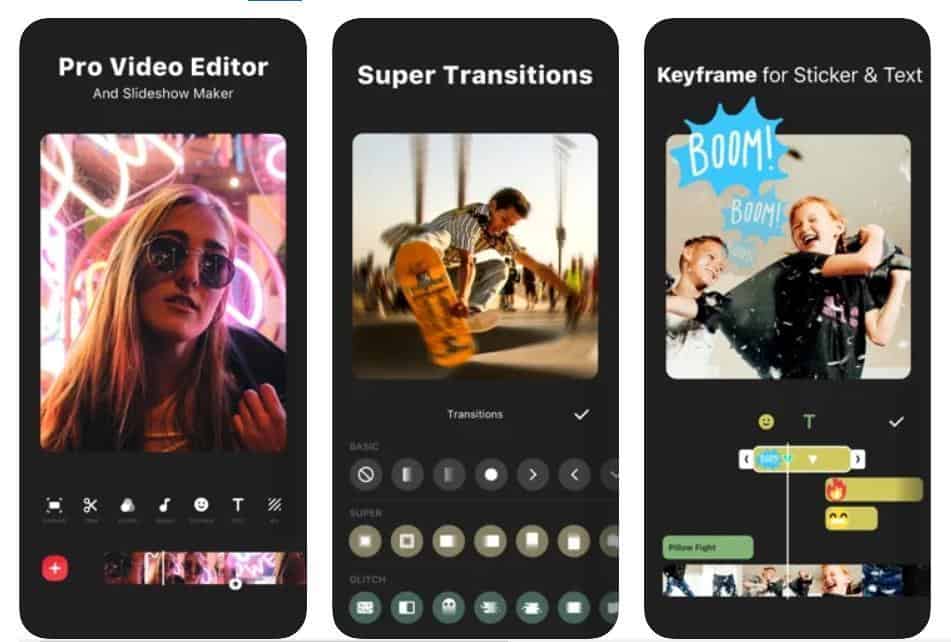 Who says you need a proper setup and expensive equipment to edit videos like a professional? InShot is one of the most popular auto video editing applications available for phones. It equips you with all the basic and advanced editing tools necessary to create a stellar video.  
For example, you will be able to trim, crop, merge and perform other basic tasks. But you can also add keyframe animations, voiceovers, text, backgrounds, filters, transitions, and much more. There is also the innovative Chroma key tool that removes the selected color/background and replaces it with a green screen.  
Furthermore, InShot makes it so simple to share edited video content across various platforms. Its seamless integration with TikTok, Instagram, and Whatsapp mean sharing is one tap away.  Plus, it supports up to 4K 60fps video export so that your content is always of the highest quality possible.   
Final Cut Pro 
Final Cut Pro saves you the hassle of video editing on Apple devices, such as MacBook, iPhone, etc.  It is a high-end paid tool that includes outstanding features. The powerful object tracker detects moving things and allows you to match them with the perfect titles/effects. 
Hence, the edited video becomes smooth and flawless. There are no glitches and unaligned things to worry about. Plus, the cinematic mode unravels various advanced editing options.  
You can use it to alter focus points and depth of field for a dramatic effect. There's also the option to insert keyframes to change blurriness and other aspects of a visual. So, be it a video clip or short movie, the Final Cut Pro enhances everything to perfection! 
Final Thoughts
All in all, choosing a high-quality automatic video editor can make your life simple and convenient. You do not need any prior experience or skills to create a professional video. Just choose a suitable editor, and you're ready to stun your audience with stellar videos!