Are you looking to expand, create or re-brand a business? Do you need help coming up with a new name that you can be proud of? Well, this article looks to act as a one-stop shop for all of your needs  Browse the ten brand name generators below and thank us later! 
What is a Business Name Generator?
A business name generator is an online tool that uses a series of inputs to search the internet for companies that use your keywords  This algorithm looks to create a set of unique business names that suit your brand  The beauty of this is that the program might come up with a unique name or term that you had not thought about. It is like having an all-knowing robot brainstorm by your side.  
Why Use One? 
There are 4 main benefits associated with using a business or brand name generator as far as we are concerned. 
For one, it saves time  Time is money, and as an emerging or operating business, you don't want to be spending hours trying to generate ideas for a name when you can have artificial intelligence do it for you  It takes minutes to upload keywords into each of the programs below, and from there, a host of names can be created in minutes!
Secondly, it can provide you with ideas that you may otherwise not have considered  The human mind is only capable of so much thought, and if you are in a room of busy professionals, you are all likely to be too busy to give serious thought to a brand name  At the very least, these name generators can give you and your team a kickstart and help you to create something special. 
Thirdly, by uploading key terms and keywords, you can accelerate SEO and boost your brands promotion. 
Finally, they can help you to save money  As we mentioned above, time is money, and rather than hosting a meeting with people that could be working or using their efforts elsewhere, you can use one of the many free programs below and maximize savings and time. 
As the name suggests, Brandroot is all about building a brand from the ground up, and they understand that the roots of any good brand start with its name  The Brandroot business name provider is good for those who want to buy a high-quality and premium-class domain  Once you enter the keyword, it'll display a list of brand names that you can buy.
The generated brand names pass through a variety of SEO filters to ensure that the names provided are catchy and effective  this is why you will have to buy them  You can also mark names that you like and dislike  Then, when you hit the "Generate New Names" button in the end, Brandroot will improvise the suggestions and will come up with the most relevant names for you  That way you are keeping the names that you do like. 
Buying a quality brand name is not cheap, but then again, the money that your brand is likely to make in comparison will overshadow that hugely. 
NameSnack is a popular business name generator that lets you choose a brandable domain name for free  The program is run by an AI algorithm that generates a number of awesome names instantly once you add in your keywords  There are very few (if any) filters available with the site, but the name generation is ideal for brainstorming sessions alike. 
One very useful feature that Namesnack has to its name is that it will tell you if the .com version of the provided brand names are available  This is great if you are looking to create a website but are yet to buy a domain. 
If you are looking for a site that will give you name suggestions quickly, then Namesmith is a great option  Upload 5 keywords and within seconds there will be a host of unique brand names there for the taking. 
Namesmith features many different name suggestion algorithms from your keywords, including purposeful misspellings, adding suffixes/prefixes, and creating fantasy names based on what you've entered  So even though it is not the most comprehensive tool on the market, it still offers great value for any brand. 
With a bank of over 7 million name templates available, Wordlab is a hugely comprehensive naming algorithm that will help you generate relevant brand names with ease  You can also sign up for a free account and post a topic in the forum on the site to get help from the Wordlab community, which is a great addition that few name generators in this list have. 
Another brilliant name generation website is Namelix. The website lets you filter your results so you can choose if you'd prefer a short, medium, or long name and what style of name you're after. For example, you can choose to see brandable names, non-English names, or rhyming names.
This degree of choice is one of Namelix's highest selling points as a  business names generator. Another is that the website also suggests potential logo designs and all ws you to buy website domains for your business.
Namelix has a free name generation tool and will even generate logos for you as well, so it is an all-round brand identity kickstarter. 
Oberlo is one of the best in the business when it comes to branding, and there are a variety of reasons for it. While it lacks the filtering and personalization options of some of the sites we've seen so far, Oberlo offers a wealth of information and resources for starting your business.
Simplicity lies at the heart  f this programme, and in minutes, you will have a unique set of brand name ideas that are perfect f r any brainstorming session. It may not give you the finished product, but the creators of Oberlo know that you will want to have some control over that finished product yourself. They are simply here to help you find it.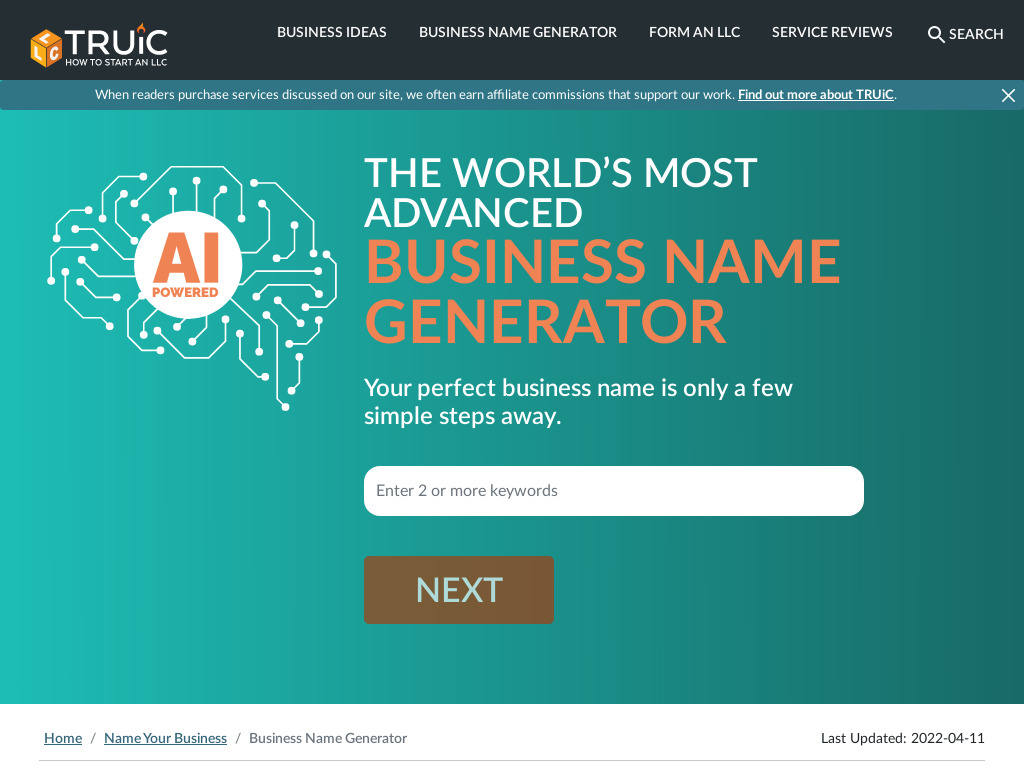 TRUIC or "The Really Useful Information Co pany" is a perfect brainstorming tool when it comes to finding a company name. 
The TRUiC generator allows you to type in two or more keywords into the search engine and then allows you to customize your name more fully by adding your location, and what industry you're working in. Some of the names it suggests incorporate your location which gives these names a more personalized feel.
Once you have selected a name from the generator, TRUiC lets you know if the domain is available. It also has links to a logo generator so you can begin to build a really great brand. If you are looking to build a brand from scratch and dont know where to start, let TRUIC help you today!
This name generator allows you to enter specific criteria and generate a list of 24-816 possible names for each search. You can specify a root word, syllable, letter, the number of syllables desired, and if you'd like to add rhymes, then that function is available too. The interface on the website is a little dated, but overall it is a comprehensive tool.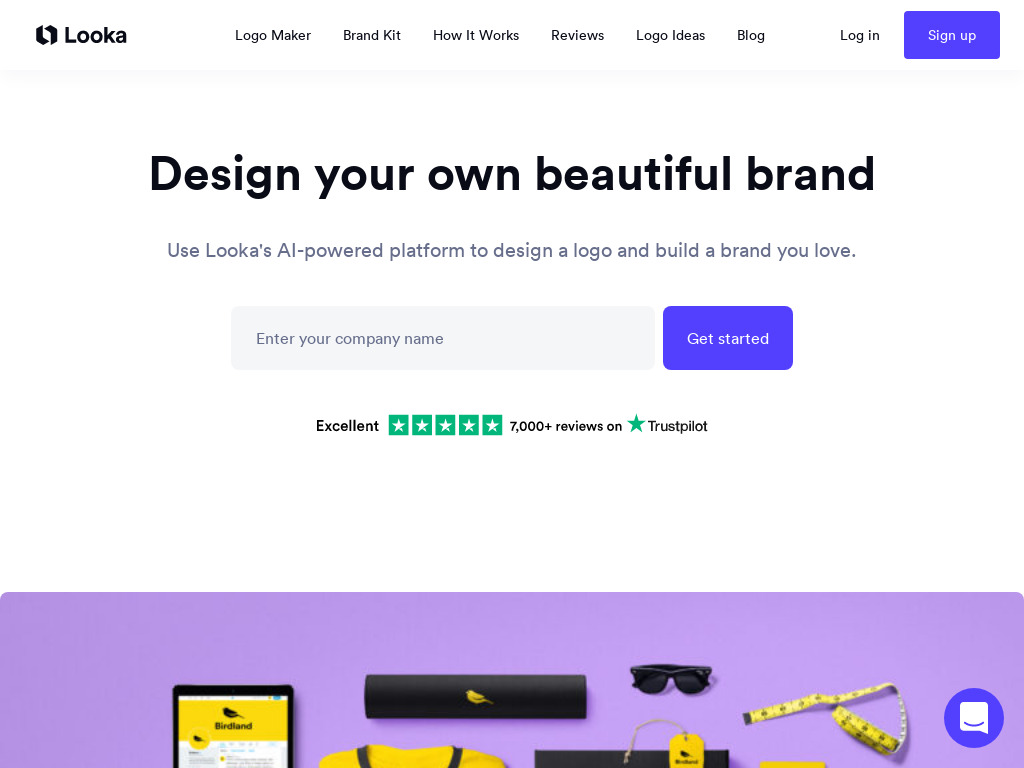 With Looka, you can brainstorm name ideas, generate logo ideas to match, and even look for name availability to ensure that your brand name idea is unique. 
Like some of the other options we've looked at so far, Looka has a number of filter options to help you find the perfect business name. You can filter by character length and can generate name ideas based on industry or abstract ideas. For example, you can generate names for everything from bakeries to business consultants or can generate names that emphasize your business' ideals.
The beauty of this is that you can narrow down potential ideas to suit your business and accelerate promotional capability. It's a win-win. 
Shopify is a name that needs no introduction. For many years now it has been the leading e-commerce brand on the internet, so it is safe to say that they know a thing or two about branding. This is what makes their brand name generator such a popular and effective choice. 
The company claims to offer a ten-second business name generation. So, you won't have to wait for minutes after entering the query in the search box. The name generator will show you a bunch of business names (mostly two words) on multiple pages.
Once you find a name that you like and feel relates to your business, you can start building your e-commerce store right away! So what are you waiting for?