Last Updated on March 30, 2023
Does your career as a photographer take you to every corner of the world?
If so, you will need to find the right camera backpack to carry and keep all your gear safe. Any ordinary backpack or suitcase won't be able to do the job. You need a bag that's made especially for your camera. From daypacks to anti-theft backpacks, photographers like you who are always on the go have a myriad of choices. Now, you can carry your camera equipment and accessories in a single bag, and you can do it comfortably.
Some bags are designed for urban jungles, equipped with anti-theft features that make you feel safe while exploring the concrete walls of a new city. Others are more robust yet lightweight. You can take them with you as you hike up a mountain to capture that one breathtaking shot of the sun rising.
Most camera bags you will find today have special compartments for your laptop and tablet. Since the post-production process is as important as the initial shoot, you don't even have to wait to go home to work on your photos. You can sit and edit on location if you packed your laptop with you.
Camera backpacks come in all shapes, styles, and sizes. There isn't a one-size-fits-all solution. With hundreds of bags to choose from, you ought to figure out what you want from a camera bag and what you want to use it for before making a purchase.
In this guide, you will learn how to select the right backpack for your needs, and you will discover 10 of the best camera bags on the market today.
Choosing a Camera Bag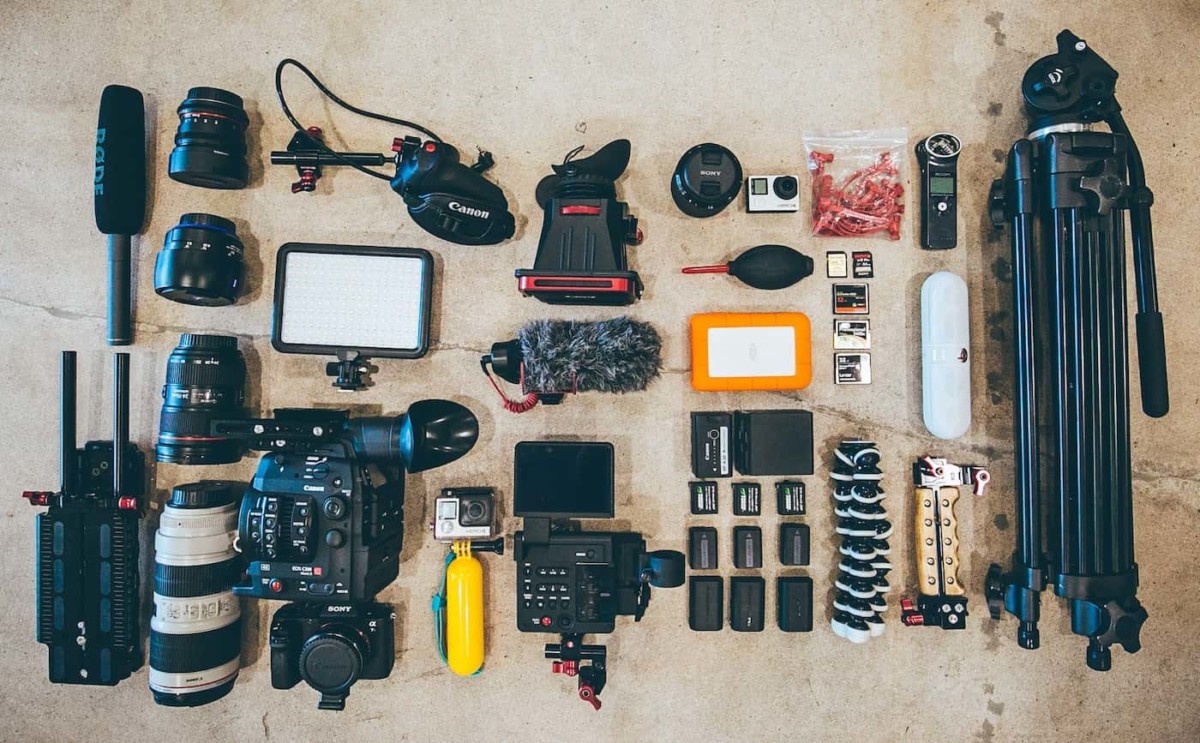 Often, the type of bag you need depends on the nature of your work. What type of photography do you do? Are you always out on the field? What equipment do you usually need?
Finding the right camera bag is important, especially for photographers with expensive gear. A bag built for your photography equipment is what you need to securely transport your gear to your shoots. Since there are far too many options on the market, choosing a functional and dependable bag is quite daunting.
Here, you will find a few factors that you need to consider before making a purchase.
Convenience
Easy access points are important when you're traveling. Sometimes, the most picture-perfect moments happen when you least expect them. You always have to be ready to take out your gear while you're on the move and capture those special fleeting moments on camera.
Nowadays, camera bags have quick-access panels so you don't have to fumble around for your gear. With different internal compartments, you also won't have to worry about messing everything inside.
Some camera bags have one massive back compartment, which you have to unzip to access your gear. These aren't ideal for photographers who are doing wildlife or street photography. But if you only have to carry your gear to one studio to another, then bags like these will do.
Comfort
If you're always traveling for work, find a camera bag that won't weigh you down. Take a look at its style, design, and weight. You don't want a camera bag that fits awkwardly on your body, especially when you're going to be carrying it for long periods of time. For extra comfort, look for padded straps and other features that will distribute the weight of your pack evenly.
Protection
Since you're carrying expensive equipment around, you ought to find a bag that offers the right kind of protection. Extra padding and interior dividers are some features that you need in a camera bag.
These protect your gear against scratches and bumps. Heavy rain showers can also damage your camera if it allows the water to seep into your bag. To protect your equipment, you can get a bag that's built with water-resistant materials. Some bags aren't, but they offer rain covers. You might also want anti-theft features like anti-slash exteriors and lockable zippers if you frequent big cities where pickpockets are always on the prowl.
Our Top 10 Picks
1. Hexad Access Travel Duffel Bag by Wandrd
Unlike traditional travel duffels, the Hexad offers a clamshell opening, a feature which lets you unzip the bag right in the middle and gain access to all of its three large compartments. Since its two bottom compartments are compatible with their Camera Cubes, you can turn this duffel into one massive camera bag.
It also comes with easy side access points, allowing you to take out your camera instantly whenever you need to so you never have to miss a shot because of your bag.
Wandrd's Hexad Duffel is available on Amazon for $259.
2. V17 Camsafe Anti-Theft Backpack by Pacsafe
For over two decades, Pacsafe has provided photography enthusiasts and backpackers some of the most innovative anti-theft bags in the world, allowing them to feel safe and secure as they chase new experiences around the globe.
The V17 is the go-to camera bag for the travel enthusiasts, with five anti-theft features, a padded camera compartment, a laptop pocket, and a stretch pocket for a tripod. Ideal for amateur photographers, this backpack will make you more confident about stepping out of your comfort zone, even with a DSLR camera with a mid-range mounted lens, a tripod, and a laptop on your back.
Update May, 2019:
Unfortunately, Pacsafe's V17 anti-theft camera backpack is out of stock on Amazon, but here is a cheaper alternative that might interest you.
3. Airport Essentials Camera Backpack by Think Tank
Measuring 11.5 x 18 x 7 inches, Think Tank's small high-capacity camera backpack meets most international and domestic carry-on requirements, making it an ideal travel companion for professional photographers.
This can carry your standard DSLR camera, a 300 mm f/2.8 lens, a 70-200 mm f/2.8 lens, F/4.0 pro lenses, a 10-inch tablet, a 13-inch laptop, as well as some slim 15-inch laptops. Other features include mesh pockets, a monopod or tripod mounting system, a rain cover, and YKK's racquet coil zippers for added protection.
"I'm still using my think tank backpack. It's been 4 years since I purchased it. Best backpack I have ever owned in my life." – Igor Ovsyannykov (Founder of Fancy Crave)
Think Tank's Airport Essentials camera backpack is available on Amazon for $199.75.
4. Pro Runner BP 450 AW II by Lowepro
Another backpack designed to organize and protect a professional photographer's gear is the Pro Runner BP 450 AW II by Lowepro, which allows you to carry all your gear in one trip for on-location shoots. It can fit as much as two pro DSLR cameras, even with 70-200 mm f/2.8 or 300 mm lens attached.
There's so much room in this backpack that you can even carry up to six extra lenses, speedlights, a 15-inch laptop, a 10-inch tablet, a smartphone, and other camera accessories such as a tripod.
Lowepro's Pro Runner BP 450 AW II is available on Amazon for $165.
5. The Prvke Series by Wandrd
Founded by travel enthusiasts Ryan, Spencer, and Austin Cope, Wandrd is the company behind an award-winning camera backpack series called The Prvke, which is celebrated for its innovative designs and high-quality materials such as waterproof tarpaulin, ballistic nylon, and weather-resistant zippers.
Their photography pack is the perfect bag for amateur photographers everywhere as it comes with a removable camera cube which keeps your gear safe, a tripod pocket, an expandable roll top, and two easy points of access to all the compartments. Thanks to its padded back panel and comfortable shoulder straps, you can experience all your travels to the fullest instead of worrying about what you're taking with you.
The Prvke Series is available on Wandrd for $184.
6. Covert DSLR Rolltop Backpack by Thule
Designed for the urban explorer's photography gear and accessories, the Thule Covert DSLR Rolltop Backpack has an origami-inspired divider that organizes and protects all your camera equipment. It is made with durable water-resistant Oxford material and an ergonomic chassis, which makes it more comfortable for you to carry your gear.
The backpack fits a professional DSLR camera while attached to an ultra-wide-angle lens plus two extra lenses, a flash, a 15-inch MacBook, an iPad, a drone measuring 260 mm x 200 mm, and all your drone accessories.
The Thule Covert DSLR Rolltop Backpack is available on Amazon for $162.01.
7. Everyday Backpack by Peak Design
Made by the most crowdfunded active company in the world, Peak Design, the Everyday Backpack introduces so many innovative configurations that you've probably never seen in a single bag.
This award-winning bag features dual side-body access options, flex-fold dividers, and tech pockets. Photographers who are always on-the-go will appreciate the adjustable dividers, which they can fold into any shape to fit their camera gear.
The Everyday Back is available on Amazon for $289.95
8. SLRC-206 SLR Camera and Laptop Backpack by Case Logic
If you're a creative professional who is always on-the-go, a backpack that can carry all your photography gear, as well as your laptop, makes an ideal mobile office. Made with adjustable dividers, a customizable interior, and accessory pockets, you can fit an SLR camera with its attached lens, a drone measuring 320 mm x 270 mm x 140 mm, and a 16-inch laptop or a 17-inch MacBook Pro.
The SLRC-206 also provides extra layers of protection for your gear, including a patent-pending hammock system which keeps your camera hovering above the bottom case to reduce impact.
Case Logic's SLRC-206 camera backpack costs $78.99 on Amazon.
9. ProTactic 450 AW Camera Backpack by Lowepro
Lowepro's urban-inspired ProTactic 450 AW camera backpack is designed for professional photographers looking for accessibility, organization, customization, and comfort.
The backpack has four access points, five pockets for tech accessories, and an external strap system called the SlipLock, which lets you organize your gear inside in any way you see fit. This camera bag can fit as much as two Pro DSLR cameras with a 70-200 mm f/2.8 lens attached to the body, eight extra lenses, speedlights, and a 15-inch laptop.
The Lowepro ProTactic 450 AW camera backpack is available on Amazon for $173.94.
10. MB MA-BP-R Advanced Camera Backpack by Manfrotto
This multi-purpose pack can be used as a camera bag, laptop bag, or a daypack, as it comes with a padded camera case, which you can remove and use separately, a laptop pocket, and compartments for your tech accessories.
Its lower compartment can fit a company camera or a DSLR camera with three lenses up to 70-200 mm, while its laptop compartment can carry a 13-inch laptop, a 10-inch tablet, and A4-sized documents. To make your travels comfortable, Manfrotto added padded should straps and some waist straps.
Manfrotto's MB MA-BP-R camera backpack is available on Amazon for $119.