Last Updated on January 2, 2023
For many people, a mouse is a simple tool that serves a basic function, and while that is true, many of us are just happy to use a basic mouse or our keypad and in doing so, we fail to realize that there are actually a host of specially designed computer mice available that will make our long days at the computer or laptop pain free and hassle free.
We are a long way from the days of basic two-buttoned mice, newer mice have side buttons, thumb rests, are wireless, far more responsive and are designed to be easier on the hands and wrists. There are two different categories of mouse, both of which can be used for the home office, they are the ergonomic office mouse and the gaming mouse, as well as outline the differences between both, this article will look to give you a list of 6 mice that are unique in their own ways yet are all ideal for home office use.

The Ergonomic Office Mouse
The most important feature of the office mouse is that your hand is kept in a neutral or natural position when using it, that way there is far less strain, or risk of carpal tunnel. Many types of ergonomic mice can look odd or unusual but are designed as such so as to give the user the most comfort possible.
Some of the mice on this list have unusual designs or sculpts but are designed that way because they provide relief for the hands when in use, however, an ergonomic mouse is not all about shape, weight is an important factor too, usually, if a mouse is heavier, it is harder to move around and can cause fatigue, so most ergonomic office mice are light for that reason.
These mice tend to be cheaper than gaming mice because they are not as customizable or designed for specific game types, but can still set you back, so research is important.
The Gaming Mouse
Gaming mice are a lot more technical in how they are built. Usually designed for specific games like role playing games or first-person shooters, they can have added buttons or wheels that act as shortcuts.
While designs may differ, many components are the same among gaming mice, all of them are designed to be light and maneuverable, have light and responsive buttons as well as laser sensors and adjustable or customizable buttons or wheels.
For many, gaming mice may seem to be a little too over the top, but all gaming mice are designed to be ergonomic as they are often used for a long time too, so with their added customization, sensitivity, and lightweight design, they are also a god choice for the home office too! Just expect to pay a little more.
There is very little to complain about when it comes to this wireless powerhouse. For only $30 you can get your hands on the Microsoft Surface Mobile Mouse and utilize its array of features. This flat mouse is touted for its compact design, its sturdy build quality its long battery life and of course, its price.
The mouse itself weighs 80 grams and because of this, is easy to move around, it is very responsive and connects with your surface tablet or laptop through Bluetooth easily. It works off of 2 x AAA batteries and the battery life is excellent, even after long term use.
While some have complained of its thin build and limited palm support for larger hands, it is still a bestseller and with a price point of $30 along with its selection of color options and user-friendly features, it is no surprise that many of those with home offices love this mouse.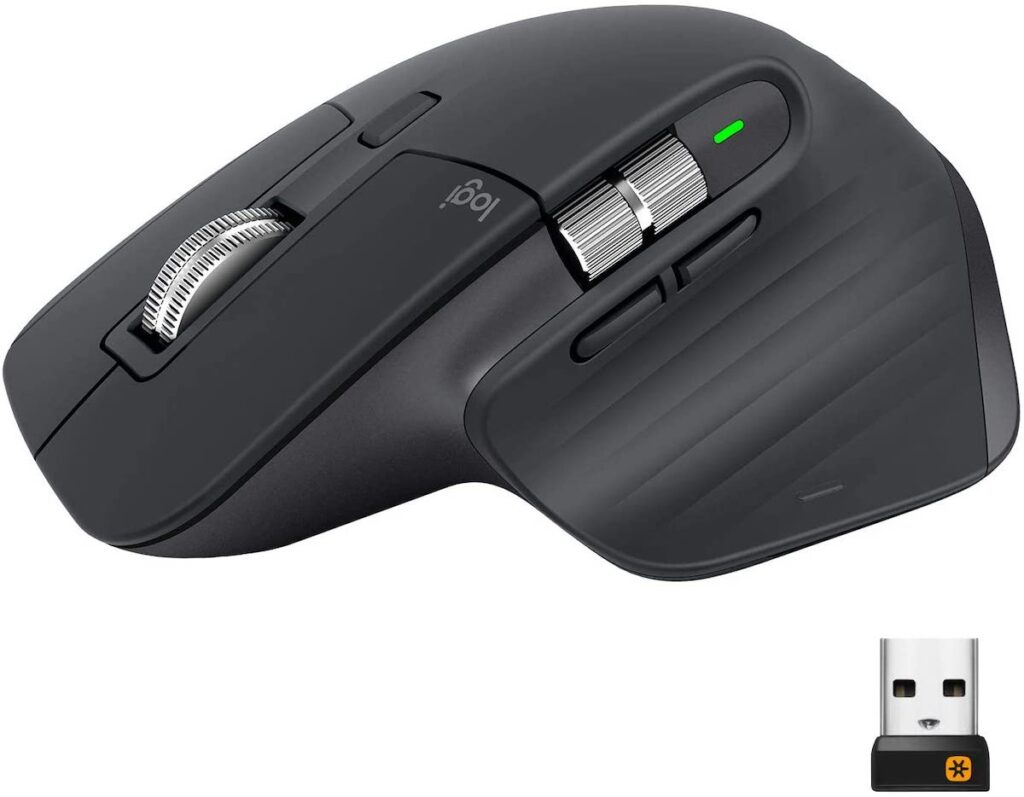 From the basic surface mouse to the complex Logitech MX 3. Designed with ultimate comfort and versatility in mind, the $99 MX 3 is one of the best mice on the list and there are a lot of reasons for that.
To begin, it is sculpted in such a way so as to give your thumb extra comfort and your hand more control over the mouse with its curved shape, it offers ultrafast scrolling capability and the side buttons and wheel near the thumb mean that you will have no need to move your hand from its neutral position.
The mag-speed wheel allows for magnetic scrolling which is said to be more precise and a lot faster than traditional scrolling. For those that work in design or editing, this mouse can even be customized to adhere to app specific profiles, allowing you to set predetermined controls for Adobe Photoshop, Adobe Premier Pro, Google Chrome, MS Word, and Excel.
On top of that, it is charged via USB and a full charge can last up to 70-days, a one-minute charge allows for 3-hours of use. Quality like this is unheard of and it is what makes the MX 3 stand out from other ergonomic office mice.
This mouse is similar to the Surface, but in my view, is more ergonomically focused. With a convenient thumb rest and sleek design that is larger and more maneuverable for those with bigger hands, this mouse is the perfect starting point for those looking to enter the market for a basic and ergonomically friendly computer mouse.
The scrolling wheel is metal, and its multi-device pairing is also effective, especially if you are working from multiple screens, however it does take AAA batteries, so be sure to have a few on hand if you are busy. Fr just $35-40, the MS Bluetooth ergonomic mouse is one of the biggest bargains on the list.
Another mouse that will set you back $100 is the Razer Pro Click. It gets its price from the fact that Razer themselves have taken many of the positive features from their gaming mouse and re-worked them so that they are usable in an office setting.
The mouse itself is extremely lightweight and offers strong ergonomic support for the hands and wrists. It is Bluetooth and allows for multi-device syncing as well. The battery life is very strong, and it is charges by USB, however, the USB charging can get irritating because the mouse charges from the top, so it is wired when using it while charging.
With its soft thumb rest and 8 buttons that can be pre-set and assigned to function differently, anybody who works in an office or long hours from home can rest assured that their hands will be comfortable with this mouse.
While many gaming mice can set you back a lot of money, if you are looking for a well-priced gaming mouse to use in your home office, then the $50 Pulsefire by HyperX is a brilliant choice.
The mouse itself is optimized for e-sports, but don't let that put you off getting it for your office because there are actually a lot of attractive features surrounding the Pulsefire, for starters, it is the lightest mouse on the list and has a hex shell design that is designed to not only be comfortable but prevent your hand from getting sweaty or sticky.
The PFTE stakes on under the mouse allow it to easily glide on any surface and the mouse even comes with extra skates and grip tape if needed. Amazon also provides 2 and 3-year product care for an extra $6-10 and purchasing the mouse can even get you a 40% discount on the Xbox game pass for PC. Gaming aside, I love this mouse for its versatility, its ease of use and its sleek design, considering the fact that it is half the price of some others on the list, it is well worth considering.