Last Updated on June 24, 2023
Whether it's a hot dog at a baseball game, a plate of wings at a Super Bowl party, or a delicious dinner at the theater, food and entertainment is a pairing that has brought people together for centuries.
When it comes to dinner shows, there's arguably no town that does them better than Branson, Missouri. The small town's roots in live entertainment date back to 1959 with the country music group, the Baldknobbers.
Today, Branson is home to more than 30 theaters, and many of them host popular dinner shows year-round. Here are eight of the best dinner shows to check out while you're in Branson, Missouri!
1. Dolly Parton's Stampede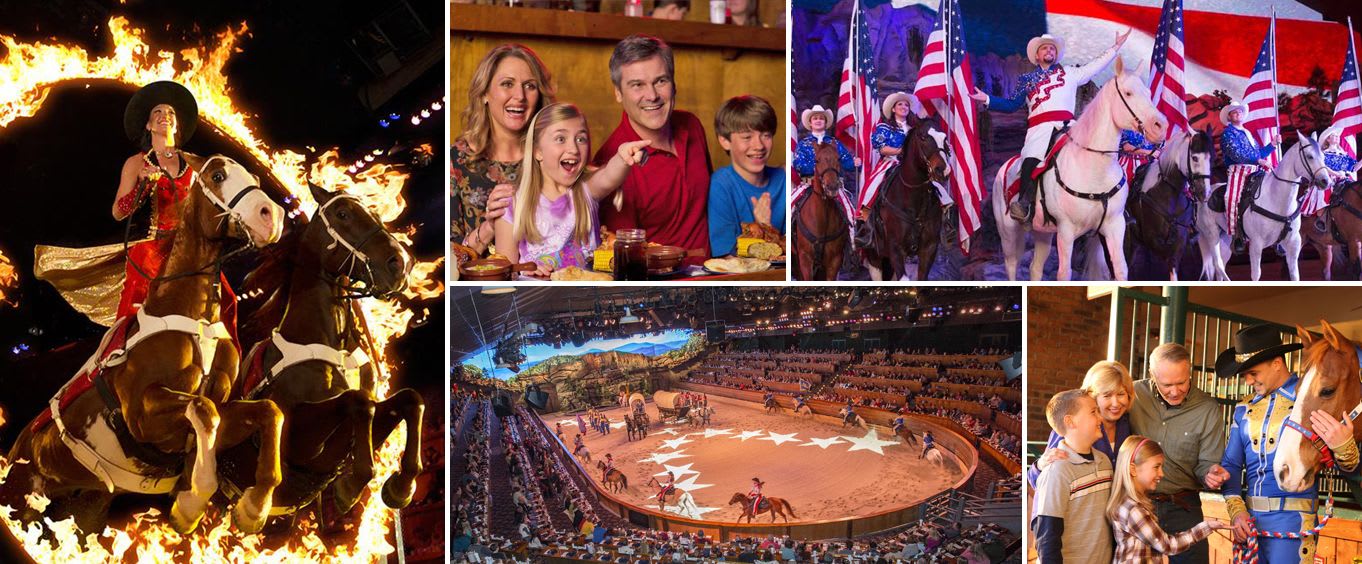 Dolly Parton's Stampede is one of the most iconic dinner show attractions in the United States, and there are currently only two locations where you can see this western-themed spectacle—Pigeon Forge, Tennessee, and of course, Branson.
During this two-hour show, you'll get to witness 32 horses and riders as they race around the 35,000-square-foot arena. The show also features other live animals, impressive pyrotechnics, and a breathtaking finale. Meanwhile, all viewers are treated to a four-course meal!
The show is entirely family-friendly. Bring your partner, children, and grandchildren along for a night full of great food and entertainment!
2. The Shepherd of the Hills Outdoor Drama
If you prefer spending time outdoors to being cooped up in a theater for an evening, consider booking your tickets to The Shepherd of the Hills outdoor drama.
This show is a reenactment of the 1907 best-selling novel by Harold Bell Wright—a work that helped put Branson on the map and transformed it into the tourist destination that it is today.
The Shepherd of the Hills drama and documentary event typically begins at 6 PM and runs for approximately 1 – 2 hours, but be sure to arrive early for a self-guided tour of the famous farm and Lil Pete's Playland!
3. Hughes Brothers Country Dinner Show
For the avid country music fan, there are few Branson entertainment options that compare to the Hughes Brothers country dinner show.
Join the very talented vocal quartet of Marty, Jason, Ryan, and Andy as they treat you to the beautiful melodies and harmonies of your favorite country, gospel, and patriotic tunes. The show includes lunch or dinner with a menu of pulled pork, country beans, your choice of side, and a beverage.
As the Hughes Brothers performances are only scheduled on Mondays and Fridays at 2 PM and 8 PM, be sure to grab your tickets before they sell out!
4. Branson Murder Mystery Dinner Show
If you enjoy the constant second-guessing that occurs during a classic crime thriller and the unnerving suspense as you wait for a culprit to be revealed, the Branson Murder Mystery dinner show might be the ideal choice for you.
This award-winning show is set in 1898, where the cast and audience members come together to tell a unique, hilarious, and interactive story about an unfortunate Branson murder.
This show has a very generous runtime and it includes an "all you can eat" buffet-style meal. Needless to say, you'll be getting more than your money's worth and you won't be going home hungry!
5. WhoDunnit Hoedown Dinner Show
For another murder mystery story that will keep you guessing up until the show's final moments, be sure to catch the WhoDunnit Hoedown dinner show at The Shepherd of the Hills theater.
A relatively new show compared to some of Branson's other offerings, the WhoDunnit Hoedown brings a fresh and comedic spin to a classic murder mystery plot. Not to mention, the theater's menu features smoked pulled pork, herb-roasted chicken breast, and a handful of delicious side options.
The WhoDunnit Hoedown plays at four different show times across four days each week. Buy your tickets and reserve your seats at one of the hottest new dinner shows in Branson!
6. A Tribute to George Strait Dinner Show
Known to many as the "King of Country", George Strait has churned out some of the genre's most beloved hits over his 45-year career—including "Carrying Your Love with Me", "The Chair", "Run", and of course, "Amarillo By Morning."
See some of his chart-topping hits and hidden gems performed by Gordy Wensel in the Tribute to George Strait dinner show. In addition to some of the country icon's biggest tunes, you'll get to hear popular songs from Martina McBride, Reba McEntire, and others—performed by none other than Gordy's wife, Debbie.
Gordy and Debbie have brought their talents to theaters all over Branson but are currently bringing their electric dinner show to Jackie B. Goode's Uptown Café. Purchase your tickets to enjoy a pair of stunning voices, some of your favorite country songs, and a tasty dinner!
7. Showboat Branson Belle
What's better than dinner and a show? How about dinner and a show on the water! The Showboat Branson Belle dinner show is hosted on a cruise ship that overlooks Table Rock Lake.
The show itself is a lively musical performance that features renditions of some of the greatest hits in the last 60 years. When you're not singing along and tapping your feet to the show's professional vocalists and musicians, you're welcome to explore the vessel itself.
Stop by the ship's pilothouse to speak with the captain or enjoy your meal in the ship's dining atrium as you look out over at the water!
8. Escape Reality Magic & Illusions Dinner Show
Next, impressive magic duo Garry and Janine Carson bring you the Escape Reality Magic & Illusions dinner show, one of Branson's top-rated attractions.
From traditional card tricks to some of the more unique illusions you're likely to see performed on a stage, the Carsons offer a night full of mind-bending tricks that will keep you perplexed long after the show has ended.
If you wish to attend the Escape Reality dinner show on a particular day, make sure you reserve your spots as soon as possible. 5 PM is the only show time each day and tickets sell out quickly!