Last Updated on March 30, 2023
In the past, becoming a DJ meant that you had to get your hands on a few vinyl turntables and a mixer. In other words, you would have needed to invest a considerable amount of money right off the bat. But nowadays, thanks to the rise of all-in-one DJ controllers, getting your own gear is more affordable than ever. 
However, with so many options available, it becomes increasingly difficult to find high-quality and reliable DJ controllers. Luckily, we are here to help you jump-start your career by taking a look at the best DJ controllers for beginners. 
1. Pioneer DJ DDJ-200
It's almost impossible to create a list of the best DJ controllers without mentioning the already famous Pioneer DJ DDJ-200. Using other Pioneer DJ controllers as its inspiration, the DDJ-200 is a beginner-friendly mixer that doesn't overwhelm its users.
Moving on to features, and we can see that the DDJ-200 has almost everything you would expect from a professional DJ controller. With two mixer channels and two deck controls, you can freely mix and modify all your records with ease. However, it's worth noting that the DDJ-200 is lacking an audio interface, meaning that you will need a separate device for a proper DJ setup. Yet, by including a split audio cable, Pioneer is supplying its users with a basic workaround that allows them to monitor tracks. 
When it comes to software support, you can use the DDJ-200 with edjing Mix, Algoriddim Djay, or Pioneers proprietary software such as WeDJ. The latter even has tutorials that are perfect for DJing beginners and veterans alike. Additionally, you can also connect mobile devices or laptops to the DDJ-200, allowing you to mix tracks from platforms like SoundCloud Go+ and Beatport LINK.
All in all, the Pioneer DJ DDJ-200 is a powerful DJ controller specially designed for beginners. With its extensive app support and low cost, the DDJ-200 is one of the most affordable and accessible DJ controllers.
2. Numark Mixtrack Platinum FX Serato
Numark is one of the most reliable brands available, and its Mixtrack Platinum FX DJ Controller stands proof of that. Built upon the previous Mixtrack Platinum, this new addition to the Numark family is a sight to behold.
The Mixtrack Platinum FX is packed with features such as 4-deck mixing, hi-res display, versatile jog wheels, and mic input. What makes the Numark DJ controller unique is its inclusion of various effects and remix tools like Auto Loop, Fader Cuts, and Sampling. 
Using a classic design, the Mixtrack Platinum FX has a low learning curve, which makes it perfect for beginners. For instance, the paddle switches allow for quick access to Serato's built-in effects. And when it comes to connectivity, the Platinum FX has one headphone and one RCA output. As a result, the DJ controller is versatile, easy to set up, and always ready for use.
Overall, the Numark Mixtrack Platinum FX is one of the most feature-complete products available. And if that wasn't enough to convince you, then the affordable price surely will be. To put it simply, the Numark Mixtrack Platinum FX offers the best price-to-quality ratio on the market, making it the go-to choice for many beginners.
3. Roland DJ-202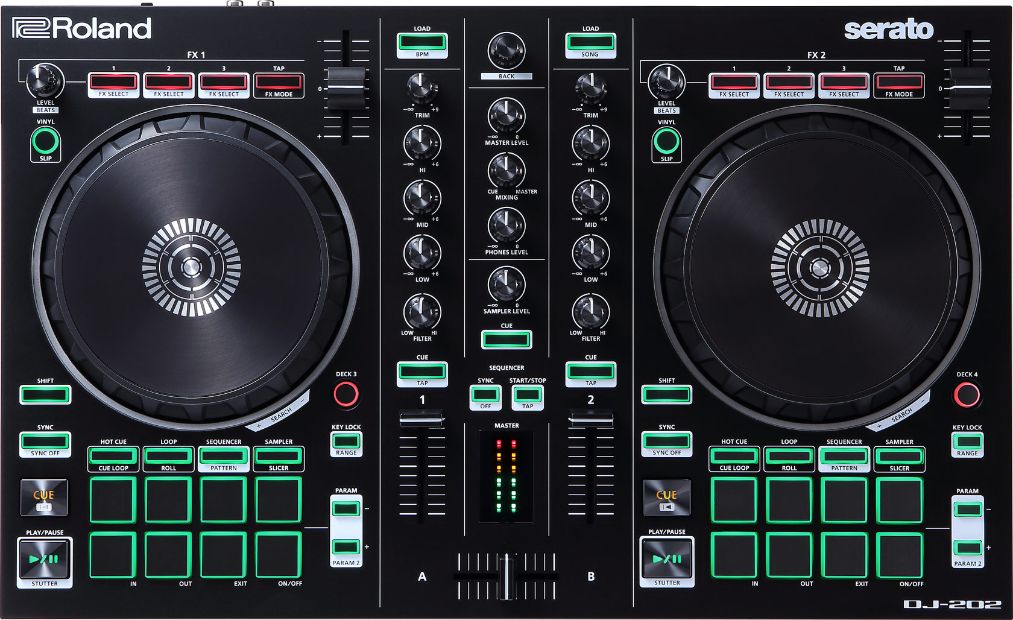 Even though Roland is a newcomer in the DJ controllers market, its DJ-202 is here to steal the show. With its interesting take on the more expensive and iconic DJ-808, the DJ-202 is designed for novices and veterans alike.
For starters, the DJ-202 features 4-deck mixing, two channels, and two large platters. In other words, in terms of features, it is similar to other high-end DJ controllers. However, what makes the DJ-202 stand out is the included sequencer and drum machine emulation, which allow you to use drum patterns on the fly.
Connectivity-wise, the DJ-202 has one master RCA, one headphone, and one MIDI output. Yes, you heard that right; this entry-level DJ controller is able to connect to a MIDI for synchronizing external devices with tracks in Serato DJ software. And speaking of software, the DJ-202 is compatible with Serato Lite and Pro, the former being included with the purchase.  
All things considered, the Roland DJ-202 is an entry-level DJ controller that feels like a high-end device. From drum emulation to its MIDI output, this high-quality controller has all the features that a beginner DJ would need. Therefore, we strongly recommend giving it a try, especially if you are a beginner looking to join the DJing scene.
4. Native Instruments Traktor Kontrol S2 MK3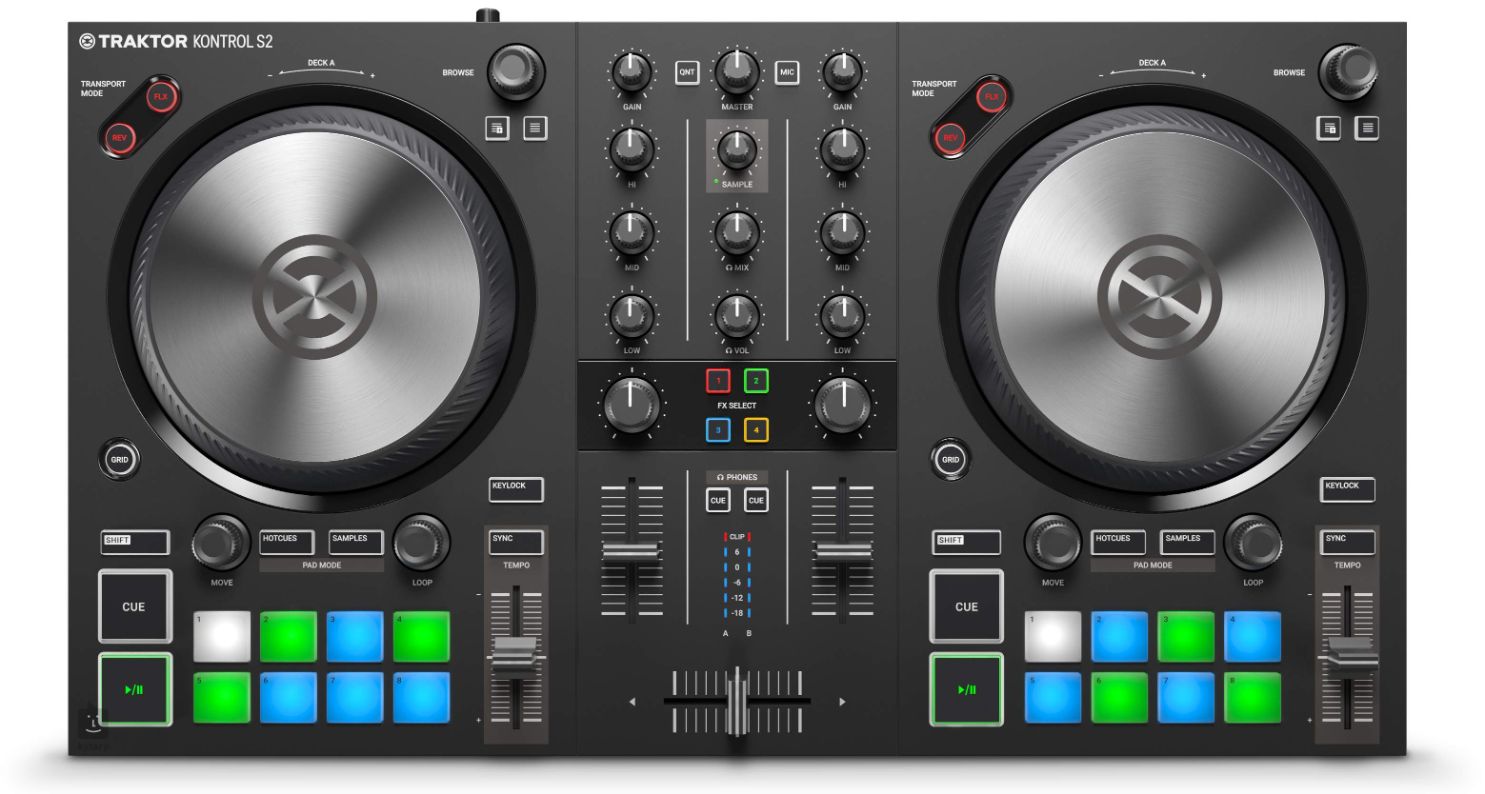 The Native Instruments Traktor Kontrol S2 MK3 is an evolution of previous Native Instruments models in every sense of the word. 
Although it's sporting a compact design, Traktor Kontrol holds nothing back in terms of features. It has everything from a two-channel mixer to two responsive jog wheels. When it comes to building quality, we can see that Native Instruments spares no expense and uses high-quality materials. As a result, the Traktor Kontrol DJ controller is reliable, durable, and long-lasting. 
Regarding software, Traktor Kontrol is compatible with Traktor Pro 3 and Traktor DJ2, which are both versatile DJ suites. And thanks to the inclusion of beginner guides, the Native Instruments DJ controller is perfect for novices.
We believe that the Native Instruments Traktor Kontrol S2 MK3 is a great DJ controller that is definitely worth your time. With its accessible price and extensive features list, this device has the potential to become the best entry-level DJ controller. 
5. Hercules DJ Control Inpulse 300
Last but not least, we have the Hercules DJ Control Inpulse 300, a newcomer on the DJ gear market. Based on other similar entry-level DJ controllers, the Hercules device has a few tricks up its sleeve. 
When it comes to features, the Control Inpulse 300 keeps it simple with two mixer channels and two deck controls. Furthermore, its simple design, which includes one RCA master and one headphone output, makes this DJ controller perfect for beginners. And thanks to its onboard soundcard, the Control Inpulse 300 manages to offer some of the highest audio qualities on the market. 
However, when talking about software support, things get a bit more interesting. In fact, the Control Inpulse 300 is compatible with Djuced, one of the most versatile and feature-packed DJ suites. Not only that, but the included Beatmatch Guide helps any newcomer get the hang of beatmatching by adding LED indicators to the jog wheels. 
In conclusion, Hercules DJ Control Inpulse 300 is another high-quality addition to the DJ controllers market. With a variety of features and an affordable price, the Control Inpulse 300 is a great starter kit for aspiring DJs. And due to the inclusion of multiple performance pads and function buttons, this controller is also suitable for experienced DJs. 
Final Thoughts
Overall, buying the right gear is essential for anyone interested in becoming a DJ, no matter their skill level. But as a result of a saturated market, finding a suitable product seems almost impossible. And since it requires time and effort, you can always come back and check our recommendations for the best DJ controllers suitable for beginners.