As a business owner, you will want to ensure that your company has its own domain where potential customers can come and find your products and services. Thankfully, hundreds of companies specialize in providing budding business owners with unique domains that will launch their business online.
The real question for most business owners is where will I bring my business to? This is because while you will get a domain from any company, the user experience and offerings can differ greatly depending on where you go. This article looks to provide you with some of the best domain registrars and will even offer some tips that may help make your decision easier.
Top Tips When Buying a Domain Registrar
For starters, keep an eye on pricing, and remember that your extension may end up costing more depending on which one you choose. For example, a .com will likely cost more than a .io. Some companies will charge more for specific extensions, so be ready for that.
If you already have a domain and wish to switch it to another registrar, there may be an added charge, so beware of that before you buy.
Check to see if there are any sign-up bonuses or extras; you may as well see if you can get good value for money.
Be aware of the support systems in place with many registrars. Some have very good phone and highly efficient email support; others are not as consistent and will only cause problems and delays if you have any issues.
1. Domain.com
Let's start with the most obvious choice. Domain.com allows small and medium businesses to build a website and then get the domain for it. They have been in business for 20+ years and have even expanded their services out to web hosting and website design.
They will charge different prices depending on the extension that you choose; non-premium extensions such as .life or .live will cost $2.99 per month, whereas .com will set you back $9.99 and .net $12.99. There are a host of additions available, but they will set you back.
Privacy Protection for your domain is $7 per month, and SSL or email encryption and malware protection will cost another $5-8 each per month too. So if you are looking for a full suite of benefits, then domain.com can be expensive, but you will always have to pay for the best of quality. Finally, its support system is excellent; with 24/7 chat and email support, you can rest assured that they will be fixed quickly if you have any issues.
2. GoDaddy.com
Home to over 60 million domains, GoDaddy is one of the largest domain registrars on the internet and hosts over 5 times as many domains as its nearest competitors. They also offer email hosting and website building tools; they allow you to host via WordPress and even allow you to sign up for web security and domain protection services.
There are a few starter bundles; the starter plan gives you a one-page site and goes for $2.50 per month. The essentials plan gives you multiple pages and SEO marketing tools for $10 per month. And the eCommerce Plan gives you full domain privacy, marketing tools and a year of professional email hosting services for $20 per month.
Domain cost and domain renewal can be expensive, however, with .com costing $12 to buy and $18 to renew, for example. A host of bonus features are available that will cost anywhere from $2 to $15 per month. The site's support is also very strong, and the team is always on hand to help with any issues that arise.
3. Google Domains
Google is one of the biggest names on the worldwide web, and with their monumental infrastructure behind them, it is hard to rule out Google Domains as a contender for the best domain service. Bonuses and extras aside, Google Domains does a great job of providing a quality service for your domain for a well-structured and affordable price.
Premium domains cost $12 per year to buy and $12 to renew which is well priced compared to other sites. And the only upgraded service on offer is the use of the Google Workspace emailing service, which users can purchase for $6 per month.
4. Bluehost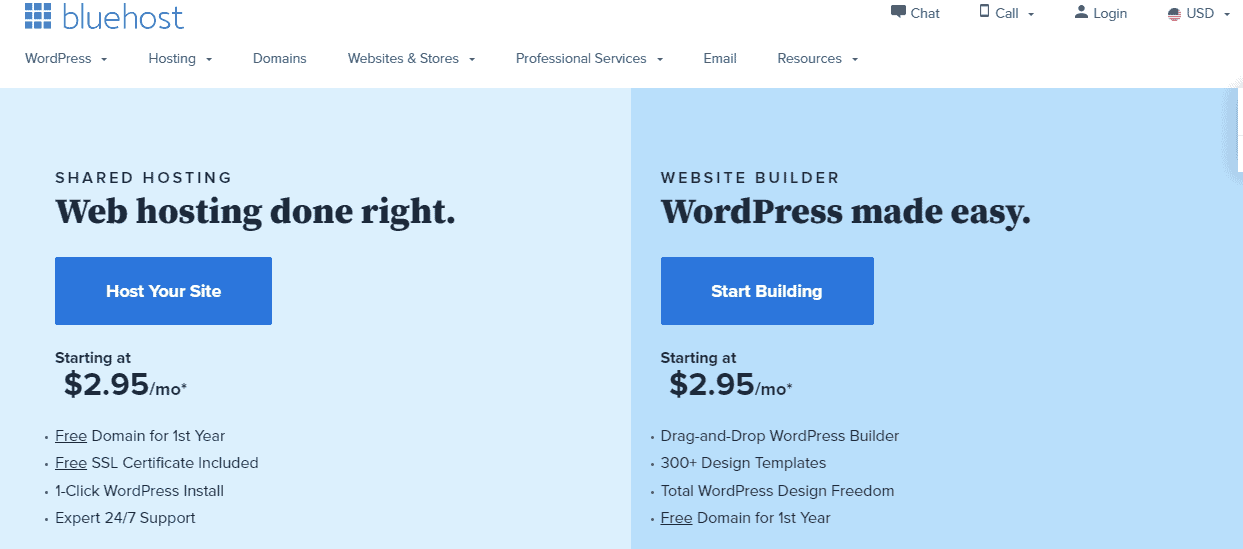 If you are creating your first website and looking for a cheap and robust site to host your site, Bluehost is a quality option. This is because their website creation system is simple and easy to follow.
With your low-cost domain, you will be given a free SSL certificate and for low prices of $1 and $2 per month, you can avail of add ons like domain protection and domain lock, which normally cost three times as much on other sites. Prices for a domain cost as little as $3 per month, and for beginners or those who don't wish to spend a fortune, it is one of the best options available.
5. HostGator
In my view, HostGator offers some of the most comprehensive extras and benefits of any site on the market. They offer shared website hosting, privacy and locking security features, DNS management, and comprehensive support. Their domain search tool makes finding a domain a quick and easy process, and you can also build a website with them too.
Their website builder plans are easy to use and have a drag and drop mechanism attached. With every website building plan, users get a free domain name too! It has a robust cloud platform, and due to its US-centric data center locations, it is ideal for American-based websites.