Over the last number of years, dropshipping has become one of the most popular business forms in the world. Running a company that sells products but never having to physically deal with or handle those products almost sounds too good to be true, but it isn't.
In saying that, anybody looking to make it as a successful drop shipper will need to be on the lookout for a good supplier. Even if you know what you want to sell, there are a few key characteristics that your supplier needs to have, namely affordability, a good reputation, and reliability.
This article looks to put together a list comprising some of the most high-quality dropshipping suppliers and explain the pros and cons of using these suppliers too! It is the quick and easy guide that will help you gauge if drop shipping is for you.
What is Dropshipping?
Simply put, dropshipping is a form of business where you sell items without having them physically in stock yourself. Instead, you will order the items from a third-party company that holds a range of products and ship it directly to the buyer. You don't have to do a thing!
What is a dropshipping supplier?
The supplier is that third-party company that makes, stores, and ships the products you sell to the customers. They do not deal with the customers directly; however, this will be your role. So if there are any issues, then you should consult the supplier.
Some pros and cons are associated with using a dropshipping supplier:
| | |
| --- | --- |
| Pros | Cons |
| There are not too many costs involved with starting a dropshipping business and choosing a supplier. | Many people associate dropshipping with "get rich quick schemes" and ignore it, which can affect business and make choosing a supplier not worth the cost |
| The supplier handles most of the work for you. | You have no control over shipping times, package designs or the supply chain when choosing a supplier. |
| Most suppliers will have everything that you could possibly think of selling. | There could be stock shortages depending on the popularity of a product |
1. Oberlo
Oberlo is one of the most versatile suppliers on the entire dropshipping market. Their directory has millions of products, and the user-friendly dashboard gives you an indication of how good each product is based on the number of clicks it has and how well rated the seller is. They pride themselves on allowing you to become a successful drop shipper in five easy steps.
Get Oberlo, connect it to Shopify, find and import the products you are looking to sell. Then create your store, and drive traffic while they look after the rest. They have a free basic plan, and while I would suggest getting the more premium offerings, there is no denying the value you get with it. You can make up to 50 sales for free, but the basic plan, which is $30, will give you shipment tracking and monitoring for you and your customer, giving you both peace of mind.
They are a solid company with an excellent track record and an average of 4.2 stars from 2,300 reviews. Overall they have helped to sell 85 million products and are seen as a market leader. The final package available in the pro package. It costs $80 per month, but by the time that you have scaled enough to need to use it, $80 won't be an issue. With the pro plan, you can make more than 500 sales and add multiple accounts if you choose to employ someone.
2. Dropified
Yet another supplier application that is available through Shopify, Dropified, is seen as the ideal supplier if you are dropshipping on AliExpress or eBay. The app runs off a browser plugin instead of a specific marketplace, but this means that you can take items to ship from anywhere on the internet. It has one of the sleekest interfaces that I have seen and works with Zapier now as well.
This integration is essential and will likely continue to help Dropified expand over the coming months and years. They offer a 14-day free trial, and their basic plan is $47 per month, which is expensive, but considering the convenience that they offer, it is worth the money. Dropified also has a brilliant research tool called the Ali Extractor, which finds the most profitable products for your company from AliExpress, Alibaba, or eBay. This, along with its powerful suite of analytic tools, will allow you to monitor your store and performance easily.
3. Worldwide Brands
If you are looking to sell products on Amazon, eBay or Etsy, then Worldwide Brands is a supplier that should be considered. Membership costs $300, but it is a once-off payment, so you will be saving money if you are to make dropshipping a long-term project in the long run.
With that membership, however, you get access to over 16 million wholesale products and direct communication with all major wholesalers if you need something specific or more stock.
They look to make you feel comfortable with their services thanks to their robust support line, and the fact that you only have to pay once takes the sting away from its $300 price tag. With a 4.8 star rating from 200 Trustpilot reviews, I would undoubtedly consider Worldwide Brands as a real power play in long term cost saving and short term efficiency for your store.
4. Wholesale 2B
Wholesale 2B makes the list for many reasons. Firstly, it has an extensive catalogue of sites that it lets you sell on, from Amazon to Shopify to eBay, or even your custom Wholesale 2B store. You can handle orders by yourself, or you can pay them 3% to handle the orders and reselling for you.
They do have a free plan that allows you to browse their over 1 million products, but the real fun starts at between $30-50 per month where you can pay to import their list of products to your store on eBay, Amazon or Shopify.
You also get product sourcing, listing tools, and import tools. For an extra $10 per month, you also get access to detailed analytics. Neil Patel called Wholesale 2B "the best dropshipping company for most people", and I think that says it all.
5. Salehoo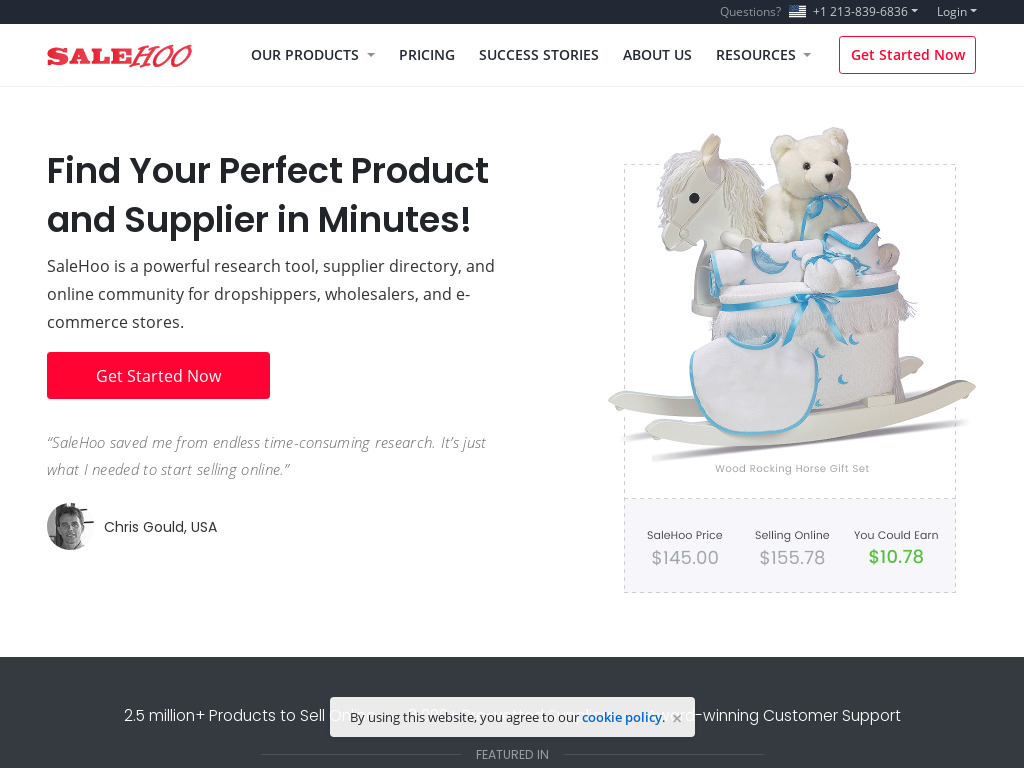 With a database of nearly 10,000 wholesalers, Salehoo is one of the most comprehensive dropshipping suppliers on the list. Not only that, in terms of pricing, it is the most cost-efficient on the list at just $67 per year or $127 for life. There is a 60-day free trial before you use the service and with each supplier screened by Salehoo before making it onto their list, you can rest assured that you are getting the best quality wholesalers.
With your membership, you get access to detailed levels of data through Salshoo's Market Research Lab that allows you to see the popularity of a certain product, analyse profit margins and research new trends. It is one of the most comprehensive and feature-packed suppliers on the list, making its price more than reasonable.