Last Updated on January 2, 2023
So much goes into picking the right drum kit. Are you an experienced, professional-grade drummer with international touring experience? Or have you always dreamed of playing drums, but haven't even taken a lesson yet? Are you looking to play live, or do you know you'll be playing most of the time in a recording studio? Do you want your sound to be warm and natural, or cool and resonant?

The first choice you're going to have to make is brand. Drums come from all over the world, they're made from different materials (wood, metals, synthetic material), and kits can be composed of as few as 5 pieces and as many as 15. But it all starts with who's making your drums. 
Here is a guide to 5 of the best drum brands on the market today.
1. Tama
Tama is a Japanese brand that has been manufacturing drums since the mid-1970s. Tama is best known for their Imperialstar Drum set, a top-of-the-line beginner's set that comes in at a remarkable price point (below $500).
Some companies only make shells, or they'll make pedals but not hardware. Tama is a unique company in the landscape of drumming because they make manufacture every part of the drum, as well as every tool a drummer might need. From the bass, snare, and cymbals, to pedals and hardware, to rhythm and tension watches, you'll find it all from Tama.
2. Yamaha
The Yamaha Corporation, founded in Japan almost a century before Tama in 1887, considerably dwarfs that company in scope. Yamaha manufactures everything from pianos, harmonicas, and guitars to motorcycles (the Yamaha Motor Company) and sporting goods. Drums are actually one of their most recent ventures. The Yamaha Drum Company subsidiary was founded in 1967.
Yamaha is the #1 drum dealer in the United States, and it's not just due to their gargantuan output. They have great drum sets for beginners, like the Absolute Hybrid Maple Set, with its excellent die-cast aluminum hoops, and sets for seasoned pros, like the quiet, versatile, acoustic-feeling DTX950K Electronic Drum Set. 
3. Pearl
Not every drummer knows the true provenance of the excellent Pearl Musical Instrument Company. Though they have stateside facilities in Nashville, they are actually headquartered offshore in, you guessed it, Japan. Sensing a trend? 
Pearl sets themselves apart with the incredible strength of their drum shells. Their "Superior Shell Technology" manufacturing technique, used on all their drums, makes for a very strong shell. That strength makes for a punchier, soaring sound while playing.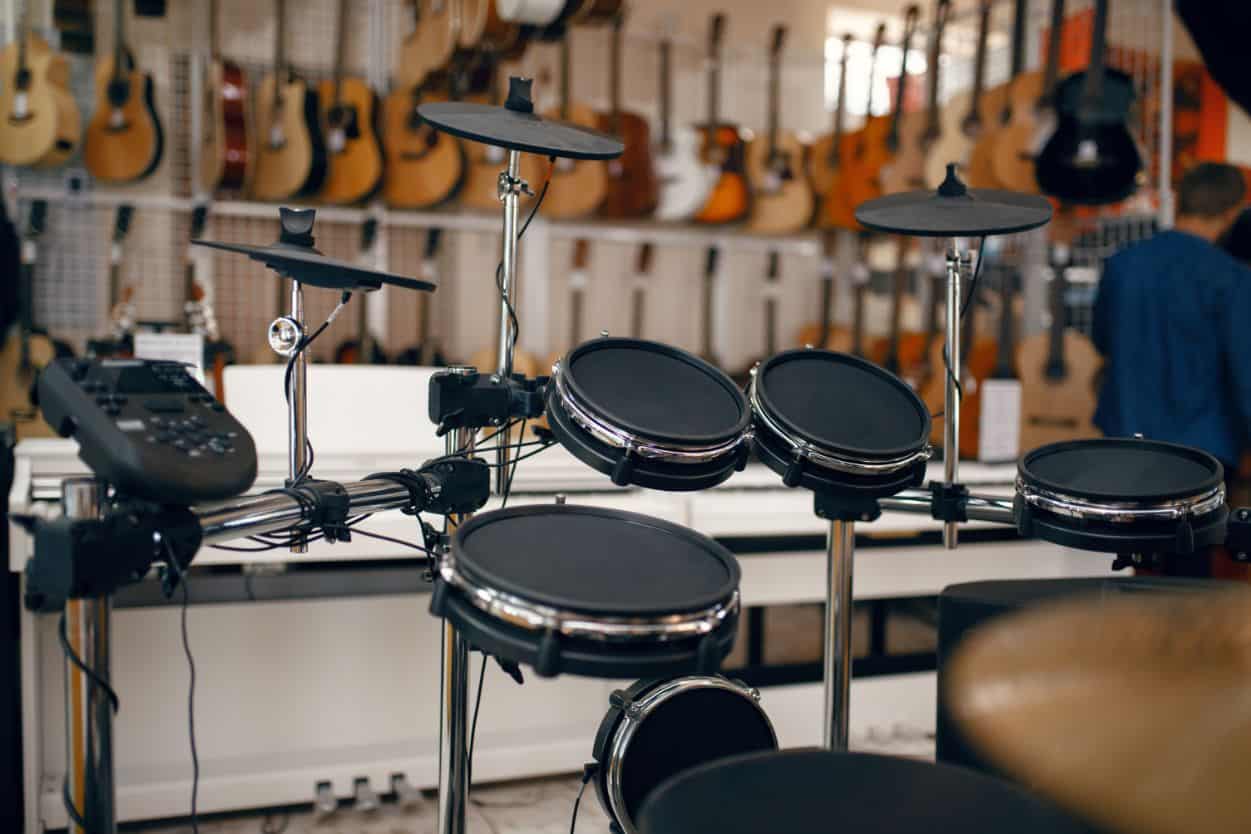 4. Ludwig
Hopping across continents, we arrive at the German-sounding but American-born Ludwig Drum Company. Ludwig drums are solidly-made, lightweight and portable drums with spectacular shell finishes you can spot from a mile away. 
If you're on the fence about Ludwig, consider the endorsements that drummers from the bands Fleetwood Mac, The Doors, The Grateful Dead, Iron Maiden, and The White Stripes make year after year by choosing Ludwig drums. 
5. Gretsch
Last and certainly not least is Gretsch, an American drum manufacturer that also make guitars, basses, and ukuleles. Gretsch's drums are all made in-house in their Brooklyn workshop, where iconic lines like the Catalina Maple 5-Piece Groove Shell and the Brooklyn series, which comes in gorgeous creme oyster and candy apple red finishes, was born. 
The Bottom Line
Do your research, visit your local drum center to try out each set, and trust your ears. If you can hear like a drummer, you'll be able to discern pretty quickly which set from any of these amazing brands is right for you.