With the right approach and tools, you can turn Instagram or IG as a lucrative visual advertising platform for your brand. A recent study proved that Instagram provides businesses with 25% more interaction over other social media channels. This means the photo-sharing app is a key platform to reinforce your personal or business brand.
There are millions of people are active on Instagram every day. As such, you must create and implement a killer strategy to stand out from this massive, overwhelming crowd. Instagram marketing takes time, hard word, dedication and a handful of smart tools and resources. Use the app not just to post photos and videos of your product, but also to boost brand awareness.
Much like with other social networking sites, it's important to use Instagram's features and functions correctly to get the most out of it. Growing your list of followers is one of the aspects you need to focus on. You can easily use an Instagram followers app to get more Instagram followers. When you have a decent number of followers, you will have a longer reach and a bigger opportunity to turn leads into actual customers. To grow your followers on Instagram, you need to:
Apply the right filter.

Post at the right or best time.

Add the right hashtags.

"Steal" the followers of your competition.

Sponsor ads.
5 Tactics to Help You Get More Instagram Followers
Apply the right filters.
Instagram filters are vital features for a variety of reasons. Are you aware that certain photo filters get more favorable responses than others? Applying a preferred filter on your photo or video can bring in positive engagement.
Per Iconosquare, today's top 10 most used Instagram filters are:
Normal – no effects are added to the photo at all.

Clarendon – intensifies the light on light areas and the dark on dark areas.

Juno – boosts the yellow and the red hues in the picture.

Lark – brightens colors (except red) to produce a cool, warm effect; best for nature shots.

Ludwig – brings out light and dark effects at the right places; best for architectural shots.

Gingham – provides a vintage effect; best for selfies.

Valencia – intensifies the yellow hue in the picture.

X-Pro II – adds shadows and dark elements; best on daytime shots.

Lo-Fi – increases saturation and adds shadows; best for food shots.

Amaro – intensifies the middle part of the picture; best for horizon shots.
Post at the right time.
Like with other social networking sites, the timing of your Instagram post matters a great deal. One thing you can do is assess what schedule has and hasn't worked for you in the past. You may also use IconoSquare to get a comprehensive analysis of your post history and audience interaction. The report can also provide you the best times of the day and the best days of the week to upload a new Instagram content.
Add the right hashtags.
Your primary Instagram marketing goal is to connect with your current audience while simultaneously growing your list of followers. Posting interesting, beautiful, new and engaging photos or videos will satisfy the first requirement. But, to gain more followers, adding hashtags on your photos is extremely crucial. Hashtags make it easy for people looking for a particular image or idea to find your photos.
So, which hashtags should you add in your content?
Like Twitter, Instagram users apply certain hashtags over others. If you use the right ones, your chances of reaching new users will improve. Based on Websta's Instagram stats, today's top 20 hashtags are:
#love
#instagood
#photooftheday
#beautiful
#tbt
#happy
#fashion
#cute
#followme
#me
#follow
#like4like
#picoftheday
#selfie
#summer
#friends
#instadaily
#girl
#fun
#art
Do you see a tag that applies to your brand or product? Most likely, not. Keep in mind that using hashtags is one thing, but using the RIGHT ones is a completely different thing altogether. Using the popular tags above will likely give you a handful of 'likes' and engagement. But, they will hardly ever increase long-term engagement, add new followers or lead to sales.  
If you want to use the correct hashtags for your brand and photos, you need to research and implement a new strategy. Come up with 10 to 20 popular hashtags related to your product and niche. Add 5 to 10 popular hashtags that apply to your brand. Incorporate popular local specific tags relevant to your business.
For example, if you're from New York selling women's dresses online:
Brand/Niche Hashtags:
#mybrandname #fashion #fashionwear #womensstyle #womensaccesories
Popular Hashtags:
#instafashion #fashiongram #ootd #ootn #dressoftheday #dress #dressgame
Location Hashtags:
#NewYork #NY #NewYorkSeller #NewYorkFashion #NewYorkBlogger
Save these hashtags on your phone's Notes app. This way, it'll be easy for you to copy-paste the tags whenever you post something new. Researching and saving appropriate tags save you time and effort down the road, improve your engagement and help you get new followers.
Instagram lets users add a maximum of 30 tags per post or caption. Depending on your photo, you can use all or just a few tags (at least seven). It's also important to revisit your hashtags every few months as popular keywords change over time. Go back to your old photos and leave a comment with the new tags. With the new caption, your old photos will be easy to find when users start searching for them.
Steal the followers of your competition.
Seeking out the Instagram accounts of your competition is one of the best and cleverest approaches to increase your likes. You can almost certainly find or attract a new audience when you interact with the 'fans' of your business rivals. One way or another, the people who follow your competition are already interested in the products or services you provide.
So, how can you successfully (and ethically) "steal" the followers of your rivals? The best way is to engage with them or buy followers on Buzzoid. You can:
Follow users.
Like their photos.
Leave a comment on their photos.
The more work you put into interacting with this target audience, the easier it will be to persuade them to try your products or services instead.
Sponsor ads.
To gain more followers fast while still creating a positive impact, you must expose your brand to a wider market. With this tactic, you need to spend money. But, if done correctly, the investment will be good value, and you will be rewarded.
To start, research and list down the big accounts and influencers in your niche. For example, if you sell women's dresses, you need to find big accounts from retail fashion stores. You can use targeted hashtags to find them. It's important, though, that you pay attention to some specifics before following them. Big accounts have a minimum of 20,000 followers. They should also have an email address on their profile.
If there's an email address, it generally means they are open to sponsoring posts. Use the address to inquire about the cost of their service. In general, the rate of Instagram sponsored posts is between $20 and $50 per ad (depending on the size of the account).
Alternatively, you can send them your item for a product review. Online consumers tend to shy away from heavily promoted or sponsored products. A product review is a more natural approach that can increase your audience interaction.
7 Tips to Increase Your Instagram Followers
'Like' photos and videos in your niche.
Interaction is a two-way street. You can't expect others to 'like' your Instagram content if you don't extend the same courtesy. 'Liking' the photos or videos of others doesn't just help you build a relationship with relevant people in your niche, but it also gets your name out there. Look for Instagram handles popular in your field and 'like' five to ten photos per account. You can also follow them or leave a comment – something short, but genuine. Make sure to avoid spamming at all cost.
Use hashtags to look for niche-related accounts. You can also check out the followers of your favorite Instagrammers.
Create a theme for your content.
People are highly visual creatures. Instagram is a photo-sharing app. It just follows that if you want people to notice your account, the feed must be visually appealing. You can have the best product in your niche, but if your photos are lackluster or uninspired, Instagram users may find it hard to believe that what you offer is top-notch.
Get creative. Make people fall in love with your photos. Work hard to turn your Instagram into "feedgoals." Filters primarily adjust the colors of a photo. Use color psychology to choose the right filter for your product. Create a theme to provide eye-catching aesthetics. If your feed looks beautiful, even those who aren't part of your target market will be enticed to follow your account.  
Socialize.
Instagram is an app designed for SOCIAL media. This means you need to socialize to widen your reach and establish a reliable network. Respond to comments posted on your photos and leave comments on other's visuals. Be a member of an Instagram community. Attend social gatherings off and online. These days, niche-hosted networking events are held so Instagrammers can build better and stronger relationships in-person.
Create your own hashtag.
One of the best ways to build a community on Instagram is to create a unique hashtag and encourage others to use it too. You can also gain new followers with this tactic. Make sure to use a new hashtag – something that will only be associated with your brand. Ask your followers to use it whenever they post a photo of your product or service. This works efficiently if the tag has a purpose.
Starbucks implements this tactic effectively, especially during competitions. Their #WhiteCupCoffee and #RedCupCoffee hashtags are still being used today – years after the two photo submission contests have ended.
Organize a contest.
Instagram is a great avenue to run a photo-centric competition because your brand can get maximum exposure from it. There are several ways you can do this:
Caption this Image – ask your followers to caption a specific image. The wittiest gets the prize.
Repost the Image – ask your followers to repost a picture at a given moment. Choose a winner through a raffle generator app.
Submit a Photo – ask your followers to post a photo of them using your product. They also need to add your unique hashtag.
Geotag your photos and videos.
People tend to feel a kinship with someone they have something in common with. This psychology also applies to social media. One way to do so is to geotag your photos. When you put a location on your content, people who search for that place can see your photos. In a way, it's similar to using hashtags, but this time you use a specific location and not keywords.
Write captions that connect.
Unlike Twitter, Instagram has no character limit. That being said, it's unwise to post a lengthy caption, especially if it has no substance. Post a caption that elicits a reaction to your audience. Go for witty or funny remarks to make them smile or laugh. Add a sense of nostalgia, especially for serious #TBT photos. Write informative, relevant information so you can bring awareness to your followers. Make sure what you write captions that can trigger an emotional response to your audience.
22 Tools to Grow Your Instagram Followers
With 500 million monthly active users, Instagram is undoubtedly a huge platform personal and business brands can take advantage of. Here are 20 tools and apps for executing the right Instagram marketing.
Instasize is a mobile editing app with advanced filters and editing tools to help users create engaging photos and videos for their social media platforms. Build and grow a loyal audience with the best visual content made with Instasize. From cropping, resizing, and adding text to photos – Instasize is easily one of the best apps for content creators.
Iconosquare is one of the most used marketing apps for Instagram. It's a cleverly designed to enable users to explore and study the metrics of the program – the total number of likes, the average number of likes, the total number of comments, the growth statistics of followers, etc. The numbers are presented in graphs and charts for quick and easy understanding.
Featuring an intuitive and "what you see is what you get" design, with Planable, you can coordinate large-scale social media campaigns and view your content exactly as it would appear on the feed.

With one shared workspace for your team and clients to collaborate, everybody is in the loop at all times. Gather feedback where it makes sense, right next to every social media post. Add comments, label posts, tag your team members, and send notifications to the right people. 

Every team works differently. That's why you can set up Planable to work in the way you already do, no matter how many levels of approval you need.
Their latest big feature is direct publishing. With this addition, you can now publish your Instagram posts directly through Planable. No more checking your phone in the middle of the night for notifications – Planable has you covered.
Canva is an online design app that helps users create various designs for social media platforms. It provides numerous functions to make it easy for users to develop the best visuals for Instagram. It also offers photo effects, icons, photo frames, stickers and more. Thanks to the app's user-friendly dashboard, users can readily create beautiful and unique Instagram photos.
Crowdfire is a well-designed app for easy Instagram and Twitter management. It helps users spot relevant handles like niche influencers, track the impact of social media updates on both followers and non-followers and search for inactive users. It also enables users to start following accounts that may be interested in their brand. And because the app is designed for two of the most popular social media platforms, users can monitor the relationship and data between their Instagram and Twitter accounts.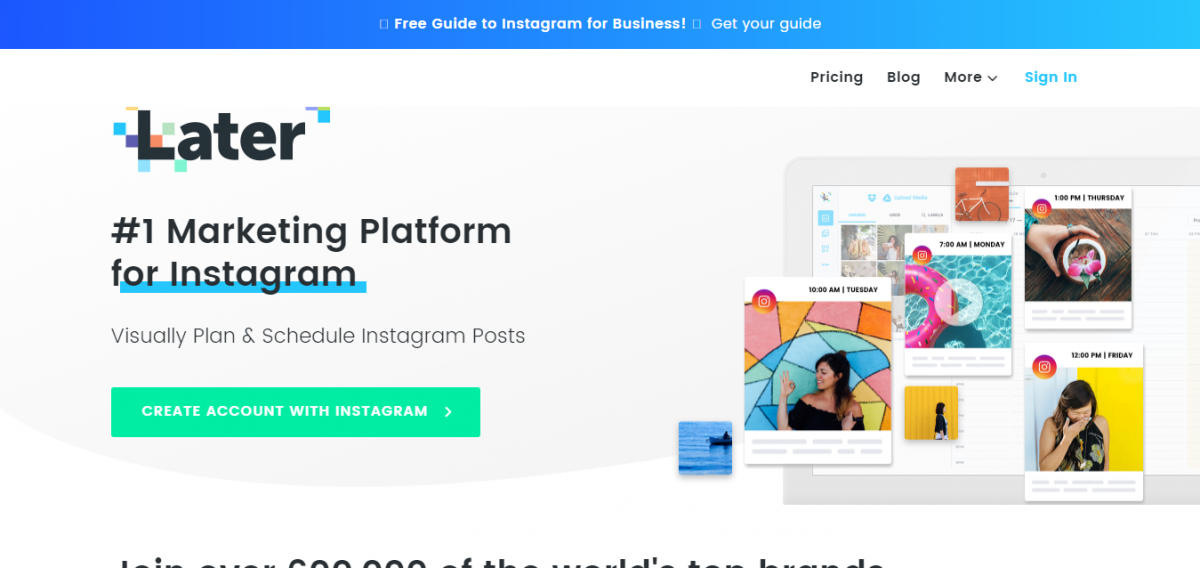 Latergrame is an Instagram scheduler, post publisher app. It lets users post a photo or a video according to the schedule they've set. It features an intuitive dashboard to help users plan content the easiest and fastest way possible. The app is also compatible with different devices and platforms. Users can manage multiple accounts on Latergrame.
Aviary is primarily an image editing tool that comes with superb functionalities. It offers a variety of features to help users design uniform photos for a more cohesive Instagram feed. The app is easy to install and is compatible with different devices, platforms and operating systems. Aviary features photo frames, filters and graphics for an artistic canvas for all users.
PicFrame is a photo editing tool with several functions to help users beautify their images. It provides a selection of adjustable picture frames (over 70), graphic effects, color palette picker, a text table, high-res features, photo sharing functionality and more. It also features a cross-platform compatibility.
Snapwidget is an Instagram widget designed to embed images and videos directly from IG on websites or blogs. This is the app for bloggers who regularly use Instagram visuals add to their content. It has a ready-to-use installation system that ensures users minimal configuration.
Tagboard is a smart content management app that enables users to block offensive posts and comments on Instagram using a keyword filter. It also helps users search for popular hashtags and posts from different social media platforms. Tagboard promotes interactivity so users can like a page or post a comment straight from the app's dashboard.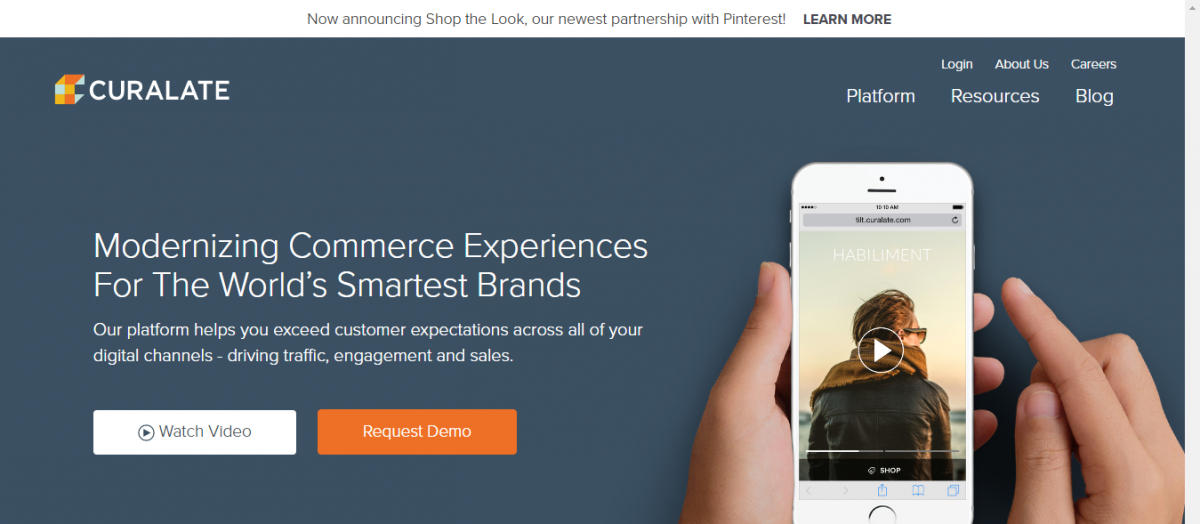 Curalate is a business app that manages various Instagram features and functions. It helps users generate more traffic, improve conversation rate and grow their followers. It also presents an image analytical function that monitors and evaluates the performance of a particular Instagram photo or video. It can also easily track ROI.
VSCO is a photo-sharing/photo editor app that tackles the visual aspect of users' marketing approach via Instagram. It provides an array of filters to make photos more appealing to the audience. It also features themes to help users promote their products effectively.
Klear is one of the best tools for advanced Instagram marketing. It aids users to assess and track relevant data vital in building a good relationship with their target market. It's packed with smart features and runs an interactive dashboard to provide better user experience. Klear can also help users spot relevant influencers in their respective niches.
Schedugram is a smart app created to manage several Instagram features with the utmost ease. It features a scheduling function to enable users schedule posts at best possible time. It can also manage multiple accounts.
Over
Over is a mobile app for iOS and Android users. It aids users to design eye-catching Instagram posts to convey a message to the audience. It supports a wide array of fonts to make beautiful quotes or text.
Piqora is an advanced analytical tool that analyzes the performance of Instagram photos/videos and hashtags. It runs a content management functionality to help users effortlessly manage their social media content. It also comes with an advertisement management functionality that aims to aid users to grow their IG followers.
Repost is one of the best Instagram tools in the market. It helps users repost photos and videos of others fast and easy. It's basically the same as Twitter's Retweet function. Repost also enables users to bookmark photos and videos they want to repost in the future. It also has an easy-search button to spot relevant accounts via hashtags.
Shopseen enables users to manage and monitor their brand inventory and sales on Instagram. It also lets users schedule similar posts on other social media platforms that simplify marketing efforts.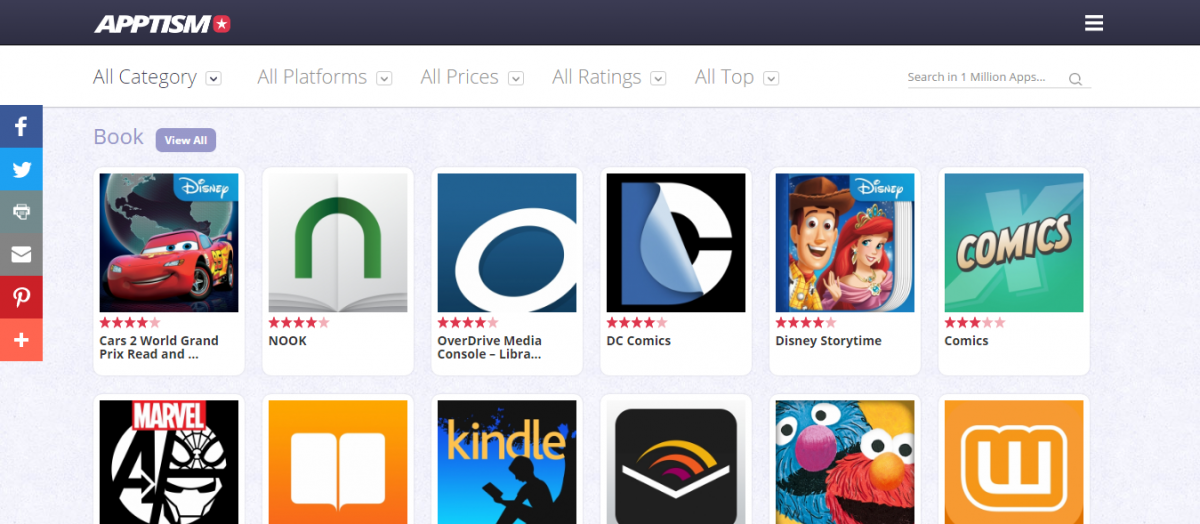 InstaFollow is an app designed to spot industry influencers and relevant followers on Instagram. It helps users engage with their active followers. Users can add and manage multiple accounts on it. InstaFollow is available for iPhone and iPad users only.
Facebook Power Editor runs sponsored Instagram posts. It's one of the simplest methods to manage paid marketing strategy on Facebook and Instagram. It also helps users reach their target audience the best possible way. It tracks marketing factors like age, location, gender, interests and the likes to create ads that meet the needs of the target audience. Instagram itself uses Facebook Power Editor to generate their sponsored posts.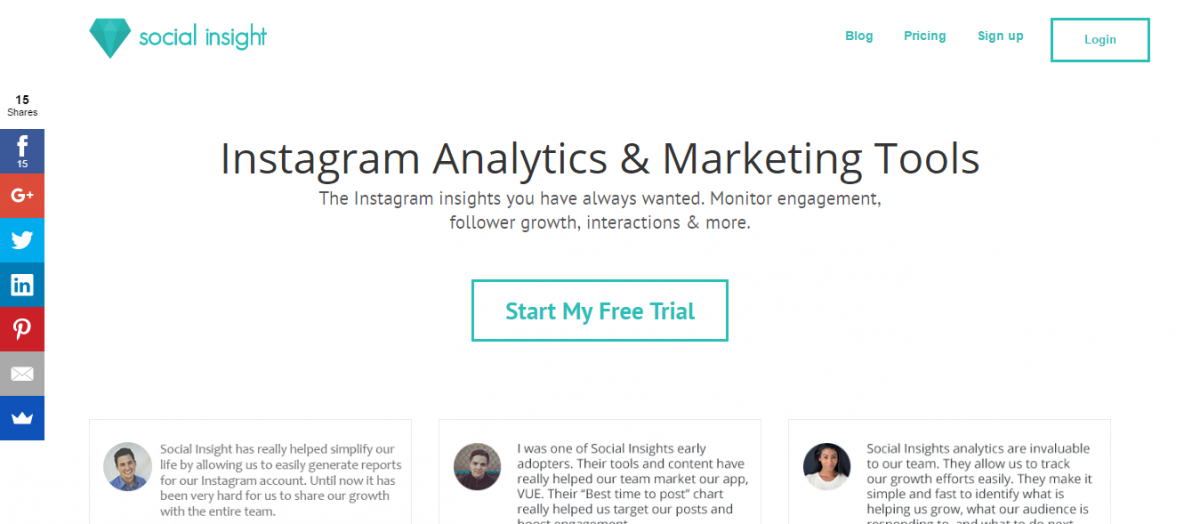 Social Insight runs a comprehensive analysis on an Instagram account. It enables users to follow the growth of their account as well as their engagement with their followers. One if its main features is to analyze the best time for posting visuals. It can also gather data on new, old and lost followers. It can handle multiple business accounts, and lets users compare their analytics.
Instagram Business Blog is a business resource to help users achieve their goals. It provides pertinent information to maximize the use of various Instagram features. It also keeps users updated and aids to help them use the available Instagram functions and tools effectively.
With the right tools and apps, Instagram can become the most powerful platform to improve your brand. Find the tools that fit your needs to start improving your social media marketing.