What Is An Investment App?
Not too long ago, investing in any sector required significant financial muscle as well as adequate information about the dynamics of the industry of your interest.
For aspiring investors with limited financial resources, the chances of successfully pursuing any lucrative investment idea were minimal. Those with the requisite capital but not enough investment information had to contend with the rigorous process of looking for a reputable broker and parting with hefty brokerage fees.
Well, this is no longer the case, thanks to the introduction of special tools that take away the hassles of investing, known as investment apps.
With the right investment app, you can enter any industry without having prior knowledge about its dynamics. Some apps even allow you to open up an account with them with a minimum balance of ZERO dollars. It doesn't get better than that.
But since all investment tools are not made equal, finding the right software for your needs might be a bit challenging. No need to worry, though. We've researched and rounded up the twelve best investment apps you should consider as you prepare to kick-start your journey towards financial freedom.
Pricing: Paid plans start from $1/month
Acorns is one of the most popular investment apps out there, primarily due to its ease of use. You only need to sign up for an account and then link your credit or debit card. After that, the software does the hard work for you – rounding up the sum of all purchases to the next dollar and then investing the difference into any of the few Exchange Traded Fund (ETF) portfolios.
Acorns has three premium plans, ranging from a modest $1 to $5 per month. However, the app's retirement account deserves a special mention. The account is designed to select portfolios based on the investor's targeted time until their retirement, which is calculated as age 59 ½ years.
With the backing of over 8 million people as well as leading brands like CNBC and Blackrock, Acorns is truly an investment app worth every penny.
Pricing: Free for individual investors
M1 Finance appears to target more experienced investors. But the app comes with tons of other features that even beginners will find useful.
For starters, M1 Finance is free for individual investors. The app is also renowned for its incredible flexibility. You can build a custom portfolio of funds and stocks or select from an array of premixed options. What's more, the app also lets you determine the specific times of day to invest or trade.
However, note that while M1 Finance doesn't charge any commissions or management fees, you might end up paying as much as $20 if your account remains inactive for 90 days. Also, the app has a minimum account balance of $100 or $500, depending on the type of account you open with it.
Pricing: Free version available, Paid plans start from $5/month
Many investment apps are notorious for charging hefty commissions and management fees. If you're looking for an app where you can make unlimited stock trades without incurring anything in commission fee, your search ends with Robinhood.
Besides its commission-free approach to trading, Robinhood also supports numerous trading currencies, including Bitcoin (BTC), Litecoin (LTC), Ethereum (ETH), etc. Investors have access to more than 2,000 ETFs free of charge.
The app has also introduced a 'fractional shares' approach to investing that lets its users trade thousands of stocks for as little as $1.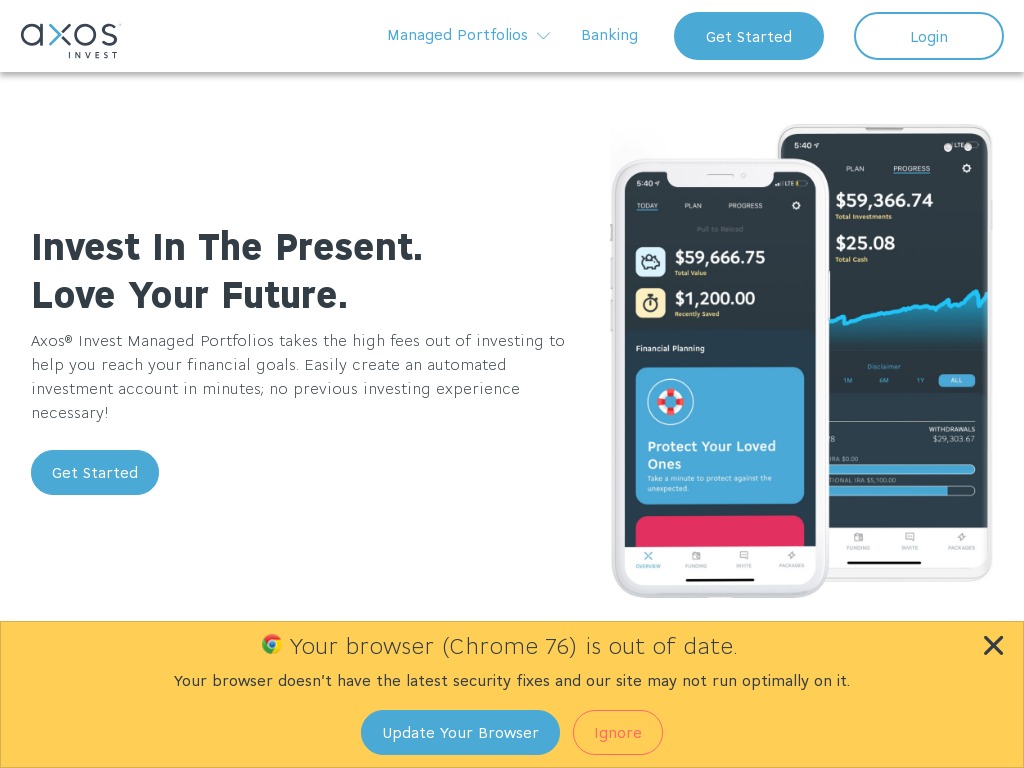 Pricing: Free
Axos Invest is another beginner-friendly investment app on this list, thanks to its ease of use. The app uses a goal-based approach to investing, where it offers you several financial planning tools. You can use these tools to create buckets for your investment money, known as 'milestones.'
All you need to do is inform the service about your investment goals, income and net worth, and time horizon. After that, Axos Invest comes up with a recommendation based on the amount you should invest towards each milestone.
The software doesn't charge any trading, management, or rebalancing fee. Neither does it require a minimum account balance.
Pricing: Free
Wealthbase is a relatively new investment app, with slightly over a year in the stock market industry. However, the app packs numerous nifty features.
The first thing you'll love about Wealthbase is its ease of use and unique, fun approach to trading. The app lets you pick stocks and play games with your friends or colleagues in a social setting. Using the software's interface, you'll be able to keep tabs of the stocks you're friends are picking.
There are also provisions for daily updates as well as friendly 'trash talk' to while the day away as you seamlessly invest.
Pricing: 0.25% of your account balance charged annually
Wealthbase is another powerful investment app that appeals to beginners and experienced traders alike. There are numerous things to love about this app, from its simple but visually appealing interface to its flexibility in terms of the types of accounts you can open.
The software allows you to run an individual or joint brokerage account. You can also open various retirement accounts, such as a Simplified Employee Pension (SEP) or rollover Individual Retirement Account (IRA) account. There's also the possibility of opening a tax-advanced college savings account, which makes it ideal for college students.
However, one notable drawback with Wealthfront is that you require a minimum balance of $500 to get started.
Pricing: Free for stocks, options, and ETFs but charges 50 cents per contract
True to its name, Ally Invest is your trusted investment ally. The tool is basically the investing department of Ally Bank, which already speaks volumes about its credibility as an investment app.
The service comes with lots of investment choices to take advantage of, including commission-free stocks, ETFs, and options. Other popular investment choices include mutual funds, bonds, and margin accounts.
For a hands-off approach to investing, you can opt for Ally Invest's robo-adviser under the Managed Portfolios option, which requires $100 in minimum balance.
Pricing: $1 of your account balance charged monthly for a balance below $5,000 or $0.25% of your account balance charged annually for a minimum balance of $5,000
Stash App uses value-based and fractional shares investment approaches, which makes it easy even for ordinary folks to invest. As a beginner, you require a paltry $5 to get started with Stash App.
After setting up your account, you can deposit as low as $5 into the account every week. Stash App comes with three account types, including Custodial accounts, taxable accounts, and IRAs.
And with over 150 different stocks to choose from, you can always find investment options that match your interests.
Pricing: $0.99 per executed trade
Stockpile enjoys an industry presence spanning more than a decade, and that experience comes with a degree of credibility. Considered the best investment app for gifting stocks, Stockpile lets its users purchase stock gift cards as opposed to having to invest in the stocks directly.
The recipient of your stock gift cards can use the cards to purchase stocks in numerous reputable companies like Google, Amazon, and Netflix. Stockpile is also one of the most affordable investment apps, charging as low as $0.99 for every executed trade and ZERO monthly fees.
However, note that Stockpile only accepts users aged 18 years or older, and who are based in the United States.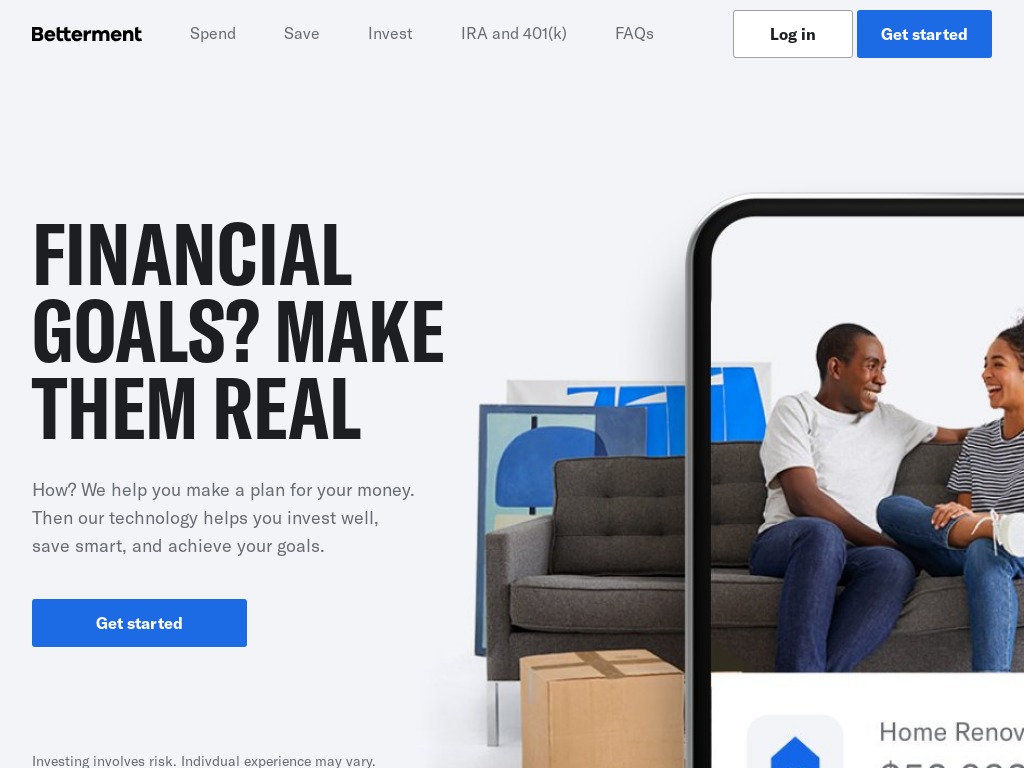 Pricing: 0.25% of your account balance charged annually
User-friendly interface, advanced investment tools, and ZERO minimum balance are some of the strongest selling points of Betterment. Betterment is a goal-oriented investment tool that pursues investments based on your industries of interest and preset milestones.
As a goal-based investment app, Betterment also allows you to set your financial milestones and recommends different strategies on how to achieve those milestones. With this software, you can also maximize your tax-deductible charitable donations so that you give more towards charity and less in taxation.
The ability to rebalance your portfolio automatically, as well as socially responsible investment options further gives Betterment an edge over its competitors.
Pricing: Free
Webull is an investment app that allows you to diversify your investment portfolio by offering a comprehensive suite of products, ranging from stocks and options to ADRs and ETFs. The software also lets you open different types of brokerage accounts to invest in, including individual brokerage accounts as well as Webull Traditional, rollover IRA, and Roth.
Another standout feature of Webull is that it offers extended trading hours. It has plans that allow you to trade from as early as 4:00 am to 9:30 am and as late as 4:00 pm to 8:00 pm ET.
And for your peace of mind, Webull is a member of NASDAQ, NYSE, SIPC, and FINRA.
Pricing: Free but with a $30 fee for broker-assisted over-the-phone trades
Public.com combines the power of social media to create a unique investment platform that's perfect for both beginner and experienced traders. The platform uses themes that help you to invest in companies of your interest. For instance, you can use the themes to invest in women-oriented, ecofriendly, or millennial-focused companies.
Public.com is also available on numerous operating systems, including mobile-based system like Android and iOS. Getting started on the software is relatively easy. You only need to download and install the app, open an account, link the account to your bank, and you're ready to go.
What's more – Public.com requires no minimum balance, charges no commission for regular trades, and accepts payments in numerous currencies.
Final Word
The introduction of investment apps came as a blessing to millions of aspiring traders all over the world. With tons of investment software to choose from, you can trade in various financial products, including stocks, bonds, and options, right from the comfort of your home or office.