As time goes on, people are spending more and more time on their computers/laptops. Especially with the rise of people working from home and partaking in the gig economy through freelance work. Spending hours on end at a desk or on a couch or on your bed is bound to cause issues for your posture and your eyes, especially if your setup is not correct.
Even the name 'Laptop' is misleading because using them on our laps only serves to make us uncomfortable and is actually not good for the device. The best thing that we can do in these times and with these situations is give ourselves the most comfort possible. One of the best ways that we can do this is by investing in a good lap desk. They are ideal for long term use and are often lightweight and compact for ease of use, elevated to ensure that our eyes are at a neutral level and our shoulders are not hunched over and portable so that you can work on the go with ease.
Some can even double up as drawing tables or reading desks, so they are not just for work, they can be used for leisure too. This article will give you a list of 6 of the best lap desks with different features and benefits. However, firstly, we must look at what lap desks do and why you might need one, as well as highlight the most important things to look for when you are in the market for one. 
What A Lap Desk Does and Why You Might Need One
A lap desk provides a variety of functions that make us a must have accessory for anybody using a laptop for long periods of time. They were designed as a means to increase air flow to the laptop because if placed on a bed or on a couch, the soft material combined with the heat of the laptop could do damage to the laptop itself. They are also a good fire preventative for the same reason.
Lap desks have ergonomic benefits for the user as well, enabling for better posture with the laptop being elevated a little, that way our heads are not facing downwards, and our shoulders are more neutral. For people that are on their laptop for work purposes, it is an ideal option, especially if you do not wish to spend a lot of money on a new desk. With lap desks, gone are the days of "tech neck" and now, you can focus instead on your work instead of aches and pains. 
What to Look for in a Lap Desk
Portability
The entire point of a lap desk is to make your life easier, so being able to effortlessly carry your mini desk around with no trouble is key. A big and awkward lap desk defeats the purpose of having one in the first place. 
Value
Many lap desks are well priced, but some can be awfully expensive for what they offer depending on where you buy from or based on the brand. Be sure to shop around and find the best deal for what you want and need. 
Convenience
Which is important start you read the product description and see what problems a particular lap desk can solve for you, for example does it have a phone holder or cushions for your wrist? In all honesty, any stylish lap desk that you can get for a good price and has been made consciously to make life easier for the work you need is perfect. 
Style 
Finally, one thing you really want on top of everything else is for your lap desk to look good. Some are made of wood, some of plastic and some can be even made of fabric or metal. Find which one best suits you because there is an array of options available. 
If you are looking for a lap desk that offers the best general functionality, the Lap Gear Home Office Pro is an ideal solution. Not only is it well priced, both its phone holder and adjustable mouse pad are very convenient. What I particularly like about this lap desk is its portability and its sleek design. Its marbled tabletop finish as well as its cushioned and elevated bottom make it stylish, comfortable, and light without being flimsy.
As mentioned, Lap Gear have thought of every convenient variable with this lap desk, its phone Holder allows you to take calls with ease while you work and being able to adjust the mouse pad to the left or right means that regardless of what hand you use, you are still catered for. It is affordable, lightweight, sturdy, and multi-functional. An excellent option.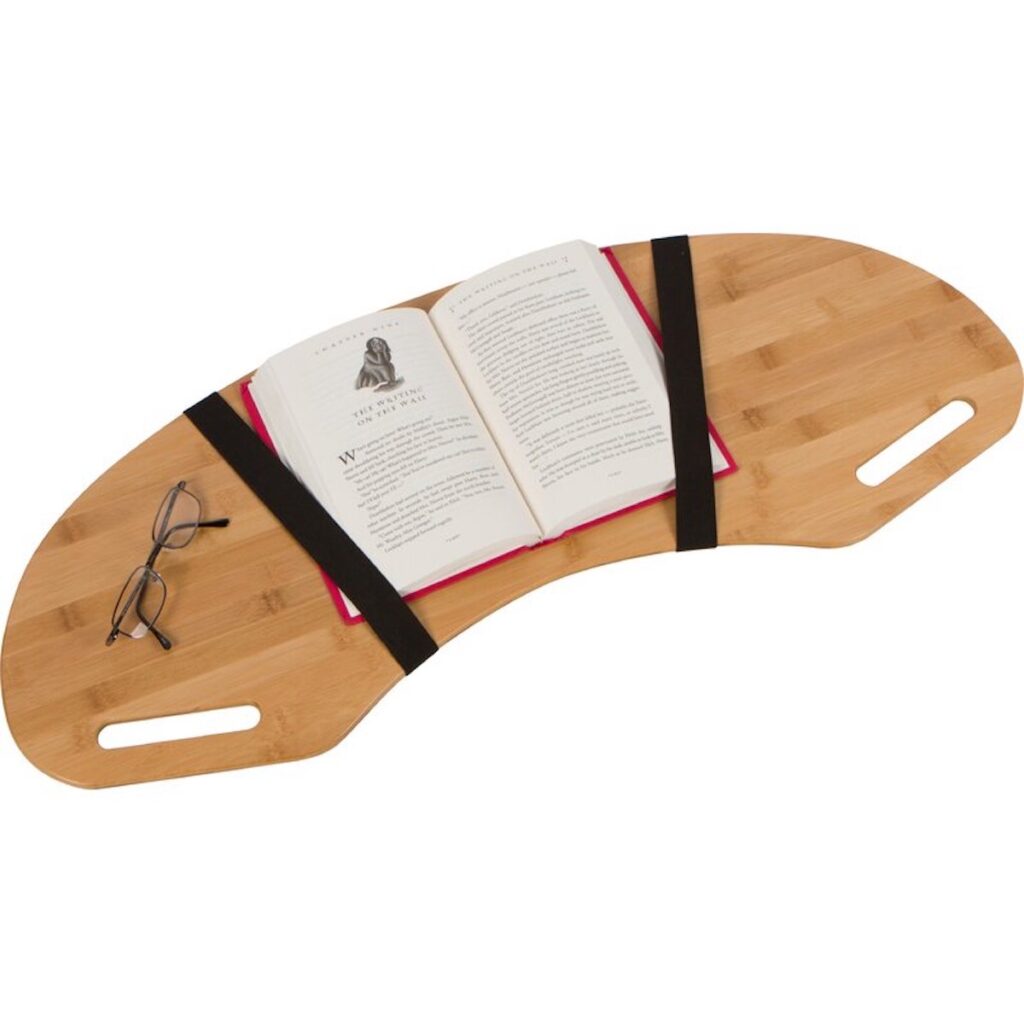 The most expensive lap desk on this list, but the sleekest and the simplest by far. This curved wooden tray is super lightweight and elegant. It is large, so it is great for holding more than just your laptop. Its size means that if you are sitting on an armchair, the tray will rest on the arms either side.
This will help create your own mini desk. Is has a unique look and while it does not have legs or offer any form of elevation, it has stylish black straps included that hold a book down for you so you can read hands free, a feature that I really enjoy. Another attractive feature is the curved shape which will allow you to come closer to your work without straining.
It is shaped and designed to be ergonomically user friendly. While it would not be my first choice for freelancers or people working from home that need a substitute for a desk or are looking for specific features, it is a large, lightweight, and convenient lap desk. 
Another quality and lightweight lap desk, the Sofia & Sam Memory Foam lap desk is designed with comfort and convenience in mind. As well as its polished wooden design, it contains a comfortable wrist support and a USB powered light so that if you are working late or reading, you have extra wrist support and a more conveniently lighted workspace.
The desk fits laptops up to 17 inches and with its lightweight memory foam bottom, which elevates as it moves up the desk, it is both comfortable on your lap and ergonomically friendly in that its elevation prevents excess next strain and discomfort. As well as that, it is well priced and wayfair.com regularly has great sales that you can utilise to get this quality desk for an even cheaper price. 
Yet another Lap Gear product makes the list, and this might actually be my personal favourite on the list. Its grey design is very modern, and it has a host of features that are ideal for a freelancer or someone working from home or on the go. It is elevated with an adjustable fold out cushion that is soft and yet provides security for your equipment. It has a phone holder, making it ideal for answering calls or talking in meetings whilst working alongside it.
It has a well-designed and subtle plastic lid at the bottom that sticks up to keep your laptop in place without being too intrusive and it has a handy strap for holding pens or a notebook as well. Considering the fact that it is one of the cheapest lap desks on the market and on this list, plus its lightweight 2.5-pound design, it is a freelancers dream when working on the go. 
If you are looking for an adjustable and versatile lap desk, look no further than the HUANUO Adjustable Lap Desk. It has eight different angles that it can be adjusted to and with its angular tilting mechanism, it doubles up perfectly as a drawing board or a book holder when you are not working. It has thick and lightweight padding as well as a detachable mouse pad that can be clipped on the right or left side for maximum convenience.
Its sleek matte black plastic design makes it super lightweight and ideal for carrying around on the go and with the ability to tilt to a variety of angles, it is not just a one size fits all solution. It is designed with the understanding that different people may have different preferences when it comes to elevation of their workspace. It is also the only desk on this list with that element of convenience. So, if versatility and ergonomic convenience are what you are looking for, this is the lap desk for you.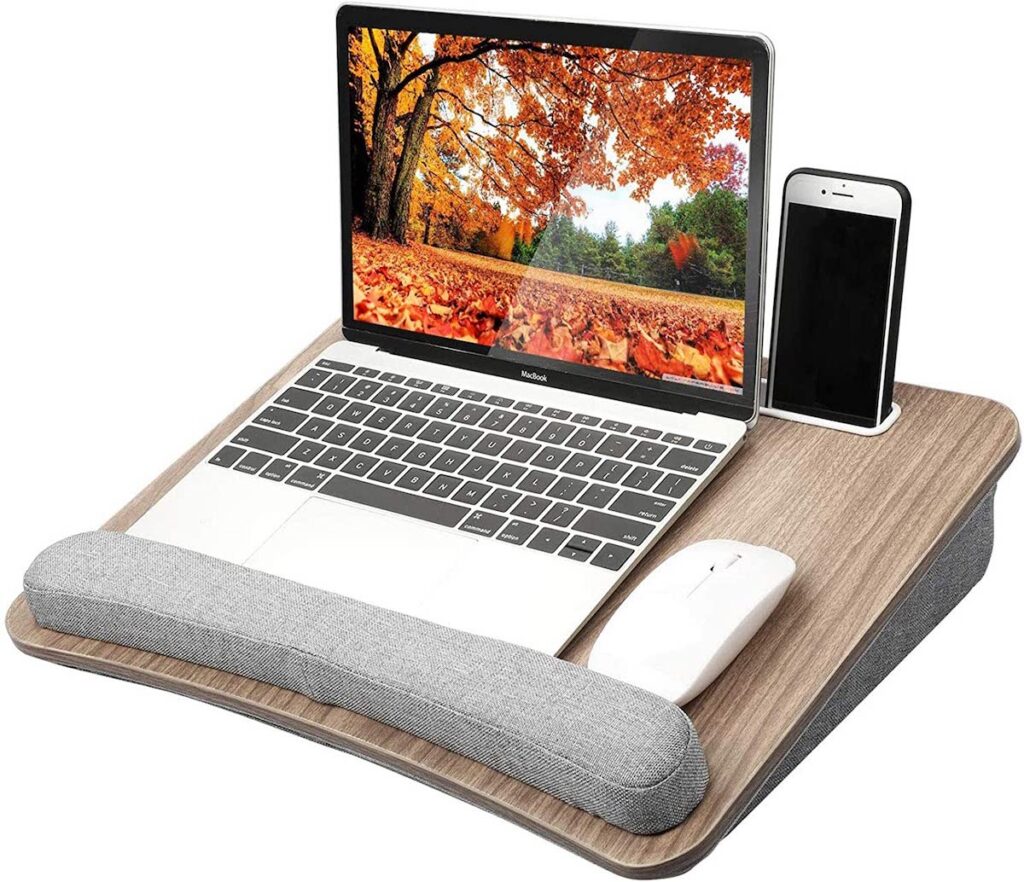 Simple, effective, and convenient, the HUANUO Anti-Slip Lap Desk is the most sleek and polished lap desk on the list in terms of its look. The grey/brown wooden finish as well as the thick grey wrist padding and white phone holding strip at the back provide an aesthetic appearance before you even put a laptop or a book near it. Even more attractive is the elevated grey foam padding underneath.
Its small storage pockets at the back for stationary and its anti-slip ground designed also add to both its aesthetic and the convenience it offers. All of these features are included to ensure that you can work both comfortably and conveniently, allowing you to have everything you need in a small space. Again, ideal for freelancers working on the go or those working from home or outside who do not have access to an office desk, this is the next best thing. Elegant and polished in its design, for $40, you cannot ask for any better.