Last Updated on March 8, 2022
With home offices and remote working becoming more popular with companies around the world in recent years, more of us find ourselves using our laptops on the go or in our own home offices. There is no denying how much more portable and convenient a laptop is vs a desktop computer, however, it must be said that often, excessive use of a laptop can lead to postural pains and eye strain, particularly if we are constantly looking down at the screen.
As a digital nomad, you can probably relate to spending a lot of time at the laptop but can probably also relate to spending a lot of time nursing a sore neck or back. This is where I introduce the laptop stand. Using a laptop stand will help to mitigate neck, back and eye strains because they raise the laptop itself placing it on eye level with the user and allowing you to adopt a more neutral position.

What I want to do in this article is give you 5 laptop stands that will make using your laptop a far more painless experience. these stands can be used on the go, or at home and most of them are priced under $50, so not only do you get added comfort, but you get value for money too.
Before I jump into the list, I think that there are a few things that need to be looked for when deciding which laptop stand to buy.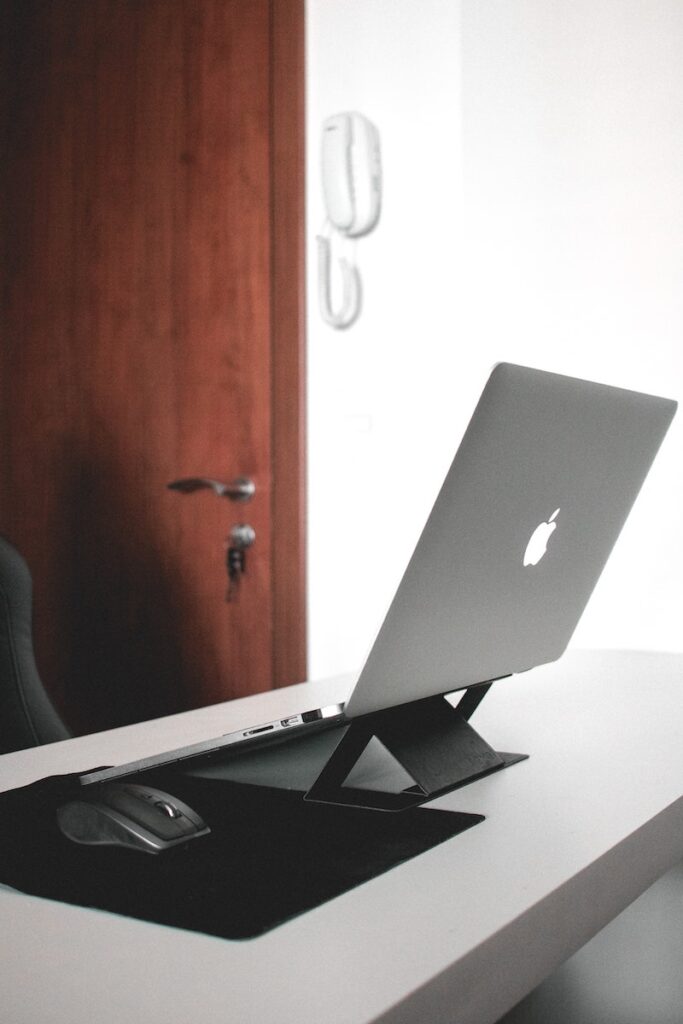 Size
One of the most important features of a laptop stand needs to be its compact and efficient size. If you have a laptop stand that is massive and incapable of fitting into a bag for when you are on the go, then it is not worth buying. As a digital nomad, you need to be able to use your laptop and its accessories at all times, even on the go, so it is vital that the stand is portable, foldable, or at least can be carried around with some ease.
Functionality
Ideally, it needs to be large enough to be able to substitute a desk and also be tall enough to keep the screen at eye level so as to prevent back, neck or eye strain. A laptop desk that is too small or has not got enough height is not functional.
Durability
As well as being small and compact, you want your laptop stand to be rugged and durable as well. As a digital nomad, you may find yourself on the go a lot, so making sure that the stand can withstand the wear and tear of your lifestyle is crucial.
Our Top Picks
For the first couple of stands, I want to focus on genuine value and quality, the Nulaxy laptop stand is in my view, one of the best stands on the market, you don't even need me to tell you that, the over 300 5-star reviews that it has on Amazon will! If you are a digital nomad that is looking for a sturdy and reliable stand that offers good height, then this is ideal.
The open design means that the laptop has no chance of overheating because it is so well ventilated from the bottom. Furthermore, because of its minimal design, packing the stand is easy and you can fit a host of items within it. Installing it is easy, ad while it has no mouse holder and does little else other than hold the laptop, if you want a simple and effective stand that does its job, then look no further. It holds laptops that are between 10-16-inches and can be found for about $30, a bargain.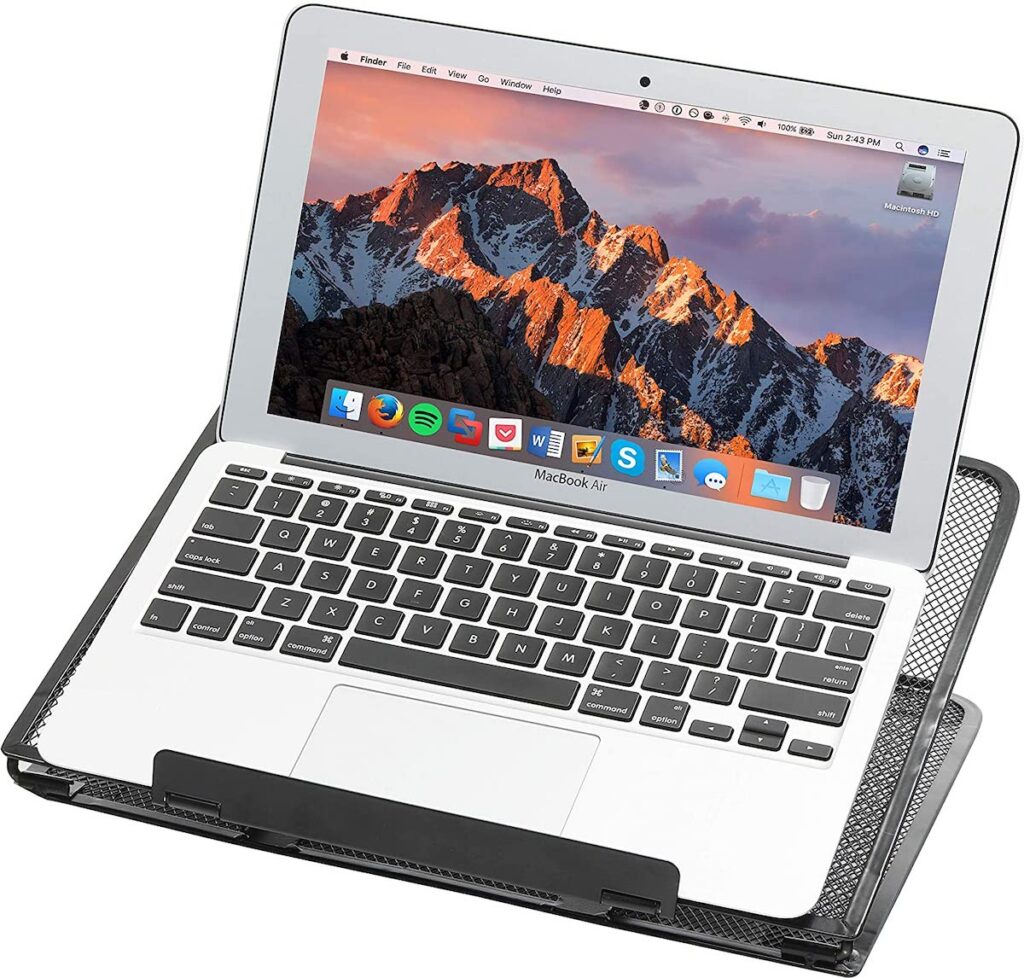 If simple is what you want, then you have found it. I love the design of this mesh laptop stand and think that it is extremely sturdy for its size. The stand itself sports a pure metal mesh that can be adjusted to meet whatever angular requirements you need, and its compact design means that whether you are on the bus, or in the park or at the beach, you can easily put it on your lap and work as you need to.
Not only is accessibility one of its standout features, but it is flatpack and lightweight, offering excellent ventilation capabilities as well with its mesh design. On top of that, if you are a digital nomad that uses tablets as well, then this stand will be perfect. Look to pay about $40 for it, but for the practical functionality and the compact versatility that you get with it, it is well worth the money.
With the ability to hold 17-inch laptops and coming in at a super light 16 ounces, the ElfAnt stand is one of the most compact and functional stands on the market. One thing that I enjoy about this stand is the versatility it offers in terms of adjusting height and angle.
As a digital nomad, it is unlikely that you will be working at the same desk and needing to use the same angles all of the time. So having a stand like the ElfAnt laptop stand, that is highly adjustable, lets you comfortable take your work with you without fear of strains, screen glares or muscle pains. The stand itself is aluminum and works off of a scissor mechanism and its adjustable hinges allow for adjustments in height from 2-inches up to 12-inches high.
Furthermore, the stylish pads atop of the stand are made with silicone and will ensure that your laptop stays in position. Available for between $25-35, it is most popular on Amazon, but is regularly sold out due to its popularity among digital nomads alike.
Okay so this stand happens to break the rules of "make sure that your stand is portable for outdoor use" but oh well, we can't all be perfect. There is a reason for this laptop desk being on the list, and that is because as a digital nomad, you really can and do work from anywhere, so on the days that you use your laptop in your bed, this has you covered!
It offers one of the most comprehensive laptop stand designs that I have seen, with a separate mini table for your mouse and a large and adjustable table for the laptop. I love the separate mini table for the mouse, it is also at a different level to the desk itself, with it being lower down it is easier on you because you are not leaning over or reaching too high to use the mouse or trackpad.
The desk itself is built to be ergonomically friendly and has the ability to be angled up to 360 degrees, making it perfect for any situation. It has dual cooling fans on the back that help with ventilation, and hell, you can even use it as a drawing desk, to hold books while you read them, and is a great stand for a tablet too. Expect to pay $60, but it is one of the most comprehensive stands on the list.
The last laptop stand on the list is another compact, affordable, and solid choice for anybody that spends a long time at their laptop, in their home office or outside. The Lamicall notebook holder has one of the most simple and effective designs on the market in terms of being ergonomically friendly.
Compatible with laptops up to 17-inches and built with a simple pole design that is adjustable in its height up to 8 inches and can rotate 360 degrees, it offers a plethora of options for the user. Admittedly, this stand can cost about $70, but is usually on sale for around $50 and considering its professional look, compact nature, lightweight design, and durability, it is a strong option to consider.