Unless you have been living under a rock, then you will know exactly what a 'meme' is. They are like the currency of the internet, and every day, millions of memes are sent in private messages or shared online. Since the inception of the term 'meme' in 1976, the concept has evolved and today we find ourselves living in a world where memes have taken over from regular conversation in the online sphere.  
There are benefits and drawbacks to memes, but that's not what we are here for. We are here to give you 12 of the best online meme-makers that you can use straight away! Each of the programs below allows you to upload an image of your own, or choose from the website's extensive list of templates, and add your own text to create some internet currency of your own!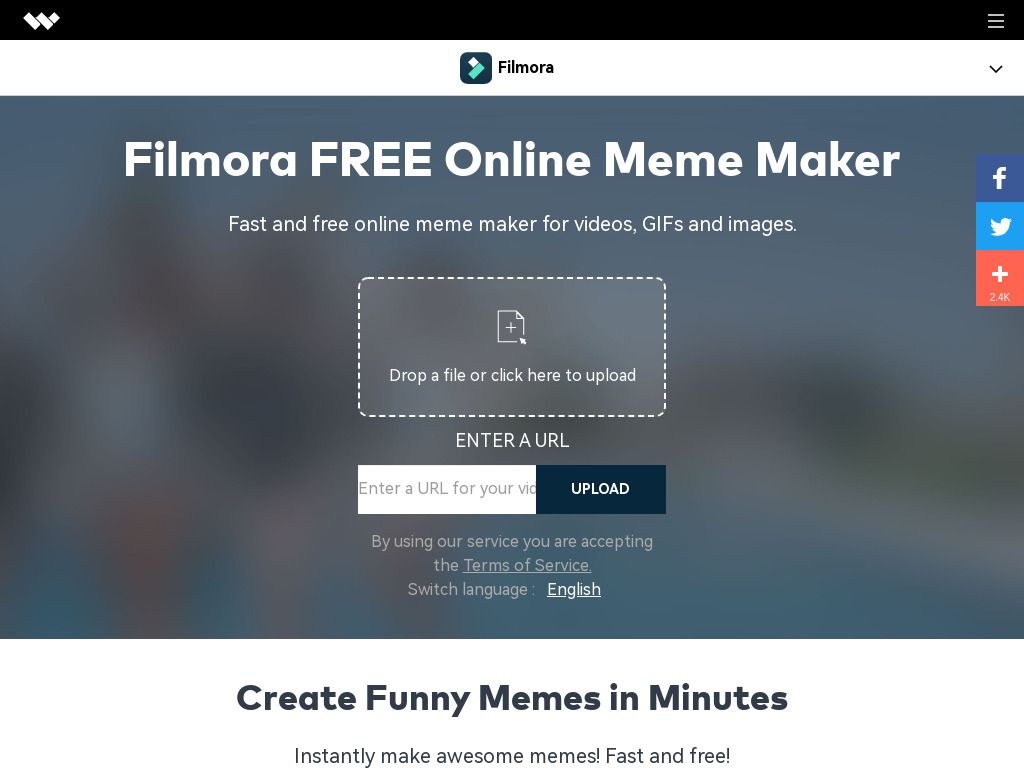 Filmora meme maker is a totally free meme generator without a watermark. Also, you don't need to sign up or log in first to use it. It supports importing images, GIFs and videos in one place. Just drag and drop to import, so easy to use. 
Through the program, you can change font size, colors, and the position of the text within an image so that certain features can stand out. After editing is done, just one click to export your work within a few seconds. You can also freely upload to social media platforms like Facebook, Twitter, and Instagram. 
Filmora supports all popular image and video formats, and it is free to use as well, so it is a perfect choice. 
This video meme creator app is perfect for creating fun and funny memes. It is an easy-to-use meme maker and loads meme templates and finished products quickly without wasting your time.
There are a variety of great features linked to 9gag, like its extensive library of images for example, and the easy preview of images too. Not only that, but you can share your memes onto any platform and download your new creation in seconds. It's also free and easy to use! Just keep an eye on the watermarks and the occasional ad!
If you are a fan of meme creation, then you will have definitely heard of this powerhouse! ImgFlip is a meme maker online platform that lets you make memes without registering to their website. The meme library in ImgFlip is a vast one and you can choose images and add captions to them. After that, you can share those memes across social media sites in no time. The site also lets you create existing GIFs.
You can even customize images to fit into banners or cover photos, and the customization options are nearly endless. Just remember that ImgFlip memes will come with a watermark. 
If you are looking for a versatile and modern-looking meme generation program, then Kapwing has come up with a simple yet effective meme maker which will let you do all the meme-related tasks all in one place.
You can easily create video collages, edit videos by adding text and sound to your videos, add subtitles to your videos, and also resize them according to your needs. Simply upload the picture you want to turn into a meme and get started
As well as meme generation, you can create video loops and trim videos too, and every file format is fully supported. There is a watermark on the website, but you can pay to get rid of it which is a welcome concept. 
Meme Center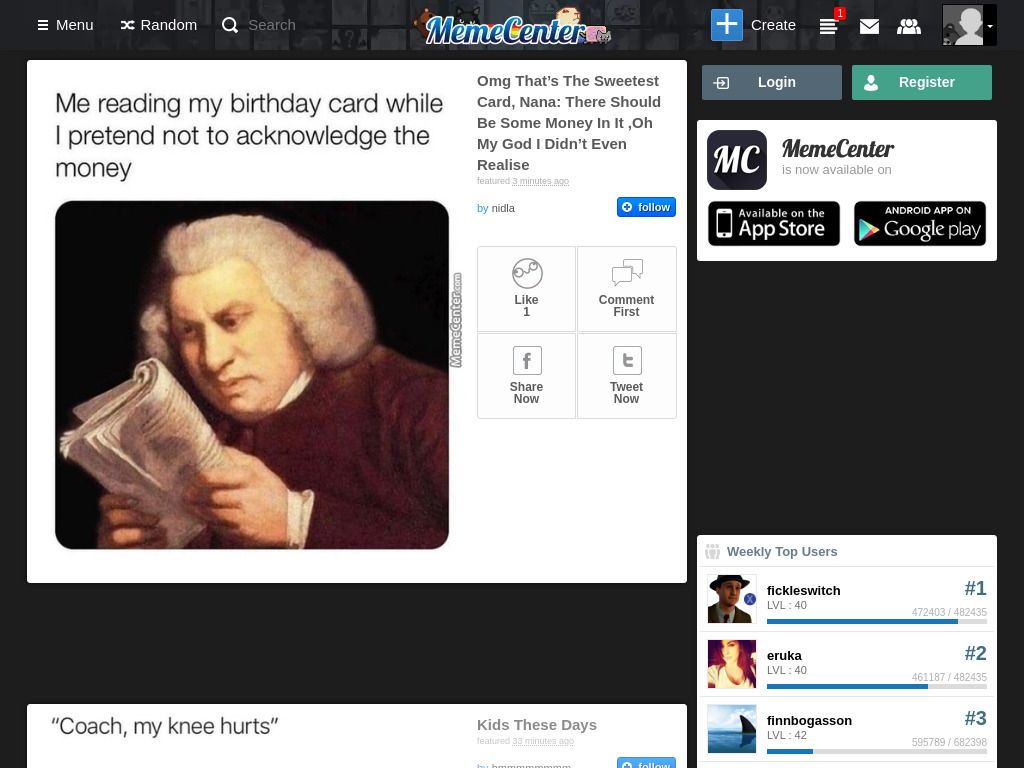 Perhaps one of the largest communities out there dedicated to memes belongs to the prestigious website Meme Center. The website is loaded with meme generating tools such as Memebuilder, Quickmeme, and GIFmaker. These tools will allow you to make memes using image editing tools such as Brush Tool and Oval. You can also add captions to your memes too. 
There are a range of pre-set templates available on the site, and you can filter these templates so that you get access to the most popular ones first. One thing that we should mention is that it is a little more advanced and has a lot of editing tools, so if you want a simple meme creator that is suitable for beginners, then this may not be the best choice. However, what Meme Center does offer, it excels in.
Livememe is a meme generator that is very straightforward to use. When you visit the homepage, you will see a few selected images that are very popular. Click on the "create a meme" button and you will get a drop-down menu that is thumbnails of all the popular memes.
Choose your image from their large content library or add your own image and any relevant text that you want. Saving content is super easy, and you can save your created memes to the website or to your computer. 
Quickmeme is the best meme maker option for anyone who wants a simple experience, without too many frills. The website interface is easy to use and looks classy as well. There is even a section for featured memes which makes accessing the newest content even easier. 
To upload a meme, just go to 'upload a funny' and to add your own text, simply press 'caption a meme'. It's that easy.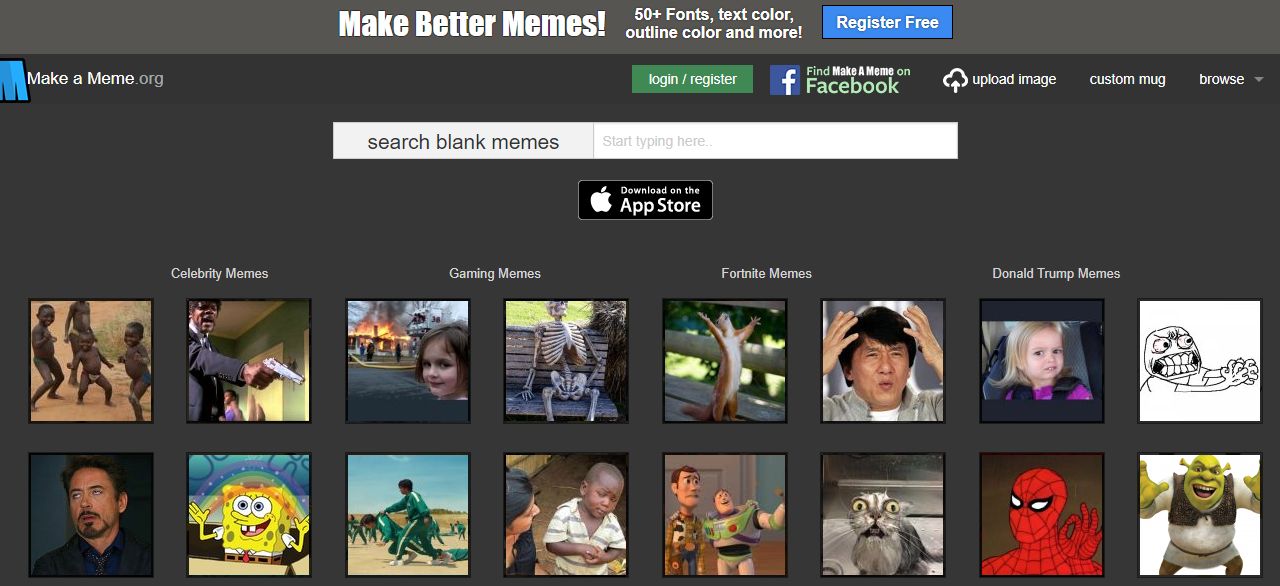 When you go on Make a Meme, you will immediately see images of all the most famous memes from around the world. You can click on those images, where you get an interface asking for the top text, bottom text, and your custom title. Then you click on "make a meme" and your image is ready.
Not only that, but you can also upload images of your own and add text to it as desired. You can preview memes too in order to make sure that they are perfect! 
While the website is not the most aesthetically pleasing, iLoveIMG is still an easy-to-use meme maker. Simply upload an image that you like and customize it as you wish. The only real downside that iLoveIMG has is that you can not preview your meme before you save it.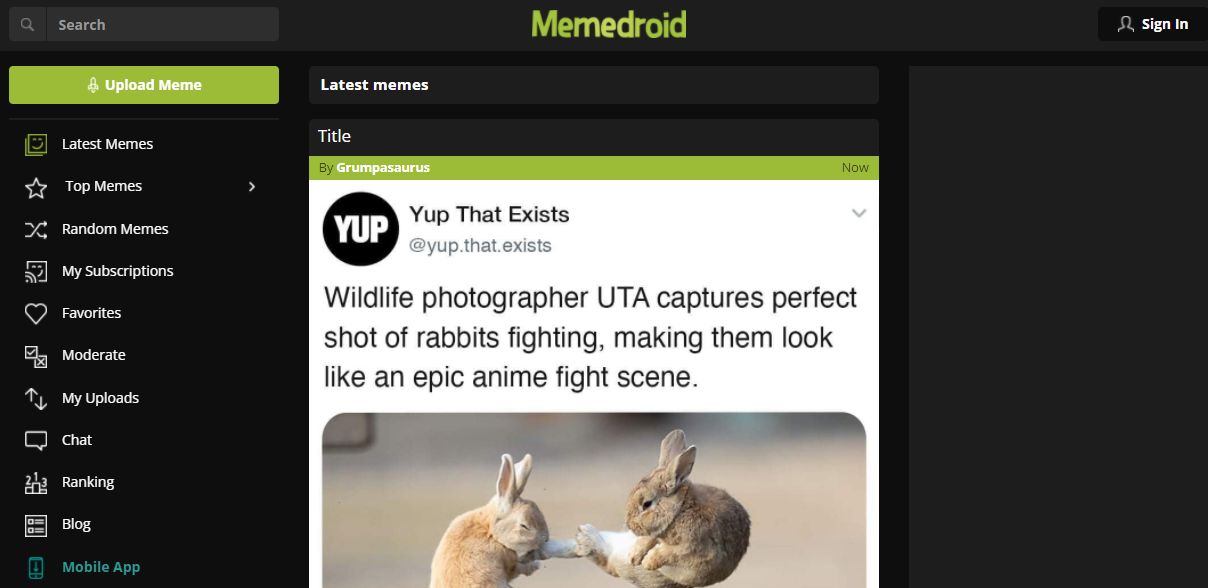 If you have an Android device, then Memedroid is the program for you! Through the website, you can discover a variety of funny memes, gifs, and pictures in this app.
It has a huge meme gallery that will update new memes every day. You can create a meme with popular meme templates or design a meme with your own picture. It is the perfect choice for Android-only users!
DIYLOL is another simple yet effective meme generator that lets you customize meme templates quickly and easily. You can change font sizes and colors, and their template library is massive!  
The only thing that you should keep in mind is that you can not upload images of your own, so you will have to be content with the preset templates. 
The name says it all! Meme generator is a comprehensive meme creation programme for the most serious meme creators. On the site, you can find a range of interesting meme categories that range across the whole spectrum of classic and modern memes. 
Through the site you even have the option of sharing your memes via dropbox, Instagram, Facebook, and Twitter, so all of your friends and followers can see your work! There is a $2 subscription to remove ads, and it is an app as opposed to a website that is accessible through the internet. Just two things to keep in mind before you commit. 
Conclusion
By using one of the online meme-makers listed above, you have the ability to create your own memes whenever you want. We think that is a pretty awesome power to have! All you need is a source image and your idea for the text, and within minutes, the meme generator you are using will have your meme ready to download. Then you can share it with friends and save it on all your devices. And the best part is that each of the 12 generators listed are free! All you need is a bit of creativity and a funny idea, and you are good to go!
FAQs 
What is the best thing about memes? 
The best thing about memes has to be the fact that they are often universally funny. They are a way for people to come together and laugh at the same thing. They are also a perfect conversation starter if you are online. 
What is a meme? 
A 'meme' is a virally-transmitted cultural symbol or social idea. The majority of modern memes are captioned photos that are intended to be funny, often as a way to publicly ridicule human behavior. Other memes can be videos and verbal expressions. Some memes have heavier and more philosophical content.
What can I do with a Meme Generator? 
Using a meme generator, upload a picture of your own, or take an image from the website's extensive library. On the sites, you can design many creative works including posters, banners, advertisements, and other custom graphics
Is it possible to create memes with your own images?
Absolutely! You can upload your own images onto any of the meme generators above and add text to them to create your own meme. And the best part is, it is free!
Where did the word 'Meme' originate? 
The first published case of the word meme (pronounced "Meem," not me-me), dates back to Richard Dawkins' 1976 book, The Selfish Gene. Dawkins referred to it as a "Mimeme"—a word derived from Greek that means "that which is imitated."