Last Updated on June 25, 2023
Money belts, also known as fanny packs or stash belts, refer to figure-hugging, concealed pouches that you can use to stash your valuables while traveling. As opposed to regular handbags and backpacks that are designed to be stylish, money belts are simple, strong, and meant for one sole purpose – protecting your valuables.
You can safely store your cash, personal and travel documents, souvenirs, and other treasured items in fanny packs without worrying about losing them to slash-and-go theft. And the fact that money belts are hidden from plain sight makes them all the more secure.
But while all money belts are designed to be theft-proof, there are still a few more factors you should consider when shopping for these items. We'll go over some of those factors and offer our recommendation of the top 8 most reliable money belts to invest in.
How to Select a Money Belt
The following are the top aspects to consider before buying a money belt;
1. Material
As money belts are intended to wrap around your body, you should carefully examine the material that they're made of.
At the very least, you should choose a product that's designed with breathable material, such as leather. That will help to prevent the build-up of large patches of sweat, thereby reducing skin irritation.
Also, the material should be waterproof to allow you to wipe the pouch down with ease at the end of each day.
2. Slash-proof Straps
For the most part, your money belt will be hidden from plain sight. However, there are certain times when you'll take the pouch off and wear it across your body.
If the strap isn't reinforced with slash-proof material, it may only be a matter of time before you lose your valuables to slash-and-go thieves.
3. Adjustable Belts
It's difficult to test a money belt when you're purchasing it and determine that it will fit you perfectly.
Therefore, always insist on a product that comes with an adjustable belt. That will allow you to decide how tight or loose you want to wear the pouch around your body.
4. Lightweight and Compact Design
This should be a no-brainer. Since a money belt is something you'll keep so close to your body, you don't want to walk around feeling like you're carrying extra baggage.
So, choose a lightweight product. As well as that, look for a bag that sports a compact design for maximum comfort.
5. RFID Blocking
Slash-and-go thieves are not the only criminals that you'll encounter during your trips. Others are a bit smarter and more overzealous. Instead of focusing on your hard cash, they'll attempt to steal your credit card information electronically.
To prevent your credit card information from being cloned, choose a money belt that comes with an RFID blocking protection.
Lastly, you might also want to choose a money belt that features several compartments. That will enable you to sort and pack like items together for ease of accessibility.
8 Best Money Belts for Travelers
1. Zero Grid Money Belt w/RFID Blocking
Pros
• RFID-blocking sleeves for enhanced security of your valuables
• Fairly lightweight
• Numerous compartments
• Exclusive $300 trip assurance
Cons
• Buckle length too short for some people
Product Description
Zero Grid Money Belt w/RFID Blocking is a spacious and comfortable money belt which comes in a compact design that makes it almost invisible. The belt has two separate zipper compartments that allow you to easily sort your valuables.
There's also a slim inner pocket as well as a carabiner clip where you can stash your most treasured items. Made from a water-resistant and highly breathable 210D rip-stop nylon, you'll never worry about sweat or moisture building up on Zero Grid, regardless of the conditions you're traveling in.
2. Raytix Travel Money Belt
Pros
• Protects cloning of your credit cards
• Thin and lightweight design
• Compact and sturdy
Cons
• Relatively expensive
Product Description
Raytix Travel Money Belt is created with comfort, lightweight, and durability in mind. Like the Zero Grid Money Belt, Raytix is also made from rip-stop nylon, which is highly water-resistant, breathable, and lightweight.
The bag is fairly invisible under your clothing, so it won't pique the attention of pickpockets. There are two zipper pockets and a hidden pocket, all of which are protected using double-release buckles. Raytix Travel Money Belt is also designed to block RFID transmissions, keeping your personal and credit card information safe.
3. Active Roots Security Belt
Pros
• Fully-adjustable buckle
• 100% money-back guarantee
• Pouch is easily accessible
Cons
• Limited color options
• Doesn't block RFID transmissions
Product Description
Active Roots Security Belt may not block RFID transmissions, but it comes with plenty of other redeeming qualities. The belt features a simple design and has a large zippered pouch on its underside for ease of access to your cash.
Active Roots is also designed from highly durable nylon, ensuring it serves your traveling needs for years on end. When you buy the product, part of the proceeds is used in supporting a Laos-based elephant conservation center. That makes Active Roots Security Belt a perfect fit for people who're keen on giving back to Mother Nature.
4. Peak Travel Money Belt
Pros
• Blocks RFID transmissions
• Water-resistant and breathable
• Lots of compartments
Cons
• Relatively expensive
Product Description
This is another popular money belt that sports a sleek design, making it super invisible and incredibly comfortable to wear. One of the best things about investing in Peak Travel Money Belt is that it comes with a $250 anti-theft insurance.
The belt is designed with an RFID reflector to guarantee maximum safety of your valuables. Another notable security feature is a dual side-release buckle that ensures the belt doesn't come undone accidentally. A 210D water-resistant nylon makes it possible to wear this pouch hassle-free even during heavy downpour. The nylon material also accounts for the belt's lightweight and durability.
5. Boxiki Travel Money Belt
Pros
• Strong and durable material
• Breathable mesh rear for maximum comfort
• Blocks RFID transmissions
• Lifetime warranty
Cons
• Disengaging mechanism
• Inadequate buckle length
Product Description
Most money belts are made to be strong, comfortable, and durable. Only a handful, such as Boxiki Travel Money Belt, comes with an extra touch of style and elegance. Boxiki fits tightly around your waist and blends seamlessly with the line and fit of your outfits. It also sports a neutral color that helps to conceal it from overambitious criminals.
The bag is made from the highly durable and lightweight 210-denier nylon. Some of the security features include RFID Block protection and a secure release belt.
6. Alpine Rivers Money Belt
Pros
• A fully-adjustable elasticated strap
• Lightweight and durable material
• RFID Block material protects you from identity theft
Cons
• Produces some noise
Product Description
Alpine Rivers Money Belt is made from a durable 210-denier nylon that's reinforced with strong stitching and zippers. An RFID Block material lines the nylon fabric, protecting your electronic documents from getting cloned.
The belt sports two large front pockets where you can stash your cash and other valuables. It also features a carabiner clip for storing smaller and more sensitive items, such as your keys and USBs. A FeelSoft absorbent mesh lines its back, offering you maximum comfort even when wearing the pouch in humid conditions. For flexibility purposes, the manufacturer included adjustable and elastic straps.
7. Eazymate Fashion Running Belt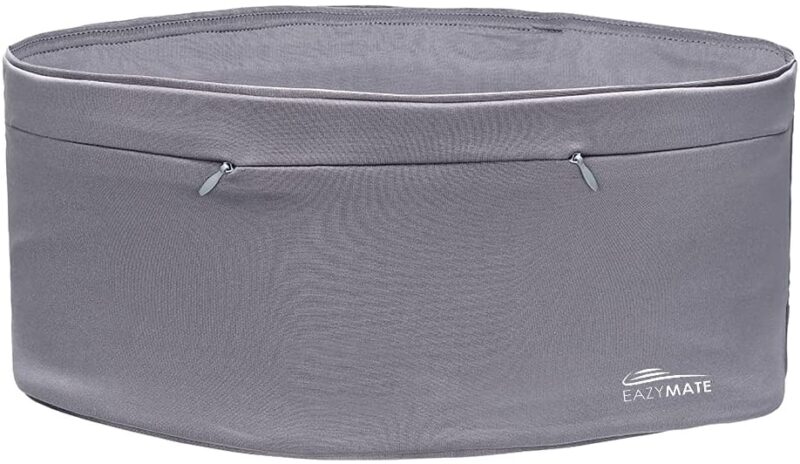 Pros
• Numerous compartments
• 100% money-back guarantee
• Spandex Lycra material is elastic and comfortable
Cons
• Limited color options
Product Description
If flexibility is among your top considerations when shopping for a money belt, then you'll find the Eazymate Fashion Running Belt truly useful. The highly elastic Spandex Lycra material ensures that the pouch fits closely around your body at all times, without worrying about having to adjust any buckles.
Eazymate comes with two zipper pockets that securely hold your cash and travel documents. It also includes a larger compartment where you can store your phone or phone charger. There's even a key buckle for keeping your keys and other small items like USBs.
8. Lewis N. Clark RFID-Blocking Neck Stash
Pros
• Blocks RFID transmissions
• Multiple compartments
• Small and sleek design
Cons
• The toggle easily loosens
Product Description
Lewis N. Clark RFID-Blocking Neck Stash offers durability and comfort in one package, thanks to the strong and lightweight rip-stop nylon it's constructed with. Still on durability, this money belt comes with self-repairing zippers as well as a special TravelDry fabric that keeps moisture, mildew, and odors at bay. The TravelDry fabric also keeps the pouch from shrinking, thereby enhancing its overall durability.
An ultra-slim design safely conceals the bag into your clothing, while RFID Block material keeps your belongings safe from identity thieves. It also includes several compartments for ease of sorting and storing your valuables.
Wrap Up
Regardless of where you're traveling, there are always concerns of muggers and pickpockets to grapple with. And tourists are usually high up in their hit lists.
By flashing your valuables mindlessly, you're only giving these criminals more impetus to rob you. Investing in any of the money belts that we've reviewed here can make a world of difference between an adventure-filled vacation and a cash-strapped one.