Last Updated on August 29, 2022
Paper shredders are more than just loud machines that shred unwanted pieces of paper, they are an added element of security and they welcome to any office. Especially when it comes to shredding sensitive documents containing names, addresses, and bank details. They are a means to protect from identity theft and fraud. Paper shredders have come a long way in recent years and are now quieter, more portable, and more multi-functional than ever before.
Every office or Home Office should have one and this article will give you 6 of the best that you will find on the market based on a variety of different factors. However, for those that do not have a shredder in your office, it is important to understand why you might need one in the first place and the benefits that having one can offer. 

If You Don't Have a Paper Shredder, here is Why You Need One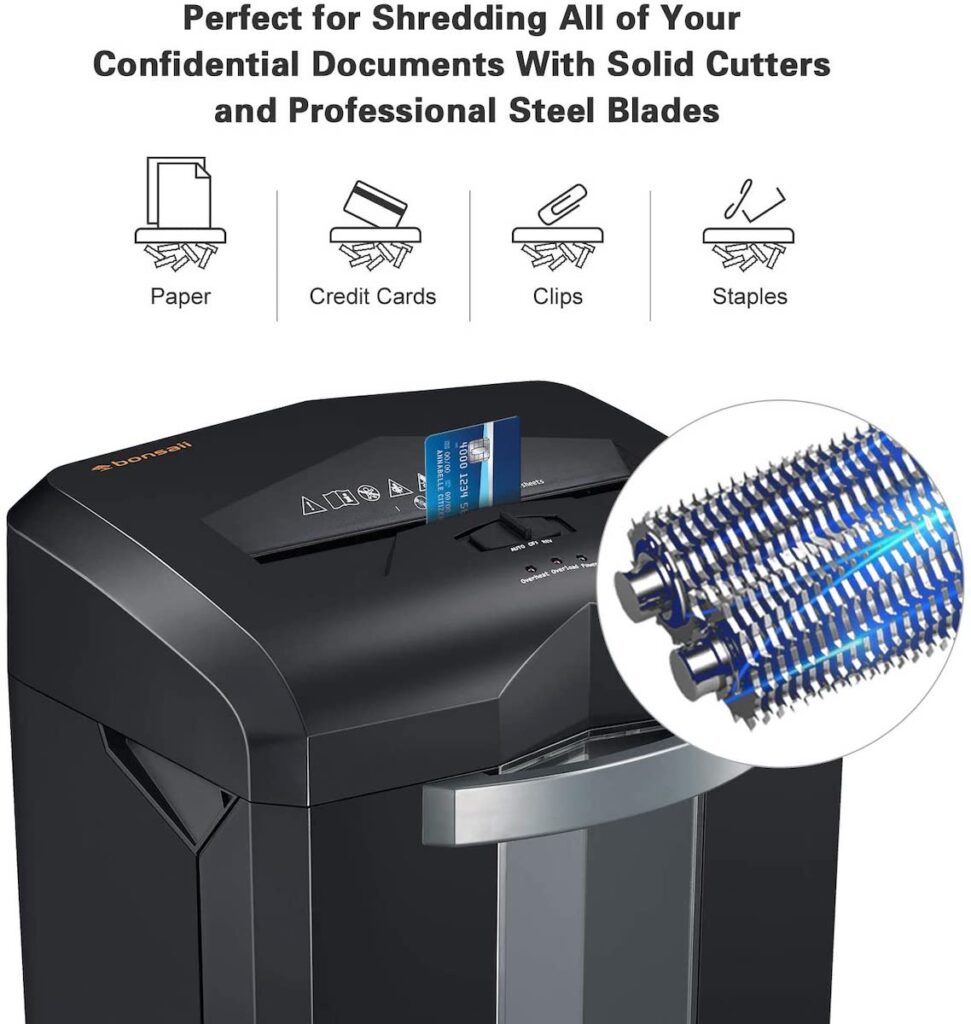 As well as the obvious reasons behind needing or wanting to get a shredder (so you have less paper you don't need in your office or a bin full of scrunched up paper that you have used as a basketball). Shredders are perfect for destroying documents that contain bank details or names and addresses, as well as potential sensitive customer information.
Some shredders have the ability to quickly shred paper with staples as well as being able to destroy plastic cards or CD's. They are the ultimate tool of convenient disposal and save you from a messy workspace or storage space. 
What You Need a Good Shredder to Have
Appropriate Size
Long gone are the days of bulky and noisy shredders leading the market. The increase in technological developments in office accessories has led to shredders becoming more compact, yet more powerful. Finding one that best suits your needs whilst also being compact and non-intrusive in your office space is now easier than ever before. 
Noise
As well as becoming smaller, shredders have also become quieter when shredding documents. Again, this boils down to better technological advances as more efficient and faster ways of shredding paper have been implemented into the shredders. 
Features
Shredders today can do more than just shred paper on its own Connor some can shred plastic cards or CDs and even paper with staples, all of this without jamming. Quick cool down is another very- important feature, especially in a busier environment. A shredder that takes 20+ minutes to cool off might be acceptable for individual home office use, but for larger businesses it may not make the cut. (No pun intended) 
Value for Money
This very much depends on the scale of the work that you do. If you are looking for a home office shredder, you are best searching for some of the cheaper options on this list. Whereas if you work with a team or in a larger office environment, you will want something a little more expensive and more powerful. Either way, value for money depends on how much shredding you need to do and how well the features above are incorporated. 
The List
I mean, the name kind of spoils the fun of describing it, but this compact and lightweight shredder does everything someone working from home would need it to do. It has a cross-cut shredding feature, meaning once the paper is shredded, it is unreadable and thousands of online reviews have commented on its ability to continue shredding and not overheat or jam on you. This is due to its thermal protection which helps cool the shredder down for use again quickly if needed.
One thing to watch out for, is its 6-sheet shredding capacity. Loading the shredder with more than 6-sheets at a time will likely clog the shredding mechanism and could damage the shredder itself. However, Amazon Basics is a versatile brand and also make 8/12/15/18 and 24 sheet varieties, but the cost does increase exponentially. A final thing to be aware of not just with this sweater but with most shredders that you buy online especially if you are living outside of the US is the shipping cost.
For example, the shipping cost to Europe for a shredder like this one can be upwards of $60.00, which is nearly double the price of the $40 shredder itself. This is a great shredder for the home office, but for team shredding there are better options for your money. 
If you are looking for a shredder with a bit more of a voice to it, whilst still not looking to spend a fortune, the Aurora is what you have been waiting for. Although bigger than others on the list, it makes up for its size with its power and its capability. It shreds up to 12 sheets at a time and can shred multiple pages with the same speed and noise efficiency as a single sheet. It has a convenient user-friendly interface as well, with a four-mode power switch (auto/off/reverse/forward) as well as LED lights indicating when it is on standby or when it is about to overheat.
However, overheating is rarely an issue with this shredder, it can run for up to five minutes and has an auto reverse feature to prevent jamming and to prevent the need for you to unjam the shredder yourself. The shredder is made at an angle so as to prevent accidents and the basket holds 5.2 gallons and with the single hand lifting handle, it is quite easy to dispose of the shredded paper. Perfect for smaller home offices.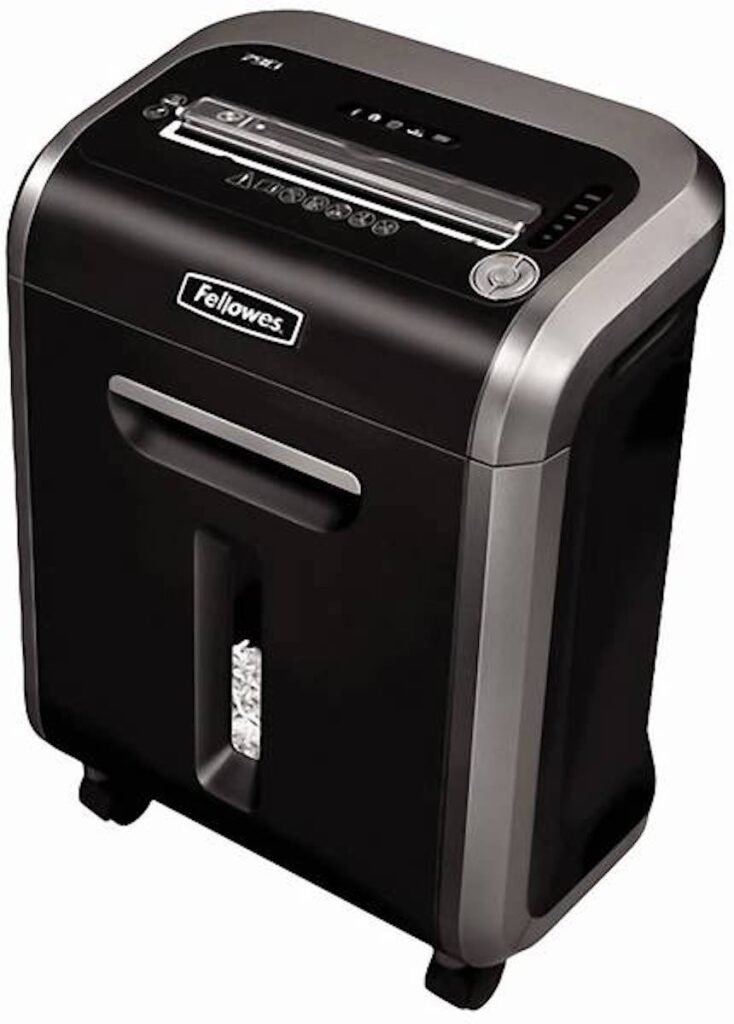 If you are looking for a high quality and well-rounded paper shredder and are ready to pay $350.00, then be our guest and by the Fellowes Powershred. There are a few standout features with this shredder. Firstly, it shreds up to 14 sheets at a time, with the ability to go up to 16 sheets.
It is completely jam proof as well as having silent shred functionality for minimal noise with maximum shredding capacity. What sells this shredder for me, is its prioritised focus on safety. Its touch-safe sense technology is an industry leading technology that stops the device from shredding automatically when touched, ensuring that there are no accidents.
It also shreds cards, CD's, and staples with ease. Combined with its compact and sleek design as well as its user-friendly interface, the Fellowes is a good choice for the office or the home office. Just be aware of the price tag, even if it is justifiable. 
The Bonsaii is like the slightly bulkier little brother to the Fellowes but is 1/3 of the price at $120. The main selling points for this model are its ability to shred up to 14 pages very quickly along with its quick cooldown capabilities. Its built-in fan allows for quick and convenient use, it shreds for up to 30 minutes and cools down in less than 5 minutes. Making the shredder ideal for both office and home office use. It has a 4.8-gallon bin and a little window at the front to alert you when your bin is getting full.
It has LED indicators which let you know when the shredder is overheating or overloaded which allows for protection and peace of mind. The speed and efficiency at which this heavy-duty shredder works at, as well as its affordable price, make it a quality choice for any office or home office. 
There is a whole lot to love about this shredder. One of those things is not its $170 price tag, but I think that you can look past that once you see what it is capable of. For one, 18 sheets is particularly good for a shredder to be able to shred at once. Secondly, it runs for an hour continuously, so you can shred away to your hearts desire and won't compromise quality or efficiency.
Some reviews have even suggested but it runs well for beyond one hour, meaning if you are shredding en-masse, you're in luck. It is super portable and with four casters, it is even easier to move around the office. It has a 6-gallon bin that can hold up to 400 shredded sheets of paper and its advanced cooling system means you can stop and start the shredder as needed and not worry about excess cooldown times.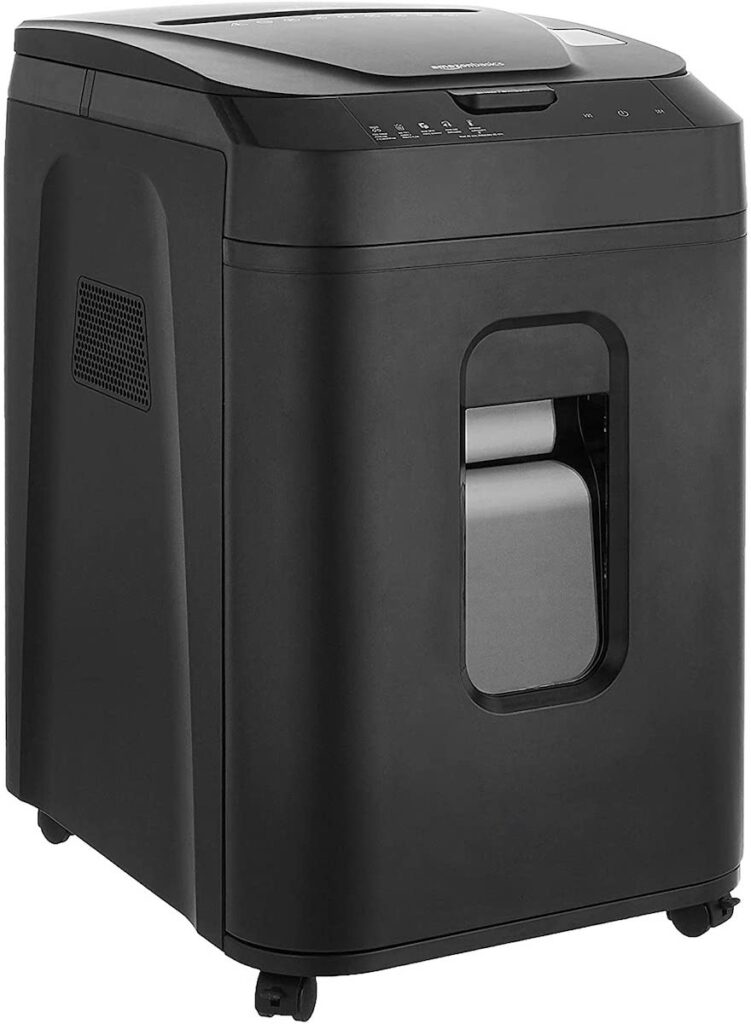 150 sheets at once, what more do I have to say? This shredder is a behemoth and will shred the most paper on this list by far. Its high-volume capabilities make it more ideal to the busy office workspace versus the home office, and it's $200 price tag makes it one of the more expensive options too.
Perhaps not ideal for the freelancer or the person working in the home office. A standout feature is the auto feed tray, you just load up the tray with all of the sheets and quickly, as if being printed, the sheets disappear and are shredded. There is no fuss and no Labour required on your behalf. It has an LED screen allowing for ease of use and has an energy saving sleep mode feature.
If used for 60 mins with its auto shred feature, it does need a 45-minute cooldown, which is the only main con, but with the volume at which it shreds, that is not too much of a problem. A little excess and expensive for home use, but a powerful and viable option for the busy office.