Almost every website that you visit requires some form of login credentials, which usually include a username and password. Whether it's an e-commerce store, social networking platform, online banking account, or dating site, you'll be asked to input your password before you can use the site.

Admittedly, it's quite difficult to memorize passwords for each of these websites. Which explains why many people opt for the easy way out by coming up with simple password combinations like 1234, or generating a random password which they can then use to log into every website.

Either approach is potentially disastrous to your online security. Simple passwords are soft targets for online hackers and cybercriminals. Similarly, using one unique password for every website is opening up all your online accounts for cyber attach.

That's where a password manager comes in. As the name suggests, a password manager is a special tool or software that can help you to manage the passwords for your various online accounts.

This post shall review the top eight password managers every internet user ought to know.
Pricing: Paid plans start from $3/month and come with a 30-day free trial

1Password was launched as an Apple-centric password manager. However, the tool now offers its password solutions to several other operating systems, including Windows, ChromeOS, Android, and iOS. That seamless integration with mobile-based apps is one of the features that set 1Password apart from other password managers. The software is renowned for its ease of use too. It implements numerous browser plug-ins that allow you to generate new passwords on the go.

1Password takes your online security a notch higher by generating a secret key in addition to its encryption key. So, it's exceedingly difficult for anyone to decrypt your passwords without the second key. However, be sure not to lose this key as neither you nor the software will be able to decrypt your password. There's also the Travel Mode that lets you erase any sensitive data from your device before traveling and restore the information with a single click after crossing a border.

And besides offering cool password management solutions, 1Password also doubles up as an authentication app, just like Google Authenticator.

Pricing: Free version available, Paid plans start from $10/year

Bitwarden is a free, open-source password manager that comes with many of the features you'll find in a top password solutions app. As an open-source platform, Bitwarden's source code is available for free inspection at GitHub. Theoretically speaking, the more people inspect and fix flaws on the source code, the more powerful it becomes.

To broaden its accessibility on numerous devices and operating systems, Bitwarden has since developed apps for Windows, Android, iOS, macOS, and Linux. It even has extensions for major web browsers and a few less-common browsers like Brave, Opera, and Vivaldi.

Windows and macOS users can further enhance their online security by taking advantage of Bitwarden's Windows Hello and Touch ID features, respectively.
Pricing: Free version available, Paid plans start from $4.99/month

As the name implies, LogMeOnce is designed to support single sign-on functionality. Which means that provided you're logged in with a service, you won't need to keep signing into the same service. The password management tool is also popular for its cross-platform support, which lets you access your passwords regardless of the device or platform you use.

Unlike other password management solutions that require you to memorize a master password, LogMeOnce eliminates those hassles by implementing additional security features. So, even if you were to forget the master password, you would still access your account.

The provision for password encryption as well as additional biometric options like a face ID, selfie, and fingerprint are other things to love about LogMeOnce.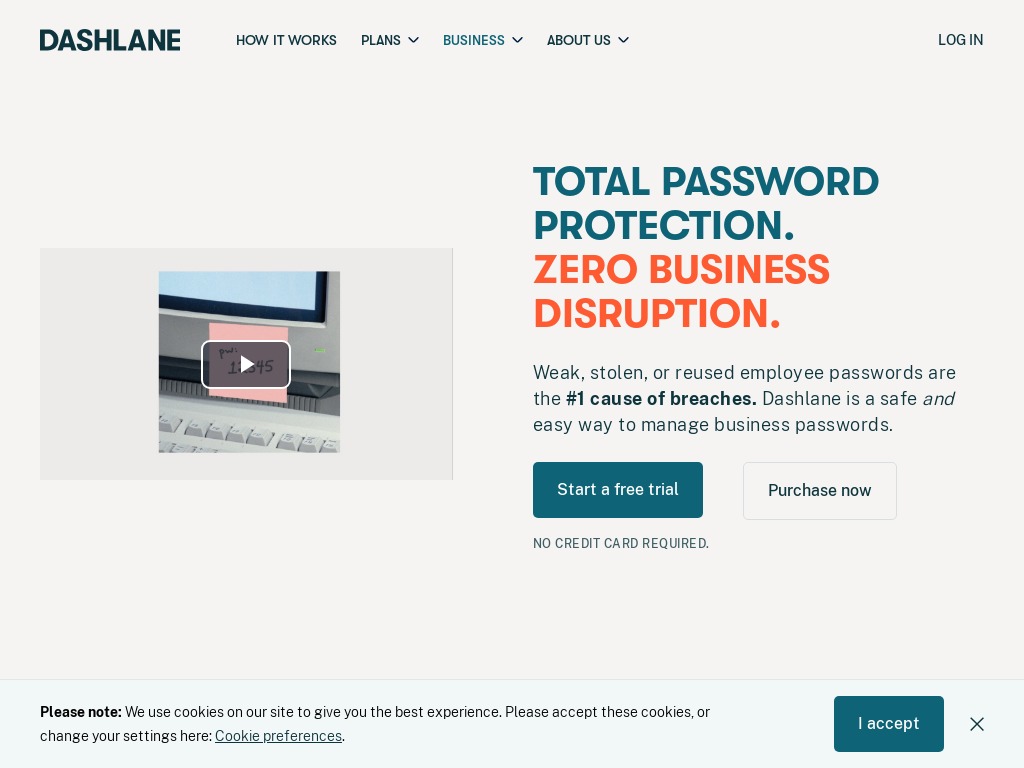 Pricing: Free version available, Paid plans start from $4.99/month

Dashlane offers both local password solutions and cloud-based services, providing its users more flexibility with their password management requirements. As you shall find, storing your password on Dashlane's servers is the better option, as you then get to enjoy synchronization across multiple devices and operating systems.

One of the best things about Dashlane is that it constantly trawls the dark web for potentially leaked passwords and alerts you immediately it suspects your information might have been stolen. The tool comes with a free version as well as several premium plans that you can choose depending on your budget.

However, note that Dashlane requires you to memorize your master password. If you lose it, not even the company can recover it for you.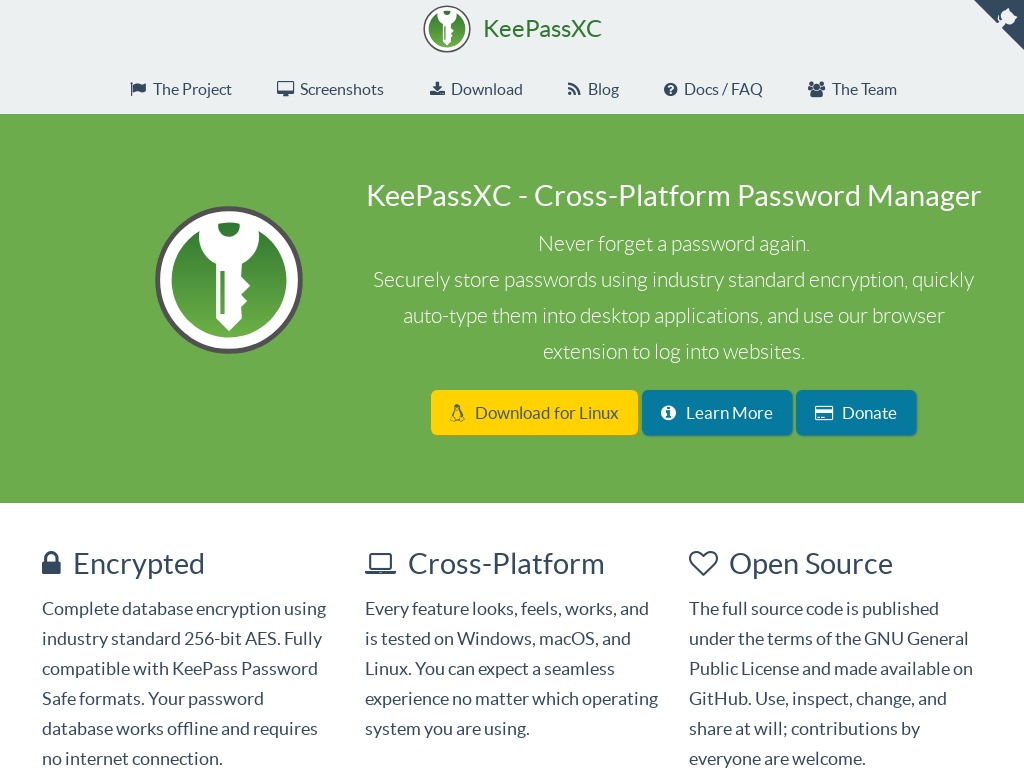 Pricing: Free

Before you choose KeePassXC as your go-to password management tool, be warned that KeePassXC is not exactly as user-friendly as most password managers on this list. However, the tool makes up for that little drawback with lots of redeeming features.

First off, KeePassXC is completely free to use. Secondly, the software maintains its appearance and functionality across multiple operating systems, including Windows, macOS, and Linux. It even comes with extensions for popular web browsers like Mozilla Firefox and Chrome.

And like Bitwarden, KeePassXC is an open-source platform. Which means that anyone can access its source code, scrutinize it for any flaws, and fix those flaws. The password manager also stores the encrypted versions of your passwords in an encrypted digital vault which you secure yourself using a master password.
Pricing: Free version available, Paid plans start from $1.49/month

Like most password managers on this list, NordPass is compatible with numerous operating systems, including desktop-based apps like Windows, macOS, and Linux, as well as mobile-based apps like Android and iOS. NordPass also comes with cool plug-ins for various browsers like Firefox, Chrome, Microsoft Edge, and Opera.

Not only does the tool store encrypted passwords. It can also suggest strong passwords and even offer to store your credit card and banking information, which is a great feature for regular online shoppers. A 2-factor authentication option further prevent unauthorized access to your passwords.

Another standout feature about NordPass is that it doesn't impose limitations on the number of passwords that you can save. However, that feature comes with a tradeoff – the tool won't auto-fill forms.
Pricing: Free version available, Paid plans start from $29.99/year and come with a 30-day free trial

Sticky Password comes with nearly all the common password management features you'll find in a password management program, as well as other advanced tools. The first thing you'll love about Sticky Password is the provision for a portable USB version in addition to its local data storage. With the portable version, you can access the program from any Windows computer.

Also, you can either store your password locally on your computer or in Sticky's secure cloud, which comes with additional synchronization features. To enhance the security of your passwords on the cloud, Sticky Password implements 256-bit AES encryption.

What's more – all Sticky Password purchases have a 30-day money-back guarantee.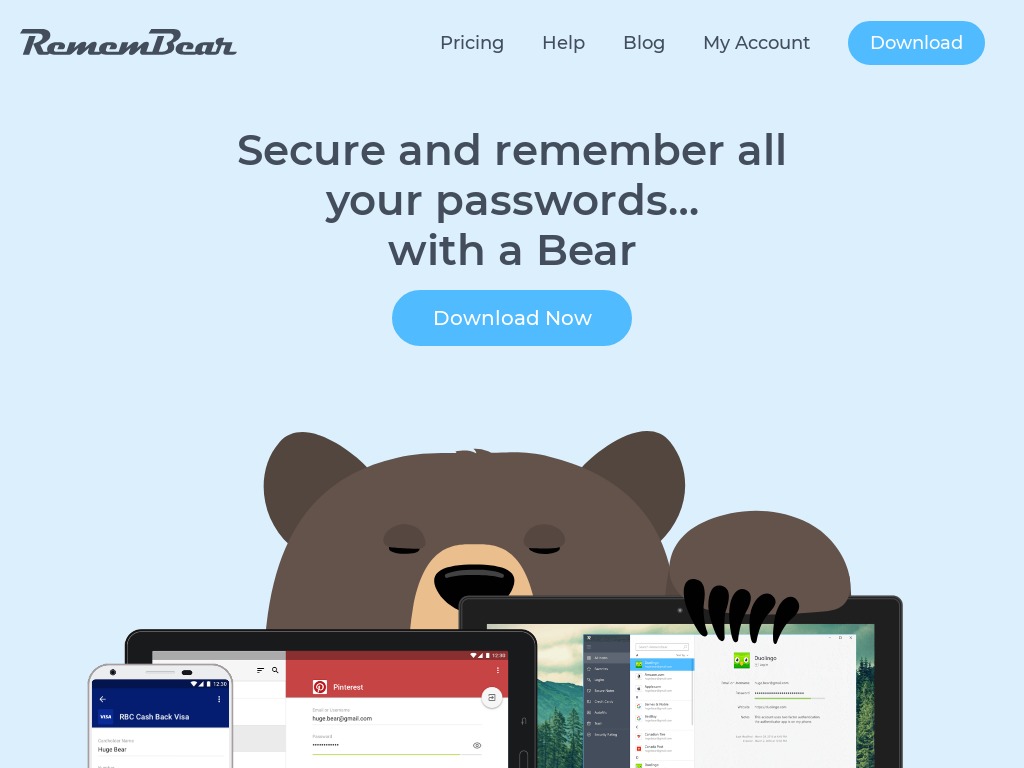 Pricing: Free version available, Paid plans start from $36/year and come with a 30-day free trial

RememBear is an excellent recommendation for beginners, thanks to its intuitive interface as well as a bear mascot and bear puns to ease your anxiety while using the app. The tool comes with efficient password saving and auto-filling abilities. It's also available on both desktop and mobile devices. Mobile users with Android and iOS devices get additional biometric features like face ID and fingerprint.

RememBear is also one of the few password managers that implement a reward system. The software lets you earn bears when you perform certain tasks, such as adding credit card information or generating a secure master password.

However, RememBear lacks quite a few of the advanced features you'd expect in a top password generator, even with the premium version. But if you're a beginner who's not tech-savvy and looking for a standard password manager, you won't go wrong with RememBear.
Wrap Up
Password managers are resourceful tools that every regular internet user must have. The implications of having your online account hacked are simply too grave to contemplate. Feel free to bookmark this post for reference whenever you need a powerful and effective password manager.