Movie subtitles are helpful when your audience is hard of hearing or they need a foreign language translation. If this is your first time adding subtitles, the good news is that the task doesn't have to be time-consuming – or even complex, for that matter. Simply visit these subtitles download sites and you can wrap up your movie in no time!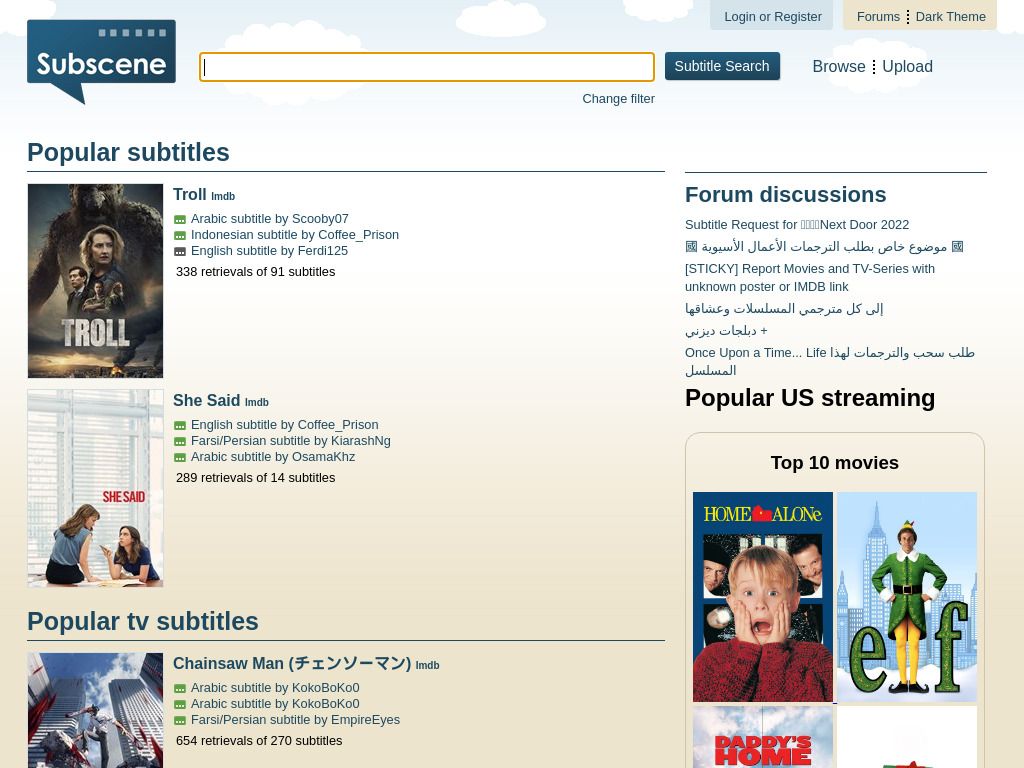 Subscene is the perfect site for beginners who want professional results. It's particularly useful if you require English subtitles for multiple foreign languages. One of the most attractive features is the fact that this site is entirely free to use. It can download SRT files (those useful critters that hold all the subtitle data) in more than sixty languages. 
The interface is really user-friendly with an uncluttered design. Other features include a search bar, a spelling checker, and the option to request the subtitles for a specific film in Subscene's discussion forum. 
This site offers you a delicious library of over six million subtitle files. Riffle through one hundred different foreign languages to find what you are looking for, including some rare and obscure ones. But don't worry if you cannot find a particular language. OpenSubtitles's AI can translate your subtitles for you in no time. 
Using the site is easy. Simply type the name of the movie or TV series you're looking for, pick your preferred language, and select the Search button. A list of relevant subtitles and their information will show and hopefully, you'll find the right file among them. If you don't find what you want, try the deep-search option and select narrower criteria like movie genre, file size, frame rate, and subtitle format.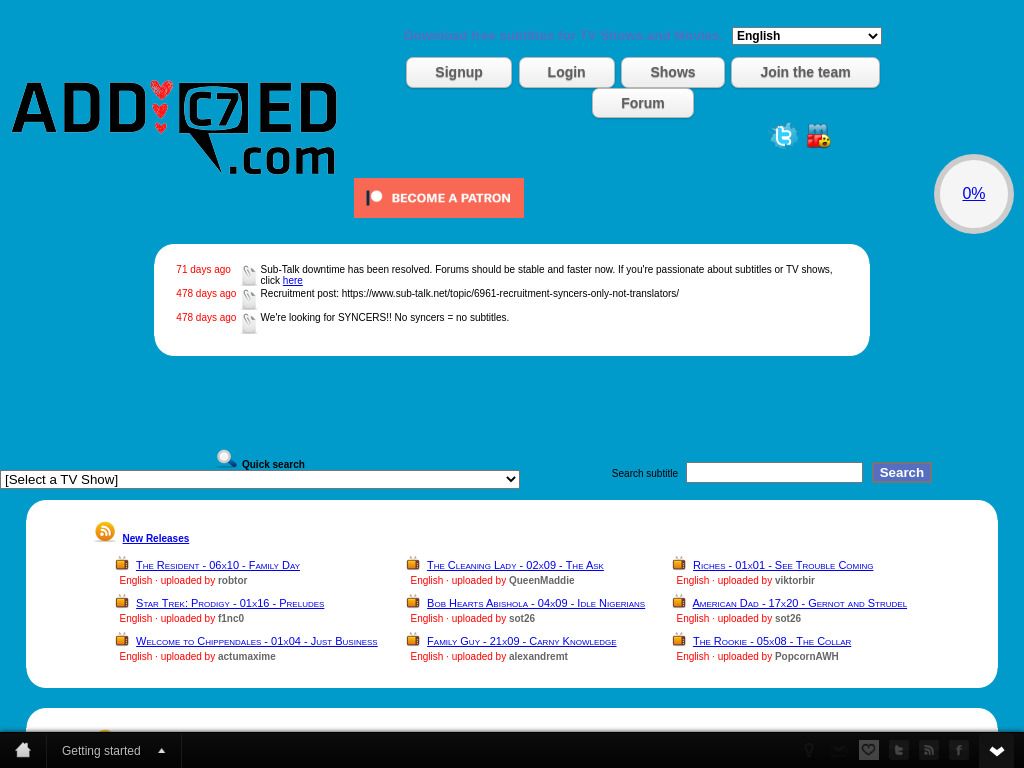 This site offers you a decent selection of both TV shows and movie subtitles. The platform is another user-friendly option as well, seeing that it allows you to search for the languages you want and the search bar can help to refine the parameters. 
Addic7ed is not as big as other subtitle sites and only offers 18 different languages. However, the site has a nifty feature that makes up for what it lacks in languages – you can check the subtitles and even edit them before you decide to download them.
Addic7ed does make an effort to help you find subtitles that aren't available on their site. Simply visit their forum to make requests and the chances are that someone will be able to help you. Even better, if your search attempt yields no results, you'll get shown a button that will instantly send a request to the forum.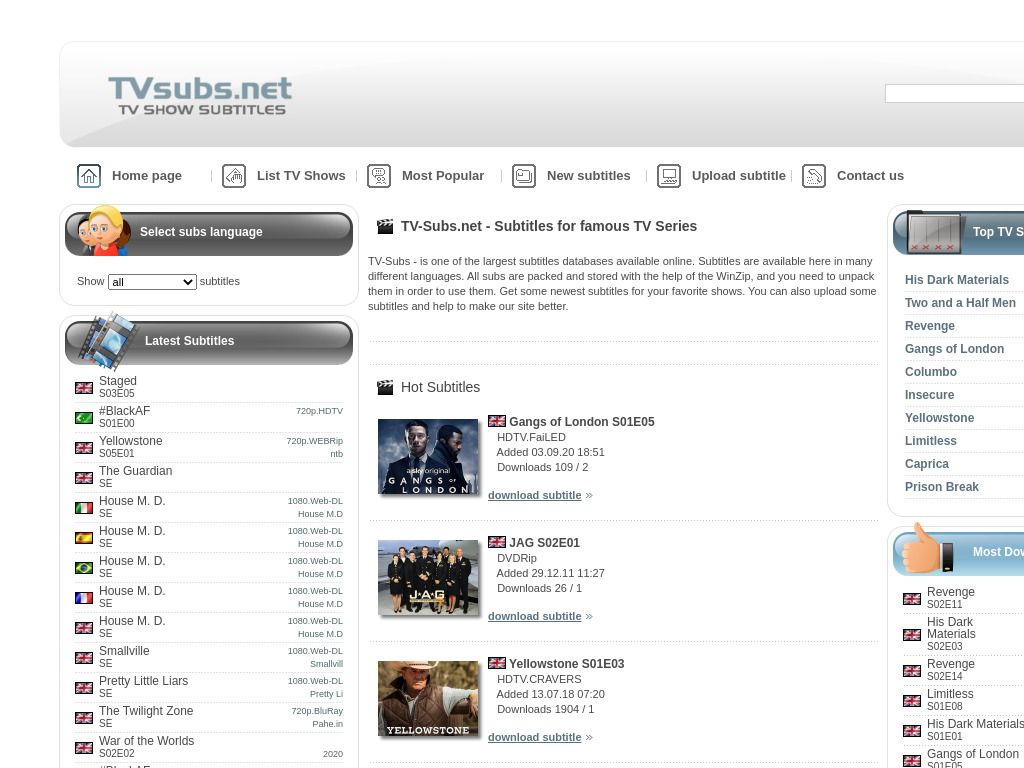 TVsubs is a great site for projects that primarily need TV show subtitles. Indeed, this is the main site that people flock to when they need something quick and it's not hard to see why. TVsubs has over 3,000 shows to choose from. 
Just to give you an idea of how popular this platform is, here's a quick rundown of statistics. To date, users have requested nearly 50 million English downloads and that's not even counting the downloads in other languages! 
Be warned though, tracking down the subtitles that you want can be difficult. TVsubs's search bar isn't the best and another option, where you have to scroll through the site's entire list of subs, is just plain annoying. There also appears to be no smart AI connected to this platform's search features, so you can expect unrelated TV show titles to pop up – especially if they contain an identical word in the title to the one that you've searched for. 
But here's some more good news. Once you find your perfect subtitles, the download is extremely quick and easy!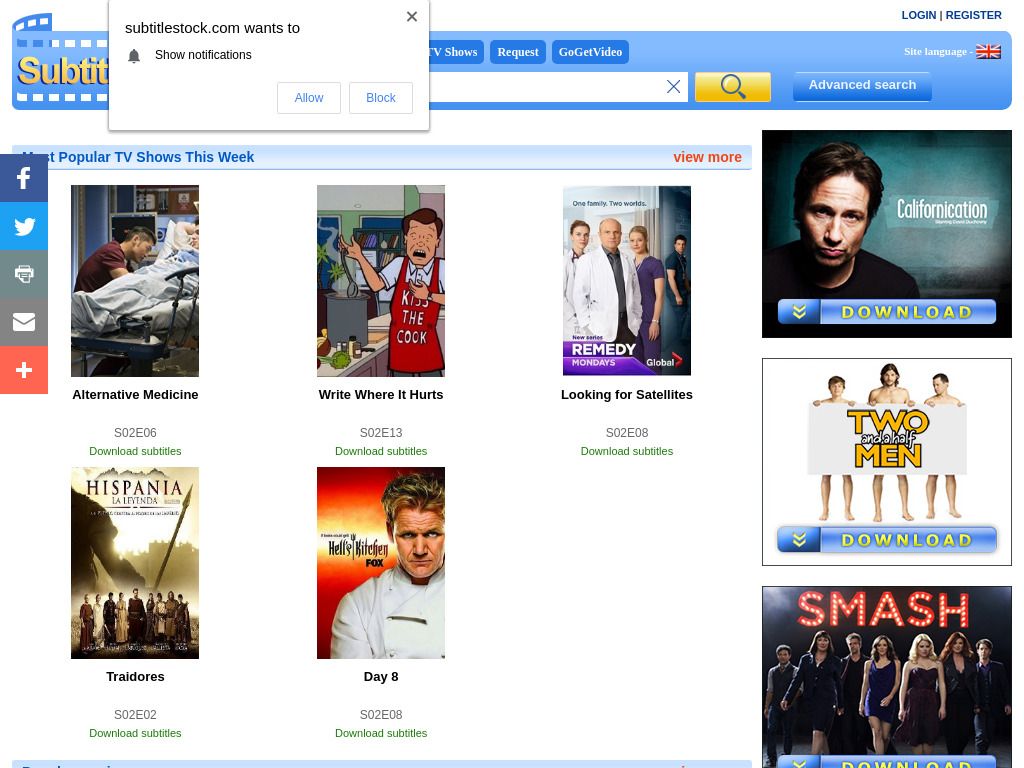 Subtitle Seeker is another good site to visit to get subtitles. However, the platform doesn't have the easiest downloading experience. But if you are willing to jump through the hoops, then read on. There's no doubt about it, Subtitle Seeker also has its good side!
First, it doesn't focus on TV shows alone. You can also search the site's vast selection of movie subtitles. You can even visit a page that is dedicated to Web Series programs. Secondly, it's a decent site if you mainly want English subtitles (even though there are other languages also but to a lesser degree). The search bar is simple and you can only download the subtitles in SRT format. 
The only real issue occurs when you try to download a file. Clicking on the link takes you to a new site. This is where all the subtitles are hosted but if you click on the new page's download links, they tend to open up new tabs that are awash with ads. There are two ways to deal with this. You can either use an ad blocker or right-click and copy the download link and then paste it into a new tab. 
While this sounds like a lot of nonsense to put up with, Subtitle Seeker does have an amazing collection of subtitles, so if you cannot find what you're looking for at other sites, it might be worth wading through Subtitle Seeker's unusual and slightly annoying host site. 
YIFI Subtitles is the place to go if you hate ads and popups. Here, you can search for your subtitles in peace! There are no advertisements on this platform and needless to say, that's a very welcome feature for some users! 
This site originally hosted subtitles for the most popular YIFY movie torrents but these days, it's a more general site with wider horizons. Take note that the collection only focuses on movies and not on TV shows. 
It has more variety when it comes to languages, that's for sure! You can trawl over 70 different languages via useful and informative links to find exactly what you are searching for. You can also explore different movie genres to track down your subs. However, the easiest and fastest way is to use the site's search bar. 
Podnapisi is another great alternative if you want an English site that also offers different languages for your next project. Indeed, Podnapsi has an extensive library that is filled with 100 different languages, 8,000 TV shows, and more than 60,000 movies. You are almost guaranteed to leave a happy customer!
The platform relies on powerful language filters to narrow down the results in your preferred language. You can even search for several different languages simultaneously. If that doesn't work out for you, there is the option to manually select your chosen language. Finally, advanced search features allow you to filter your search results by media type, year, the season, and even specific episodes. 
Podnapis is also great for those who love to learn more about the movie or show they're working with. For example, when you find the right subtitles, a page will provide more useful information about the show and even provide reviews. 
You also don't have to download the file blindly. Before downloading, you will be given the opportunity to view, on the same information page, the first 15 lines of subtitles. That way, you can gauge the quality of the subs in an instant. You can also check the quality of the subs by seeing how many users have upvoted or downvoted the file that you are interested in. 
There are two more bonuses to look forward to. First, if you hate ads, this is the place to be. Podnapisi is totally ad-free, meaning that you won't get zapped and zinged by unwanted pop-ups and other ads while you browse the site. Did you not find what you were looking for? Then head on over to the help forum where people will assist you in tracking down rare subs or help with other issues. 
Subdl is a good place to start if you're looking for simplicity. The homepage is simple; there's only a search bar and a couple of menu links. You can use the search bar to filter Subdl's 60+ languages and you can choose four languages simultaneously as well. 
Once you have found your subtitles, downloading is as pain-free as clicking on the download link. But while Subdl is popular for its clean interface and quick downloads, you have to steel yourself for the occasional ad that appears when links are clicked. 
Another downside is that Subdl also doesn't have a supportive community or forum, so if you cannot find specific titles, there's nowhere that you can ask for help.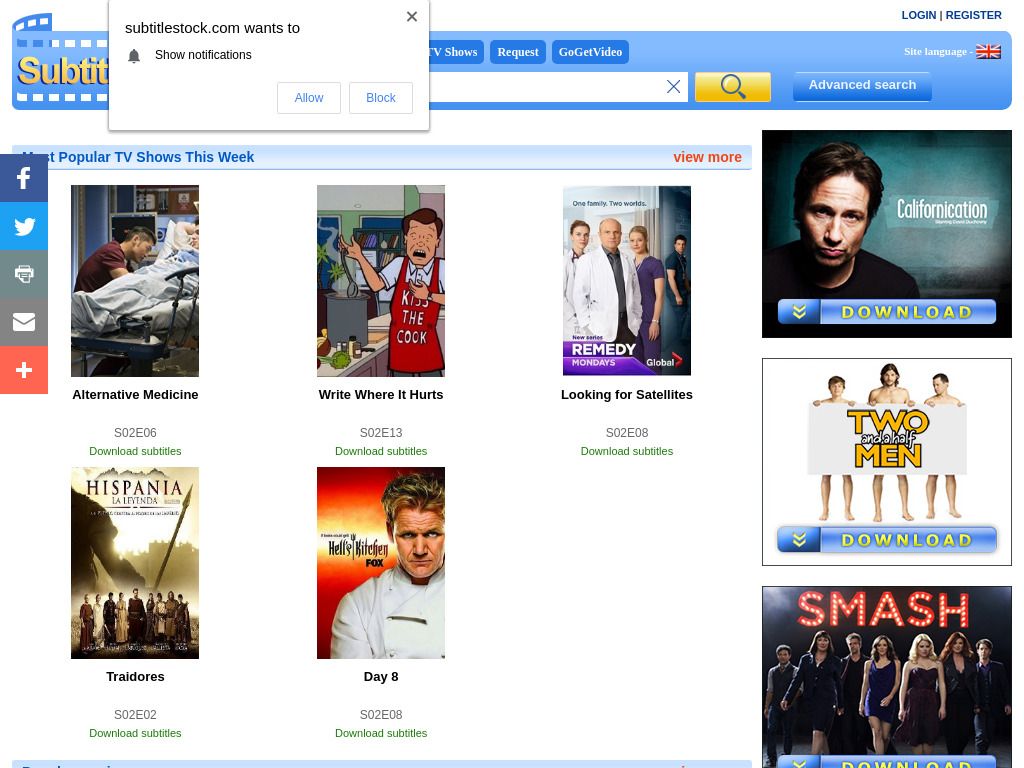 Looking for another library filled with subs for TV shows and movies? Well, Subtitles Hub has a good collection and the site is also easy to navigate. You can narrow down your search bar results with criteria such as specific years, language, and subtitle file formats. 
This is another platform that provides useful information about the subs you select for your next project. Some users will leave ratings and you can help others by reporting the file if the content is incorrect or corrupted.
Subtitles Hub also wants to help you find those elusive subs. Let's say the file you want is not available. You can use the website request form to let Subtitles Hub know what you are looking for. Leave your email and they'll immediately notify you when the subtitles are available to the public. 
Alas, nothing is perfect. Although this site sounds wonderful – and for the most part, it is – there is a big drawback. You guessed it. Ads and pop-ups! Subtitles Hub is plagued by them and this can be very annoying. The worst part is that you almost cannot trust the links because some redirect you towards a sales page. But if you are willing to weather this frustrating experience, Subtitles Hub is worth a visit. 
Downsub is a different kettle of fish. This platform does not host sub files. Instead, it allows users to download subtitles from video-sharing platforms. The latter include Dailymotion, YouTube, and Vimeo. 
Downsub's not complicated, either. Simply find the video you need subtitles for, copy and paste its URL into Downsub, and download. After you've clicked the download button, you can choose between formatting the file as TXT or SRT. You can also expect another great feature; have the subtitles automatically translated into your chosen language first and then download.
The platform is a dream come true for many people who struggle to find subs for certain videos or subs in the language that they need. But that being said, be prepared for a lot of ads competing for your attention. Another drawback is that you can only download subs from videos on video-sharing platforms and nowhere else.