Traveling is the most fulfilling of all human experiences. Through traveling, we can escape the hustles and bustles of our ordinary lives and uncover other brilliant sides to life that we so often overlook. 
Another great thing about traveling is that it enables us to explore foreign and exotic cultures. Indeed, nothing thrills more than interacting with people from the other side of the world, learning their language, culinary practices, and basically exploring the hidden gems within their neighborhoods. 
However, there's one thing that will always stand in your way – language barrier. A common perception among most travelers is that wherever you go on vacation, there will always be English-speaking guides to show you around.
Well, it doesn't always work out that way. In fact, as if by design, the most enchanting destinations in the world are located in regions where English is as scarce as desert rainfall. 
Thankfully, there are countless translation apps that you can use to learn the local languages and make the most of your vacation. Some of those apps shall be the focus of this post.
Best Translation Apps for Travelers
Google never disappoints when it comes to designing highly-resourceful and client-facing products. That reputation is clearly reflected in one of the company's offers, Google Translate. Google Translate doesn't just translate text and audios; it goes way beyond that. 
When you're vacationing in a foreign land and are unable to read road signs or menus, all you have to do is take a photo and let the app do the rest. And after installing the app on your device, you can simply draw text characters, including special characters, on the screen and the app will automatically translate it. 
Google Translate supports more than 100 languages. Even better, it has an offline text translation feature for some of these languages.
Like Google Translate, this app offers both text and voice translations and supports 42 languages. But TripLingo isn't only useful for translation, the app is also designed with features that enlighten the user on some of the basic guidelines on local cultures, etiquette, and customs. 
Through TripLingo, you'll also learn about the best tipping practices depending on the country you're traveling to. 
The app is integrated with a receipt translation feature that uses your phone's camera to translate snapshots of receipts and sales slips. That's quite handy when you're traveling to a location where credit cards aren't accepted but sales slips also appear in indigenous languages.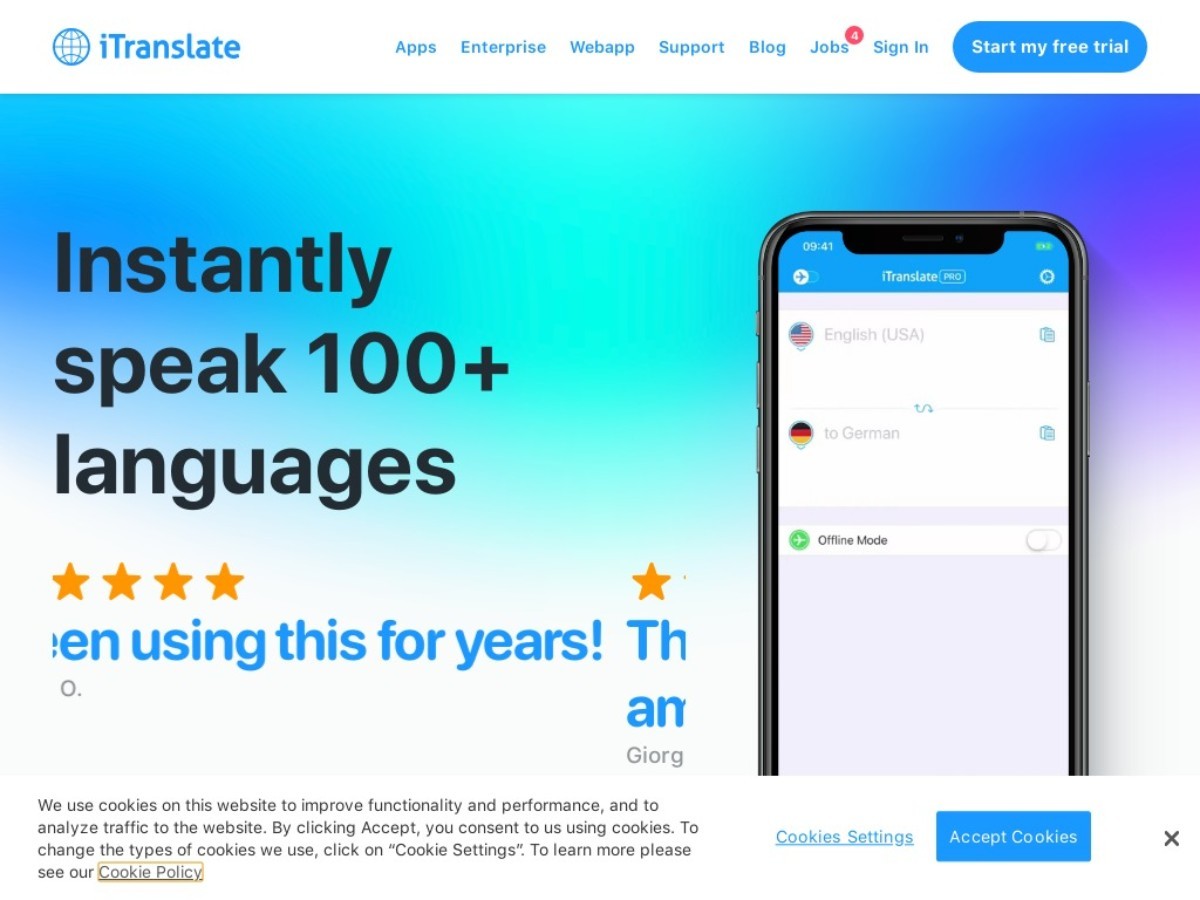 iTranslate is another translation app that has revolutionized the travel and tourism landscape. And if the reviews are anything to go by, then there must be something about iTranslate that continues to endear thousands of users to it. 
Presently, the app enjoys more than 300,000 ratings on Google Play and about as many reviews on iTunes. 
One outstanding feature of iTranslate is a phrasebook that contains predefined phrases, which the app readily translates into your language of choice. iTranslate supports more than 100 languages, and the Pro version comes with a cocktail of features, including voice-to-voice conversations, website translations, offline translation, and camera translation.
TextGrabber is one of the most recommended apps for camera translations. The app enables you to convert menus, electronic manuals, street signs, etc. into a language of your choice. 
All you have to do is hover your phone's camera over the text, select your preferred language, and the app will instantly translate it. The app's recognition engine is so powerful that it's normally ranked alongside Google Translate in terms of speed and efficiency. 
The only notable drawback to TextGrabber is that it offers a maximum of 25 free scans, after which you must pay.
Microsoft Translator is one of the main competitors of Google Translate. Like most translation apps, Microsoft Translator allows you to convert texts as well as audio and images into a language of your choice. There's also the provision of pinning translations for future reference. The app supports up to 60 languages, with 40 available offline.
Microsoft implemented a Phrasebook tool in the app, a feature that readily translates some of the world's most common phrases, such as "Thank you," "What's your name," etc. 
But what distinguishes Microsoft Translator's Phrasebook tool is that the app collects and groups phrases under specific categories for ease of reference. You can easily access phrases popularly used in dining, emergency situations, health and fitness sector, technology, etc. 
WayGo is especially useful for English-speaking travelers visiting Asia, particularly the Far East countries like China, Japan, and Korea. 
The app is mainly available in 5 languages, namely, Japanese, Chinese, Korean, Cantonese, and Kanji. Besides text and image translations, WayGo also supports voice translations, which is useful when you're trying to get the right pronunciations. 
WayGo also works offline, so you can seamlessly use it in remote locations with unstable internet connectivity. Translation is as easy as taking screenshots of the foreign wordings and letters, importing it into the app, and WayGo will get to work.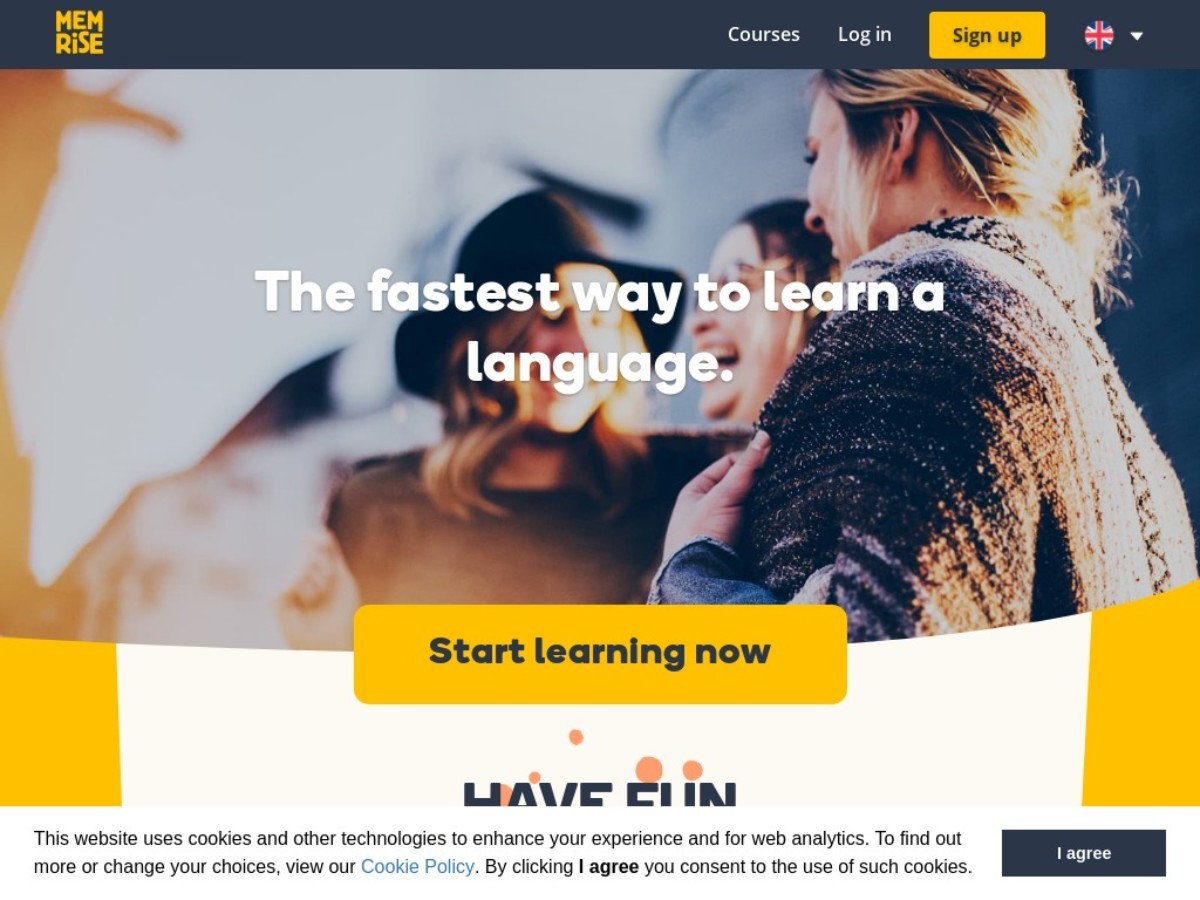 Memrise is a community-based app that doesn't focus on translations during your trip. With Memrise, you don't have to travel to a foreign land to learn their languages and culture. 
Instead, the app includes over 200 virtual courses that you can take advantage of to glimpse into the way of life of the locals as you listen to them converse in their native dialects. Listening to the indigenous communities speak amongst themselves is the surest way to master some local slang. 
That's a hefty bonus compared to relying only on translations which usually place more emphasis on formal words and phrases. When you eventually travel to that place, you'll find it a lot easier to blend with the locals.
SayHi takes the whole business of translation to a whole new level. With this app, you can speak into your phone's microphone to record your voice and then translate it into a language of your choice. 
The translation is also saved for future reference, where you get a lot of flexibility on how to play the audio. For instance, you could choose to play the audio in the voice of a man or woman. You could also adjust the speed as you wish. And if you're not into audio translations, you can simply type into the app's screen and it will work just as efficiently. 
SayHi supports about 90 languages, with the option of translating one language into different dialects. But one glaring drawback is that you need an internet connection to use the app.
Speak & Translate is another recommended app for conversation translations. One of the unmissable features about the app is its sleek design and user-friendly interface. 
Speak & Translate supports up to 117 and 54 languages for text and voice translations, respectively. To enhance the accuracy and authenticity of every translation, the app generates its translations from various sources, such as Microsoft Translate and Google Translate.
Like SayHi, you can use this app to determine how fast the translation plays, and whether you want the audio in a male or female voice. Plus, it's compatible with Apple Watch. 
However, Speak & Translate comes with a heftier price tag compared to most of the apps we've reviewed here.
Papago is a translation app for people traveling to Asia, such as Korea, Thai, Chinese, Vietnamese, Indonesian, and Japanese. You can also use it for various European languages like Italian, Spanish, Russian, and German.
Papago translates words from texts, images, and audios. The app works efficiently for conversations, where two people using the app can speak simultaneously as it translates those languages automatically. 
Other special features about Papago include a Phrasebook that comes with tons of phrase recommendations, a dictionary, and the ability to translate several dialects of the same language. What's more – you can even translate K-pop songs or a web page.
Wrap Up
There goes our detailed guide on the most recommended translation apps for travelers. Next time you're planning a vacation to a non-English speaking country, you might consider downloading some of these apps as a way of enhancing your interactions with the locals.