A tote bag refers to a large, usually unfastened, bag that's designed with parallel handles which emerge from the sides of its pouch. Tote bags were initially intended as shopping bags. As such, they were largely reusable. Manufacturers did not pay much attention to the durability of these bags. Instead, they used the cheapest materials available, provided the bags delivered on their primary utility.

But over time, tote bags became popular among travelers, and everything about them changed. Most modern tote bags are made of sturdy cloth, usually reinforced with thick leather for maximum durability. The bags are also stylish enough to fit their new-found utility – traveling.

As a travel bag, tote bags are mostly preferred for their versatility. The bags can hold just about anything, ranging from a traveler's personal effects to souvenirs. Tote bags are also famous for their convenience and portability. The bags can fit pretty much anywhere, as well as match most outfits. And the best part is – tote bags come in a wide array of shape, size, color, and style options. That makes it easy for any traveler to hone in on a bag that matches their unique tastes and preferences.

We've prepared a comprehensive review of the best travel tote bags, but first things first.

How to Choose a Travel Tote Bag
As we've already mentioned, the choice of a perfect travel tote bag comes down to the shopper's individual preferences.

However, there are a few factors that you must take into account when shopping for your ideal tote bag.
Those include;

• Durability – As you'll be using the tote bag time and again, insist on a bag that's made from heavy-duty and hardwearing materials. Nylon and Oxford cloth are recommended if you're looking for tear-resistant construction, while leather is excellent for waterproofness.
• Size – In terms of size, you should go for totes with dimensions no larger than 22 by 14 by 9 inches, as that's the standard carry-on size limit imposed by most airlines. Also, ensure the bag can fit underneath your seat on a plane, bus, or train.
• Security – When it comes to security, the conventional wisdom is to go for a tote bag that comes with anti-theft features, such as a zipper. Other bags are designed with RFID-blocking technology, which is useful in preventing pickpockets from stealing your essential personal information electronically, using an RFID-reader.
A Review of the Top 10 Travel Tote Bags
1. Cuyana Leather Tote Bag
Cuyana Leather Tote Bag is designed with suedette leather that gives it a soft feel of velvet while enhancing its durability. The suedette leather is 0.04 in thick, which ensures a balance of lightweight and strength.

The tote comes with seven pockets, which include 4 regular interior pockets as well as 3 round holders and 1 tablet PC pocket.
2. Zooeass Waterproof Large Tote
Zooeass Waterproof Large Tote is designed with waterproof, tear-proof, and stain-resistant nylon fabric for extended durability. The nylon construction is not only lightweight but also accounts for the bag's ease of care and maintenance.

To clean this tote, you can either wipe it down or machine-wash it. The bag can safely hold your documents, cell phone, and comes with a zipper that enhances the security of your stuff.
3. ECOSUSI Unisex Large Travel Weekender Bag
ECOSUSI Unisex Large Travel Weekender Bag is a highly efficient water-repellent tote bag that's made from nylon fabric. The inclusion of an adjustable padded shoulder strap makes it easy to wear the tote either crossbody-style or satchel-style.

The bag comes with many compartments, including 2 slip pockets and a Velcro pocket that allows you to store your tablet or other electronic gadgets. There is also an inner zippered pocket where you can keep your most treasured items.
4. Arxus Travel Tote Bag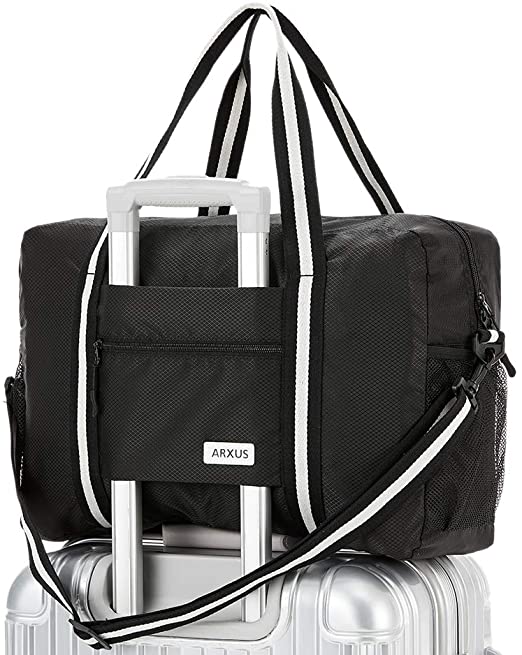 Arxus Travel Tote Bag prides itself as one of the strongest and most durable tote bags out there, thanks to its Oxford fabric construction. The bag is not only tear-resistant but can also support a weight of up to 110 pounds.

Arxus Travel Tote is foldable, which accounts for its portability and ease of storage. It sports a back opening that allows you to easily slip it over your suitcase handle for ease of transportation.
5. Pacsafe Slingsafe Anti-Theft Compact Tote
As the name suggests, the greatest selling quality of this tote bag is its anti-theft features. One such feature is an RFID-blocking technology that prevents pickpockets from stealing your information electronically.
Pacsafe Slingsafe also comes with an anti-slash material and a stainless-steel wire mesh that's weaved into the fabric, which guarantees its durability while keeping it light. Also, the bag's basic and unstructured compact design makes it remarkably easy to store and carry.
6. Amber and Ash Convertible Tote Bag
Amber and Ash is designed with soft, durable, and waterproof polyester, which offers a blend of comfort and durability. The bag sports a clean design that makes it highly portable, as well as simple colors that match most of your outfits.

Amber and Ash comes with a fairly large compartment that is padded with faux fur, which adds an extra layer of comfort and luxury to your travel. The main compartment can comfortably hold a 13-inch laptop. Plus, there are five additional compartments where you can keep your documents, make-up products, and other personal effects. The bag also has three external pockets for extra storage and a hidden pocket where you can keep your valuables.
7. CG Gear Sand-Free Totes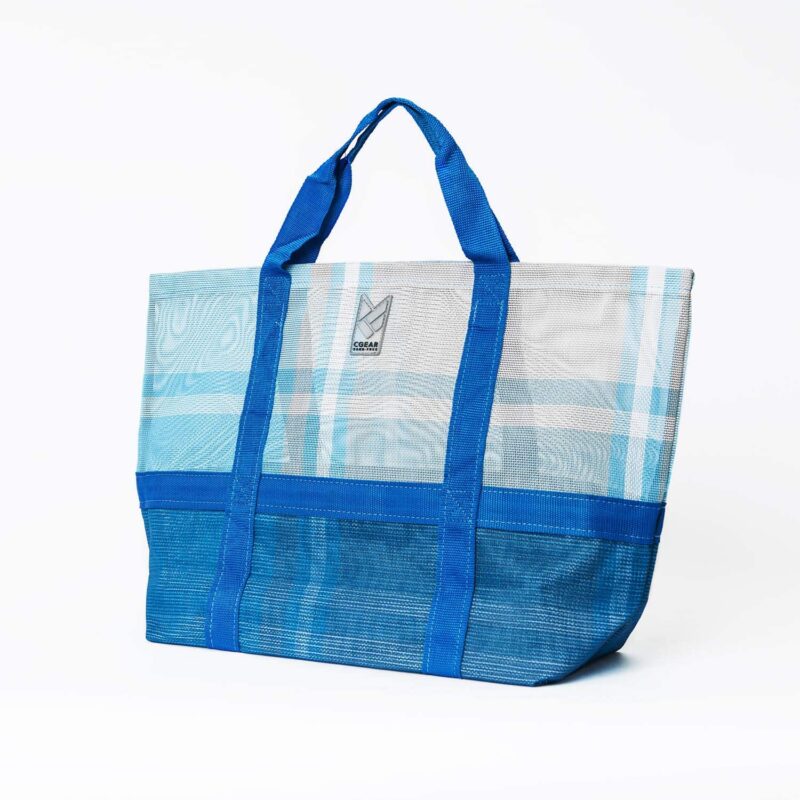 CGEAR Tote sports a sand-free design that allows sand to seamlessly sift through the bottom of the bag as you walk, making it one of the best tote bags for beach travels. The bag is made from highly-durable as well as stain- and water-resistant material.

It comes with classic open-top access, and the handles are contoured, adding an extra layer of comfort and style to your travel experience. The travel tote also sports an interior pocket where you can stash your valuable items.
8. Women's Day Market Tote
Women's Day Market Tote is designed with the interests of shopaholic travelers in mind. The bag comes in various size options depending on your shopping needs. It features one zip pocket on the long side as well as an open pocket where you can slip in your iPad.

Women's Day Market Tote also has a compartment for one water bottle and additional pockets that can hold various other personal items, including your cellphone and make-up products.
9. Kipling Imagine Foldable Tote Bag
Kipling Imagine Foldable Tote Bag is designed with premium polyester material, making it feel soft and plush while still guaranteeing its longevity. The material is incredibly water-resistant, which makes the tote another excellent recommendation for areas with unpredictable humidity.

Weighing in at a paltry 0.6 pounds, Kipling ranks among the most portable yet durable tote bags out there. Still on portability, Kipling Imagine Foldable expands into three different sizes and zips back down to form a neat square.
10. CHICECO Basic Travel Tote Shoulder Bag
Chiceco Basic Travel Tote Shoulder Bag is made of a waterproof and durable Oxford nylon which is famous for its lightweight and durability. The tote bag sports straps that are made from eco-friendly microfiber leather, making them remarkably stronger than the traditional leather straps.

Chiceco's main compartment can hold a 14-inch laptop. There are also larger versions of the bag whose main compartments can carry laptops as large as 17 inches, as well as extra-large versions that can accommodate 20-inch laptops.
Conclusion
This review took into account the most durable, stylish, lightweight, and spacious tote bags for travelers. Nonetheless, note that the prices vary significantly across the products.