One of the biggest blessings of the internet is the ability to work remotely. Armed with an internet-enabled laptop or smartphone and a stable internet connection, you can set up a virtual office just about anywhere.

It doesn't matter whether you're on vacation, on a date, or in a public library. A virtual office makes it remarkably easy to complete your official assignments. That can be a huge convenience, especially for digital nomads who prefer to earn while traveling from place to place.

However, working on the go still requires that you keep in touch with your clients, coworkers, and even family and friends. While it's possible to do that via a phone call or email, certain situations may demand that you be contacted via your company's official postal office address.

For instance, your clients may need to send you a check. Or, your attorney might want to mail you certain legal documents. But since your postal office address is only available in your local city, you may never be able to access your snail mails while traveling.

Fortunately, there's an effective solution to this problem in the name of virtual mailboxes.

What's A Virtual Mailbox?
A virtual mailbox, also known as a digital mailbox service or a package forwarder, is a service that provides you with a permanent online mailing address. You can then use the virtual address to receive your snail mails and packages for a monthly fee.

It sounds complicated, but the process of virtual mail forwarding is rather straightforward.

You begin by signing up for an account with a virtual mailbox service provider of your choice. The company receives your snail mails and packages, opens and scans them, then uploads them to your virtual mailing address. You can then open and view the documents the same way you manage your emails.

The biggest advantage of virtual mailbox services is that they allow you to receive physical mails and packages, including checks, bank statements, and legal documents, from couriers even while traveling.

Besides forwarding your physical emails and packages to your permanent online address, a virtual mailbox also performs a range of other mail handling services. Examples include online mail notification and disposing of emails, such as through shredding or recycling.
8 Best Virtual Mailboxes for Digital Nomads
Pricing: Plans start from $5.99/month

Anytime Mailbox is a popular digital mail forwarding service available in over 1000 locations spread across the US, Canada, Europe, and various Asian countries like Malaysia, Indonesia, and India. Anytime offers a slew of virtual mailbox services, including mail opening and scanning, mail forwarding, check deposit, mail shredding, to mention but a few.

There are several pricing plans to choose from, depending on your location and preferred services. But regardless of the plan you opt for, Anytime guarantees unlimited mail storage provided that you maintain an active account.

Anytime Mailbox is also compatible with numerous devices and operating systems. You can access the service from your PC, Mac, Android, or Apple device.
Pricing: Plans start from $15.00/month

Traveling Mailbox may not be the most affordable virtual mailbox out there. However, the service comes with a truckload of features for digital nomads.

For instance, Traveling Mailbox integrates with various productivity services for efficient planning and organization while working on the go. Examples of such services include Evernote, Dropbox, and Bill.com.

There are up to five plans to choose from, depending on your individual needs. All plans include basic features like mail scanning and forwarding, junk mail filtering, mail shredding, and unlimited cloud storage. Customer support is available round the clock via phone, online chat, or Skype.
Pricing: Plans start from $9.99/month

iPostal1 is one of the oldest digital mailbox services. It was actually among the first companies to introduce the concept of virtual mailboxes way back in 2007.

One thing that distinguishes iPostal1 from many virtual mailbox service providers is that the company allows users to get a real street address in addition to a Post Office (P.O) Box. Users also dictate how they'd like their mails to be handled. You can request to open and scan your packages, forward them, or store them for later pick-up.

There are four pricing plans to choose from. Each plan offers a variety of features free of charge, including a real U.S. street address, shipment scheduling, secure cloud storage, mail shredding services, etc.
Pricing: Plans start from $19.00/month

The first thing you'll love about Earth Class Mail is the provision for test-driving the service. The free trial feature allows you to get a sneak preview of this digital mail forwarder before committing to its paid plans.

Other cool features to love about Earth Class Mail include a wide range of addresses to choose from, multiple users sign-in, registered agent services, cloud integration, and an intuitive user interface.

Earth Class Mail also offers free physical storage for packages for the first ten days. And just like iPostal1, this virtual mail forwarding system provides users with a real street address in addition to a P.O Box address.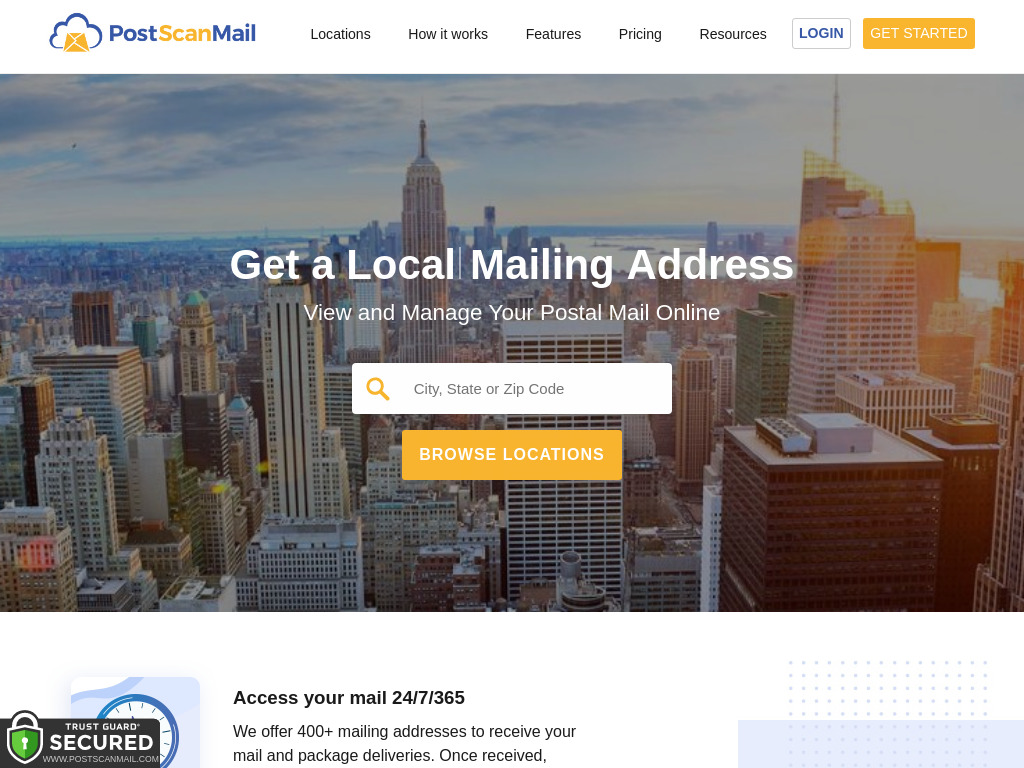 Pricing: Plans start from $15.00/month

PostScan Mail has three different plans with prices ranging from $15 to $30 per month. Each plan comes with an actual U.S. street address at an office building or mail center.

You also enjoy automated inbound mail scanning, as well as email notifications for new mails or packages received, unlimited recycling of junk mail, and shipment tracking and delivery updates.

PostScan Mail implements a user-friendly mail management grid that you can leverage to search of sort your mails and packages. Round-the-clock online mail access and unlimited cloud storage are other features that make PostScan the go-to virtual mailbox for digital nomads.
Pricing: Plans start from $10.00/month, plus additional fees depending on the nature of your package

If you're a digital nomad looking for a service that lets you shop and have your packages delivered to you hassle-free, you should probably look in the direction of Planet Express. Planet Express is a virtual mailbox meant exclusively for package forwarding.

The package forwarder comes with a service called 'Shop For Me' that you can use to shop in any location within the US. You can shop even if your credit card doesn't allow international transactions. Another admirable Planet Express feature is 'Package Consolidation,' which allows you to sort the packages you'd like to ship together so you can save on shipping fees.

Other noteworthy services of Planet Express include the provision of warehouse addresses and free package photos. There's also free package storage for between 10 and 45 days, depending on your plan.
Pricing: Plans start from $9.95/month

US Global Mail is another virtual mailbox that allows you to test-drive its services before committing to them. As a new user, you can take advantage of the 30-days free trial before signing up.

You can enjoy a variety of basic features within the 30-day free trial period, including mail scanning, forwarding, and storage services. And if you're not impressed, the company will gladly refund your money.

US Global Mail offers two pricing plans, namely the Basic and Plus plans. The Basic plan is basically an individual plan, while the Plus plan is suitable for family members. Under the Plus plan, you can add multiple family members to one virtual mail address. That ensures you never miss your important mails even during periods of poor internet connection, as is often the case when traveling or working remotely.
Pricing: Plans start from $29.00/month

Incfile offers most of the basic services you'd find in a standard virtual mail service provider, including mail scanning, forwarding, and shredding. However, there's a reason the digital mail forwarder made this top eight list.

For starters, Incfile prides itself in its reliable notification system, which ensures that you never miss any incoming mails. The service notifies you through your email whenever your mails and packages are uploaded to your dashboard.

Incfile is also compatible with numerous devices, including desktops, laptops, smartphones, etc. The service is available online, so you can easily access it without needing to download or install an app.
Wrap Up
Numerous factors determine the choice of the best virtual mailbox.

At the very least, you should consider a digital mail forwarding service that enjoys wider geographical coverage. The service should also offer premium mail handling features other than the basic ones like document scanning and forwarding.

24/7 customer support, flexible pricing, and integration with numerous apps and operating systems are added bonuses. Last but not least, the virtual mailbox should safeguard your online safety by implementing cutting-edge digital security techniques like 2-factor authentication (2FA).

It's reassuring to note that all the above-reviewed virtual mailboxes deliver across these parameters.