Last Updated on January 2, 2023
Spotty internet connection is an agony that most travelers have to suffer at one point or another. And going by Murphy's Law, this inconvenience has a way of presenting itself when you least expect it.

Poor internet connection might happen when you're trying to stream a movie or catch up with your favorite show in your hotel room after a long day of road tripping. Or, it could occur when you're in the middle of a long-haul bus ride and trying to play your favorite computer game to while the day away.
When your internet-enabled devices can't seem to utilize the available Wi-Fi efficiently, you may need to have the Wi-Fi range boosted. And that's what a Wi-Fi extender does. A Wi-Fi extender for travelers, also known as a travel router, refers to a device that travelers can use to increase the range of available wireless internet networks.
This post shall offer an in-depth review of the top 6 Wi-Fi extenders recommended for travelers.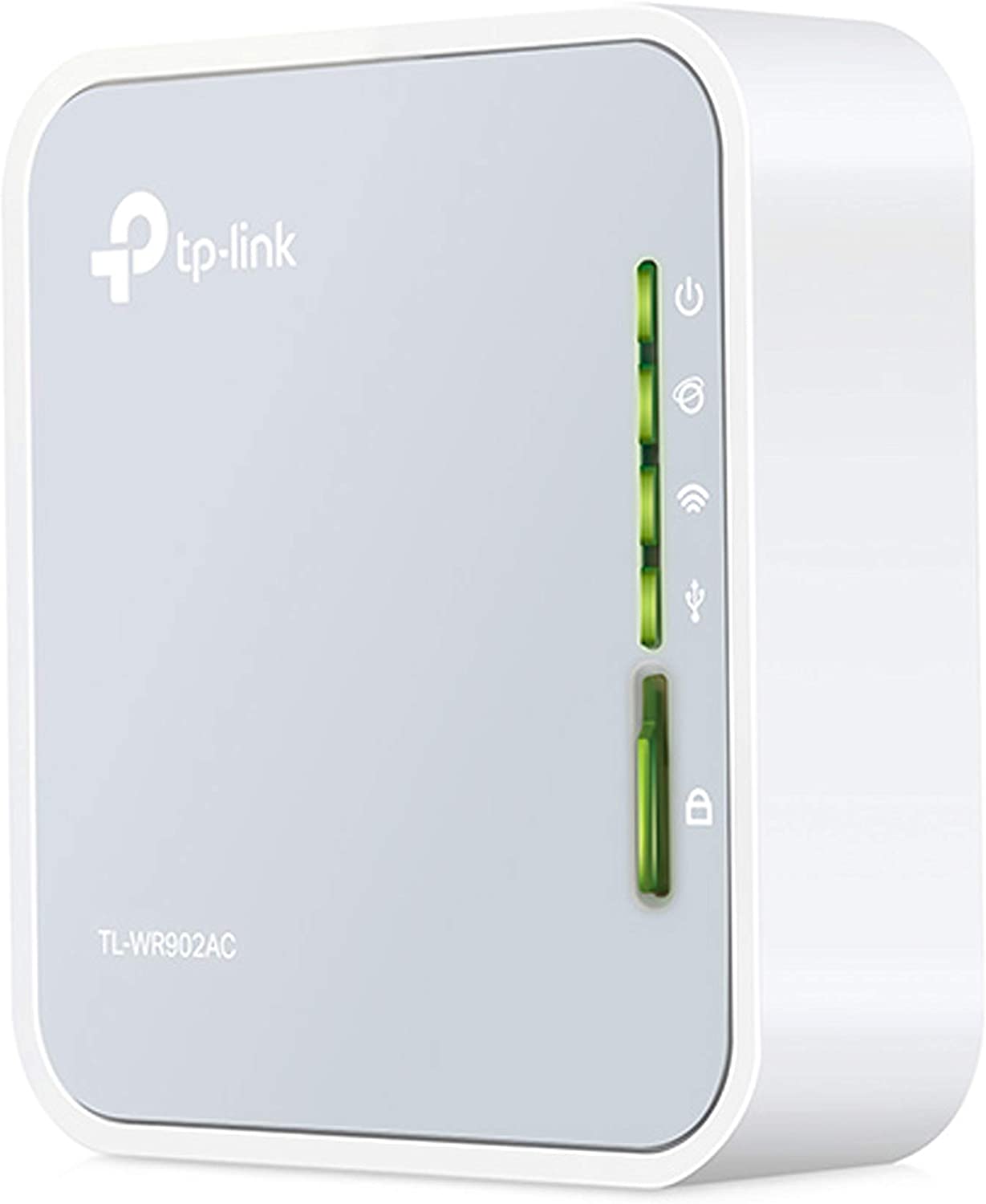 Pros
• Very easy to use
• Lightweight and portable
• 1 year warranty
Cons
• N/A
Product Description
TL-WR902AC is small enough to put into your pocket and make sure you can have internet access wherever you go. The mini USB power supply and built-in adapter make it perfect for travelers, students, and anyone else living life on the go.
Coming with the next generation Wi-Fi standard – 802.11ac, 3 times faster than wireless N speeds, TL-WR902AC delivers a combined wireless data transfer rate of up to 733Mbps, making it an ideal choice for various applications simultaneously. A multifunctional USB port allows you to share files and media through your internet browser with different computers.
Also, the USB port can provide power supply (up to 5V/2A) to mobile devices like smart phones or tablets, making it easy to charge on the go.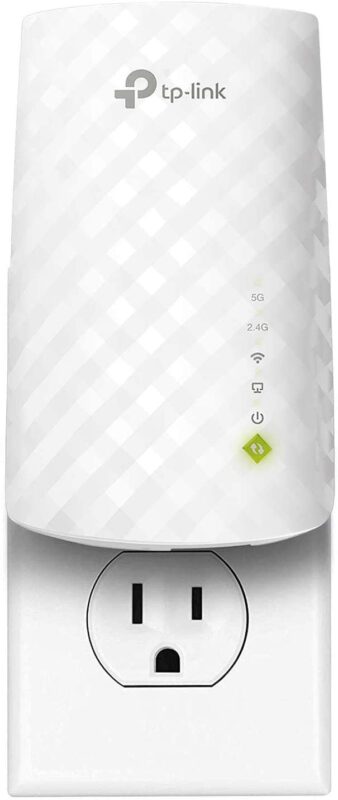 Pros
• Easy to set up
• 2-year warranty
• 24-hour support
Cons
• Design not very creative
Product Description
Based on a 2018 IDC Q2 report, TP Link was ranked as the world's best provider for consumer Wi-Fi for 7 years in a row. That alone speaks volumes about the level of reliability that consumers can expect from the TP-Link RE220.
TP-Link RE220 is a dual-band Wi-Fi extender that sports a compact and lightweight design. This travel router is remarkably easy to set up, thanks to a smart indicator light that allows you to install the device in an optimal location. The Wi-Fi extender comes with an Ethernet port that you can use to connect your wired devices. You can also pair it with the Archer A7 Router, after which you can create a Mesh network that allows for seamless roaming.
Though TP-Link RE220 comes with a slightly lower speed compared to some travel routers of its caliber, it makes up for that with its ease of installation, portability, and affordability. In terms of the coverage, TP-Link RE220 can boost your Wi-Fi to a range of 1200 square feet, allowing you to connect up to 20 devices. The Wi-Fi extender is compatible with any Gateway, Router, or Access Point within the range of 2.4GHz – 300Mbps / 5GHz – 433Mbps.
Pros
• Serves as an emergency battery charger
• Extra layers of security
• Lifetime warranty
Cons
• Slow file transfers
• Complicated setup
Product Description
Ravpower Filehub AC750 Dual-Band Wireless Travel Router prides itself as one of the few Wi-Fi extenders that can read SD cards as well as external hard drives with sizes up to four terabytes. The device is designed to connect automatically to an Ethernet cable nearby. And since it functions as a wireless router, you'll never have to worry about your personal data falling into the hands of malicious third-parties. Ravpower Filehub AC750 even allows you to share a secure internet connection among your roommates or fellow travelers without compromising your individual securities.
Another excellent feature of the Ravpower Filehub AC750 is the integration of an MTK762N built-in chip that enables the router to perform incredibly well for both hardware and software. The MTK762N built-in chip also enhances your security by keeping the router up-to-date with regards to the latest firmware.
Ravpower Filehub AC750 doubles up as a battery charger during emergency power outages, and can power your smartphone up to 2 times before it runs dry. The router also includes an SD slot that allows you to access your media files or even stream directly to a Chromecast. It supports static, dynamic, as well as PPPoE signals.
Pros
• Ease of installation
• 1-year manufacturer warranty
• Supports WEP & WPA/WPA2 wireless security protocols
Cons
• Relatively costly
Product Description
One of the admirable features of the Netgear N300 Wi-Fi Range Extender (EX2700) is its remarkable performance of up to 300 Mbps. With that speed, the device can cover an area of up to 1200 square feet while allowing you to connect about 20 devices simultaneously. And there's no limit to the kinds of devices you can connect, ranging from smartphones, laptops, and tablets, to IP cameras, speakers, and IoT devices.
You can even ramp up the router's performance to 1200 Mbps using a patented technology known as FastLane(TM). That allows for seamless roaming and streaming while reducing lags in internet speed. To enhance its speed and coverage even further, the wireless router comes with 2 external, fold-up antennas.
A wall-plug design saves you a lot of space, while also enhancing the portability of the device. Netgear N300 is compatible with any standard router or gateway. In the interest of security, remember to create a different network name for the Wi-Fi extender.
Pros
• Relatively affordable
• Highly compatible with numerous operating systems
• Extra layers of security
Cons
• Gets hot during heavy data transfer
Product Description
When you're looking for a travel Wi-Fi router but are a bit low on budget, you might consider the Panda PAU07. It's important to emphasize that the manufacturer didn't sacrifice quality and performance at the altar of affordability.
The router comes with speeds of 300 Mbps and supports both 2.4 and 5 GHz. Panda PAU07 is also considerably easy to install. It's compatible with most operating systems, including Windows XP/ Vista/ 7/ 8/ 8.1/2008r2/2012r2, as well as Linux and macOS 10.10 and earlier. Other systems that you can use this travel router with include CentOS 6.5/7, Fedora 20/21, Ubuntu 13.10/14.04/14.10, and Mint 16/17/17.1. Not to mention, this Wi-Fi extender works with both infrastructure and ad-hoc models.
On security specification, Panda PAU07 comes with WEP 64/128bit, as well as WPA, WPA2 (TKIP+AES) encryption.
Conclusion
Poor internet connection is something that most travelers have to contend with. However, it's reassuring to note that you can use a Wi-Fi extender to eliminate the lags and stream your favorite movies or games hassle-free. If you're looking for the best Wi-Fi boosters, you might want to check out the top products that we've reviewed here.