Professional writers know there's more to writing than just putting words on a page. As a freelance writer, I can say this with certainty. Writing full-time requires constant planning, outlining, organization, editing, and proofreading. Having systems and tools to sort out your thoughts is an absolute necessity, and online tools can offer a variety of services that make writing faster and simpler. Contrary to what most advertisers want you to believe, there is no magic jack-of-all-trades software that will transform your writing overnight. Every app specializes in something different, so most writers prefer to use a combination of apps that suits their needs.
Trying out different tools is the best way to find a system that works for you, although it can be tedious to download loads of apps to figure out which ones are worthwhile, and many are overpriced. For this reason, this list is curated with web-based and budget-friendly writing tools only, meaning you don't have to download anything. All of these apps can be used directly in your browser, which is less committal than a software download, especially if you're short on hard drive storage (I'm looking at you, MacBook Air users).
Braincat is a new software in the beta stage of development that is drawing lots of attention for its claims to actually train your brain to "think better". Although I can't confirm that this app will alter your neural pathways, I will admit that it is unlike anything else I've seen. This brainstorming and outlining tool can be used to help you organize your thoughts, create plans, make decisions, and gain a deeper understanding of a complex project. Braincat works by guiding you through a thought process, starting from the details and working your way up to the big picture. There are five basic steps:
Discover: This first step is optional; Braincat offers a variety of question sets tailored to different project types, such as making a decision, designing a product, or of course, a writing project. These guiding questions are designed to get you thinking about the project from new perspectives, but you can skip as many as you like.
Input: This is where traditional brainstorming comes into play. Enter in all of the thoughts you have about the project. This will get mixed in with your answers to the guiding questions. Don't worry about priority or order; there's no bad ideas at this point. The most important thing is to get all of your ideas written down so you can see all of them at once and work with a clear head.
Categorize: Now you can view all of the data you just entered and analyze what each detail means and where it fits within the project. You will create buckets or categories to assign to each item, and as you sort through the data, you will begin to see connections and similarities.
Sequence: With all of your main categories created, you can now put these categories in any order that makes sense to you, whether it be chronology, priority, or steps in a process. At this stage you can analyze the relationships between the main components of the project. You also get to finally "name the Big Idea." Braincat puts this step at the end so that you name the project once you fully understand it, rather than starting the planning process with assumptions and limitations. By starting with the details, you keep your mind open to new possibilities.
Output: Finally, Braincat takes all of that information and presents it in multiple different outputs, such as a traditional outline format and a mind map. You can easily edit your projects as you have new ideas or export them to share with colleagues.
Almost all users report making new discoveries and working more efficiently after using Braincat and find it most helpful for sorting out complex tasks.
Limiting distractions is important when you have to write for hours on end (taking breaks is important, too, by the way). Calmly is a minimalist text editor that takes out all the fluff, so you can focus on writing. Seriously, it's just a blank page with a logo that disappears when you start typing. They offer a downloadable software as well as a free browser version that is easy to use. It does offer basic formatting options like bulleted lists, italics, and internal linking, with no on-screen icons until text is highlighted. When it's time to get in the zone, I highly recommend opening Calmly in a dedicated full-screen browser window.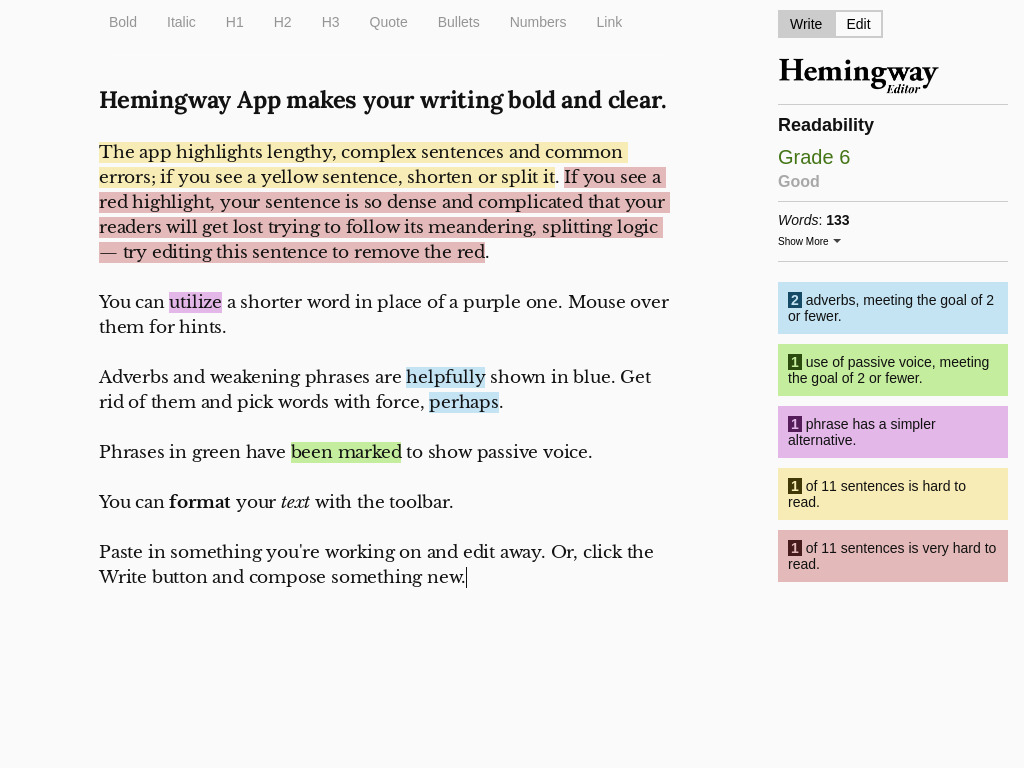 Even if you are the strictest grammar Nazi on the planet, editing software saves time and doesn't miss anything human eyes might miss. Additionally, editing programs can help you tailor your writing to a specific audience. Hemingway Editor analyzes the readability of your content, which is especially helpful for copywriting or any web-related content. Simply start typing or paste your text into the editor and the site will show you the average grade level of your content. It also highlights instances of passive voice, complex word usage, adverbs, and long sentences.
I typically advocate for simple apps because if a program only claims to do one thing, then it probably does that thing very well, as opposed to an app that claims to do it all. That's exactly what Cliché Finder is. Similar to Hemingway, Cliché Finder is an online editing program that analyzes your text. However, this editor finds and highlights clichés in your writing. And that's it. Avoiding clichés helps you to be more direct and specific in your writing, rather than using phrases just to use them.
I chose the apps on this list because they are unique, straightforward, and easy to use. Rather than trying to take over your entire writing process, you can incorporate them how you want and when you want, by simply opening a new tab. Don't make writing any more complicated than it already is – there are tools out there to help you plan, brainstorm, focus, and edit, so you can get to the final product faster.