What Is A Name Generator?
When trying to set up a business or blog, finding a suitable name for your brand is often one of the most challenging parts.

At the very least, you want a unique name that will distinguish you from your competitors. But you also desire for the name to be catchy enough, fairly memorable, and most importantly, one that aptly aligns with your brand.

Admittedly, searching for a unique name is a rigorous process that can be a bit time-consuming if you perform it on your own. Or, time- and money-consuming if you hire professionals to brainstorm the names for you.

Fortunately, there are numerous tools that you can use to generate a name for your business, blog, or domain, known as name generators.

This post shall highlight the twelve best name generators to find a unique name for your brand, but first things first.
How Do Name Generators Work?
For starters, it's important to note that most name generators work online, which means that you don't necessarily need to download and install an app to get started.

Armed with an internet-enabled device and stable internet connection, you simply head to the tool and enter the keywords that relate to your brand.

After that, the tool will trawl the internet for companies, websites, or domains that also use your list of keywords, and then suggest a unique name that's not already taken.
Why Should You Use A Name Generator?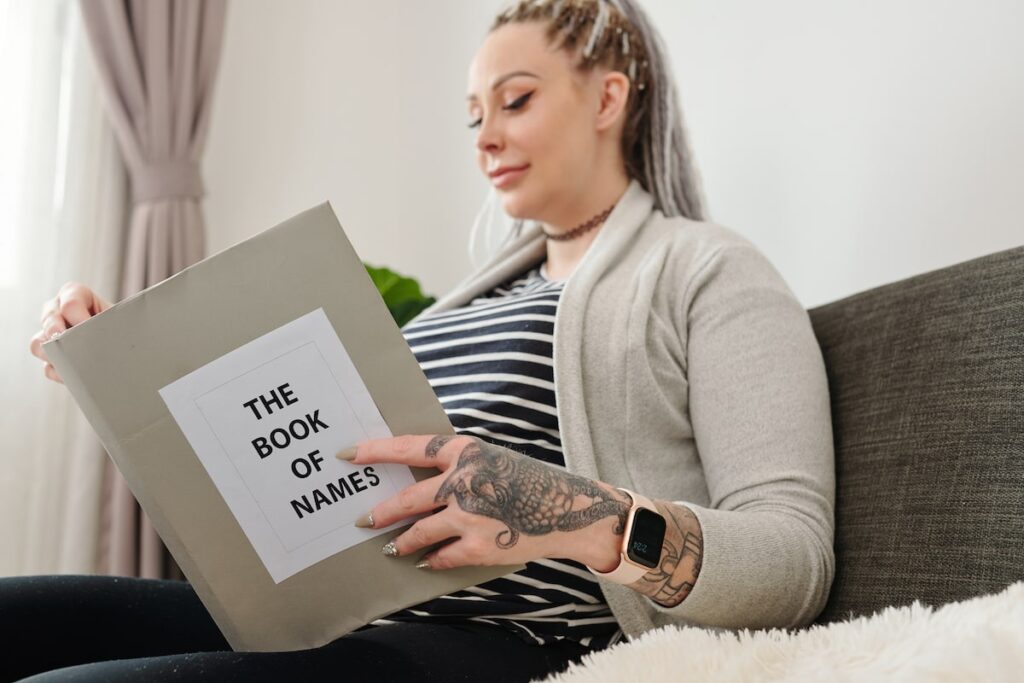 There are numerous benefits of using a name generator, be it for your business, blog, or even for finding a random username for your social networking platforms.

The most notable benefit of name generators is that they save the time you'd have otherwise spent brainstorming a unique name manually. With these tools, you only input your list of keywords and wait for a couple of minutes for the service to pull up scores of potential names.

Another advantage of name generators is that you'll almost always find a unique name for your brand, which is especially important for startups. You don't want to assign your business a name that's already popular out there. Much worse if you share the duplicate name with companies in your very own industry.
Plus, a unique name may cushion you from potential lawsuits. Those of us who've watched Eddy Murphy's movie, Coming to America (1988), remember how anxious the proprietor of McDowell's would get whenever he received unexpected guests in his restaurant. Apparently, he always feared being sued by McDonald's for trying to steal the fast-food chain's already trademarked brand name.

The following are additional benefits of using a name generator for your brand:

i. Target your brand

As we've already highlighted, name generators come up with names from a list of keywords relevant to your brand. So, not only are the names unique, but also related to your brand.

Even better, we now have niche-specific name generators that suggest names based on your specific industry.

ii. Save money

Many name generators are either free or reasonably affordable.

iii. Great for SEO

After finding a list of potential names for your business or website, name generators only suggest those that are likely to generate more traffic to your site.

That's putting you a step ahead of your competitors as far as SEO marketing is concerned.
Name Generators for Business
Business Name Generator is a powerful tool that implements both 'Result Filters' and 'Industry Filters' functionalities. That way, the name generated for your business is not only unique but also industry-specific. To access these features, you'll need to click on the 'Generate' button. You then input your list of keywords and wait for a few minutes for the tool to do the rest.

Business Name Generator also pulls up clickable result items, allowing you to check the availability of each suggestion immediately. You can also check the bottom of the page for some of the premium names and logos the service regularly promotes.

However, note that Business Name Generator displays numerous ads, which some users may find a bit annoying.
Oberlo is recommended for its incredible speeds. The tool can generate hundreds of potential names for your business with the click of a button.

You begin by entering all the keywords relevant to your business or industry, then click on 'Generate Names.'

One standout feature with Oberlo is that the platform has built-in capabilities that allow it to generate business names with available domain registration. And all those services come free of charge.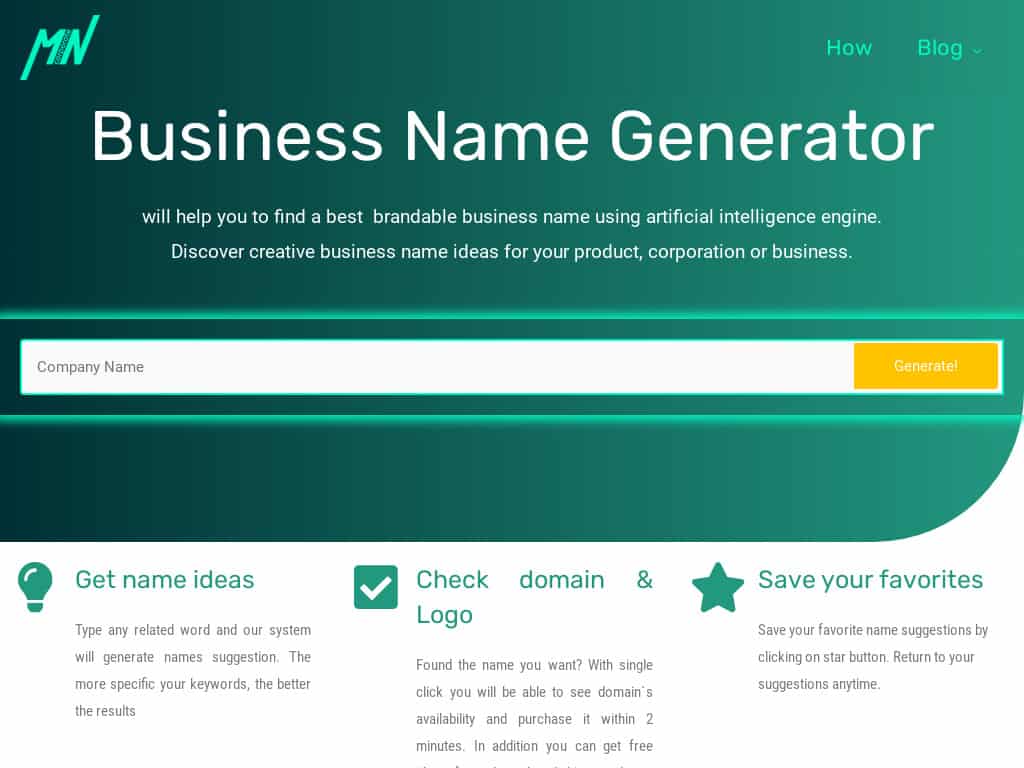 Mycropname helps you find a cool and quality brand name for your company using artificial intelligence engine.
A truly correct and relevant title for your project is important. This is how people remember you. Sometimes the options can seem very limited or trivial, forgettable. This tool has been designed by brand and name experts to help you find the best name in a matter of moments.
To get ideas for your brand name, simply enter any related word and the generator will suggest names. The more specific your keywords are, the better the results.
After that, with one click, you can see the availability of the domain and purchase it within 2 minutes. Alternatively, you can get free logo ideas by clicking on the logo button. Advantages of the service are name ideas, plus instant check if domain free, which zones, and plus logo ideas based on the selected name
Shopify bills itself as 'The 10-second business name creator,' and is probably the fastest and most efficient tool to generate a random name for your business.

After inputting a list of keywords, Shopify will pull up hundreds of potential names for your brand with available domains.

You can then go ahead to pick a suitable name and leverage Shopify's other features to launch a powerful e-commerce store.
Namelix Business Name Generator adopts a unique approach to generating unique business names.

Unlike most tools that show results right after clicking on the 'Generate' button, Namelx requires that you apply your desired filters first. That's really helpful in generating unique names and ideas for your brand.

Some of the filters you can apply include deciding the name length and name styles. Common styles include Rhyming words, Compound words, Brandable names, etc.
Zyro is another AI-powered brand name generator on this list that lets you generate a unique business name for your business, depending on its niche.

All you need to do is enter keywords or queries related to your brand.

If you're having problems choosing the perfect name from Zyro's suggestions, you can leverage the tool's insights on picking a suitable name. This information is available right below the name generator.
Name Generators for Domains and Blogs
Lean Domain Search is a free service to check domain availability and pick a domain name that suits your brand.

Like most name generators on this list, you can search for a domain name using this tool by entering a list of keywords that align with your brand. You then click on the 'Search Domains' button and let the tool pick it up from there.

You can improve the chances of coming up with a unique name for your domain by setting filters according to alphabets, name length, or name popularity.
2.
WebHostingGeeks
While many blog and domain name generators only require you to input keywords, WebHostingGeeks does you one better by asking that you define your preferred domain type, including .com or .net.

You even get to determine whether you'd like your keywords to feature at the start, middle, or end of the domain.

After pulling up available domain names, WebHostingGeeks offers you a list of common domain registrars you can take advantage of.
One of the distinguishing features of Name Mesh is that it doesn't just bundle all suggestions into one group.

Instead, the tool divides those suggestions into different categories, such as 'new', 'similar', 'common', and 'fun', to make it easier to pick a domain name.

Suggestions with available domains are highlighted in green, whereas those with unavailable domains appear in red text.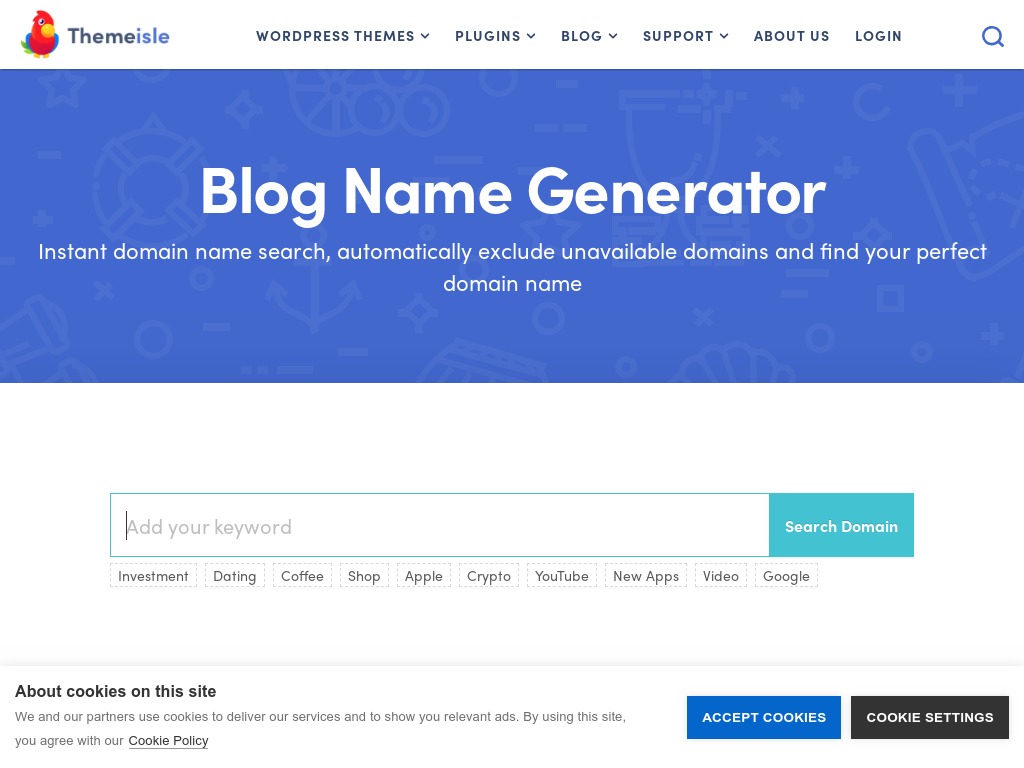 ThemeIsle's Blog Name Generator is another top tool to generate names and ideas for your blog or domain.

To use the tool, you'll need to describe the type of blog you'd wish to launch, including relevant keywords and your niche. After a few seconds, the tool will pull up tons of ideas and suggestions.

To ease your selection process, this name generator only provides new domain names available for immediate registration. It also has premium alternatives, which are mostly existing high-profile domains.
Random Name Generators
When you need to generate random names for other purposes and not necessarily for your business, blog, or domain, Random Name Generator is the tool to consider.

The program is designed to come up with random and unique names under different categories, ranging from 'common' to 'average,' and 'rare.' Random Name Generator even lets you choose between male and female names.

What's more, the tool maintains a directory of over 480 million random names that you can immediately select if you're a bit pressed for time.
Not to be confused with Random Name Generator, Random Word Generator is a distinct online service for generating unique names.

The tool implements powerful filters that help you narrow down your name search by deciding on the number of syllables the name should contain.

You can even choose the first and last letters of your intended word, determine the name's part of speech, or choose the possibility of hashtag integration.
True to its name, Fantasy Name Generators is mostly suitable for generating fantasy names. Which makes it a top recommendation for fiction and fantasy writers.

However, you can use the tool to generate real names too.

Fantasy Name Generators has various categories, such as 'Pop Culture' and 'Place Names.' You can choose the specific name category depending on your needs.
Remember…
When using name generators, be sure to keep an open mind. As the tools guide you in selecting a cool and unique name for your brand, remember to use your best judgment too. For instance, some of the suggestions might include misspelled names, non-English words, or names that are taken even if not already trademarked. You can modify the names a bit as long as you don't change their basic structure or affect their uniqueness.