Last Updated on June 21, 2023
What Is A Travel Electronic Organizer?
A few years back, clothing and travel documents were probably the only things that you carried while traveling. Then came the need to capture exquisite photographs, and stream events live, while keeping in touch with your near and dear ones. All of these translate into more electronic gadgets in your packing list. And each gadget requires charging cables and other cords to function efficiently.
Without a proper place to organize those cords and cables, you'll be forced to stash them in your pockets or backpack. And each time you take them out to search for a specific cable, you'll end up with cords and cables strewn all over the place, which makes you feel like a salesman. That can be grossly inconvenient.
Thankfully, you don't have to go through these hassles, no when you can invest in a travel electronic organizer. A travel electronic organizer for cables and cords does exactly what the name suggests – keeps your cables and cords neat and tidy. These organizers come in miniature lightweight bags that you can easily tuck in your pockets or backpack.
Read on as we uncover the top electronic organizers for cables worth investing in.
Choosing the Best Product
The following are the top factors to consider when choosing a travel electronic organizer for cables and cords.
Material
Some of the common materials used in making electronic organizers include leather, nylon, canvas, and plastic. The convention is to choose a material that's strong and durable, breathable, water-resistant, and lightweight.
Now, you'll not always find a material that comes with all these qualities. So, it's up to you to decide what features to prioritize.
Size and Weight
You want a travel organizer that will not add extra baggage to your luggage. So, the smaller and lighter the organizer, the more suitable it is.
But as you shall find, the size of the product you choose largely comes down to the number of cords and cables you're traveling with.
Pockets and Compartments
You'll obviously not keep all of your cables in one compartment. The good news is that most travel organizers for cables and cords come in a variety of pockets.
You can easily choose where to store your chargers, SD cards, notepads, etc.
The Use of Elastic, Zippers, and Mesh
All travel cables and cords organizers utilize one or more of these mechanisms to keep your cords and cables firmly held in place.
Each of them comes with its perks and drawbacks. For instance, elastic can lose its elasticity, mesh can develop holes, and zippers can break with time.
Style
Unfortunately, this is a factor that most travelers often skimp on, but it's worth considering.
Electronic organizers are like wallets or purses. So, you want a design that matches your tastes and preferences.
Cost
After taking into account all of the above factors, the organizer must be something you can afford. So, always compare prices using price comparison websites.
7 Best Travel Organizers for Cables
1. AmazonBasics Universal Travel Case Organizer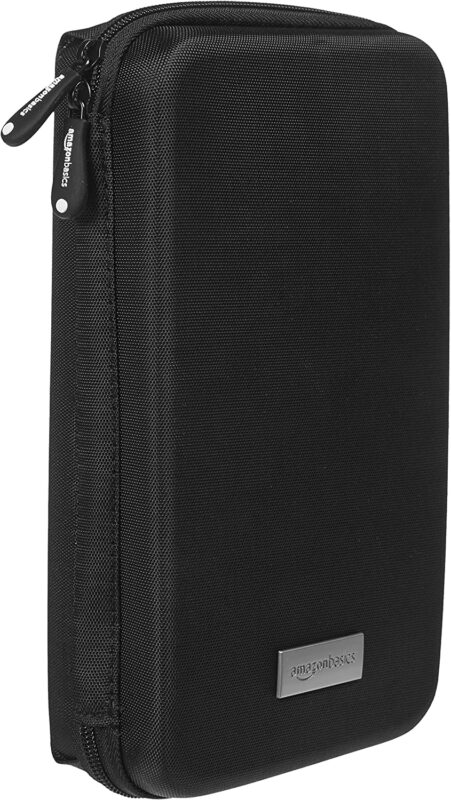 Pros
• Soft cotton interior cushions your cords from scratching
• Comes with one-year Amazon Basics warranty
Cons
• D ring comes off easily
Product Description
AmazonBasics Universal Travel Case Organizer is a compact electronic organizer for cables and cords that sports a semi-hard case, which adds to its overall strength and durability.
The organizer comes with different compartments where you can safely keep your chargers, extra batteries, cables, and SD cards. There are even pockets that are large enough to hold your Smartphone and a small travel camera. A strong mesh holds all of these items firmly in place.
The interior of the organizer is designed with a soft cotton jersey fabric that protects your cables from scratching.
2. ProCase Travel Gear Electronics Organizer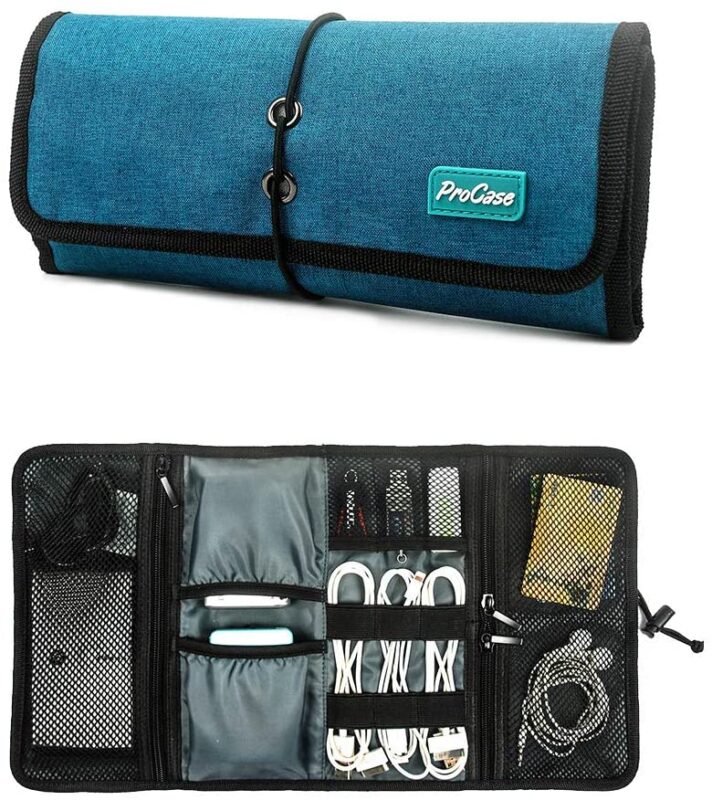 Pros
• Several compartments
• Numerous color options
• Water-resistant & durable
Cons
• Can be quite bulky
Product Description
This electronic organizer folds into a compact 4.5 by 9 inches for ease of carrying. At a paltry 2.88 ounces, the organizer is also fairly lightweight. It's compact design and lightweight makes ProCase Travel Gear Electronics Organizer convenient to carry in your standard backpack, suitcase, briefcase, or even your laptop case.
The organizer comes with 6 elastic loops that can hold your cables, pens, etc., and 3 mesh pockets where you can keep smaller items like USB, SIM card, and SD card. There are also 2 open pockets for keeping adapters, chargers, mouse, etc.
3. Jelly Comb Electronic Accessories Cable Organizer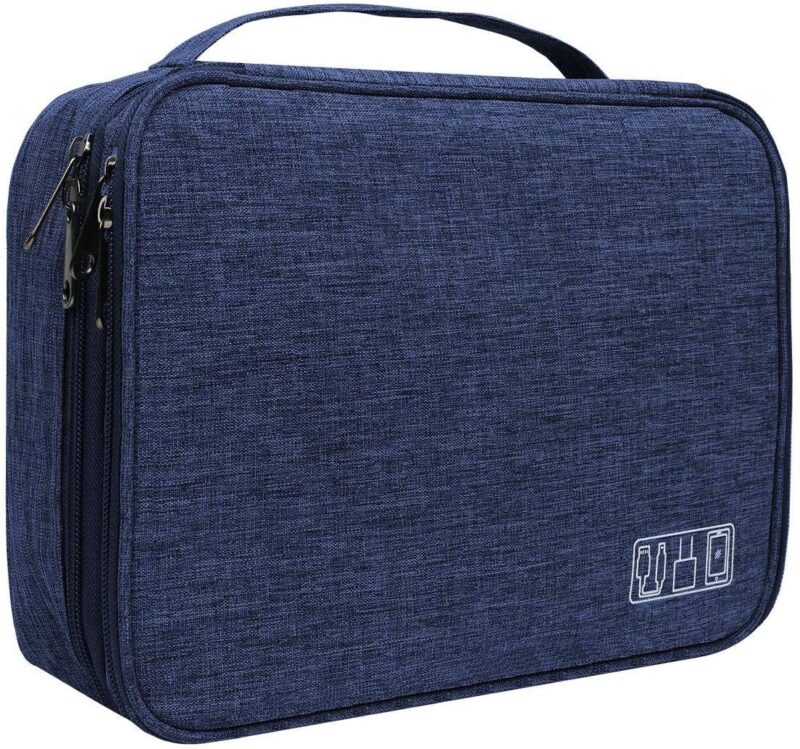 Pros
• Numerous storage compartments
• A variety of colors
• 2 high-quality zippers
Cons
• Too tight cable slots
Product Description
If you're looking for an electronic organizer that can hold a maximum number of cables and cords, look no further than Jelly Comb Electronic Accessories Cable Organizer. The compartments in this electronic organizer are large enough to take in your USB drive, cellphone, cables, chargers, and a mini-tablet.
The structure includes 6 elasticized mesh segments for keeping USB drives and 2 mesh pockets for storing your chargers and cellphones. The product also includes 12 elastic loops where you can keep your cables, 1 SD/TF card storage compartment, 1 big adhesive pocket for keeping a mini-tablet, and 1 detachable hand-strap.
4. Incase Nylon Accessory Organizer
Pros
• Durable and luxurious material
• Zippered pockets offer quick-access storage
Cons
• Contents can distort the soft-shell bag
Product Description
This is the travel electronic organizer to go for if you're looking for a waterproof product that sports a sturdy but lightweight design. Another thing that you'll love about Incase Nylon Accessory Organizer is its spaciousness, which includes pockets for storing your chargers, pens, iPhone, and other small electronic accessories.
There's a strong zip mechanism that ensures your items don't fall off. Not to mention, the product is made of water-repellent nylon, making it highly durable and ideal for outdoor adventures.
5. Bagsmart Travel Cable Organizer
Pros
• Ideal for official use
• Durable and waterproof
• Incredibly lightweight
Cons
• Straps are somehow short
• Stitching comes off easily
Product Description
Bagsmart Travel Cable Organizer is made from heavy-duty, highly durable, and water-repellent nylon case, which accounts for the product's strength and durability. The case is also elegant enough to match the styles of different travelers.
With this travel electronic organizer, you get multiple compartments that you can use to store your USB cables, chargers, extra memory cards, SIM cards, mouse, etc. It's a neat, compact, and lightweight organizer that's particularly recommended for business travelers.
Lastly, Bagsmart sports a special logo that distinguishes it from other electronic organizers.
6. Bubm Electronic Organizer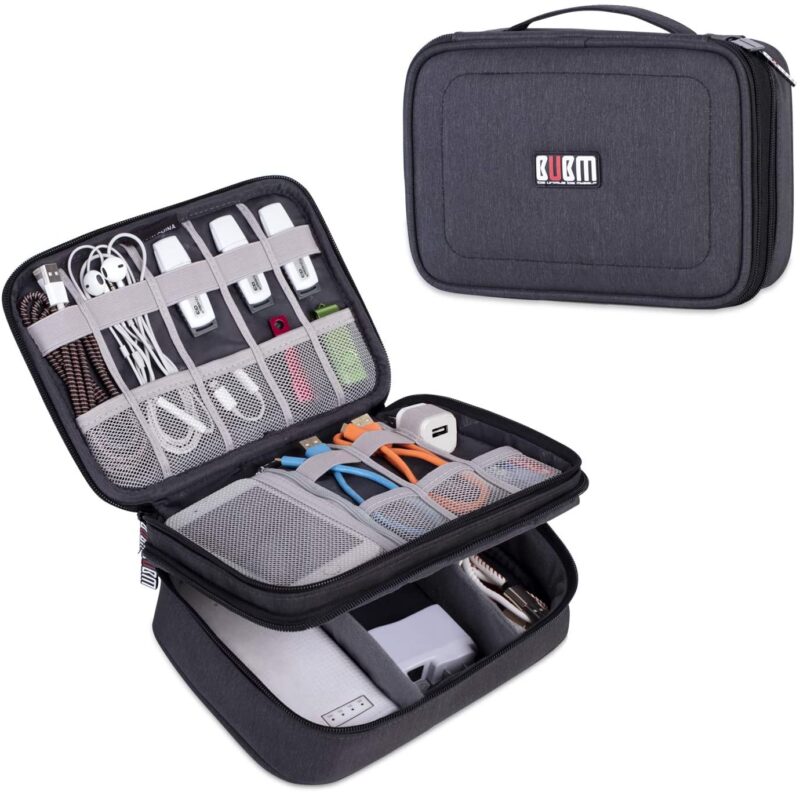 Pros
• Reasonably waterproof
• Smart design
• Premium quality nylon fabric
Cons
• Bulkier than most organizers when full
Product Description
BUBM Electronic Organizer is available in two sizes, namely Medium and Large, with slight variances in dimensions. Like most high-end travel electronic organizers for cables and cords, BUBM is designed using heavy-duty, durable, and waterproof nylon.
The organizer is spacious enough to hold all your travel cables and cords. Its structure includes 2 compartments, where one compartment has 9 separate pockets and 8 elastic loops. The second compartment comes with 3 padded pockets for keeping larger items like a mini-camera, 2 large mesh pockets, and 1 soft sleeve for holding a tablet.
7. Hynes Eagle Cord Organizer Electronics Case
Pros
• Compact and lightweight
• Numerous color and design options
• Stylish and elegant
Cons
• Not very sturdy
• Unideal for larger electronic accessories
Product Description
Hynes Eagle Cord Organizer Electronics Case comes in a variety of funky colors as well as original designs that meet the tastes of different travelers. But perhaps its greatest selling point is the soft and durable Pu-coated 300 Denier-polyester material that the organizer is made of.
The internal compartments are made of elasticated mesh that keeps your electronic cables and accessories firmly held in place. A pen holder serves as a bonus feature, while exterior pockets offer quick access to your cables and cords. The inclusion of double zipper pullers improves access to your accessories while also keeping them safe from falling.
Conclusion
All of the above travel electronic organizers for cables and cords will help you to travel neat and tidy. Ultimately, the choice of an ideal product comes down to the number of electronic accessories you're traveling with, among other personal considerations.