Last Updated on April 5, 2023
Sharing a meal over the campfire is a quintessential part of a camping experience. The type of meal you prepare for this can drastically alter your overall experience.
Although it would be great to recreate the most familiar dish that you usually serve to your guests back at home, one has to keep in mind the fact that they are in the wilderness without the extensive ingredients and culinary tools to aid them when they think about what food to take on a camping holiday.
Meal prep for a camping trip does not have to be troublesome and boring. Toss the canned rations and instant meals aside because there are just so many dishes one can conveniently whip up even if you are a cooking beginner.
It is important that you and your family get a filling and nutritious meal while you are out in the wilderness so that your bodies can recover from the day's activities and prepare themselves for the next. A poorly put-together campfire dinner may prevent one from being at their best state and affect their overall experience camping with family and friends. This would be quite a waste because we reckon that it is probably not easy to get everyone's schedules lined up for this camping trip to happen.
No worries if you are planning for a camping trip and have not thought of what to prepare. Read on for a list of delicious yet easy to prepare recipes that will be loved by people of any ages and diets. Before we delve right into the recipes, it is recommended that you prepare a cool box, a grill rack, or barbecue, which would greatly increase the variety of dishes you can prepare in your camp. We will be using vegetables, lean protein, and carbohydrates for a well-balanced diet, which are sure to meet one's daily nutritional requirements.
Breakfast Burritos
Burritos are a great breakfast choice when camping because you don't have to serve them on a dish, reducing the number of articles you have to bring on the trip. Additionally, they are tasty and quick to prepare even for beginners.
It is recommended that you prepare an assortment of chopped vegetables, onions, red pepper, mushrooms, and bacon stored in a tightly sealed Tupperware container. Pack them for the trip and bring them out in the morning you are preparing the dish to save you some precious time.
You should also break and whisk some eggs with some milk, salt, and sugar and store them in a thermal flask. Remember to bring some oil and minced garlic which will be essential later on.
When you have decided to prepare the burritos, simply toss the assorted vegetables, onions, mushrooms, and red pepper in a pan over the flames together with some minced garlic and oil. Fry them lightly until the onions begin to turn translucent. Then, add the bacon and cook for another two to three minutes. Add the whisked eggs and beat them over to make an egg scramble. Serve the scramble on a tortilla wrap and add cheese to your liking.
If you want this to be fancier, you can lightly toast the assembled burritos on the heated pan for a crunchy and warm texture. And voila–we are done!
Campfire Paella
For this dish, a large cast iron pan is essential. Prepare and dice onions, red peppers, cherry tomatoes, and cooked chicken.
Over a flame, add olive oil and fry the garlic along with onions and peppers until they turn translucent. Next, toss in the red peppers and short-grain rice and toast them slightly. Now, add some wine if that is your thing. Follow up by adding the stock and cherry tomatoes.
Let the mixture boil down and add in the chicken and other protein of your liking. Continue to cook for another 15 to 20 minutes until most of the moisture is gone, leaving a light crunchy layer.
Chia Porridge Oats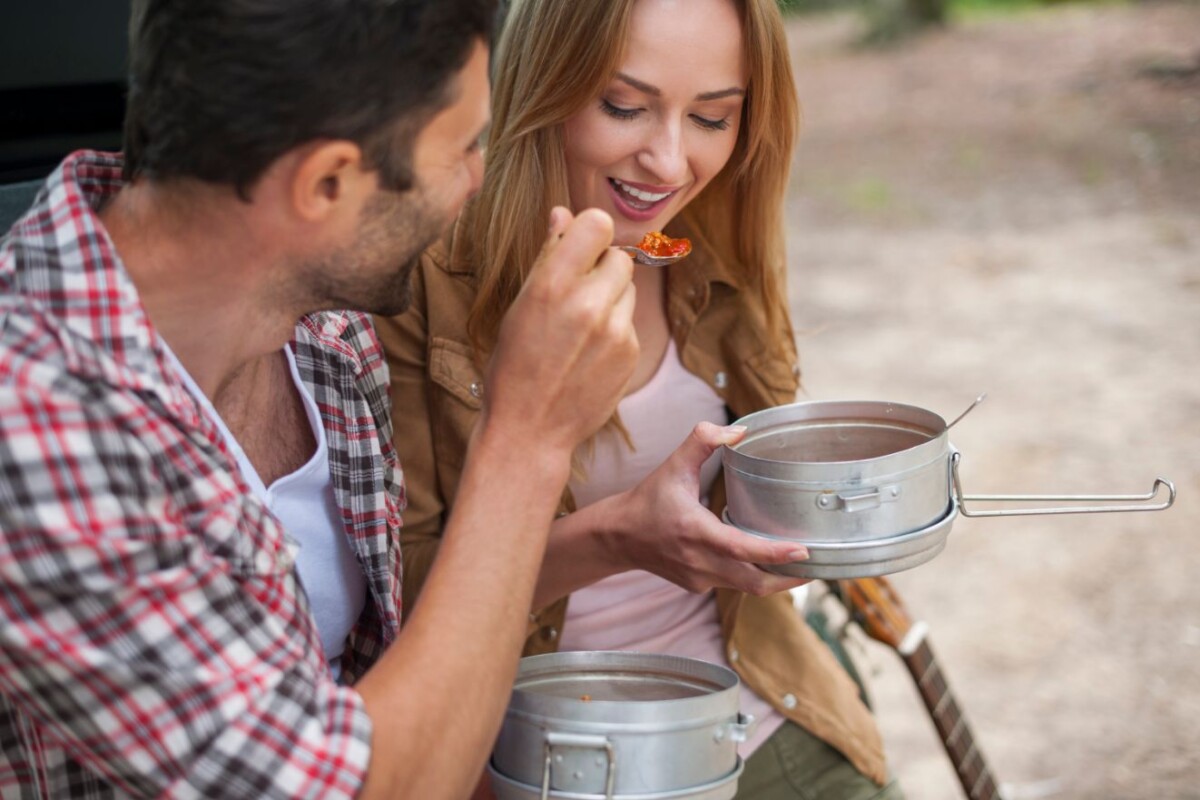 This one is for the vegetarians. Prepare and store half a cup of oats together with cinnamon, chia seeds, golden raisins, and pumpkin seeds in a sandwich bag. Chop almonds and other nuts, and diced apples as the garnish. Store them separately.
To assemble, mix the oat mixture with some milk in a pan over a fire. Once the mixture comes together and is warm, add chopped nuts and diced apples and serve.
Bean Burgers served with Avocado and Tomato Relish
Prepare tomato relish and smashed avocado. A tip to keep avocado from browning is to add a squeeze of fresh lemon.
To make the bean burgers, mix diced red onion, spring onions, black beans, sweetcorn, and breadcrumbs in a food mixer. Season with salt and pepper. Separate the mixture into burger patties. Chill the patties in the fridge for about 15 minutes. Store them in a Tupperware container and use parchment paper to separate each piece of the patty.
To prepare, simply cook them on the barbeque. Once done, serve them on a bun together with the smashed avocado and tomato relish. That's it for this vegetarian meal that rivals the neighborhood burger joint.
Grilled Banana with Nut Butter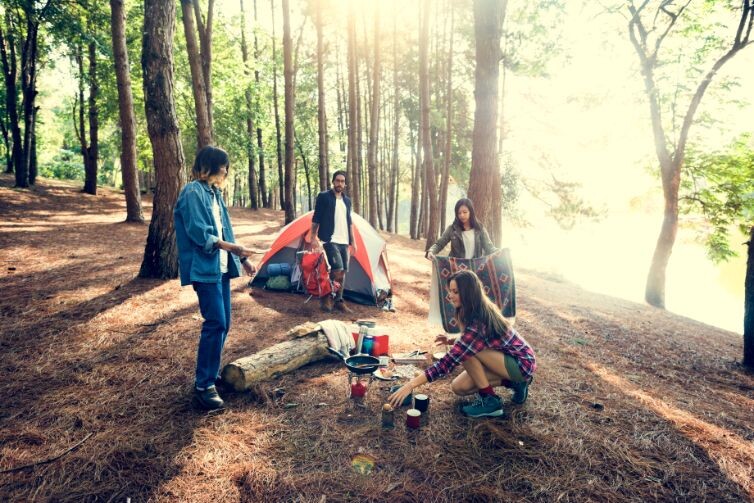 Slice the banana flesh into two and let it sit on the griddle pan over a fire for several minutes. Flip over and the flesh should be slightly browned. Add honey and cinnamon.
Once both sides are browned, serve with drizzled honey and almond butter for a tasty snack loved by all.
Chargrilled Vegetables with Hummus and Falafel
To prepare hummus, mix chickpeas, tahini, garlic, salt, and pepper into a thick paste. It is recommended that you prepare some chunky greens coated with some olive oil and rosemary for this dish.
To make this dish at the campsite, simply chargrill or barbeque the vegetables over a flame. Serve them together with the pre-made hummus. You can add homemade or store-bought falafels to this dish for a larger spread.
In Conclusion
The key to a wholesome and tasty self-made meal at the campsite lies in the preparation before the camping trip. By just spending some time in your kitchen before the trip, you will be able to whip out restaurant-level dishes that are sure to surprise and delight your family and friends.