Last Updated on November 18, 2022
It is a fact that cartoon animations generate the highest views and shares on social media. If you want to be a successful holiday vlogger, using these elements can boost traffic to your page and create engagement. So, how do you create a cartoon animation for your vlog?

Do you need special skills to create them? What tools do you need for your creation? First, it is easy to create cartoon animations, and you do not need any skills to make them.
All you need is a reliable cartoon marker. This post looks at the top six cartoon makers you can use as holiday vloggers. Let's get right into the details.
#1: Doratoon: The Best Cartoon Animation Maker for Vloggers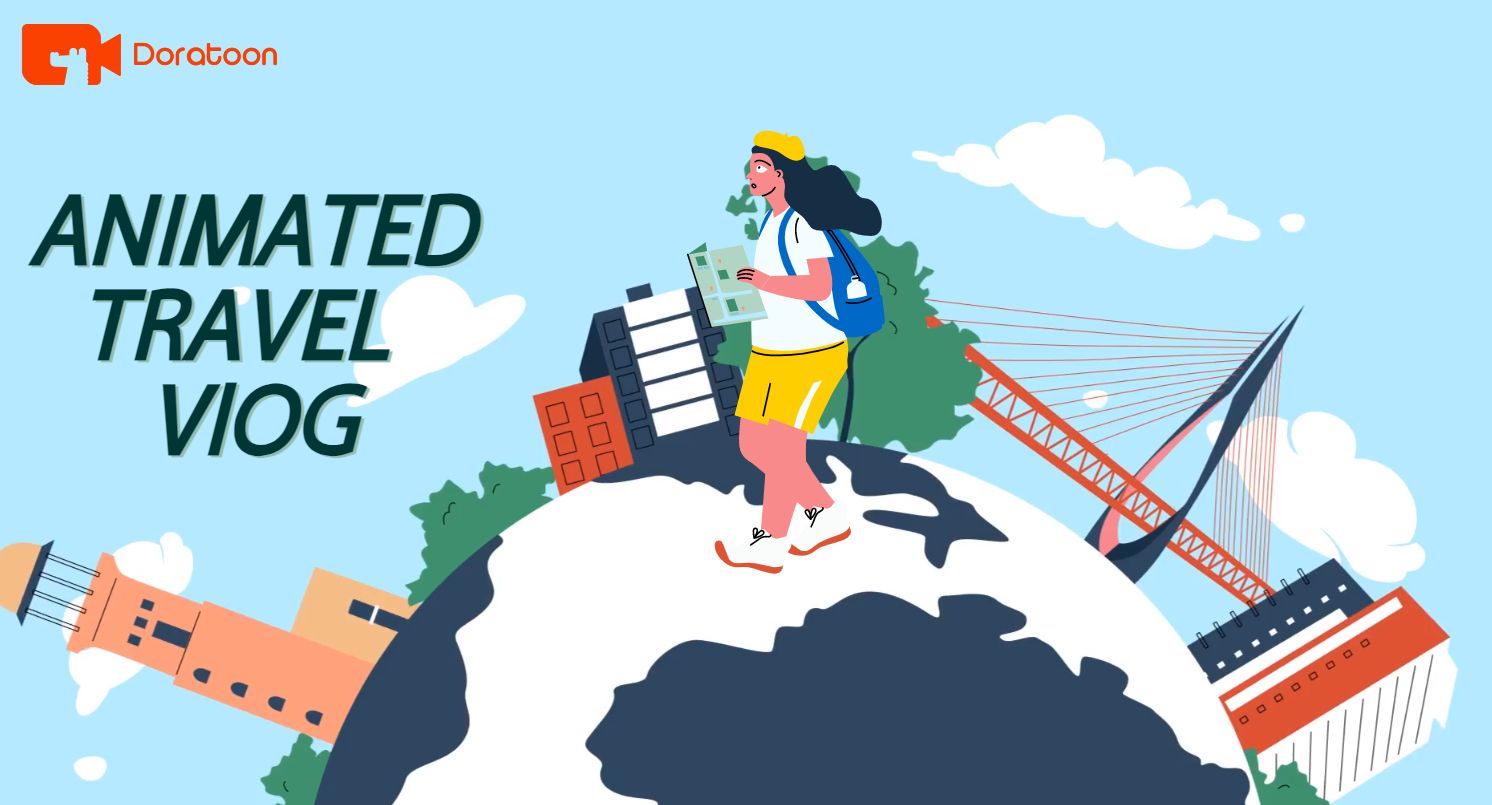 Let's get started with the best – Doratoon. It is a top cartoon animation maker with an extensive library of pre-animated cartoon templates and impressive editing tools. The software lets you create awesomely unique animated videos without any skills or experience.
It is super-easy to use, and you can create your first professional-looking animation within minutes. Doratoon boasts powerful editing tools that make the creation a breeze.
With millions of royalty-free animations, backgrounds, templates, stock footage props, and more, you can create customized videos without stress.
How to Make a Cartoon Animation with Doratoon
While the final work looks amazing and professionally done, the process of creating cartoon animation for your holiday vlog is super easy. Doratoon offers intuitive drag-and-drop tools to make the process seamless. In four easy steps, you can make your animation in minutes. Here is how to make a cartoon animation with this:
Step 1: Create a free Doratoon account with your valid email ID.
Step 2: Select a template from the pre-animated template library.
Step 3: Customize the design with your video script using the editing tools.
Step 4: Preview your animated video and download it on your PC.
That's all! You can complete your creation within minutes and post it to your social media. Doratoon is free to use and has tons of features and digital assets. It is indeed one of the top cartoon makers for vloggers in the market.
Key Features of Doratoon
AI Drawing and Dubbing

PPT to Video Conversion

100 Million+ stock videos and photos

10000+ Stock props

10000+ 2D and 3D background images

1000+ animated characters with facial expressions
#2: Animatron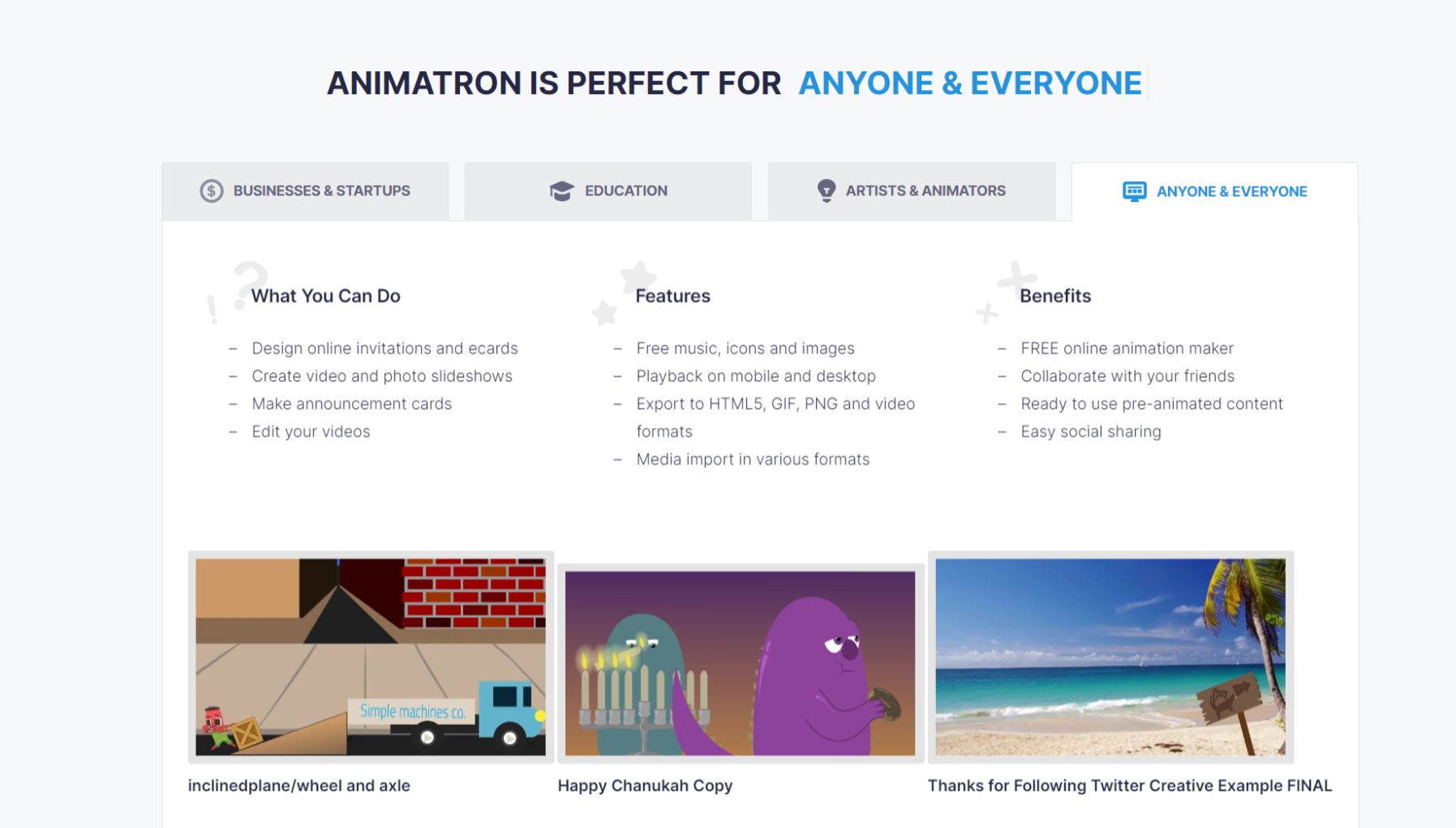 Animatron is a reputable cartoon animation software tool with a huge library of pre-animated templates and elements to help users create animations, including explainer videos, cartoon videos, HTML5 banners, and more.
It comes with customizable options and lets you customize cartoon characters' expressions. It is easy to use and offers robust features. Some of its features include:
Thousands of pre-animated templates, cartoon characters, and objects

Built-in voiceover to add narration

Extensive library of customizable elements

Export to MP4, GIF, SVG, and HTML5 formats

Real-time comments and collaboration.
#3: Blender
This is an open-source video editing tool that gives absolute control over animation creation. Blender offers its users some programming features and an advanced command line for modeling, creating, and rendering 3D animations.
It is compatible with various operating systems, including Mac, Windows, and Linux. It also has advanced animation and rigging tools. Blender also features powerful but realistic simulation tools. Its features include:
A customizable user interface, shortcuts, and window layout

Video editing and VFX with masking, compositing, and motion tracking

Drawing and editing 3D mode

Impressive Python for customization and scripting.
#4: Visme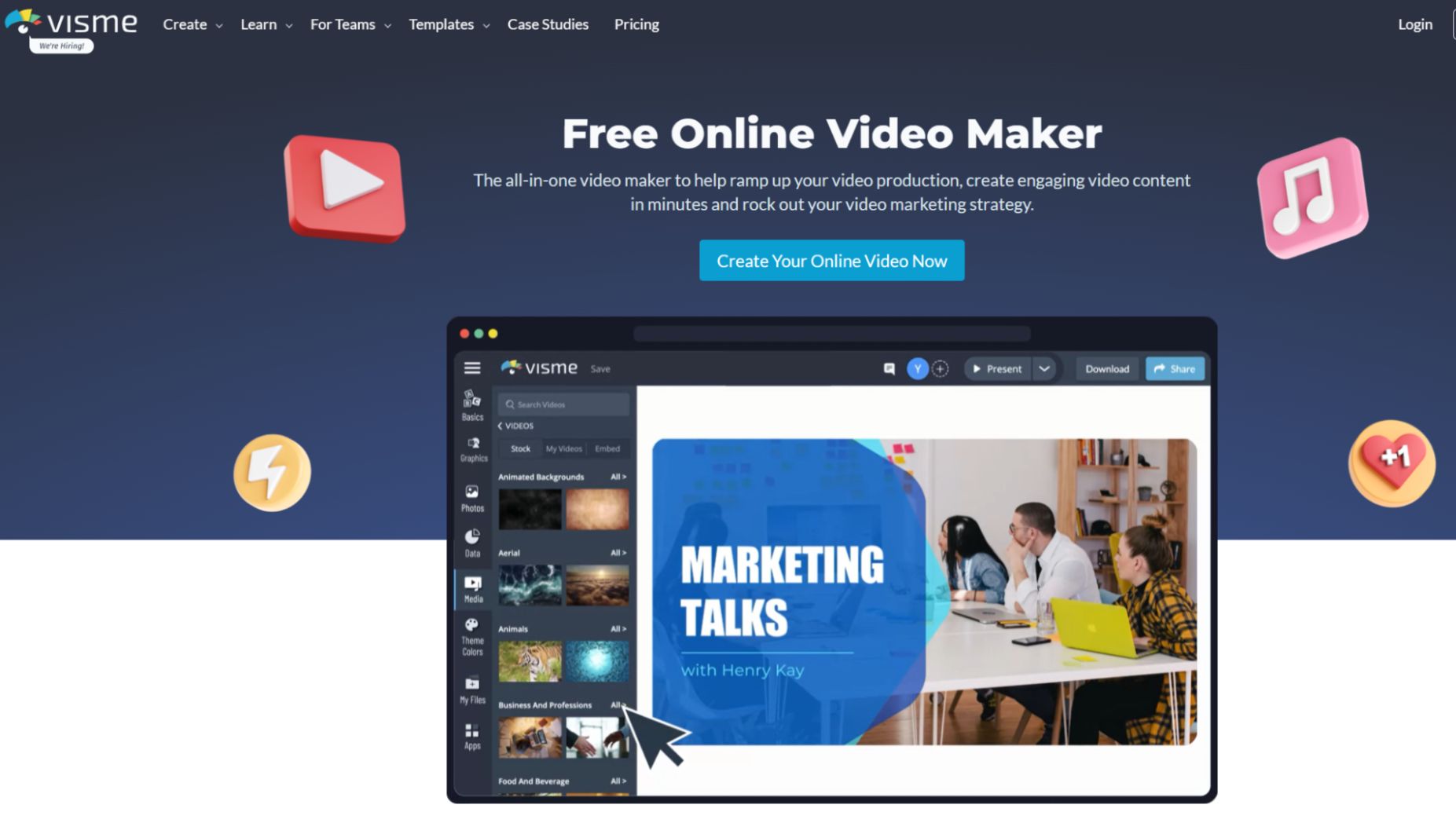 This is a cloud-based cartoon animation maker with extensive tools for creating animated banner ads, social media images, presentations, and infographics. Visme has numerous interactive and animation features for creating attention-grabbing designs.
It offers thousands of pre-animated templates, free stock videos and photos, illustrations and gestures, and pre-animated characters for making stunning holiday cartoon vlogs. Features of Visme include:
User-friendly and highly intuitive drag-and-drop editing tools

Customizable premade assets, including illustrations, characters, and gestures

Thousands of pre-animated templates covering different categories

Advanced custom animation and interactive links
#5: Powtoon
This is another online animation software tool for creating interactive and engaging animated videos. It features a huge library of pre-animated graphic assets and characters. Powtoon is a powerful tool for creating explainer videos, whiteboard animations, and animated vlog videos.
You will find dozens of unique templates in five different categories and thousands of in-built graphics, animated characters, objects, and more. Features of Powtoon include:
Advanced character customization and animation controls

Built-in audio, upload audio files, or record audio on animations

Webcam and screen recording to create a real-time vlog.

Import and edit PowerPoint and Photoshop files
#6: Animaker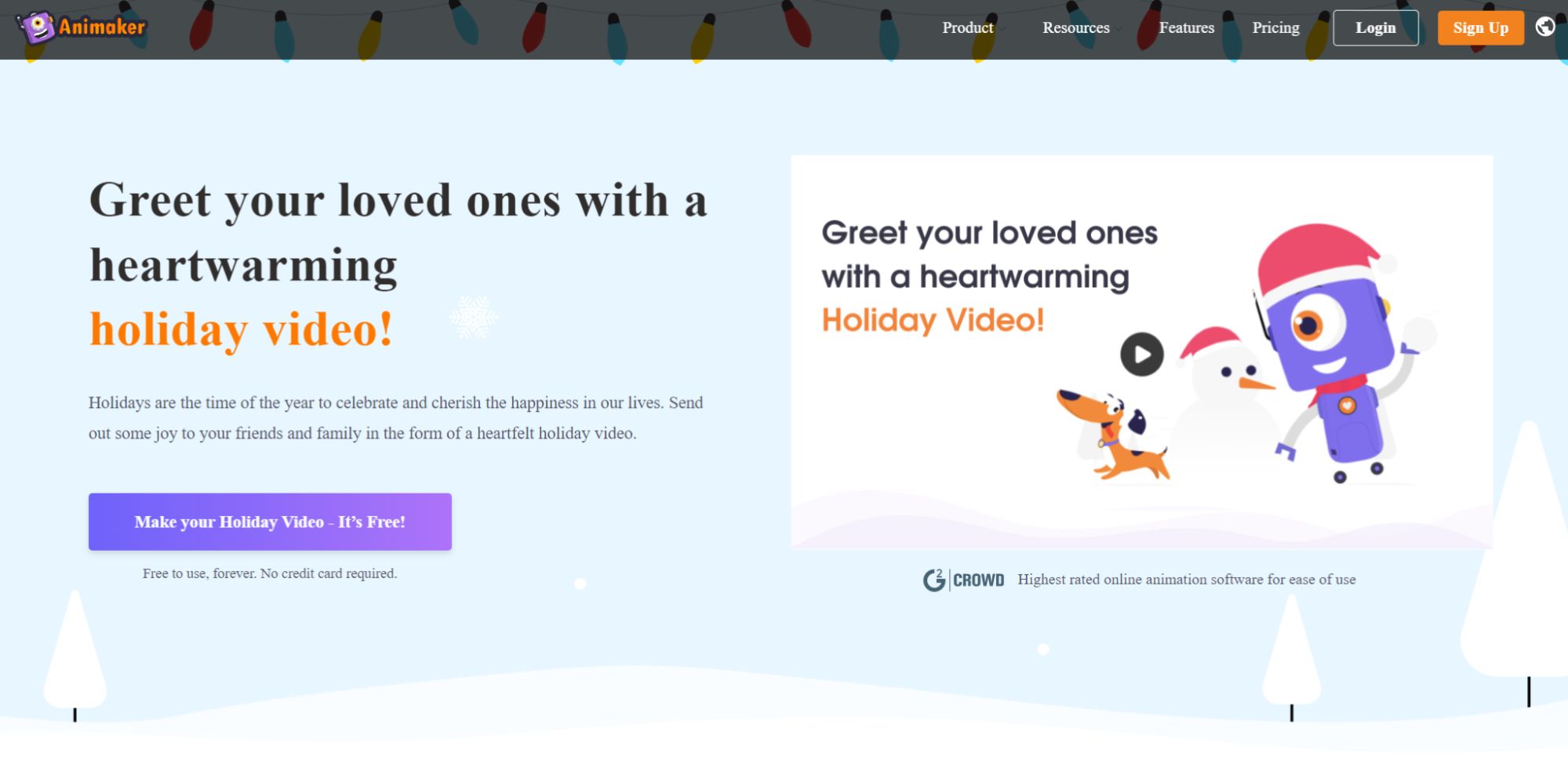 Your holiday vlog can take a new look with animations made with Animaker cartoon animation software. It is a great tool for creating interactive videos and it has a large gallery of pre-animated assets, such as characters, gestures, illustrations, and more.
It also features an impressive collection of premade templates. You will find six unique video styles you can edit and customize for your holiday vlogs. Animaker features pre-love animation elements, such as Camera In and Out and Curve, among others. Its features include:
A huge library of premade templates and digital assets

Over 200 music tracks and sound effects

Team and enterprise management features

Downloadable in GIF and MP4 formats
Which is the Most Recommended Cartoon Animation Maker for making Animated Holiday Vlogs?
We have shared the top six cartoon makers for vloggers in this post. Of course, there are dozens of other options, but these are some of the best you can find in the market. However, if we have to recommend the best out of the lot, our vote would go with Doratoon.
Doratoon is a powerful cartoon animation software tool with impressive features, highly intuitive editing tools, and a user-friendly interface.