The Web is a massive place. Search engine giant Google for instance, processes about 99,000 queries every second. You can just imagine the vast amounts of data just floating across the Internet. And one of them could be yours – your real name, home address, and phone number. You don't want that kind of sensitive information to be at the wrong hands. 
This is where VPN services come in handy. A VPN (Virtual Private Network) hides your exact location and internet activity from prying eyes (e.g. hackers, spyware). Imagine going through a tunnel instead of on the highway. Inside you're safe and hidden from the chaos of the outside world. 
Okay, this VPN thing sounds great. But where do you begin? How can you tell which service is the best? There are dozens of VPN providers on the market right now, some more efficient than the rest. Just check out search terms like ExpressVPN vs CyberGhost or ProtonVPN vs Surfshark and you'll see tons of reviews. 
Our goal here is to help you decide on your own using these basic questions. After reading this, you should gain the confidence to choose the best VPN that suits your needs and lifestyle.
How Reputable is the VPN Service Provider?
Search engines are your friend. Top-rated tech review websites such as Tom's Guide, ZDNET, Gizmodo, and TechCrunch are powerful allies in weeding out shady culprits. Listen to experts. Do your homework and read up. If a friend, colleague, or some guy from a game forum recommends a service, check it out first before downloading anything.
Next, don't skip a VPN's privacy policy. This is normally located at the bottom (footer) of a website. It should contain info on what and where user data is logged. It should also provide details about how user data is used by the app.
Quick green flags that a VPN is worth your dime are: number of servers in various countries (more than 3,000 servers in over 50 countries is a pretty good reference point), types of supported platforms and devices (Windows, Mac, iOS, Android, Linux, PlayStation, Xbox, Chrome, Firefox, etc.), split-tunneling capabilities, ease of use, and live support.
How Fast Can You Surf the Web with This VPN?
One of the reasons why your Internet is slow is because your ISP (Internet Service Provider) could be interfering with certain tasks that you do online (e.g. torrenting). A VPN can bypass this, giving you faster speeds than before. To see this yourself, run an internet speed test without the VPN and perform another one with the VPN. Note that speeds are affected by which server you connect to as well.
How Many Devices Can You Connect with It?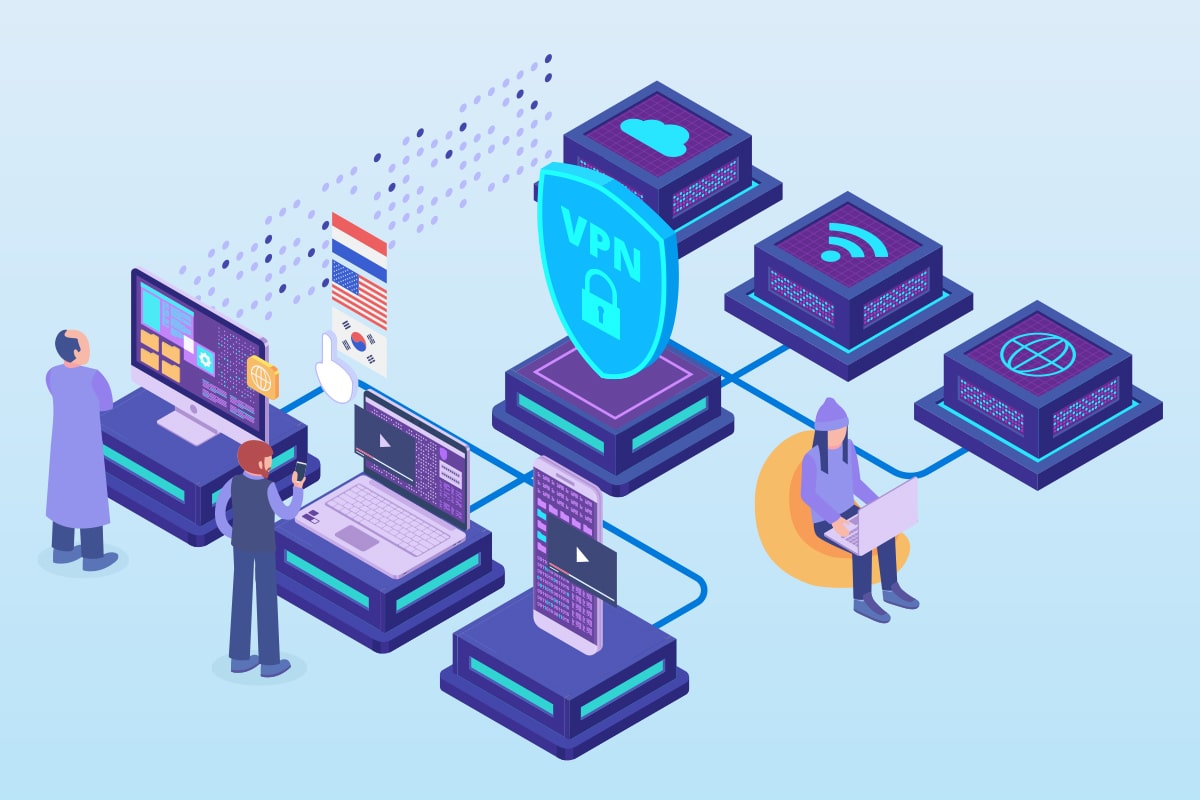 This will depend on how many folks you live with and how many of them would you like to be secure, too.
Different VPN services will have varying rules on how many devices can connect to it simultaneously. For those with large households, it's a good idea to pick an app that will cater to four (4) or more individuals. Do you love having friends or loved ones over? Find something that can have unlimited connections. This feature will also come in handy for those who regularly travel with friends and family abroad.
Does It Offer 24/7 Customer Support?
Whether you need assistance setting up the service or you've hit a snitch, you want a VPN that cares. The ideal is 24/7 live-chat support (though this can be tough to find). Most VPN reviews will include insight on real user experiences regarding this topic.
Are They Offering Good Deals for Your Money?
Avoid falling for a crummy VPN just because it was free or cheap. Remember: if it's too good to be true, it probably is. A nice way to check how you'd be getting your money's worth is to think of subscription payments per day. 
For example: a VPN that costs $13 a month looks expensive at $156 a year. However, if you divide it by the cost per day, it only amounts to about $0.43. For less than 50 cents each day, you get to have peace of mind, the ability to unlock all Netflix and Disney+ content from around the world, as well as protect your sensitive information.  
Want more bang for your buck? Look for a VPN provider that offers a money-back guarantee and/or a FREE trial (that should last seven days or more). 
What Extra Features Would Be Useful for You?
Many of us wouldn't need a feature-heavy VPN for everyday use. However, freelancers, journalists, business people, and content creators will need something more robust. Focus on features you believe will change the way you use the Web.
A Kill Switch for instance, is a wonderful feature that will instantly shut off your internet should your VPN be compromised. This will ensure sensitive data is kept safe. It's valuable for e-commerce sites as they deal with credit card numbers. Another extra to keep an eye out for is an Ad blocker. This way, you don't need a separate app to keep pesky online ads at bay. 
Bottom Line
Don't settle for less. Subscribe once you feel happy and confident about the service. To avoid future hassles, read up on a VPN's refund policy. For those who want to buy during sales, review the fine print. There are apps and services that tend to increase in pricing once current deals are off.