Last Updated on April 27, 2022
Hearing loss is one of the most common types of hearing ailments. It can happen to anyone, from kids to adults, and can be caused by a wide range of factors. Hearing aids are the most common intervention method for managing hearing loss. Although they do not treat hearing loss, they increase one's hearing ability.  

This article will discuss the key factors to consider when choosing hearing aids and tips to ensure you get the right one.  
How is Hearing Loss Diagnosed?
In most cases, hearing loss creeps in gradually, and it may take a long time to notice changes in your hearing abilities. For instance, you may notice that you need people to speak louder, whether on the phone or in one-on-one interactions, for you to hear them.
The most effective way to diagnose hearing loss is through hearing tests. If you suspect that you are losing your hearing, visit a hearing specialist or an audiologist as soon as possible. Early diagnosis lowers the risk of the condition worsening and enables early intervention for improved treatment or management outcomes. 
Your audiologist will conduct various hearing tests to determine the level of hearing loss. The level of hearing loss will determine whether you need hearing aids. For moderate to severe hearing loss, you will need hearing aids.
How Hearing Aids Work
Hearing aids have a 3-part system design to help people who have diminished or lost sense of hearing to hear. Three main parts include:
Microphone – Receives sound and converts it to a digital signal

Amplifier – Enhances the strength of the digital signal

Speaker – Relays the amplified sound to the ear
Key Factors to Consider When Choosing Hearing Aids
Quality
When it comes to controlling, consider the overall design of the hearing aids, how well they fit your ears, their durability, and effectiveness. Check the online reviews of prospective hearing aids before buying to establish if they are good quality. 
For example, ListenClear reviews on Pissedconsumer.com indicate complaints such as ineffectiveness, overpricing, poor customer service, and difficulty returning.
To shield yourself against such issues, go for hearing aids with a trial period and warranty. Check reviews to ascertain that they honor their trial period and warranty claims such that you can seamlessly return for a refund or exchange if your pair is ineffective or faulty.  
Although hearing aids do not last forever, they should function optimally for at least 5 years. If you are unsure which ones to buy, ask your audiologist for referrals. 
Beware of companies that advertise their hearing aids falsely. In most cases, they claim that their hearing aids treat hearing loss, which is not possible. Others over advertise the functionality of their special features, yet they are not effective.
Types of Hearings Aids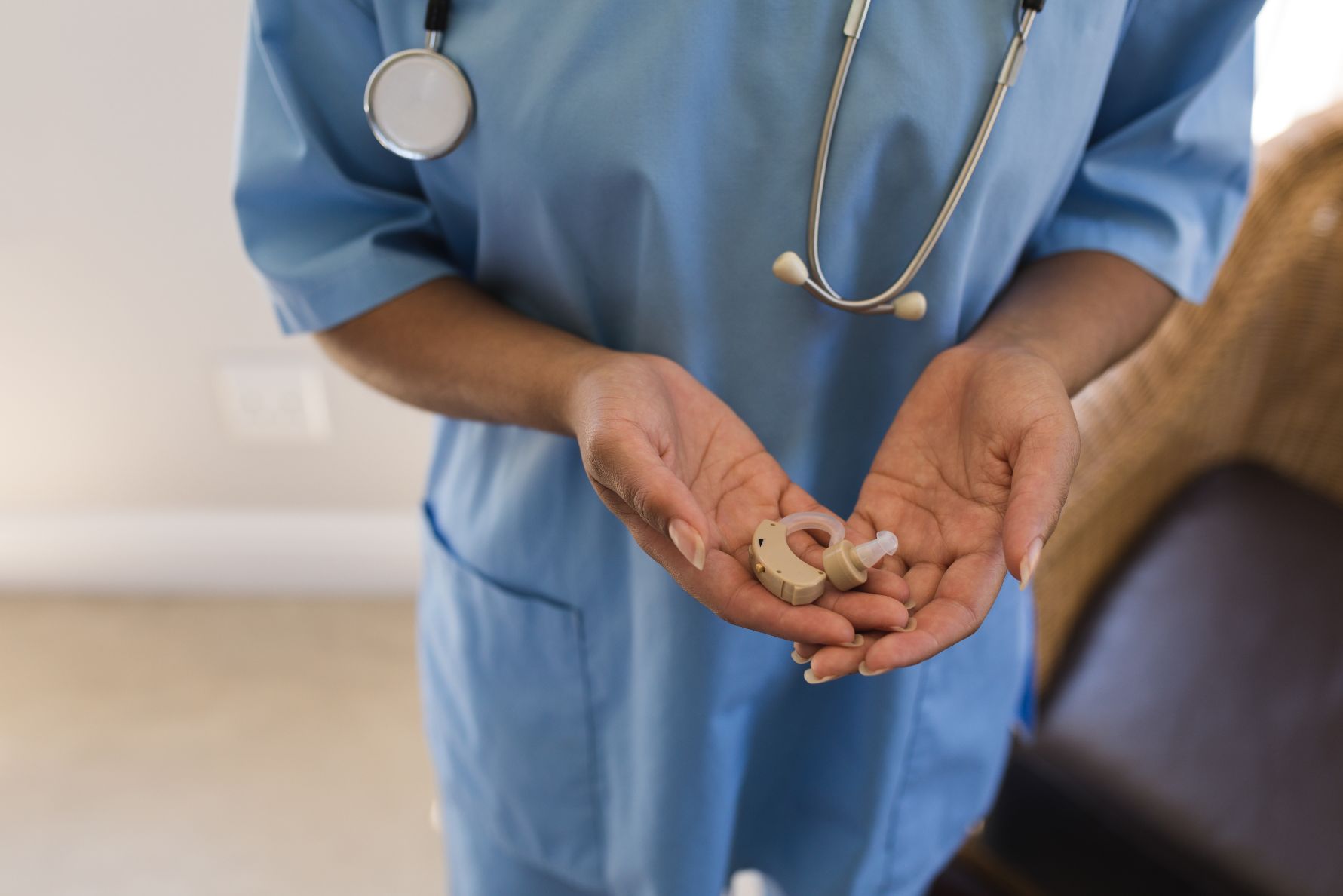 There is a wide range of hearing aids that vary in size, price, and features. The right type depends on your level and type of hearing loss, whether you are keen on additional features, the overall aesthetic look of the hearing aid, and the price. 
Some are invisible as they are implanted directly into the ear canal, yet others are big and conspicuously visible as they are placed on the ear lobe.  It is best to consult with your audiologist on the best type of hearing aid for you.
Here is a look at the most common types of hearing aids.
Completely-in-the-Canal (CIC)
These are the smallest type of hearing aids. They are designed to fit the ear canal hence invisible. Due to their placement inside the ear canal, they do not pick up on wind noise. However, their speaker is prone to wax clogging.  
They use small batteries to operate.  Most do not include special features such as volume control or noise cancellation.
They are custom-designed for each person to fit in the ear canal partially. They are most effective if you have mild or moderate hearing loss. They are barely visible as only a small part is exposed.  They may have some special features, but these may be difficult to control due to their small size and partially inaccessible design. Like the CIC, they are prone to earwax clogging.
They have a design that either fills the entire bowl-shaped part of the ear or the lower part of the ear only.  They can incorporate a wide range of features, making them suitable whether you have mild or severe hearing loss. The various features are easy to control. 
On the downside, they are overly exposed and pick up wind noise. They are also susceptible to earwax clogging.
They are placed behind the ear using a hook. Their design incorporates a tube that connects to a custom earpiece, which is placed in the ear canal. They are appropriate for all ages and different levels or types of hearing loss. 
Although the traditional models were quite large, newer models have a smaller, streamlined design making them barely visible. Their build may incorporate directional microphones, rechargeable batteries, and volume control.
Receiver in the Ear (RITE) or Receiver in the Ear (RIC)
They have a similar design to BTE hearing aids, except they have a tiny wire instead of the tubing that connects the receiver to the speaker. They are less visible than BTE-style hearing aids. They can also incorporate several special features.
They are a variation of the BTE or RIC hearing aids with an open dome. They allow natural sound to enter the ear canal and for high-frequency sounds to be amplified, delivering better sound quality. 
Typically, they are invisible. They are most suitable for mild to moderately low-frequency hearing loss. Their main disadvantage is that they may be difficult to insert.
Special Features
Additional features improve your hearing aid's performance in specific situations. These include noise reduction, directional microphones, rechargeable batteries, telecoils, volume control, remote control, variable programming, direct audio output, and wireless connectivity.
Your Ear Anatomy
Most adults' ear canals and ear lobes are large enough to fit hearing aid. However, kids may need a custom size hearing aid. Also, if you have a bone abnormality, you may need a custom design. Consider if your ear produces excessive earwax, as it is likely to block the hearing aid.
Whether You Need One or Two devices
If both ears have hearing problems, you will need a pair of hearing devices. However, if only one ear is affected, one piece will do. 
Price
The price of hearing aids varies, starting at $1000 up to several thousands of dollars depending on their size, features, and type.  Some come as an all-in-one package, while you have to buy additional accessories for others. Also, factor in audiologist consultation and testing fees when planning your budget for hearing aids. 
Insurance plans coverage of hearing aids varies widely. While some offer partial coverage, others do not have any allowance at all. Consult with your health insurance provider to find out if they can cushion you.
Understand that one hearing aid may be a perfect fit for one person but not right for you. Do your due diligence to identify effective and good quality products suitable for your level and type of hearing problem, ear anatomy, and budget. Consult with your audiologist for assistance with choosing the right hearing aids for you.