Adhesive tape. It's something you can consider to be as universal as water. Others may even go as far as saying it's somewhat as convenient. Before 1925, when 3M introduced adhesive tape to the world, the primary sources of adhesion were mostly permanent and untidy.
When masking tape was created in the 20's, it was intended to fix one particular problem: how to apply two-toned paint jobs to vehicles tidily. Before its invention, auto shops mask-off paints with glue and paper.
Almost every time, peeling off the paper instantly ruined the paint jobs, regardless of how careful the process was done. That was when Richard Drew of 3M decided to create adhesives. Two years later, masking tape was born.
Drew's next invention was a clear, cellophane adhesive tape, which later on became known as Scotch Magic Tape. From then on, the art of gift-wrapping has never been the same. The same can be said with common household fixes.
Nowadays, the adhesive tape comes in different types, shapes, and sizes. Colorless, cellophane-finish tapes are used for wrapping, while bright, matte-finish ones are used for labeling.
Duct tape is a staple for home and office repairs while double-sided tape is used for posters and the like. Brown wrapping tapes are used for packages while stretchy tapes are best for bandaging.
The Office Tape
The most common type of adhesive tape is the office tape, commonly referred to as the Scotch tape. Office tape is commonly seen sitting in a tape dispenser on a desk surface or in a drawer. It's commonly used to tape or glue paper and other small things together.
Here are some varieties of office tape you may commonly see at the office:
Invisible Tape – often called the Scotch Magic Tape. This is an adhesive that disappears on contact. It's arguably the most common type of adhesive tape as itssurface can be written on with a pen.
Transparent Tape – is an adhesive tape with glossy finish. It is known for its strong holding power, which makes it ideal for labeling.
Greener Tape – is an adhesive manufactured by Scotch. It's available in both invisible and transparent kinds. It's "greener" because it's 65 percent made of plant-based and recycled materials.
Double-sided Tape – is gluey on both sides, which makes it best for no-mess presentation purposes.
Removable Tape – is best in holding pieces of paper or documents while giving the option to re-position the adhesive as many times as warranted.
Pop-Up Tape and Dispenser – is a modern type of adhesive. It presents pre-cut tape strips (two inches) dispensed one at a time.
Tape Dispensers
Tape dispensers are a necessity since they're quite versatile. It's hard to find an office, a home workspace, a factory, a grocery store, a gas station or even a household without tape and a tape dispenser.
The latter comes in different sizes and shapes, depending on the type of tape it holds. A tape dispenser is a must-have because it makes it easier to grab some tape one-handedly.
Most dispensers are also refillable, which is more convenient than the disposable ones. Refillable tape dispensers are typically weighted, so they stay in place. They are also designed differently to suit any office or home interior.
Here are three common types of refillable tape dispensers:
Bench Top – are the most common type of tape dispensers. You can typically see them on an office desk or a home work/study table. They come in different shapes and sizes. Some are made of plastic, others of metal. A few are even made of cement or wood. They are extra sturdy and weighted, so they don't slide everywhere when used.
Pistol Grip – are handheld tape dispensers. They are often used to seal packages and cartons single-handedly. Pistol grips are roll-on type dispensers that enable center seam closure. A built-in adjustable brake is often attached to this kind of dispenser for a consistent and tight seal.
Multi-Purpose – is a type of refillable dispenser that can be affixed to a bench top or a machine in a work area. These tape dispensers are often seen in large manufacturing warehouses to make packaging easy and fast. They come with built-in mounting clamps for simple attachment.
Using adhesive tape is good, but using adhesive tape in a tape dispenser is a lot better. The duo makes tasks easier, faster and more convenient. Tape dispensers are necessary to make the process of dispensing the adhesive more efficient and fun.
The designs and styles of tape dispensers today also tickles one's creative mind. Today's dispensers are made using different materials and are created to match any workstation – minimalist, flamboyant, colorful, ultra-modern, traditional and more.
If you're shopping for a tape dispenser, here are 10 of the best in the market today.
Blomus Stainless Steel Tape Dispenser is both an office and home workspace must-have. It's back is foamed to prevent any accidental slipping and to protect the table surface as well. It's part of the Blomus Office line that includes stapler, note roll holder, business card cases, and tape measure.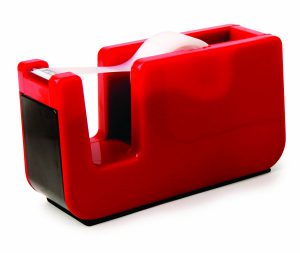 Retro and vintage lovers will surely enjoy Kikkerland Retro Desktop Tape Dispenser (Red). This vivid red-colored tape dispenser has a weighted base for an effortless, one-hand tape dispensing. It's usable for both half-an-inch and quarter-an-inch wide tapes.
Designed and created by London-based Norwegian designer Magnus Pettersen for Areaware, this concrete tape dispenser is the ultimate office accessory. The tape dispenser is made from cement so it has an industrial yet refined feel to it.
4.
Modern Tape Dispenser – Office Decoration – Concrete
Modern Tape Dispenser is a minimalist design office and home workspace accessory. Its ultra-modern style is made from concrete. It's best for workstations with an industrial or a contemporary design.
Modern Art Tape Dispenser from ArtsonDesk is more of an office necessity than an accessory. It's made of high-quality stainless steel using advanced technology. The tape dispenser is weighty, patented, sturdy and collectible.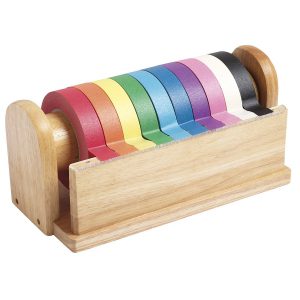 This colorful, decorative wooden tape dispenser is best for children and adults who love scrapbooking or making crafts and arts. The ECR4Kids includes 10 rolls of craft tapes in different colors. The durable multi-tape dispenser can hold up to 12 1-inch rolls of tape with enough room for a regular masking tape.
Filo Tape Dispenser is made of stainless steel mirror polished. It's best for contemporary-designed workstations. Minimalists would also love the simplicity of this white-colored tape dispenser.
Tape-users who like a sleek and compact dispenser would love Scotch Designer Desk Tape Dispenser C-4210. This black tape accessory is compact so it takes up less desk space. It's also heavily weighted for effortless, one-handed use. It is eco-friendly as it's constructed from 100 percent post-industrial recycled plastic.
U Brands Tape Dispenser is super sleek and smooth with its wire metal and cooper features. It easily adds a certain charm and sophistication to any workstation. It's solid acrylic core can dispense regular tapes and Washi rolls with standard one-inch cores.
Made from heavy cast polished acrylic, Kantek Acrylic Tape dispenser enhances home and office workspaces. It has non-skid bottom for easy, one-handed dispensing.