It has been said that time is money. If clocks were not invented, it would be extremely hard for us to tell time, and without a doubt, the world would've been at a standstill. The importance of a clock can't be denied. It's one of the most prominent and omnipresent household fixtures.
Did you know…
That it was the Egyptians who first invented the water clock?
They did it around 1500 BC. They called the device "clepsydra." It basically was a pot with a hole in the bottom. Clepsydra took the same time every day to empty the vessel so the Egyptians could easily tell the hour of the day and night just by watching the level of water in the pot.
That it was in 250 BC when the hourglass was invented?
The liquid in the water clock was replaced with pure, dry sand. The amount of sand that passed through the very narrow neck between the two glass bulbs determined the time. The real purpose of the hourglass was unknown to this day. Some say that the Roman army first used the time device for measuring the "watches" at night.
That it was in 725 when the earliest known mechanical clock was created?
The device was built in China.
That the word "clock" came from the Latin term "clocca," which means bell?
In the earliest inventions of clocks, the time couldn't be seen. Instead, it was heard. Each passing hour was marked by ringing bells.
That it was in 1273 when the first mechanical clock was read in Europe?
The momentous event happened in Norwich, England.
That the first clock that appeared in public was in 1335?
It was seen in the palace of the Viscount of Milan.
That the large device Richard of Wallingford mounted at St. Albans did two extraordinary things?
It showed the time from the hour to minutes and specified the tides at the London Bridge.
That the term "grandfather clock" was derived from a song written in 1876?
Its title was "Grandfather's Clock" and it was composed by Henry Clay Work.
Decorating with Wall Clocks to Give Your Room a Makeover
Wall clocks aren't just functional. They can add pizzazz to a room as well. All it takes is imagination and creativity to turn a functional clock into a focal décor in any room.
Clocks can be placed practically anywhere. Desk and wall clocks can be put in the living room, dining room, kitchen, bedroom, bathroom, hallway, home library, and so on. As such, it pays to be a bit creative to turn the ubiquitous clock into an eye-catching home interior piece.
Any clock can tell time – as it's their primary function. However, only a few can do it with style. From minuscule numbers to glaring statement pieces, wall clock designs have progressed in leaps and bounds. Not only are they used as timepieces, they are also used as decoration. The addition of a beautiful wall clock can completely transform a room.
You don't have to break the bank to make the transformation happen. You only need to choose the right clock for your style and purpose and know where to put it correctly.
Here are tips on how to do so.
Make the clock a conversation piece.
A unique wall clock is something that immediately catches attention. These are wall clocks that serve as grand statement pieces or come in bold colors. Guests will inevitably ask you where you got it, or how did you come up with the idea of putting it as a centerpiece in the first place. They will surely compliment the look and feel of the room, primarily because of the clock.
Put up more than one.
Have you noticed the group of wall clocks mounted on walls in airports and travel-related shops and offices? Each clock shows the time in different cities all over the world. No rule prohibits you from doing the same thing at home.
Instead of one, you can put up multiple clocks that show the time in various places worldwide. This is a great idea if you have family members living overseas. The wall clocks can be uniform in style, or you can mix and match them for a livelier setup.
Create aesthetic balance with a clock.
A wall clock doesn't have to be on its own all the time. You can cleverly merge it into an art piece (or pieces) on your wall to create a sense of balance. Just make sure to do it seamlessly.
Go beyond the traditional route.
There's nothing wrong with the classic analog clock design. But there are tons of wall clocks today that are specially created for a certain theme or style in mind. Some are rustic, others are quirky. A couple are designed for book lovers, while the rest are created for engineers or teachers.
The list of designs goes on and on. Find a wall clock that reflects your personality – something that will make your guests say, "that's so you!" whenever they see the clock.
Personalize your clock.
There are many specialty shops nowadays that customize clocks. Instead of the usual plain or solid color clock face, they can put in pictures of yourself, your loved ones, or pets to make it more personal. You can even do this yourself. There are tons of DIY and How-To videos that can help you customize the design of your wall clock.
Put it where no one expects it to be.
If you want drama or like unique settings, you can set your wall clock anywhere but the wall. Instead of hanging it, you can keep it in your living room mantel, or on your work desk at home. You may even strategically put in on the floor.
Shopping for a clock that serves one or all of these functions is a fun activity. Just don't get overwhelmed with the number of choices. Pick something that you completely like; something that expresses your personality or style. Choose a clock that will complement or contrast the interior design of the room seamlessly.
15 Cool Clocks for Your Home Office
If you're looking for a clock that can add oomph to your home office, here are 15 cool options you can choose from. Each clock has its own pizzazz, and some are specifically created for a particular theme or interior design.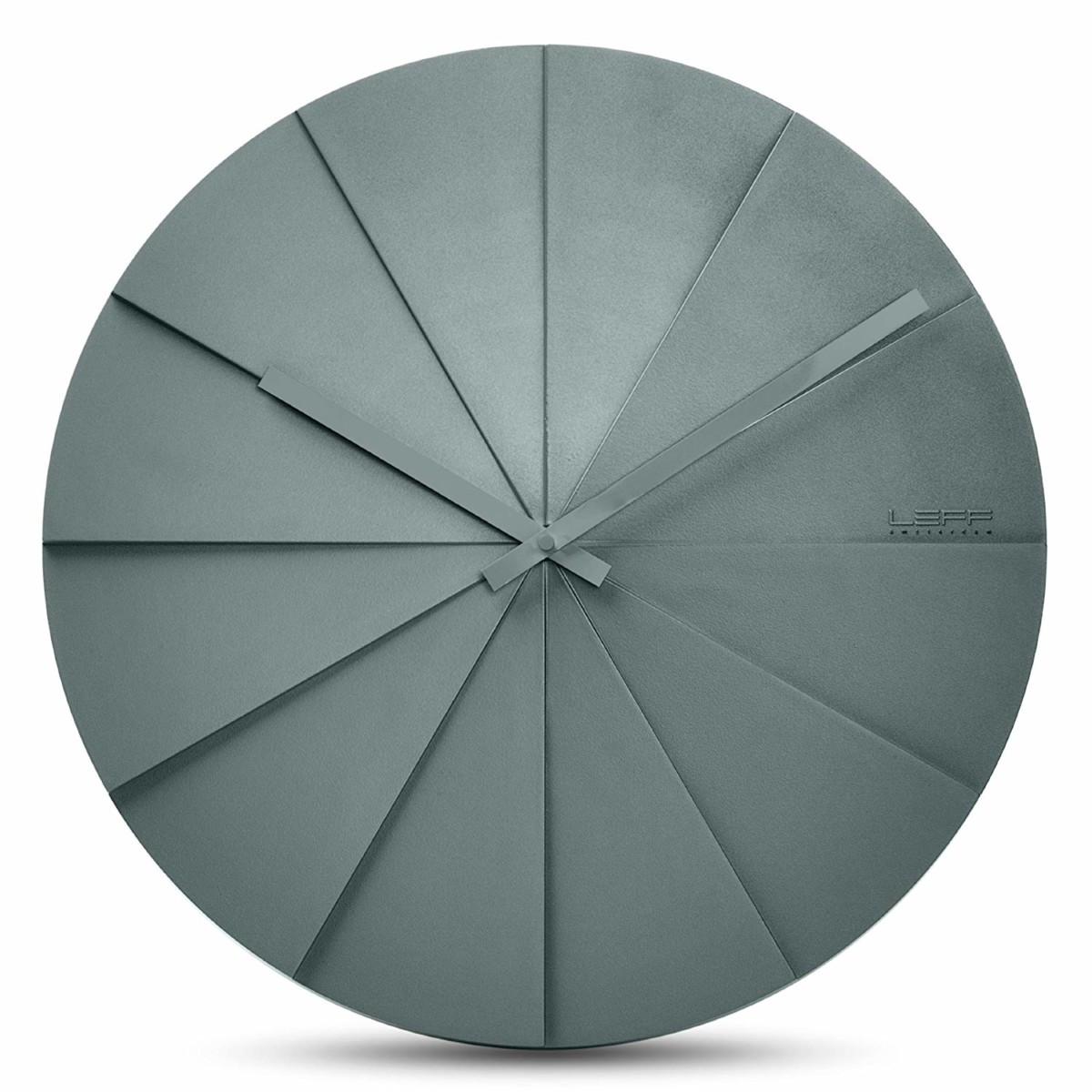 Leff Amsterdam Wall Clock features a minimalist style with Japanese Quartz and silent movement. It's also designed to be recycled. This grey clock has 5-year warranty.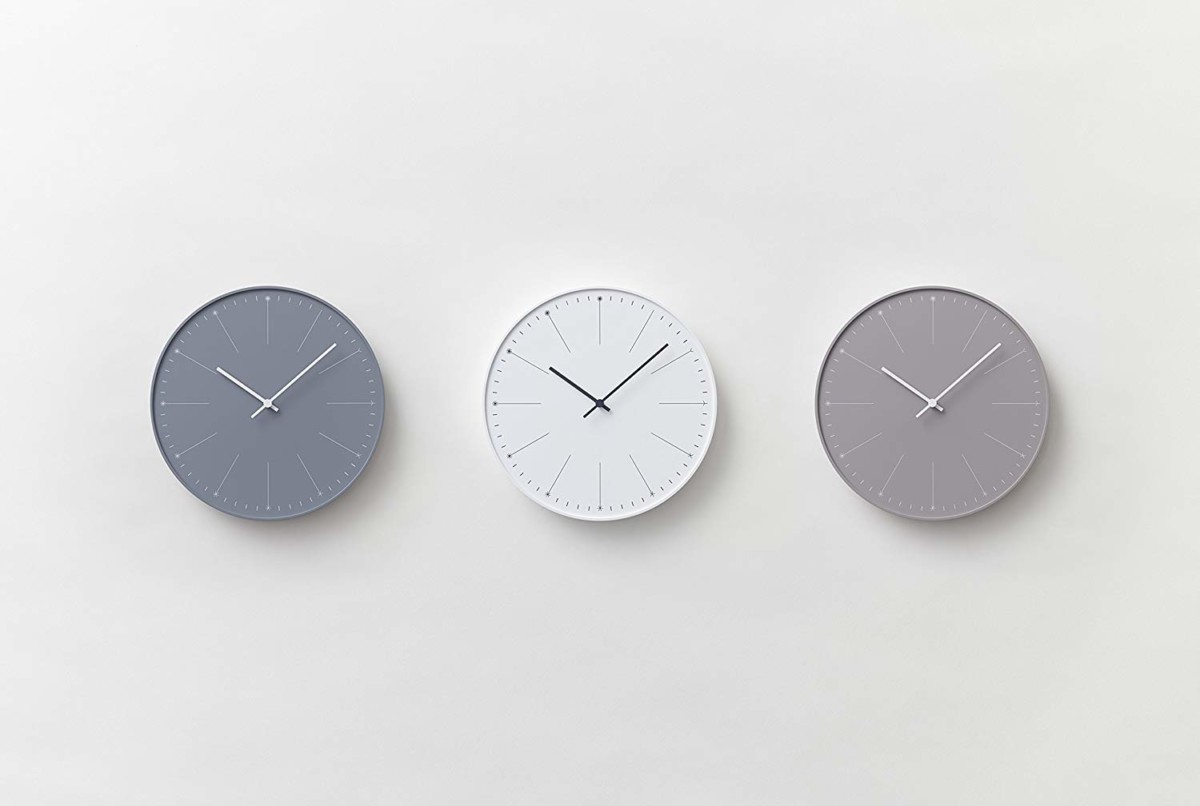 Lemnos is a dandelion-designed wall clock that features a dial instead of the conventional number system. It's styled to suit ultramodern and minimalist home or office interiors.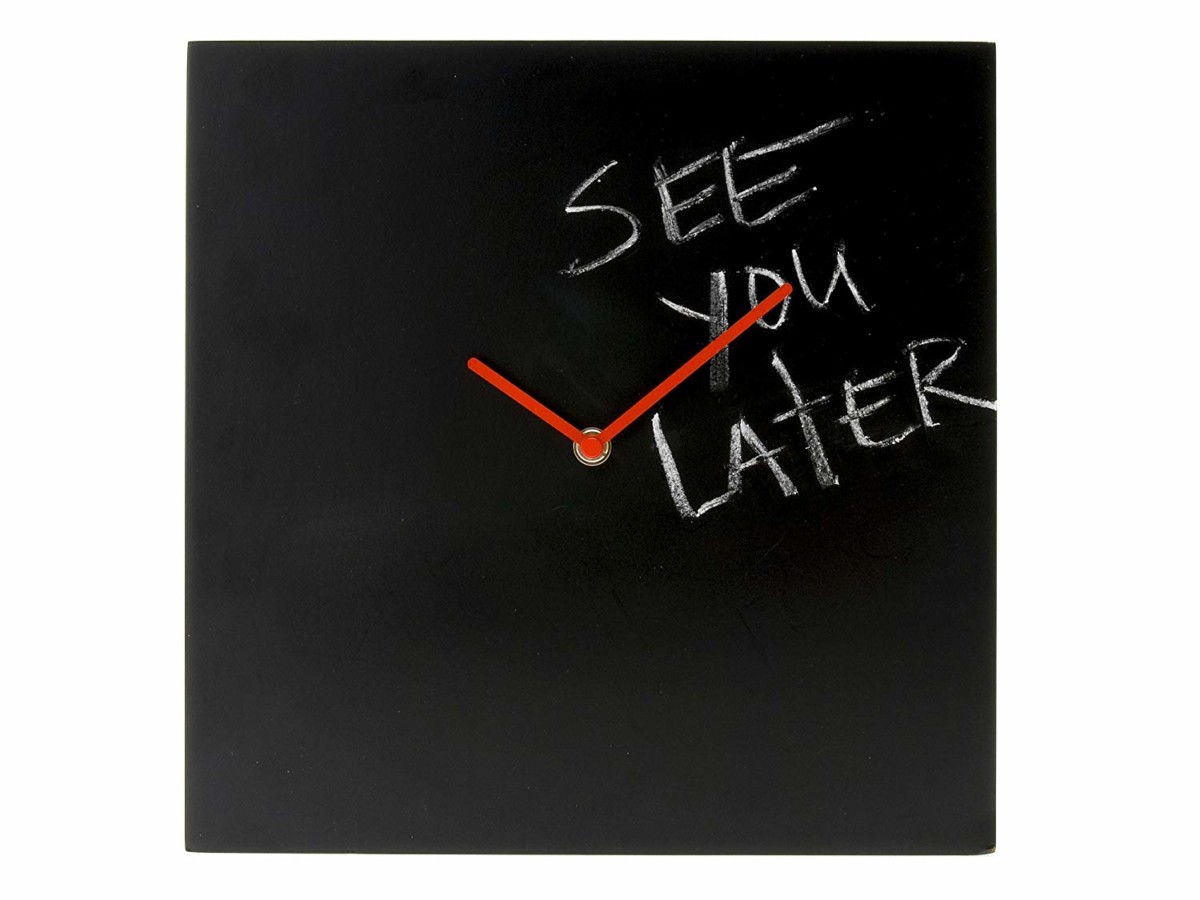 This chalkboard style, pop quiz wall clock instantly adds a quirky side to the theme or interior of a room. This creative clock is designed and manufactured by Karlsson, a well-known Dutch clock brand.
Claire de Lune Moonlight Clock by Kikkerland features authentic lunar images captured in Western France by an astronomical photographer. This amazing wall clock with a glass dome font has glow-in-the-dark moon surfaces.
A unique wall clock that marks each hour by a simple math equation, the Decodyne Math Clock is the perfect gift for Math lovers and creatives. It features a black-and-white color scheme that complements any wall or décor color palette.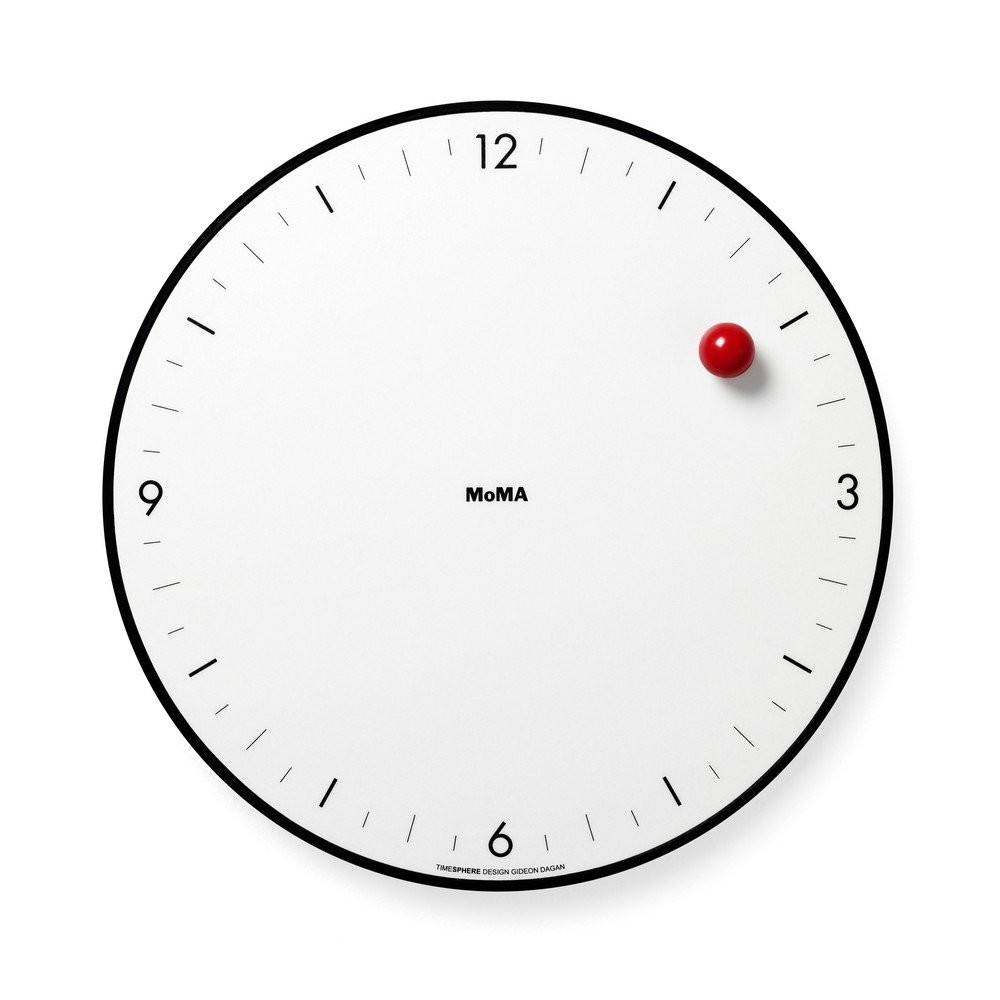 The Timesphere Clock captures the essence of on-point minimalist design. It is specially designed by Gideon Dagan, an industrial designer, for the Museum of the Modern Art in New York. It features a high-torque, precision quartz movement.
With its one-of-a-kind design, the Rosendahl Picto wall clock is a simple and uncluttered practical décor for home or office use. It efficiently tells the time while being visually appealing.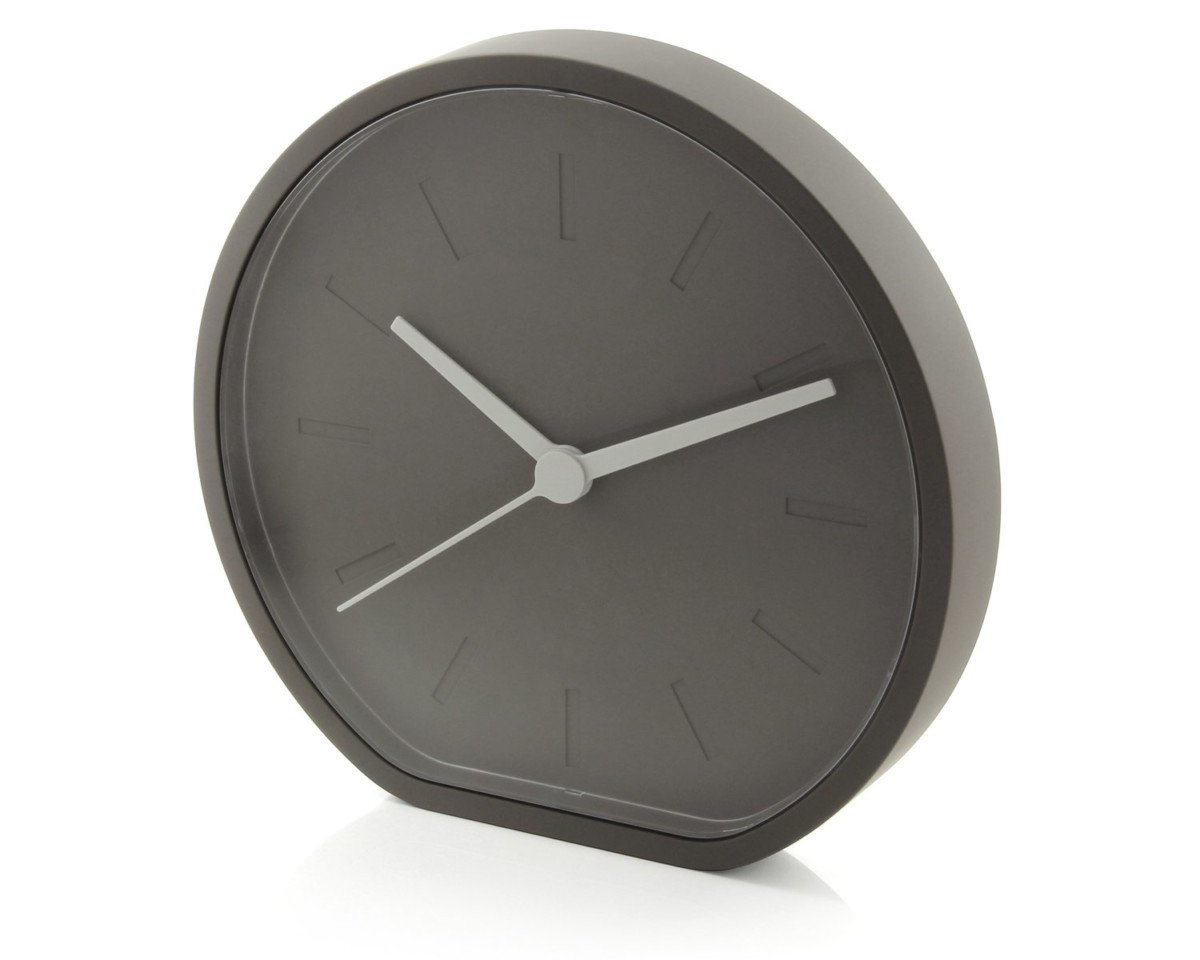 Interestingly-shaped, the Lexon is best as a bedside or desk clock. It comes in five different colors: grey, red, white, green, and blue.
As the name implies, this Braun wall clock features a traditional analog display. It has a quiet German precision quartz movement with a matte case and dial.
Tauba Auerbach is a 24-hour wall clock featuring Roman numerals for each hour. This eye-catching clock is part of a limited-edition collection. Its unique machinery runs from zero to 2400 hours.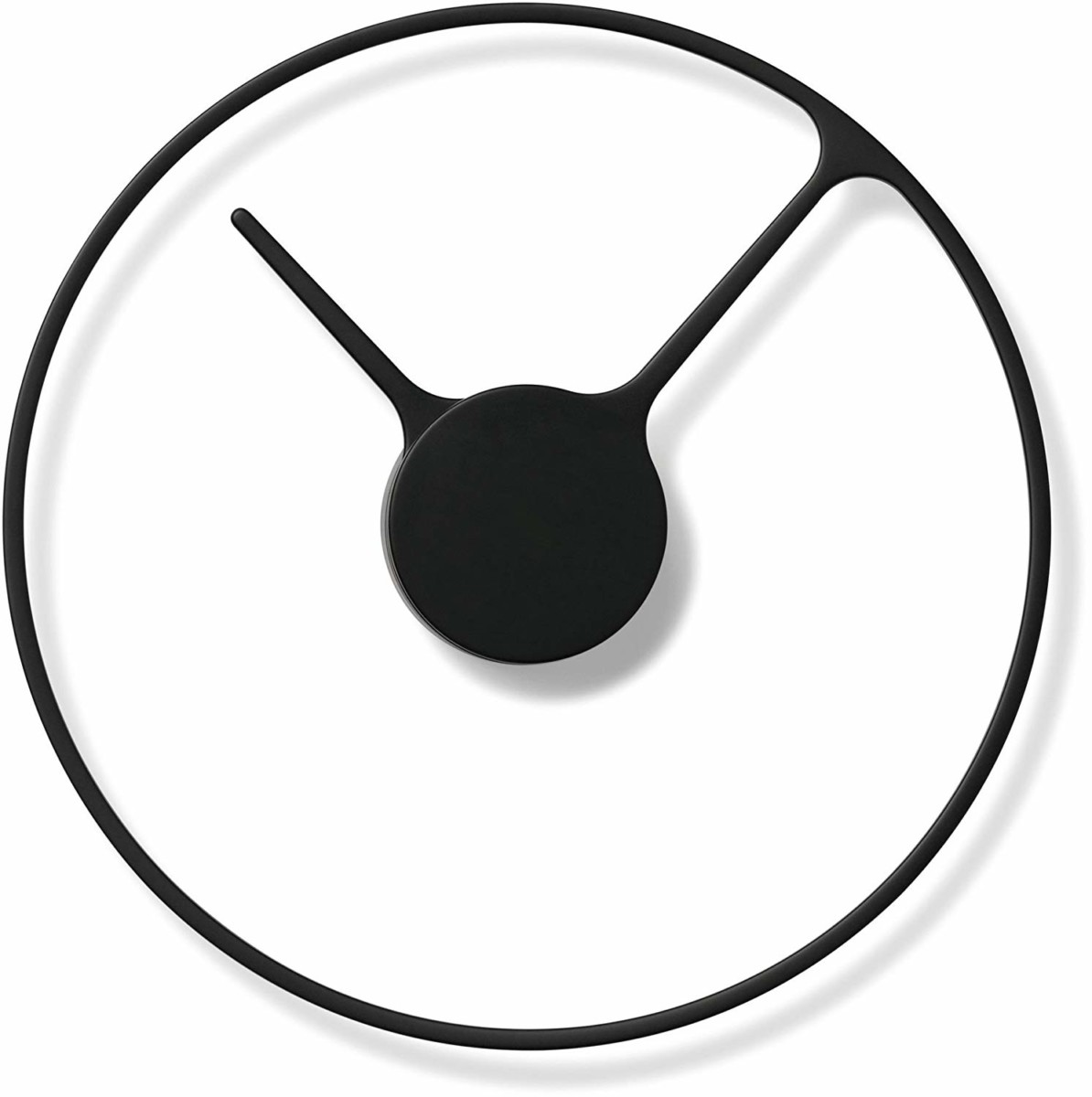 Designed by the German duo, Jehs & Laub, this Time Wall Clock by Stelton is a sculptural timepiece. Its simplicity provides a distinct graphic illusion of a floating clock.
Specially designed by Kanae Tsukamoto for Lemnos, this attention-grabbing wall clock is square and porcelain white. Instead of the usual numbers or roman numerals found in watches, Lemnos Drops uses large depressions on its surface to mark each hour.
The Umbra Ribbon Clock features a dozen copper-colored steel ribbons that mark each hour. It runs on quartz clock movement, enabling precision and maintenance-free measurements.
Yet another unique clock from Umbra, Sometime Desk Clock is an architecturally-designed timepiece for bedside tables and office desks. The clock is designed by Sung Wook Park and features mixed materials.
Arguably one of the most uniquely-designed wall clocks today, the Hazy35 is inspired by blurred images with a natural sense of clarity. The clock sports a luminous face that makes the hour and minute hands visible but a bit distorted. Ivan Kasner designed this striking piece of art.