Last Updated on April 5, 2023
Are you recently engaged or have you been with your fiance' for what feels like forever? Do you have dreams of secretly eloping and avoiding all the stress that comes with weddings or do you simply dream of a gorgeous backdrop for your big day? 
Whatever the case is, you've been contemplating a destination wedding but can't quite decide on the perfect location. We're going to take a look at several destination wedding locations – some you may have already heard of and others may be a bit off the beaten path. Keep on reading!
Domestic Destination Weddings
If your heart is set on a destination wedding but it seems to be far outside of your budget, consider looking within the United States for some interesting venues to say "I do." 
One of our favorite locations within the continental U.S. happens to be in Colorado. Right outside of the Denver area is a small town called Evergreen. It has a quaint feel and several wedding venues to choose from. 
That being said, a perfect farmhouse wedding can be held at the Evergreen Redbarn. The venue is adorably appointed and can fit a fair amount of people. Choosing the Evergreen/Denver area for your destination wedding may be ideal due to the Denver International Airport – a bigger airport often means cheaper airfares!
 If you aren't into mountains and would prefer a beach, consider the Gulf Coast of Florida or Alabama! For a truly picturesque setting, opt for the Destin, Florida area.
Destin is well-known in the south for its white, sugar-like sand beaches and gorgeous, bright blue water. No matter the time of year, you can almost guarantee decent weather, although to avoid temperatures that are extreme (and to see the most savings) opt for a spring or fall wedding! 
The last domestic destination wedding is a bit underrated. Many people believe New Orleans is simply a party city with non-stop boozing and partying. However, the city is also full of rich history, beautiful surroundings, and delicious food. 
One of the biggest highlights of choosing New Orleans, Louisiana as your destination wedding location is something called a Second Line Parade. These parades are known throughout the city for their brass ensembles, brightly colored clothing, and wild dancing. 
You might be thinking "what does a parade have to do with my wedding?" Well, you can have an entire parade in your honor with all of your friends and family in tow, while tourists and locals alike look on and cheer!
International Destination Weddings
International destination weddings tend to get a bit of a bad reputation: they're expensive, important things are miscommunicated due to language barriers, and your friends/family get upset that they aren't able to attend.
Unfortunately, any destination wedding that requires a flight can become expensive but you can often work around this by keeping your wedding party simple and small; waiting to throw your reception until you return.
A favorite destination for weddings is obviously Jamaica as you can have your nuptials and continue straight into your honeymoon all in one sitting. Much like Florida, there are gorgeous beaches but the atmosphere is unmatched!
Many people have found that opting for an all-inclusive venue makes for the easiest planning. You simply book it, show up with your dress and wedding party, and have an intimate, memorable ceremony. If you're looking for an unrivaled venue, check out Rose Hall weddings. They are known to ease any and all stress wedding-related.
For a completely different setting, consider having your wedding in Iceland. While the name may imply freezing weather, you might actually find the temperatures to be comfortable, especially during their summer months of July and August.
Depending on your preference, you can get married on a black sand beach, in front of a gorgeous, natural waterfall, at the Jökulsárlón Glacier Lagoon, in a cave, or even in a small, traditional church!
If you happen to want a Frozen-themed wedding, you can wait until the winter and potentially get married under the Northern Lights. Just keep in mind that Mother Nature can be unpredictable and spotting this solar event isn't guaranteed!
Last but not least, you can always choose a country in Central America, like Costa Rica, Belize or Guatemala. The weather will be warm and often cooperate with your big plans. Additionally, you can often find relatively inexpensive flights from the U.S. and accommodations can often be found cheaply during the off-season.
You will still get the experience of an exotic wedding but possibly without the exotic price tag!
Having a Destination Wedding Still Out of Your Budget?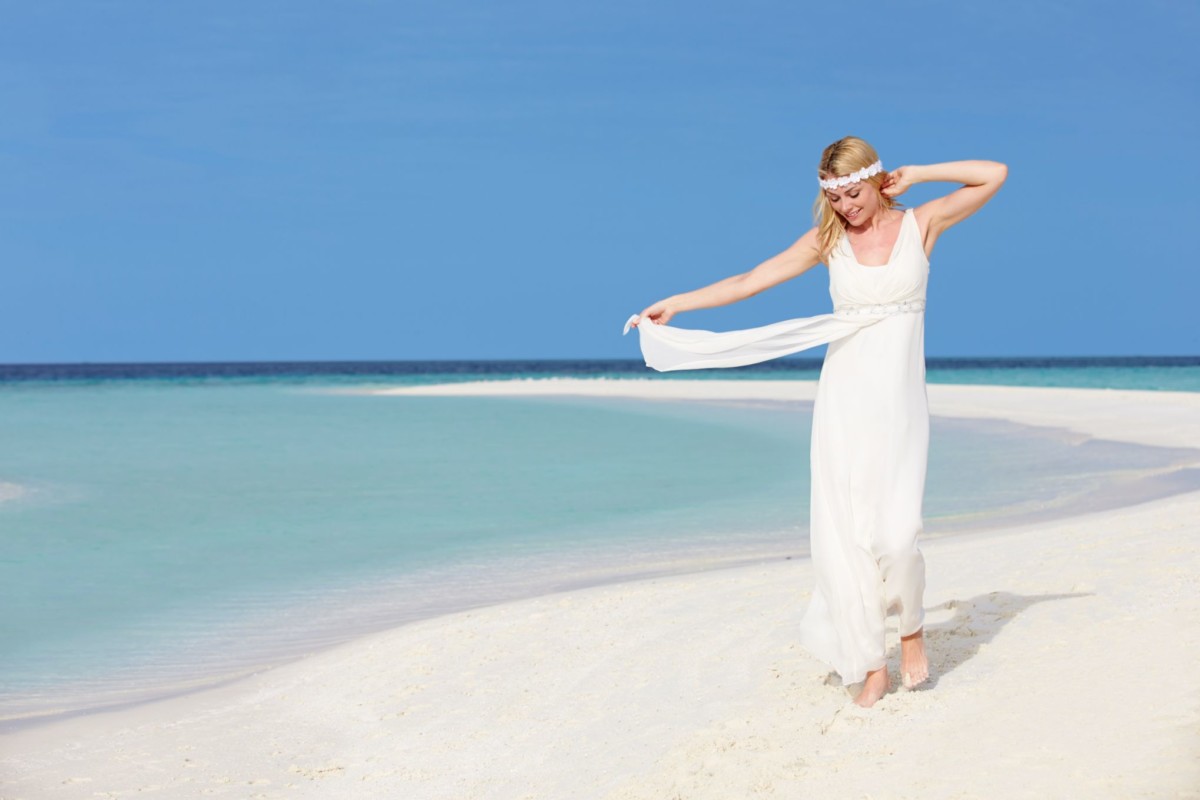 Unfortunately, destination weddings are generally more expensive than ceremonies held in your hometown. This is due to many factors with the largest one being the travel expenses. 
Many cruises offer wedding packages for those who wish to be married on the high seas. This may be an excellent alternative for people who wish to get married abroad, want to include their family, but still want to have at least some privacy! 
Keep in mind that you can always choose to elope and skip the wedding party entirely which will make for a completely private and intimate ceremony. You can also opt to have a travel-themed wedding to avoid hurting any feelings of those who might not be able to attend otherwise.
Whatever your choice, just keep in mind that it's your (and your fiance's) day and you have to choose a setting that the two of you love!