Last Updated on November 10, 2021
It can be quite difficult to find good dining room chairs. Of course, you often have to take into account different people within your family. Not everyone is built the same and that is why one chair is more comfortable for one person and another chair for another.
Everyone also has their own preference in terms of sitting position. For example, you can find a chair too low or too deep, while someone else finds a chair too high or too hard. It sometimes seems impossible to keep everyone happy at the dinner table. You will (often) not buy a separate chair for everyone. 
Fortunately, I'm here to make the choice a lot easier and to advise you on what to consider when buying new dining chairs.
When choosing dining room chairs, there are a number of things that you should definitely take into account. Consider, for example, the dimensions, proportions, the material, the color and of course not to forget: the dining table. The dining room chair must match the dining table in style and size. The correct size of the chair and table is the first step towards the perfect combination.
The height of the dining table
The height of a dining room table is usually between 75 and 79 cm. Knowing the height of the dining table is essential for choosing the dining chairs. The height from the ground to the underside of the table top is perhaps even more important. A table can consist of only a top with 4 legs, but it can also be the case that there is a whole base underneath (for example an edge or a beam in the middle). This size is different for every table and should not be forgotten when taking the measurements.
As soon as you choose dining room chairs with armrests, you naturally want to be able to slide them under the table. With a chair with armrests, you also have to make sure that the chair does not get "tight" under the table. Ideal is a space of about 15 cm between the armrest and the bottom of the table. Also take into account the seat height of the chair and whether there is still enough legroom between the bottom of the table top and the seat of your dining room chair.
Design chair: The medallion chair
Without a doubt, the medallion chair is considered a "must have" in the home. A modern chair that combines curves of great elegance with quality comfort. With its fairly classic look, this ultra-chic chair has the advantage of having a super robust structure.
It has a quilted oval back (or not) to create a certain unevenness and bring more modernity. There are also different models there, for example we can mention the famous medallion chair in Plexi, which we also call the "Louis XVI style chair".
Designed in wood, velvet or linen, the medallion chairs are available in a variety of colors, including white, red, pink and beige. They are ideal for adapting to a classic office atmosphere as well as for a rustic atmosphere in the living room or the garden. By combining good support and comfort, this chair will stay on top of trends for a long time to come.
Design chair: The formica chair
A true retro kitchen chair, the formica chair is back in force at the beginning of 2020. An emblematic French chair of the Trente Glorieuses, it took place in most kitchens from the 1930s and even up to the 1960s. Formica, a material invented by the Americans in 1912, is mainly composed of plastic resin and a layer of melamine. It was first used as a thermal insulator before coming to cover our kitchen dining sets and chairs.
This vintage chair has significant advantages in terms of usability, resistance and robustness and is also very cheap. It is very easy to maintain and is available in multiple colors: yellow, red, blue, white, black…
Design chair: Quilted and padded seats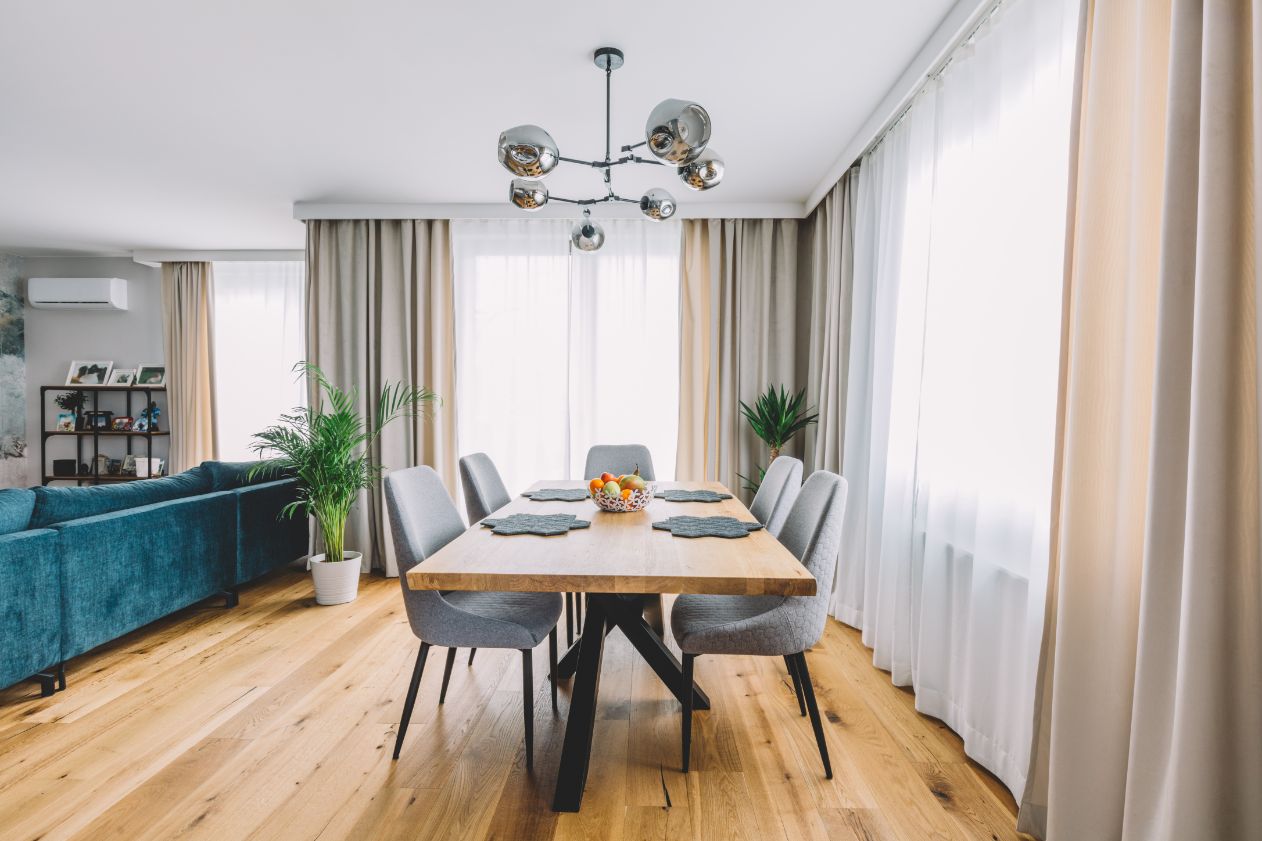 Quilted and upholstered chairs have their place among the trends of 2020. An elegant and refined design, a comfortable seat with high-quality materials, this chair has it all!
Considered the most modern series on the market, the elegant padded and padded chair combines comfort and quality in the best possible way. It adapts just as well to the classic atmosphere of your office as it does to the refined elegance of your dining room. In short, these ultra-modern chairs follow your wishes.
The upholstered chair model with Chesterfield effect is inspired by British design. It offers a wide color palette, including red and pink to brighten up your interior, as well as gray, black, blue, burgundy to create a French, Scandinavian or even British style.
The width of the dining table
The width of the dining chairs is also important. How many people should be able to sit at the table? You need about 73 cm space per person. A chair with armrests is often wider than a chair without armrests. If you want to be able to slide three dining room chairs under the table on one side, do not only pay attention to the width of the table top, but do not forget to measure the space between the table legs! Otherwise you also have the chance that you will not be able to slide the dining room chairs under the dining table.
Design chair: The stainless steel chair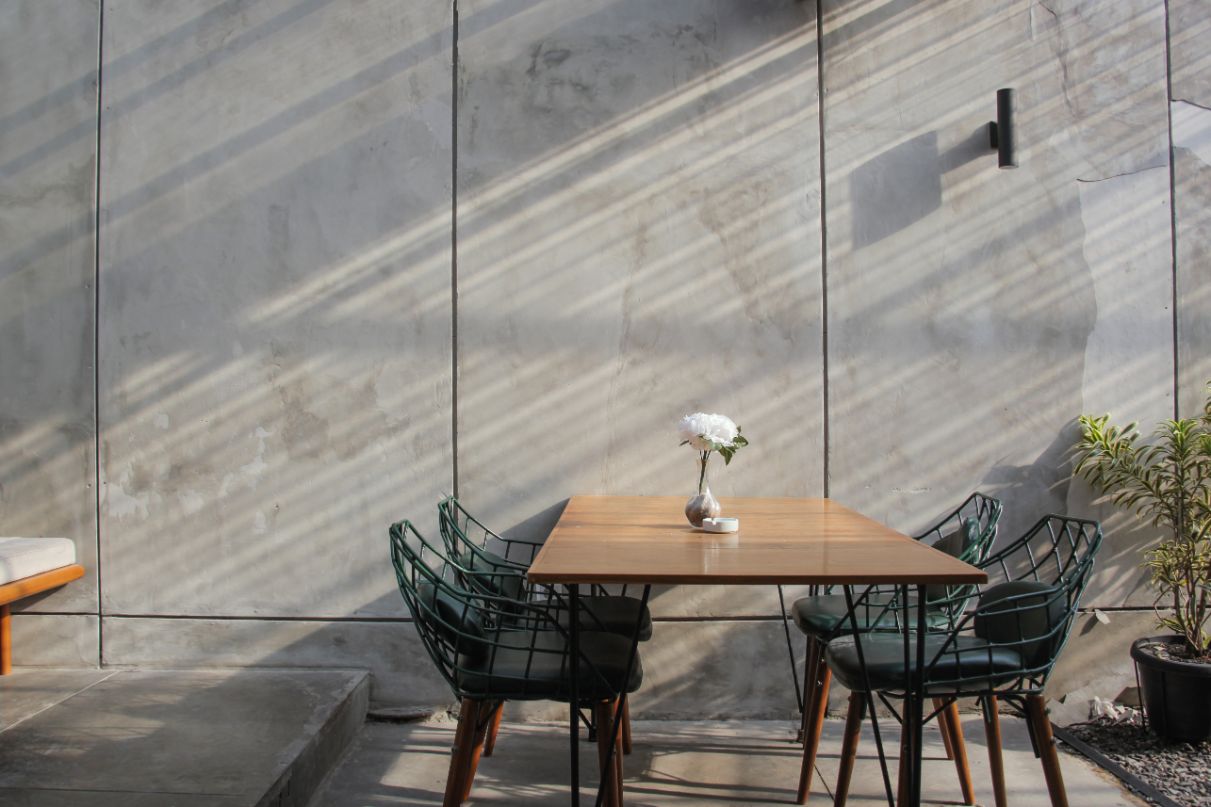 Stainless steel kitchen chairs are your allies to offer you a modern, trendy and design interior. Gives a real facelift thanks to a contemporary effect obtained with the design chairs in stainless steel. They are just as comfortable and practical as they are robust and easy to maintain. They derive their strength from their manufacturing material, which is much more resistant than, for example, wood.
Available in a wide variety of choices and colors, this chair offers a variety of uses. A truly contemporary piece that respects itself, the stainless steel chair fits just as well in a kitchen as it does in a bistro, in addition to adopting particularly modern colors. Indeed, metallic, gold, silver and even rose gold tones are in the spotlight.